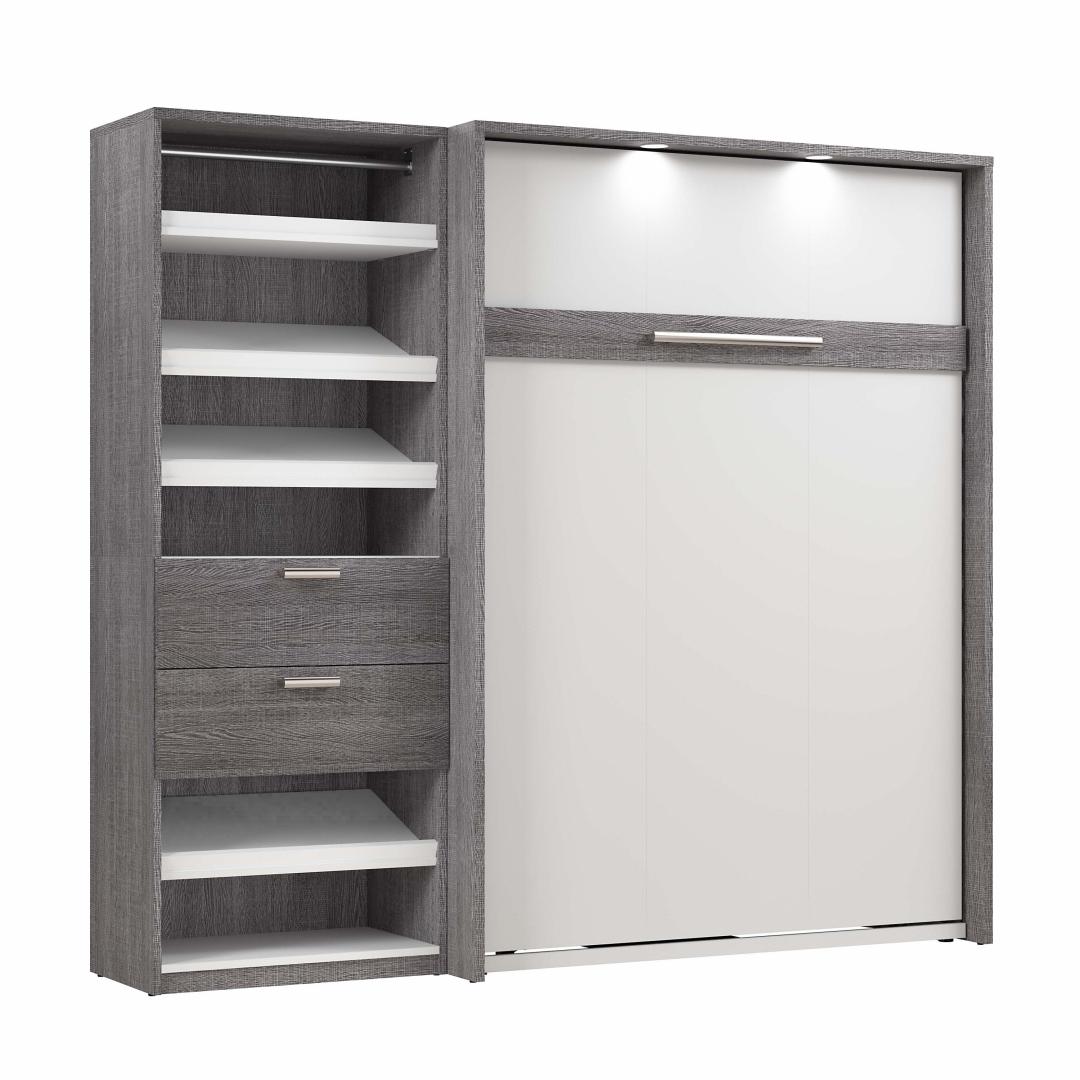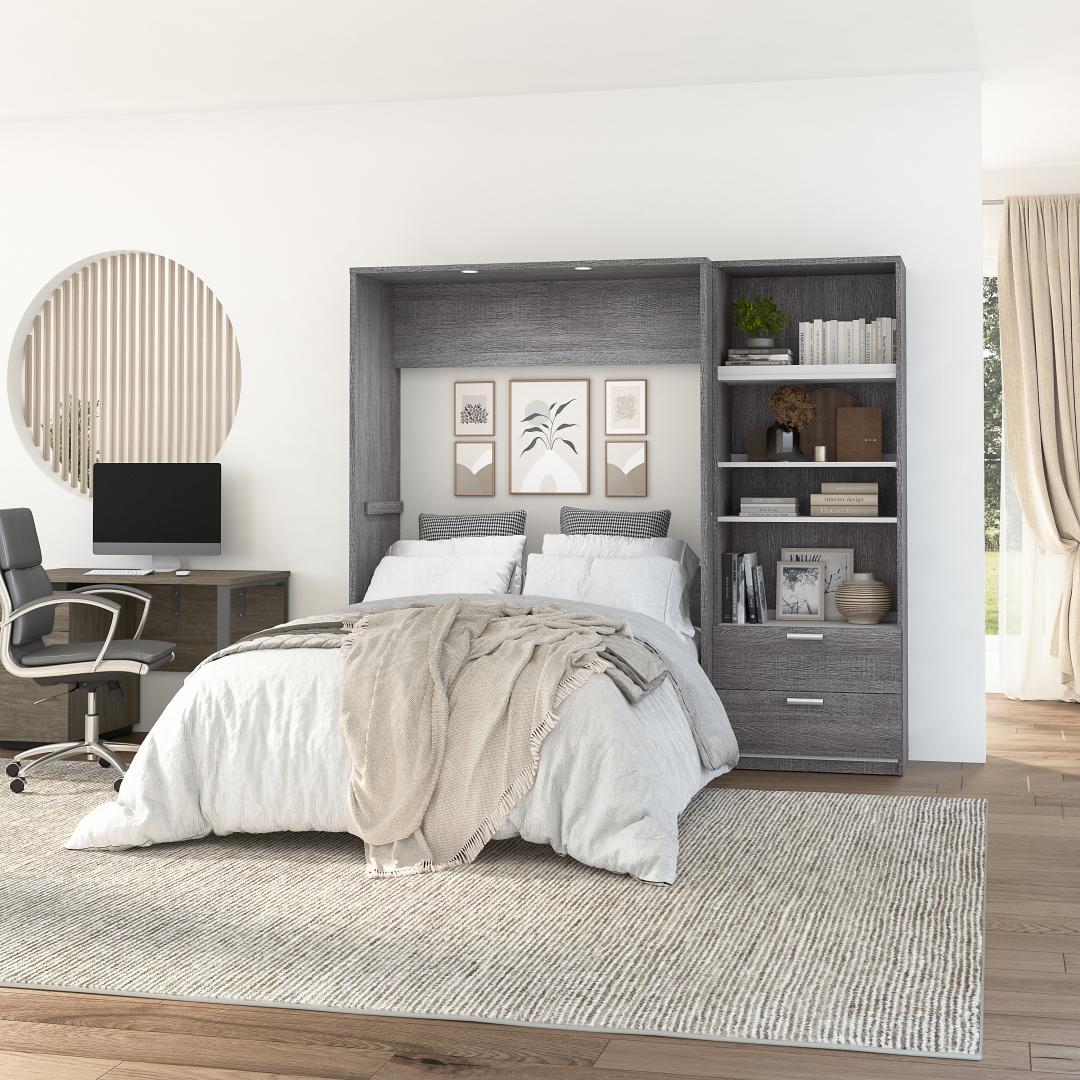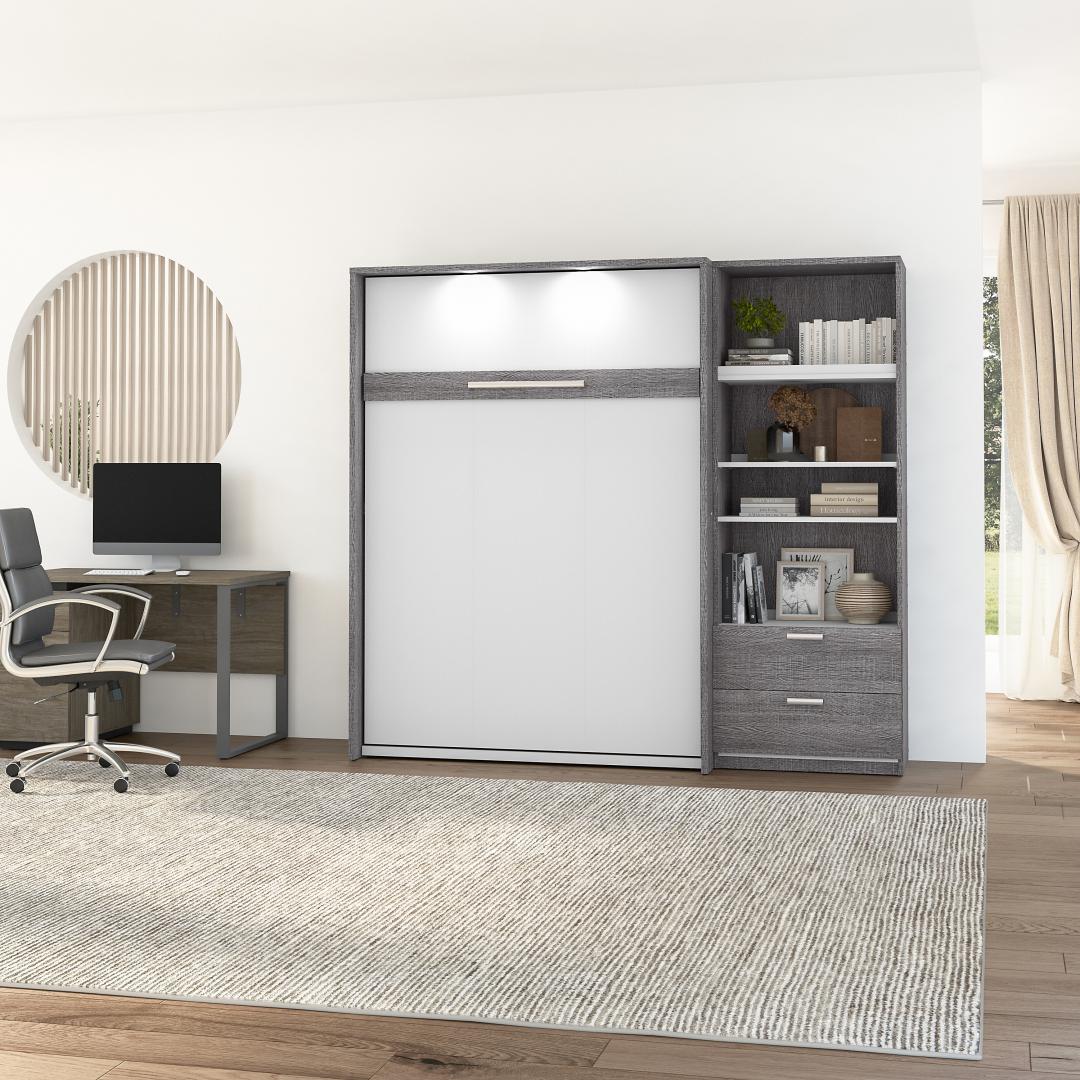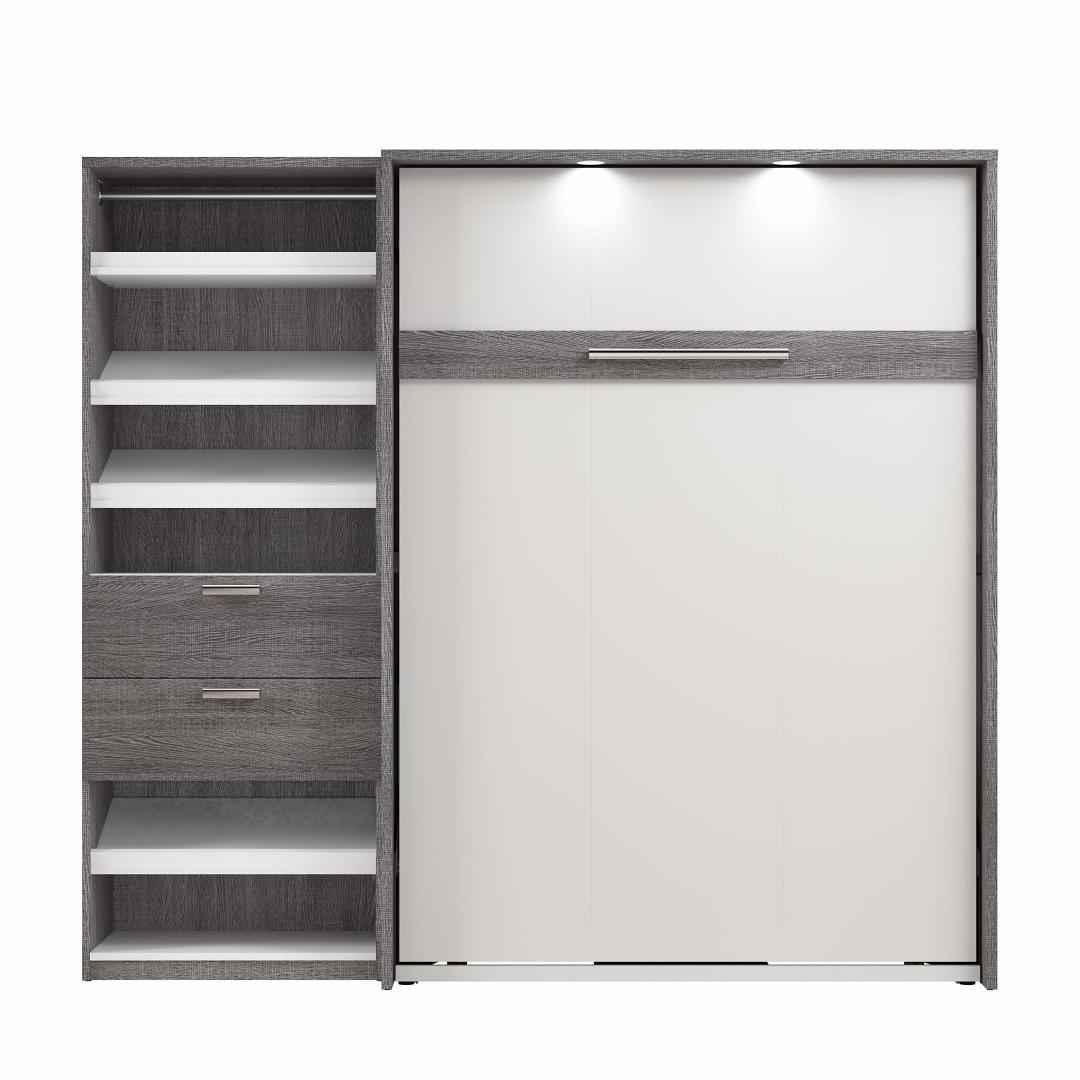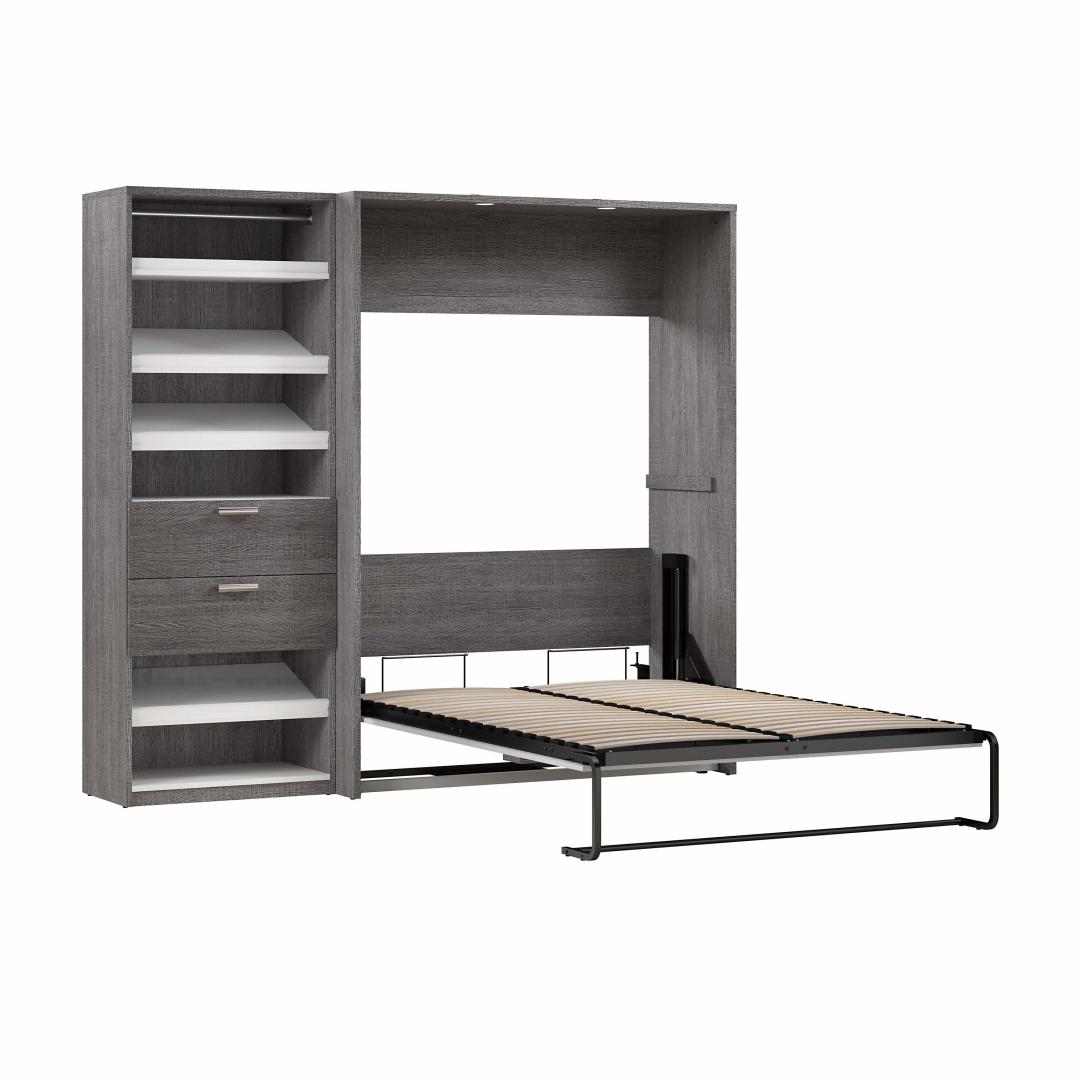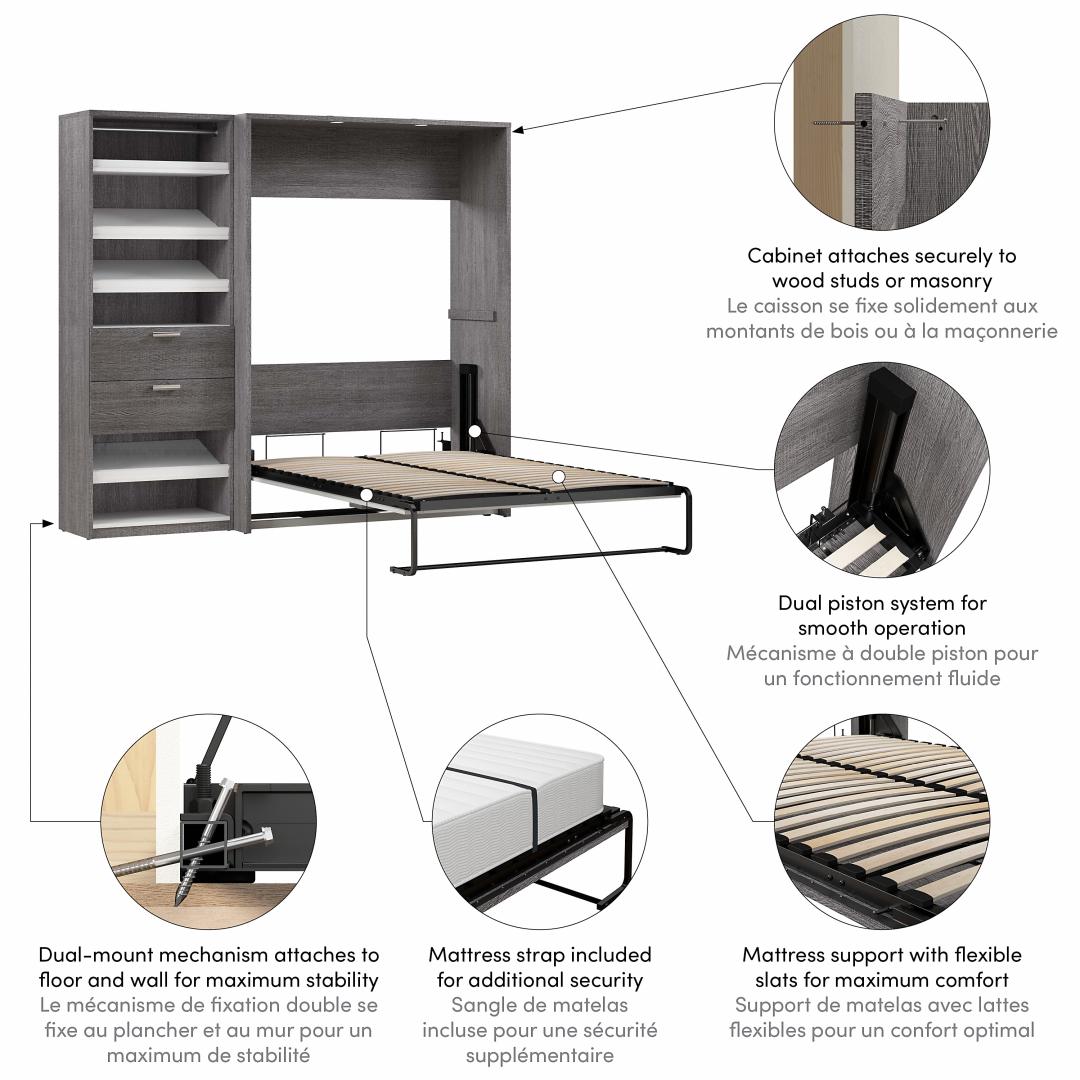 Dimensions
Width
Height
Depth
Weight
2250.4 mm
2054.9 mm
596.9 mm
275.3 kg
Width
Height
Depth
Weight
88.6 in
80.9 in
23.5 in
607 lbs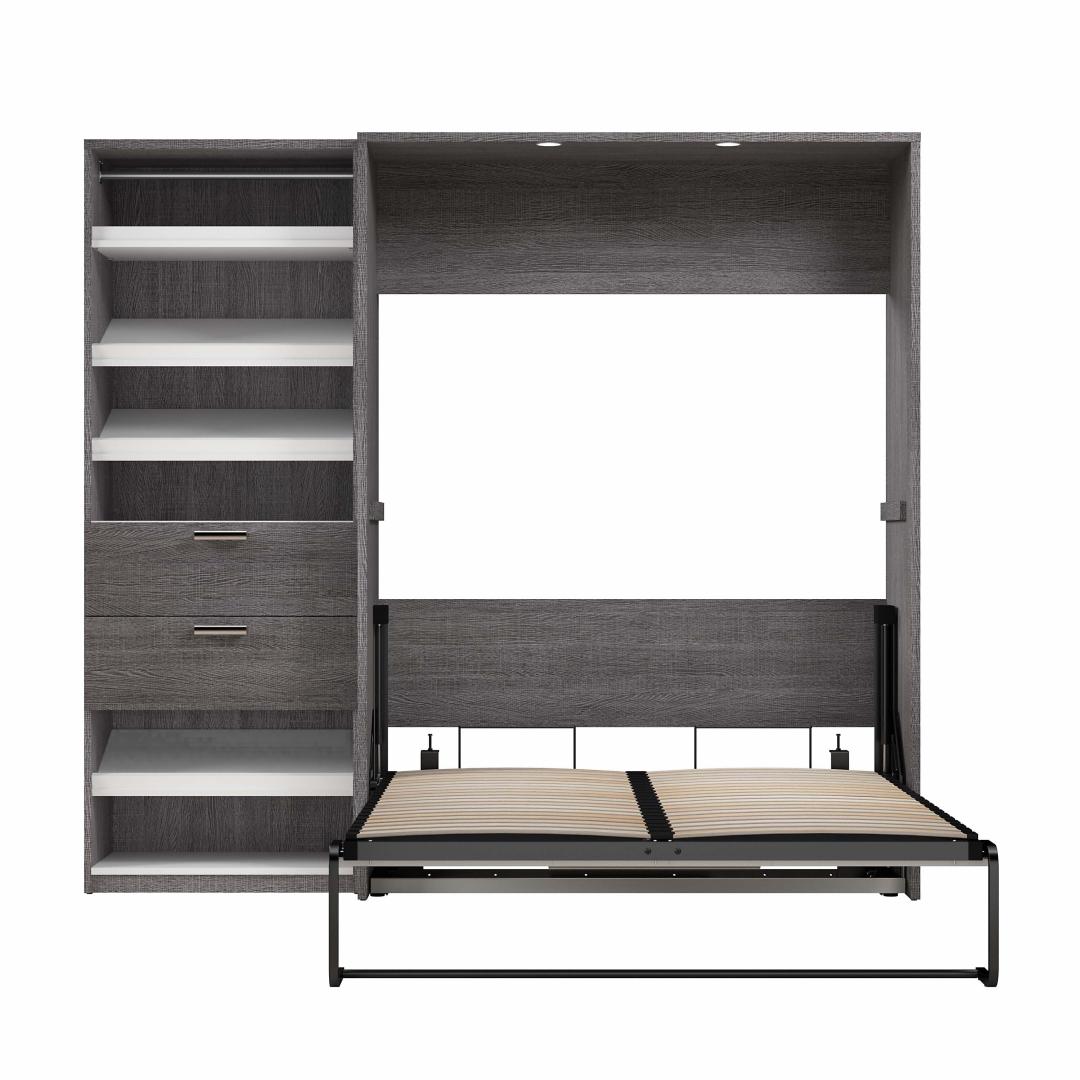 Key features
Bundle includes: 59W Full Murphy Bed, 29.5W Closet Organizer, 2 Drawer Set for Cielo 29.5W Closet Organizer
Quality laminated particle board compliant with CARB phase 2 for a long-lasting finish
Dual piston system allows you to fold the bed up and down safely and quickly
Decorative brushed nickel handle and 2 CSA-approved LED lights (120 V) for a modern look
Bed accommodates most standard Full mattresses (8-10 inches thick, 60-90 lb, 54 x 75 inches, no futons) to let you choose the most comfortable option (mattress not included)
Open bed extends 88.2 inches from the wall; minimum ceiling height of anchoring wall is 84.1 inches
Storage Cabinet comes with 1 clothing rod to hang clothes, 2 fixed shelves (including base), and 4 adjustable/reversible shelves with a lip on one side to hold shoes and accessories; 2 drawers glide on smooth ball-bearing slides for quiet operation
Maximum weight supported is 1000 lb (including mattress); box spring not required
Assembly required (3 people recommended)
Backed by the Bestar 10 Year Manufacturer's Warranty; North American made with local and imported parts
Description
This Full Murphy Bed can be slept on every night. The bed folds up and down safely thanks to the dual piston system. The built-in LED lights create a relaxing ambience. The wall bed accommodates most standard Full mattresses (8-10 inches thick, 60-90 lb, 54 x 75 inches) and supports up to 1000 lb (including mattress). The open bed extends 88.2 inches from the wall. It is best to assign a clearance of 30 to 36 inches around the open bed for easy movement. The cabinet must be anchored to a wall with a minimum ceiling height of 84.1 inches. Two fixed shelves, 1 clothing rod, 4 adjustable/reversible shelves, and 2 drawers hold your belongings. This bundle is backed by the Bestar 10 Year Manufacturer's Warranty. North American made with local and imported parts.
Very Comfortable
4-10-2017
Installed tho bed, looks good and is very comfortable. This bed can accommodate a 12 inch mattress vs 10 which can make a big difference to comfort but it does stick out a little further so I don't recommend for a small room. Super easy to pull down, strong mechanism. Took 8 hrs to install with two guys so be prepared or ask for installation as it would be worth it!
good features- but....
4-10-2017
the bed features are good but shortly after we installed we noticed a crack in one of the white panels, probably due to heavy weight of all the panel boxes stacked on top of each other during shipping
Cielo Oak Double Wall Bed 2-pc. Set
4-10-2017
The product is great. The quality of the pieces is good. It's easy to assemble. The plan is easy to follow.
Not a bad unit for the price
5-3-2017
It's not a bad unit for the price. Only real flaw is the frame is longer than a double mattress so when you fold it up the mattress will slide to the head of the frame and the mattress slips out of the top mattress support. When you pull it down, the mattress may not fold down with the frame. You will also need to,slide the mattress toward the foot of the bed so the weight mattress will actually hold the frame down.
Beautiful & useful
5-4-2017
This is exactly what we needed...& looks beautiful.
I bought this after years of holding a spot in our basement for a bed for the odd time we had guests. this product was pretty easy to do myself and a friend managed it in 6 hrs. It works great handles a good comfy mattress and best of all goes away when you dont need it. I will be getting another one in our new house when we move.
Bestar double wall bed
5-6-2017
Bought this bed 1yr ago. It is great. It was easy to install. We love it
Nice unit, but has a few issues....
5-11-2017
Purchased this wall bed for a guest bed in a room that is not a bedroom, so really love how tidy the bed is when in the wall. The unit is sleek and the mechanism for the bed works well. It was quite cumbersome to install, and some pieces were missing, definitely up there with Ikea in terms of pieces and time to install. We didn't feel all the installation went together nicely and some areas like the drawers at the side, look a little cheap. One challenge is that when the bed is pulled down, there is a big gap at the back so for a taller person, it's a bit annoying as your head or if you lay your arm above your head, it just hangs there. We end up stuffing pillows all down the gap to help. I guess it needs to have this gap in order to fit back up in the wall, but it's unfortunate.
We recently bought this. It arrived relatively quickly with good warning/coordination. Instructions were pretty good (watch out for the bolts that come in the same bags as the handles... they are too long, and you can miss this in the instructions, which tell you to use other bolts that they provide); took a while to assemble, but I had very little help! Make sure you anchor to the wall with proper products and technique. Dimensions were accurate; any wider and the items would not have fit! Works like a charm and worth the money.
Extremely difficult to put together
2-11-2018
We bought this about two months ago. If you're buying it from Costco, beware. The delivery would not bring it into the house, nor would they bring it onto the porch (because they would have to climb 5 steps up). They left all the boxes on the driveway, on a palette, in the rain! The bed itself took 2 people approximately 22 hours to put together. It came in a thousand (not really but it sure felt like it) pieces. Once assembled, it looks very nice. Unless you're extremely handy and have a lot of time, you're better off getting your wall bed from a company who will bring it to your house and assemble it.
Be prepared for heavy assembly!
4-9-2018
Overall, good quality hardware for a lower-priced setup. Be prepared for intensive, time consuming assembly, with ok, but not the most clear, instructions. Handle assembly dangerously pulled completely off the bed after about 1 week's use. USA customer support questionable. Still, happy with the bed for what I paid.
Good quality for the price
5-1-2018
Assembly is not easy but the quality is great and it's a perfect size for a small space.
Bought this for my guest room without taking up all the space when it's not used. Took 2 people a day to put together. Only wish the instructions are a bit better. Some steps could have been done before lifting the bed up.there is a big gap behind the bed once it's open. You can't lean on the back to watch tv or read In Bed. The overhead light is dimmable, very cool. Material is heavy and sturdy, not like ikea cheap stuff. So far very happy with it. Highly recommended.
Looks great, works great
12-16-2018
Fairly easy to assemble (Î'm not a handy man!), looks great, works great!
I Love this furniture as it looks very good and very good quality. My only comment is that when you have the bed open, there is a hole in the back between the mattress and the wall...and you cannot lay down on the pillows, cause they would fall down in the hole. I think the manufacturer should have been more creative there by adding a feature that would cover that hole. Now I am looking for solutions myself.
Excellent quality and price!
3-1-2019
Very impressed with the quality of the bed. Easy to raise and lower the bed and the lights add a great touch. It took several hours to assemble but the instructions were easy to follow.
Great quality and look
10-2-2019
Well built, great overall quality. Had some issues with one decorative piece at the bottom of the shelf (4 screws too short). Easy to set up, but it is a long process. No noise or cracking, very stable bed, easy to open and close. The shelf is customizable, wich is a great feature, but the pieces to hold the accessories might be difficult to set up, especially the drawers.
Nice touches & sturdy constructio
10-2-2019
I put this unit together with help from my wife since it's a two person job. It has a clean look and is built sturdy. Get ready for many hours of assembly. It helps if you like puzzles. Careful reading instructions and particularly screw sizes and lengths. Looks good once up and works well . Some fitment issues lining up external front panels. Overall, excellent product, great value.
Boxes
Box 1
Width
Height
Length
Weight
749 mm
122 mm
2002 mm
47.63 kg
Width
Height
Length
Weight
29.50 in
4.80 in
78.80 in
105.00 lbs
Box 2
Width
Height
Length
Weight
475 mm
124 mm
1120 mm
37.65 kg
Width
Height
Length
Weight
18.70 in
4.90 in
44.10 in
83.00 lbs
Box 3
Width
Height
Length
Weight
742 mm
91 mm
1120 mm
40.37 kg
Width
Height
Length
Weight
29.20 in
3.60 in
44.10 in
89.00 lbs
Box 4
Width
Height
Length
Weight
516 mm
114 mm
2090 mm
63.96 kg
Width
Height
Length
Weight
20.30 in
4.50 in
82.30 in
141.00 lbs
Box 5
Width
Height
Length
Weight
632 mm
84 mm
2131 mm
61.69 kg
Width
Height
Length
Weight
24.90 in
3.30 in
83.90 in
136.00 lbs
Box 6
Width
Height
Length
Weight
450 mm
119 mm
853 mm
20.87 kg
Width
Height
Length
Weight
17.70 in
4.70 in
33.60 in
46.00 lbs
Warranty
10-year warranty
Our furniture is warranted to the original owner against defects in materials or workmanship. These defects include all the imperfections that can affect the use of the product. As is most often the case, our warranty covers the normal use of the product. To this effect, note that except for the Outdoor collection, our furniture is not intended to be used outdoors.
Our warranty is expressly limited to the replacement of components and furniture for the period specified on the product sheet, and it does not include labor or assembly costs.
For more information, read the complete Warranty policy.
Shipping and Returns
Free Shipping on all orders
Enjoy free shipping on orders to most places in Canada or the contiguous United States, except remote areas.
Once your order has been shipped, you will receive a tracking number by email. We suggest you track the delivery so that you can plan for the arrival of your furniture. The merchandise will be delivered in front of your house or office. If the boxes are large (you can get the dimensions of the boxes online), we suggest you get assistance to move the boxes inside your premises.
Should you decide to return your furniture, you will have 30 days from the day the merchandise was shipped to do so. You must send us the furniture back unassembled and in its original packaging.
The first step in the return process is to complete a return form. Then a member of the Bestar Customer Service Team will contact you to process your request. If your request is approved, you will be refunded for the value of the merchandise minus 20% to cover for shipping costs.
For more information, read the complete Shipping Policy or Refund and Return Policy.
FURNITURE THAT FITS WITH ANY DECOR
With their clean lines and trendy designs, our Murphy beds will blend in with any decor. You can choose the style that fits perfectly with your home decor and your space. When the bed is folded up, it turns into a large, beautiful cabinet.
THE PISTONS—SO CONVENIENT!
Thanks to a well-designed dual piston system, our Murphy beds fold up and down safely in seconds without heavy lifting. As long as you remove the pillows, you can fold up the bed with its bedding in place. Making your bed has never been this easy!
A COMFORTABLE BED FOR OPTIMUM COMFORT
Our Murphy beds offer an increased comfort due to their Euroslat mattress support system. In addition, they are designed to accommodate most standard mattresses. All you have to do is make sure that the mattress meets our requirements, particularly in terms of weight and thickness.