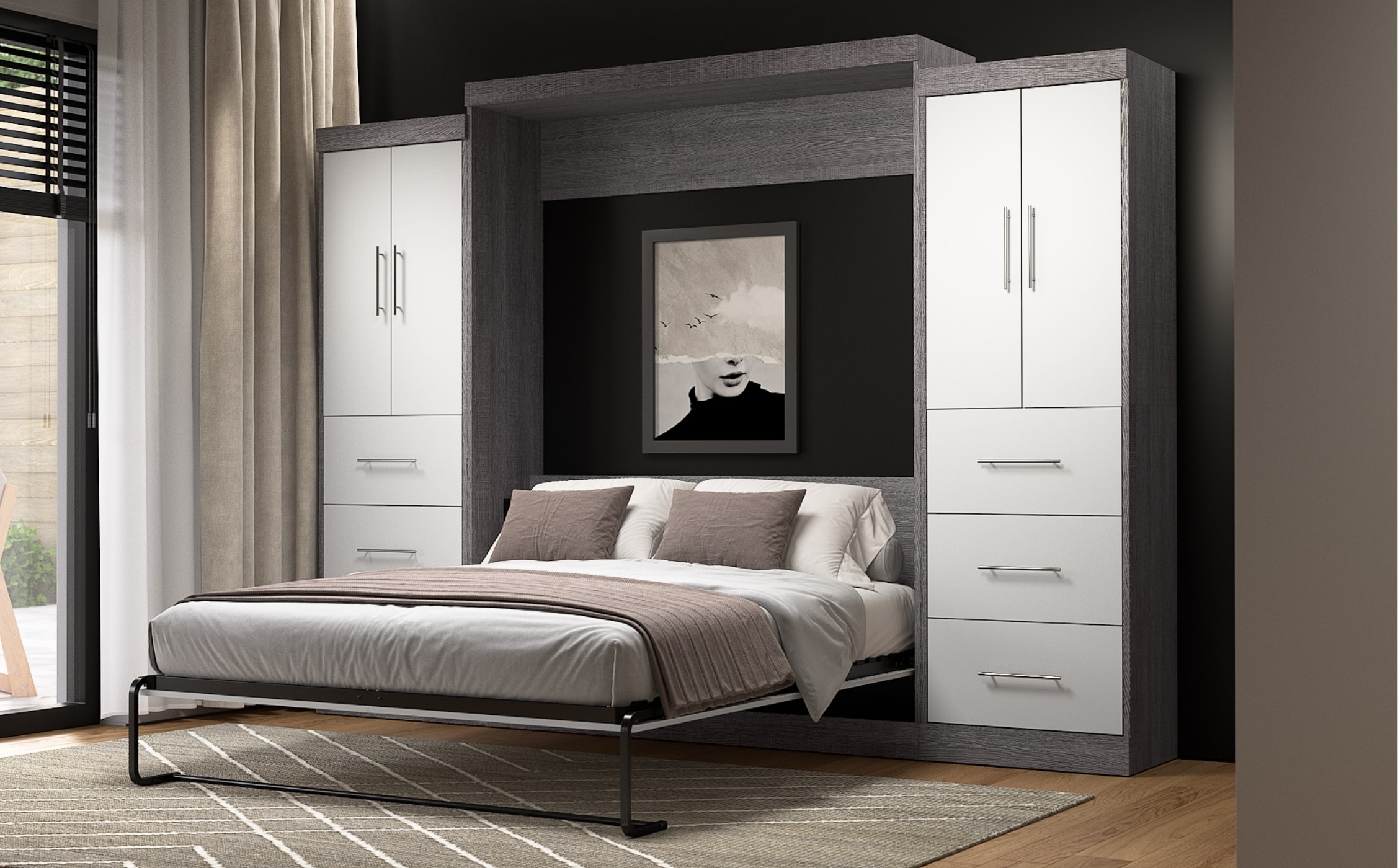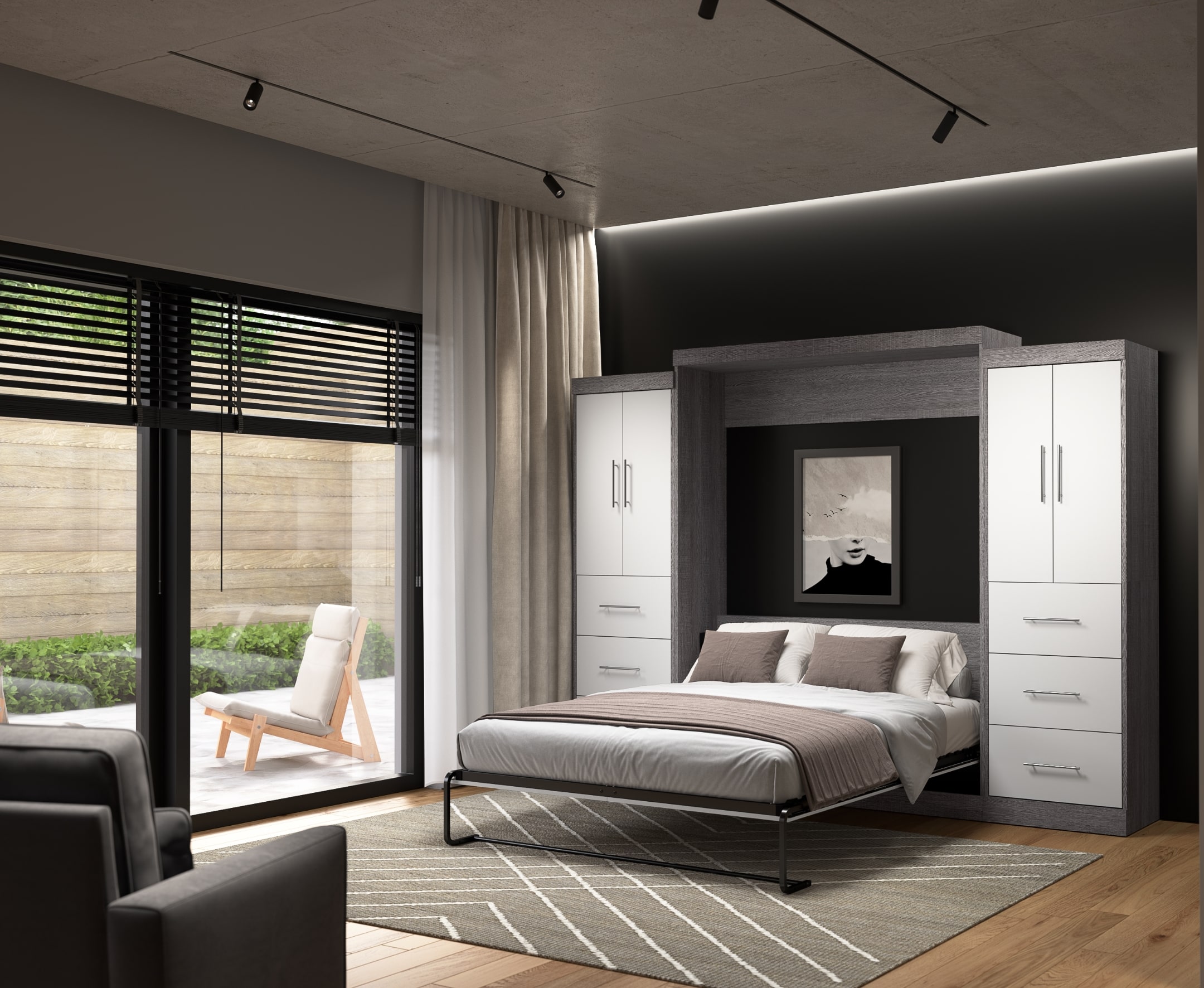 Made in North America
with globally sourced materials
Mattress support with flexible
slats for maximum comfort
Dual piston system for
smooth open/close
Accommodates most
standard mattress sizes
Shop Our Different Types of Murphy Beds
Are you looking to buy a Murphy bed online? Then you've come to the right place! Easily transform your space in seconds with a space-saving Murphy bed. We have a variety of wall beds in several styles, including traditional, contemporary, and modern Murphy beds. You're sure to find the best Murphy bed for your space at Bestar!
Quick view
Shop Our Murphy Bed Collections
Shop Our Best-Selling Wall Beds
Your Bestar Furniture
Upload an image of your furniture or use #bestarfurniture to show us your space on Instagram @bestarfurniture.
Frequently Asked Questions about Shopping for Murphy Beds (FAQ)
1. Where can I buy a Murphy bed online?
If you're looking for the best Murphy bed in Canada, then look no further. Bestar.ca is the place to buy a wall bed online. Not only do we offer different types of Murphy beds in various design styles, but we also offer free shipping in Canada.
2. What are the different types of Murphy beds available?
At Bestar, we offer four different kinds of Murphy beds: Queen Murphy bed, Full Murphy bed, Murphy bed with desk, and sofa Murphy bed.
We have Full and Queen Murphy beds in every one of our wall bed collections. You can choose to buy a Murphy bed alone or with complementary storage pieces that attach on either side of the wall bed.
Our sofa Murphy beds come with a comfortable couch, making them ideal for a multipurpose living room. The backless sofa is designed so the cushions can lean against the front of the closed wall bed cabinet. To use the Murphy bed, simply remove the back cushions and lower the bed onto the sofa base.
If you're hoping to create a multipurpose guest room/home office, then a Murphy bed with desk is the answer. As you may have guessed, a Murphy bed with desk offers both a sleeping area and a work area. Choose between a wall bed with a flip-down desktop attached to the front of the Murphy bed cabinet or one with a complementary shelving unit designed with a fold-out desk.
3. Is a mattress included with your Murphy beds?
We do not currently include mattresses with any of our Murphy beds; however, our wall beds are carefully designed to accommodate most standard mattress sizes. This allows you to choose a mattress that you love based on your preferences for mattress firmness and materials.
4. How do you assemble a Murphy bed?
For installation and to avoid risk of injury, only a professional or qualified person with knowledge of the wall structure, studs, and components should assemble and install the wall bed. The bed may be attached to wood studs or masonry wall structures.
5. Do you sell Murphy beds in different styles?
Of course! We have several wall bed collections, each with their own style. Shop for a modern Murphy bed with clean lines and a minimalist design, a contemporary wall bed with a two-tone finish, or even a traditional-style wall bed with shaker-inspired trim. Whatever your home decor style is, we have a wall bed for you. We even have an option for you to build your own Murphy bed!
Looking for a Free-Standing Guest Bed?
A simple alternative to the Murphy bed is our clever Cabinet Bed! Our free-standing cabinet beds come with a folding mattress for easy use any time your guests stay overnight.
Shop cabinet beds