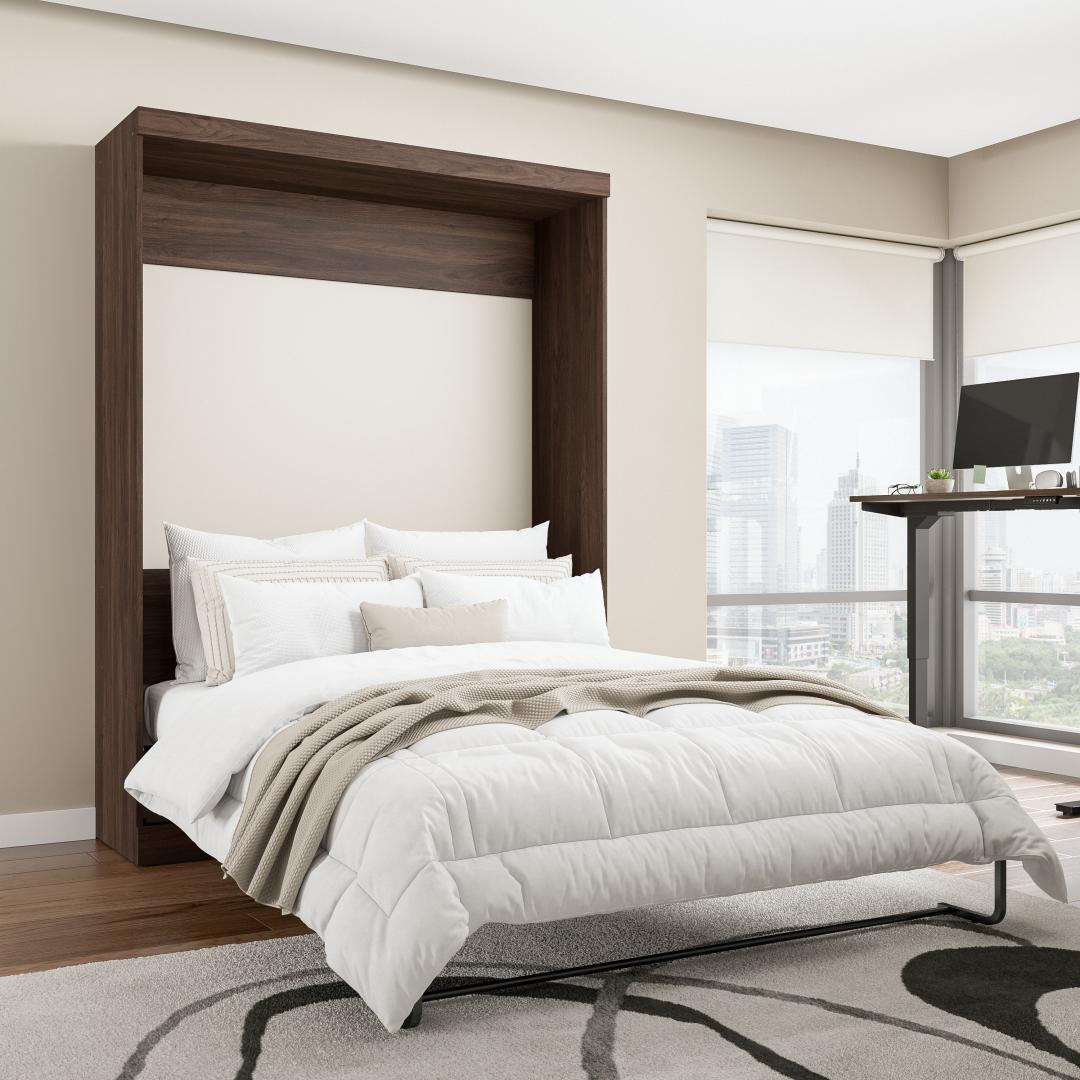 Dimensions
Width
Height
Depth
Weight
1640.8 mm
2263.1 mm
515.6 mm
165.6 kg
Width
Height
Depth
Weight
64.6 in
89.1 in
20.3 in
365 lbs
Key features
Quality laminated particle board compliant with TSCA Title VI with shaker-inspired trim and metal handles
EuroSlat mattress support system increases sleeper's comfort; box spring not required
Bed folds up and down safely and quickly thanks to the dual piston system
Bed accommodates most standard Queen mattresses (8-12 inches thick, 70-90 lb, 60 x 80 inches)
Mattress not included, no futons; assembly required (3 people recommended)
Open bed extends 92.2 inches from the wall
Minimum ceiling height of anchoring wall is 91.1 inches
Maximum weight supported is 1000 lb (including mattress)
Backed by the Bestar 10 Year Manufacturer's Warranty
North American made with local and imported parts
Description
The Bestar Pur Queen Murphy Bed (65W) offers a classic look and is the ideal space-saver for a multipurpose room. Easily transform your home gym or office into a guest room. The EuroSlat mattress support system is specifically designed to increase the sleeper's comfort. The bed can be used every night for a good night's sleep. The bed folds up and down safely within seconds thanks to the dual piston system. Choose your own mattress since the bed accommodates most standard Queen mattresses (8-12 inches thick, 70-90 lb, 60 x 80 inches) and supports up to 1000 lb (including mattress). The open bed extends 92.2 inches from the wall. Assign a clearance of 30-36 inches around the open bed. The cabinet must be anchored to a wall with a minimum ceiling height of 91.1 inches. The Murphy Bed is backed by the Bestar 10 Year Manufacturer's Warranty. North American made with local and imported parts.
Bestar queen size
4-4-2017
Only issue was the front trim fell off which I glued. Went together we'll. May have been a better idea to put in top trim at start of building rather than end.
Murphy or wall bed
4-10-2017
Very pleased with look and comfort and it is easy to pull up and down. We had two people to put it together, not sure could have been accomplished with one. We were missing a couple of brackets and screws but called the 800 number and had them the next day.
Heavy as an elephant. Takes awhile for assembly. Need two people. Looks great. Works really well.
Very comfortable bed that looks great closed up.
4-16-2017
The Bestar wall bed is very well made. My husband is an experienced wood worker. He first read the instructions, then inventoried and separated all the components (that took one hour) so he knew if something was missing or unusable; everything was there. It took him another 3 hours to put everything together. He had a friend come over for the actual installation and that took another two hours. He said it needs to be done by someone experienced.
Pretty slick & looks good!
4-16-2017
Bought this bed from Best Buy(.ca) based on the best price I could find at the time. Delivery was a little on the slow side but I was not in a hurry, so no biggie. The delay in shipping gave me some time to watch some YouTube on wall bed assemblies. Everything I saw lead me to believe I was in for a 12 hr build. I started assembly at about 5:30 Friday night, stopped for dinner for about 45 minutes & then went back to work. Surprisingly, I finished assembly at about 10:00 pm which blew me away based on expectations I had set for myself. The finished bed is pretty slick. My wife can open an close by herself. My kids cannot. It is pretty heavy and not the easiest to open and close based on the weight of the mattress. The fit and finish is good. It is mdf keep in mind, should be ok. Time will tell. Looks great closed & we are super happy to hide the bed in the room. It was an eye-sore to the room unlike the Bestar. Would recommend this product! Seems a little expensive for what you get but it seems like all wallbeds are over priced. I guess the shipping costs need to be factored in somewhere. BTW, the unassembled product is really heavy even though it comes in multiple boxes. 4/5 just because I think it is a little over priced, but that is just my opinion.
We purchased this bed for one of our guest room and couldn't be any happier. The bed looks great and actually wasn't too difficult to assemble. It did take us a solid two days to put together but we also took our time. The bed isn't solid wood but is quite sturdy and perfect for our needs. We were short in the quantity on one part but Bestar's customer service was excellent and sent it to us immediately. We are very pleased with our purchase.
a very good product
4-29-2017
great space saver. Wish I had bought it years before
The bad worked fine, until about three months after we installed it, the fluid started leaking out of the hydraulic arms…
Good value - looks great!
4-29-2017
This is bed is perfect for my requirements. It was a very reasonable price (on sale at Costco) and looks very nice. The mechanics of moving it up and down work very well. I am surprised that I can manage to have my duvet and pillows on the bed when I close it up. It has given me so much room in what is now my home office (and without a bed out all the time I am less included to take a midday nap!!). Overall very pleased. It is time consuming, but not complex to set up. I did use the YouTube videos. I do find than the bed is not as comfortable as when I had the same mattress on a box spring. If I was using every day I would want a better quality mattress but it works fine for my requirements. I suppose it is unlikely guests will overstay their welcome!
Saves space and good quality.
4-30-2017
I purchased this bed from Costco (good price) and assembled it myself in about a day. The online videos help a lot. No missing parts, but there are extra parts in the shipment anyway. Two people would be nice for assembly but doable solo.
Looks and works great
5-1-2017
We bought this for our basement and are very pleased with it. The quality is quite nice for what we paid and it looks really classy. The assembly videos on the company's website were super helpful. We have a lot of experience putting together pack flat furniture and this set was very well done. It was easy to find which screws went where and all of the holes were in the right place. It took us about 4 hours to assemble and anchor it to the wall. Our guests appreciate having a queen size bed and we like having the extra living space the rest of the time. We purchased this in August of 2016 and it has been used a few times now.
We have had this for 6 months. Not difficult to assemble. The finish could be better, but good value
A challenge to build square.
5-3-2017
We bought ours for a spare bedroom and were impressed with the quality of the hardware. However when we installed it and mounted it to the wall, we discovered that when we operated the bed open and close it tended to shift and contact the inner portions of the MDF causing gouges. We tried several times to re-align the frame but it was challenging to keep portions of the frame from contacting the interior supports.
We've had them for 10 months now and are satisfied with the purchase. A word of warning, Costco delivers it on a skid so it have to be unpackaged and brought in right away. One of the cabinet doors was damaged on delivery, but there was no real hassle getting a replacement. Assembly may seem like a daunting for the inexperienced, but the the instructions are well laid out and manageable. They have to be screwed to the wall studs and the seams should be caulked when assembled. Not a one person job. We get a lot of complements and with a good mattress, they are very comfortable. One down side is that it can be a challenge for a shorter person to pull the bed down.
We purchased this wall bed for overnight guests because we didn't want a bed in the room all the time. It is easy to retract from the wall. Also purchased was a 12" foam mattress from Costco, perfect fit! Highly recommend...we did need to purchase a little more hardware than what was sent for better support to the wall. Very happy with the delivery process & with Costco the pricing was so much less than a furniture store.
Not fancy, does the job
5-11-2017
Design is simple, craftsmanship is lacking but bed is functional, comfortable, and sturdy. Finish is not professional-grade, good for areas with low-visibility.
Nice space saver
5-12-2017
We bought this wall bed for a quest room. Installation was not what I would call easy - it took my husband and I a few days, extended because we had to wait for new doors (they broke in shipping), also pretty difficult to secure to the wall. Once installed, it is a very comfortable bed, good looking, easy to open/close and versatile.
Great replacement for our sofa bed
5-17-2017
Bought this over the Xmas break for the in laws. It replaced a very nice sofa bed with decent air mattress combo. It was a lot of steps and took some time to get everything right but the instructions were through and the results are amazing. Very solid design, does not feel flimsy when set up correctly. Looks great in our guest room.
Bought this for the spare bedroom ,it is up when not in use. Looks great in upright position.Not hard to assemble.
Bought this for my spare room which also doubles as home gym so it's great to have the bed out of the way until guests arrive. It is quite heavy and you need a few hours to put it together. The main issue I have is that I bought a queen mattress within the specifications and it always slides down when closed and doesn't seem to open properly even with the brackets installed - that are supposed to stop this from happening. The corners of the bed also stick out a lot and a guest hurt their leg when waking around it at night. But all and all it's a good buy
Easy to do with two (2) people. Follow the instructions to the letter.
Great solution for extra company
11-1-2017
The hardest part of this process was getting the bed parts upstairs. Finally unloaded the boxes and on the carport and moved every thing into organized stacks in the intended room. Assembly was a very easy and when completed we added a 10 inch memory foam and our guests have raved about how comfortable the bed was. I also added a string of Sting of LED lights behind the upper valence for reading and mood.
When we receive the boxes of stuff one piece was damaged but Bestar replaced it right away. Wasn't hard to put together and it looks great! One suggestion would be to have some sort of cover for the lift piston assembly when the bed is open. I made a pair out of hardboard held in place with velcro tape.
We purchased this wall bed to save some space in my office but still have a comfortable bed for guests. Two of us were able to build the bed in about 4 hours. The instructions were very clear and there were no missing parts. We are very happy with the look of the bed and would recommend it.
So disappointed!
11-9-2017
I had faith in Costco until now. I thought that this would be a quality product as based on the reviews. I thought I had researched this quite thoroughly but obviously not enough. Compared to other wall beds that I saw in person, the material in this product was quite substandard. Directions and pictures were terrible. Even the professional carpenter that I hired to set this up was surprised. I have purchased quite a significant number of products from Costco and up until now have been happy. I am not currently a happy camper and it has impacted my decision on any future products I will make from Costco. So very disappointed!
We bought this bed for a guesthouse that is also a pool house in the warm months. We didn't want a bed out year round. It is the perfect fit. It is solid enough for extended use and looks nice when put up. Per other reviewers we were concerned about putting it together ourselves. But that was not the case. The instructions were easy to follow and all the pieces were there. It probably took us 4 1/2 to 5 hours total.
Our bed was delivered, without damage, a couple of weeks ago. Three large and very, very, heavy boxes. Husband put the bed together in one long full day. The directions very clear, all parts were there and marked well, and all the holes were drilled where they should be. My husband is an engineer so if something had been wrong, then he could've fixed it, but he was glad he didn't have to. We bought a mattress from Ikea, made up the bed and are ready for holiday guests!
Yes, you need two people to put this together unless you have real construction know-how. But it is sturdy, fabulous looking, and functions so well. We are delighted to have it.
Happy in California
11-14-2017
Clean, simple, attractive lines
11-14-2017
Particle board construction is not a plus........ very heavy, easily marred when moving the bulky pieces. Instructions are poorly written - make assumptions that you as the installer may not find logical. Biggest challenge in construction was the alignment of the front "door" facade attached to the bed frame. Everything is constructed from an upside down and backwards point of view. Do not rush thru the project. Read every instruction carefully. Do not deviate from the manual. Install everything, including screws manually. Too much tork on ANY part could compromise the project. We had great difficulty with the front "door" facade because NONE of the holes lined up according to the manual. We made up our own based on the available holes in the frame. That seems to be working and the bed feels sturdy. Be sure you itemize and account for EVERY nut, bolt, screw, bar, and panel before starting the project. I actually labeled little plastic food storage boxes with the numbers for every small part. That made the job MUCH easier and efficient. The manual DOES NOT list ALL the parts on the same page. You have to go back and forth thru the book to identify several of the metal pieces that come WITHOUT labels. This project is NOT difficult, just very tedious. It took us about 10 hours over a stretch of five days with four people to complete it safely. We made sure we took our time, were patient, and didn't feel rushed to finish. As a result, the bed works VERY smoothly, is attractive, and an asset to my home. It IS heavy to pull down, but EASY to lift. I weigh 140lbs and I have to use every pound to get the bed to come down. Seems like a reasonable safety feature....... a child will NOT be able to open it. Also, there is a small "pseudo-shelf" that rests behind the pillow end of the bed against your wall when it's done. Nice feature. Our bed centers on an electrical outlet as well so you could plug in your phone or computer or a small reading light and set them in the little shelf behind the bed. We plan to add some solid wood molding to the top (for aesthetics), bottom, and exposed sides as these areas could be vulnerable to damage. The white "paint" on the particle board is a kind of plastic coating, that, when marred will be a challenge to repair. We did manage to scratch some areas pretty badly during unpacking and handling the heavy pieces. I'll be covering those areas with molding as well. So, all said and done, you do "get what you pay for". This bed was a great deal less expensive than other products I researched. All of these beds require installation anyway. This particular product is going to work well in our room and we are pleased with the overall results........ but, it is not a project for "the faint of heart"!
Relatively easy to assemble.
2-3-2018
Looks great, & it allows us to have an additional guest space while not giving up our office space.
Great bed for the price
2-3-2018
We bought the queen size wall bed for our guest room/video game room. We didn't want a dedicated guest room and the wall bed fits our needs. my husband was able to put the bed together with minimal assistance (I'm pregnant). The instructions are not great, but we were able to figure it out. We found that the bed can be put away made including a comforter, so that Is nice. Only issue is that there is a void at the top of the bed when it is opened that ones pillow could fall into while sleeping. We are going to buy a piece of foam to fix that issue. I would buy another one of these beds if we ever needed one.
Nicely finished piece to add to a convertible room
2-3-2018
Haven't used as a bed, but there is much more usable space in the room as a result of our purchase. In spite of other reviews about the difficulty putting it together, it was easy and manageable. Box #1 should read "open me first" and give yourself as much room as possible to work in. After that take things slow and steady and in a short time it is complete. A rubber mallet might be recommended when putting the cross pieces into the pre-drilled holes.
Exactly what we wanted
2-4-2018
It's a solid wall bed. Looks good. Instructions for the most part were pretty good. It did take my husband and his friend a few hours to put together. It's heavy to stand up so it definitely takes two strong individuals to stand it up.
Good quality and looks great.
2-4-2018
The bed was packaged well and had no damage on delivery. The instructions were clear and assembly was strait forward. The bed looks good and functions well.
Very poor diagrams and instructions. Pictures poor to identify screws. Never could be done in a day as it is very frustrating
Recessed fitting of a wall bed
2-4-2018
My son and I completed this recessed installation in 3 hours. We are experienced practical/DIY people and used power tools for screwing etc, but care must be taken not to over torque as screw threads will easily strip in the partical board framing. We had placed the original 3 packages in another room and assembled the bed in the final location with the parts as required. This enabled us to assemble the bed in the room without removing furniture for working space. Assembly was straight forward, but layout the parts, particularly the screws in their same groupings. Then double check again you are working with the correct pieces comparing items to ensure you have the right parts (remember the woodworkers rule!). Screw identification can be tricky at times, but otherwise all went smoothly following the ordered instructions. After step 3 of the Assembly Instructions, the basic frame assembly is stood upright in the final position for wall anchoring. Since our installation was to be recessed, and the space between the top of the unit and our alcove ceiling was limited for access, we took a different approach to anchoring the frame. Item 70 (items number reference identified in the assembly instructions), the top vertical panel attached to item 41, the top horizontal panel, is spaced 2 1/4 inch. in from the back egde of the side panels giving a space between this panel and the wall behind the bed. Before moving the frame into the alcove, we built up a 2 1/4(D) X 8(H)x 60(W) inch wide wood beam and attached that to the wall studing, horizontally centered 4 inch below the top panel (item 41). With the frame in place, we then drilled 4 equally spaced counter sunk holes across the vertical panel (item 41), 4 inch down from the top, and wall secured the frame with large screws. The screw heads were concealled by using the supplied plastic covers (item CA-100). This makes removal of the bed from the alcove a much easier process. Also note that installing in an alcove, assembly of item 81 in step 9, and item 85 in step 17 is working with very limited height space, but can be done (with stubby tools). The bed has been slept on and found very comfortable with the slat type mattress base. There is a 5 inch gap between the head of the mattress and the pseudo headboard (item70 and 83). This spce is necessary for when the bed is closed, so I am looking at installing a removable headboard when the bed is required for longer term use and 'sitting up' in bed is needed. Also, the piston system and metal anchoring is black and visible (on a white bed frame!) and ideally would look better with a covering which would not affect the bed closing. In the photos you will see a larger gap at the top of the bed frame than at the sides. I had allowed a 1 inch clearance to the maximum supplied dimensions, but item 87, the original wall anchoring plate attached at the top to item 41 the top shelf, is higher than the bed frame sides and finished front. Perhaps the manufacturer will note this for potential alcove installations in making all sides the same height. Overall we are very pleased with the bed and fits ours needs perfectly and looks great.
Good Bed but Needs Some Tweaks
2-5-2018
Delivered in good condition, and the components are heavy. My husband and I had it unpacked and mounted and ready to go in less than 4 hours. Watching the videos were helpful beforehand. It looks really nice too. But can't give 5 stars because the gap between wall and pillows is so big that the pillows fall back there. We have a solution in mind to buy same type of material and retrofit a wedge in there to create a sort of slanted headboard. But if we can devise this, why can't Bestar see this problem, and add a few pieces to the kit, especially at this price? It's not cheap, esp when you add the cost of a mattress, but cheaper than adding onto the house to create a new bedroom! We slept on it to try it out before any guests, and thought it was just fine! And have had two sets of visitors since. They want to come again, so that is the rating I guess!
Bought for secondary sleeping bed in spare room, works well.
It's good when on sale price...inside panels are cheaply made. Outside panel and bed mechanism is decent but mattress holder doesn't keep mattress in its place. Also instructions should be reviewed and updated. Short screwdriver is needed to screw in top panel especially if the ceiling is lower than 8' and labelling on panels can be mixed up. Someone with little or no tool experience is going to have a very hard time assembling.
Queen size Murphy bed.
2-11-2018
Bought this for our office/3rd Bdrm. Looks great! Very happy with the queen size bed. Easy to pull down and push up.
I bought it month ago and I am very happy. It is best and very convenient bed. We are all family members like this style.
Bought this bed in December. Not easy to put together, but if you follow the instructions and take your time it turns out real nice.
Perfect for my needs
2-25-2018
This wall bed is exactly what I was looking for. I came in excellent condition with all the pieces and parts. It took my son about 6 hours to put it together, all I did was hold things and help lift the frame. I couldn't be happier. I haven't slept in it but my son said it was very comfortable.
Great to have as an extra bed!
3-7-2018
I moved into a new 2 storey home . Parents are elderly and cannot go up stairs . This bed is in our den . Awesome handy and compact . Well worth the money ... FYI may hirer someone else to build and install time consuming.
Very practical for small room. Nice furniture.
3-8-2018
I purchased this for a room that serves as dining room and guest bedroom. The functionality of the bed works really well. It was easy to assemble, however, it does take two people at times for lifting. I am pleased with my purchase.
Barby in Dixieland
3-30-2018
Great Space Saver
3-30-2018
Lots of pieces and hardware, but the directions were very clear. This new bed operates beautifully and is just what we hoped for.
Significant disappointment
4-12-2018
I specifically ordered this because it was advertised as Canadian made and 'made in China' was written on every box it shipped in.
Very happy with the product. Everything went together perfectly. I used a combination of U Tube video and written directions, if one wasn't too clear I managed to get the correct assembly from the other source. I basically assembled it myself, I did need help to raise the frame up right and back against the wall but that was the only assistance I needed. Took me two days (4 hours a day) to assemble. I also mounted a TV on the bottom of the bed for when bed not being used and it didn't make a huge difference to weight when closing the bed.
Love the bed but a real hassle to assemble.. instructions could be better written
Happy with our murphy
6-1-2018
The only bummer about all Murphy beds is the price! We were happy to get this on sale. We are also pleased with the way this looks. Installation took just over four hours. We had expected it to be more difficult based on other reviews. I read instructions and prepped fasteners. My husband did the installation, and I helped hold boards during two steps.
This bed looks great once put together. It is made from quality materials. It went together easily; however, the instructions were terrible and five screws were missing (and five not listed in the instructions were included)
Looks like a built in furniture
7-12-2018
I installed the wall bed last week and I'm so happy with it. I ordered it with the shelves on the side and it looks like a built in piece of furniture. A couple of things to take note of before purchasing it, is to account for the baseboard moulding if you plan on installing it against the corner of a wall. I had to cut out part of the baseboard so the shelving and wall bed would be flush to the wall. Make sure you find the studs as well to secure the wall bed. Also make sure the mattress you buy is the minimum weight. I ended up buying an 8" memory foam queen mattress that was 30lbs less than the minimum, fortunately it still kept the bed down. I'm a pretty handy person, but it still took me 2 half days to complete. I recommended having another person, especially when you have to put up the wall bed up against the wall.
Canadian made and well made
7-12-2018
This is a nice kit to put together. The enclosed instructions are not the best, but search youtube for some help videos and they will resolve any questions. You need some skills to put this bed together. It is a shade more challenging than Ikea stuff though the connectors and hardware a similar.
Honestly it is ok, however
7-14-2018
the directions for putting this together are "terrible" need someone who can interpret into "English"
Looks great and Easy to Use
7-17-2018
We purchased the bed so we can use it for arts and crafts when we don't have company. Works great! Though you can't store the pillows on it as the pictures show. It barely closes with the mattress we have.
Great value and easy to assemble.
7-17-2018
Exactly as advertised; we are using it in our den as a spare bed for our visitors.
Good Quality for Great Price
7-20-2018
This is my second time buying this wallbed configuration and after shopping around and having good taste in quality items...I must say, this wins for quality versus cost. If you're considering installing it, go for it. You'll be happy you did.
Beautiful and functional
8-28-2018
I bought this queen wall bed with two shelving units and it's very functional and sharp looking. I have it in my massage treatment space so now I have a multifunctional room that provides a work space during the week and a beautiful bed set for company. Every patient of mine has commented on how gorgeous it is and I can't beleive how little space it has taken when folded up. We bought a simple 10inch high density foam mattress and so far all three family members that have slept on it say it's very comfortable.
Great option for small space
9-5-2018
I bought this bed for use in a pool house - perfect option for fully using the space when the bed is upright. It took my husband approx. 5 hours to assemble, using other family members to help hold/move pieces. The bed looks great, and raises/lowers easily - highly recommend this unit.
We bought this bed about a month ago. We used both the included instructions and online videos to help us put it together. It was a bit challenging but definitely worth it in the end.
Excellent Quality and clear youtube step by step
9-5-2018
Went together perfectly. Need two people and some mechanical knowledge. All parts fit and manufactured for quality and to last.
Very happy with it, just as I thought it would be. Was prepared from all the other reviews though and agree with them, assembling it was a nightmare! But, all good so far.
Gave us a Multi-purpose room
9-6-2018
This bed has enabled us to change a spare room into a room that can be used for multiple purposes and it looks great installed
It will do the job.
9-14-2018
It seems a little expensive for what you actually get. The instructions were complication, we sort of just figured it out on our own.
Looks good when finished
12-8-2018
I bought this bed about a month ago and it looks great now that it is installed...but, installation isn't for the light of heart. It was a huge time consuming job for two strong people with power tools. It also arrives on a large wooden skid that isn't taken away when delivered. Because of the difficult installation, I wouldn't purchase again.
It is a great piece and super solid. It fits well and looks really nice. The only criticism I would have is the same some others have had. It's the instructions. I have put together tons of IKEA and other types of furniture and this was by far the most difficult. They should put some words on the instructions and not just pictures that are not that in-depth. I got it together but the frame was upside down when I got to the final step. It's something a person wouldn't notice till the. I got creative and it's fine, but it could have been perfect.
Great option but defective quality
12-8-2018
Two panels came damaged in the boxes. For delivery, only one driver was present and the boxes are over 200 lbs each, so I actually had to help the driver carry the boxes from their truck.
I am very happy with most of this bed. However, one of the front panels came cracked and upon trying to contact Belstar to see about a replacement, I have yet to be able to get through (sat on hold for 1.5 hours and nothing).
Very Happy with Bed
12-16-2018
We are very happy with this. We put it in our finished basement and it gets used regularly. It was not the easiest to assemble but MUCH easier than i was expecting from all of the reviews. There are times that definitely require 2 people. There is no getting around it. One panel was damaged in transit but they did an excellent job getting the replacement part to me very quickly. We have had this for about 4 months and absolutely recommend it.
Good bed, priced right
12-16-2018
This product is the best value/quality balance I could find. It is a pretty solid price of furniture as long as you mount it properly to the wall. I by myself put it together in 5 hours...two people are really needed, but I got creative. Looks great in the room and foam roll up matress they suggested and i bought separately fit well.
Nice unit, instructions need work
12-17-2018
It's a very nice product and works well. The directions need to be specific to the particular item and more clear. In one diagram it shows the correct layout then the next other pieces are substituted. To be a 5 star product the instructions need to be clearer and specific to the product bought.
Engineered very well
12-17-2018
Given the large number of parts that had to be put together the bed came out very well fitted. All boards and coverings fit beautifully when put together. Took my wife and I about 10 hours over two days to put together so other reviews that said make sure you have a good marriage were not kidding :) Make sure you have carpet or some underlay to work on as you don't want to damage the finish when putting things together on the floor (lots of that). Bought a Mattress Wedge Queen Pillow for the gap at the head of the bed when its pulled down - works very well - highly recommend it.
I bought this bed a month ago for a second home. It is perfect. It looks great and works just as advertised. The Company has been very helpful and all the pieces were in the box. I was pleased with the packing since it is large and heavy. It definitely requires 2 people to move the packages.
Perfect wall bed for a home office,
12-25-2018
Very happy with the look and the quality of this wall bed.
Bought it in October. Exactly what I wanted. Works great
Good quality, easy to assemble
12-29-2018
This is the 3rd Bestar Boutique wall bed that we have purchased. They are great space savers and very comfortable. The assembly instructions are easy to follow. Highly recommend this bed.
Functional, but not well made
1-9-2019
I was thinking that this would be a real wood product, but it is entirely particle board. My husband had to make some modifications for it to go together and not all of the hole covers fit. We used it right away for guests, so it has at least served its purpose.
Good price, nice look.
2-21-2019
There is a good product and the price is excellent. The shipping was pretty fast. The only reasons for giving 4 stars instead of 5 is because the material is very heavy and the assembling specifications are just good (not very good). I am a technical person, but for somebody who has as reference IKEA, well, it is a bit more complicate.
Just finished installing. Mostly by myself with help to tip up the frame and drilling concrete screws. Overall good value. Super heavy. I had to open boxes and carry pieces to the condo. I'd pay a bit higher price to avoid some of the Chinese particle board. Instructions are good when using both manuals and video.
This bed is not easy to put together, comes in a great MANY pieces, and instructions are sometimes vague. The overhead piece, I think it was #83, was drilled too close to the outside and the wooden peg on one side went all the way through on one of them. However, if you are savvy and have a helper, this bed is quite beautiful and seems sturdy. Nice piece of furniture overall.
I bought this a few weeks ago! It looks great, and is a great space saver. It took my husband and I a few hours to put it together and the instructions were simple to follow. Super happy with this product
This is a beautiful piece of furniture and is exactly what I wanted. Worth hiring someone to help assemble. Also the UTube video was extremely helpful.
Looks good in the room
6-19-2019
Take your time putting it together and it will be fine. Both cosmetic front doors arrived with damage from factory cuts not being done properly. They shipped out replacements. It's rated for a 12" mattress which is what we bought but the leg that folds up when in the closed position won't fit over the mattress. I would say 10" is max like most others out there. Serves our purposes for a guest room.
I purchased this wall bed for visiting family to use while staying with us. I think it worked fine as a short term place to sleep but the overall quality of the materials is not great. Many pieces don't align very well and the laminate surface will likely not wear well over time. However it was only $1700 so it was priced equal to the quality. Assembly took some time but the instructions were well laid out and it took less time to put together than many of the online references indicated. Family said it wasn't the most comfortable mattress we had added, but you are limited in options given it has a predetermined thickness to work with and still be able to fold away.
I love my bed! It looks so good and it wasn't all that hard to put together. However, there were some things that just didn't go together right and had to be reworked. It seems to be holding up well.
I love my Murphy Bed
6-19-2019
I bought my Murphy Bed about two months ago. It has taken this long to finally get it installed because a wooden piece arrived damaged and it took about two weeks for the replacement board to arrived. The company is based in Canada and waiting on the freight company to deliver requires patience. Please be sure when you order your Murphy Bed to ask for the straps that hold down the mattress to the frame be sent along with the bed. I had to wait for this too. The final assembled product looks great! So far it was worth the wait!
Need better instructions and illustrations.
6-21-2019
It's aggravating when one picture shows something different than what is actually there. It took 2 of us 8 hrs to complete.
This unit is well designed and the pieces all fit together well. It is important to read the instructions very carefully. It does take two to three days to put together.
.................
10-2-2019
I wrote a review then when I got to my nickname you wouldn't accept my 3 letter nickname. well kma morons. what kind of idiots sacrifices a great review and puts parameters around a nickname. idiots!!!
We were very disappointed in the quality of the product. It's flimsy particle board with exposed hardware and difficult to assemble. It requires a licensed contractor to install to insure safety. I do not recommend.
Bought this item 2 years ago and it still looks and feels like new
Excellent product
10-2-2019
I bought this a month ago and it is fantastic. To put it all together was time consuming. Everything fit together perfect! Easy to put down and up. Awesome! Love it!
Looks good, certainly takes 2 or more folks to build. Some form of bar to keep pillow on the bed would be helpful when you sleep.
Wall bed took a long time to assemble with some of the pictures being difficult to understand. Thankfully my friend helping me is a carpenter so we figured it out and had some laughs along the way
Pur Queen Wall Bed is a quality product
2-25-2020
We were absolutely thrilled with this product, very easy to understand instructions. From delivery to our door and install, 4 hours!! Requires 2 people for easier assembly. Very impressed with quality of product, and Hey! all the parts were there.
Excellent product and customer service
3-3-2020
Installing a wall bed is definitely a two person effort. Before mounting the bed frame to the wall, be sure to adhere to the instructions to raise the support feet, otherwise you will not be able to install the front kick plate afterwards. The build quality, fit and finish are high. I was especially impressed with the excellent customer service available 7 days a week. The product is manufactured in Canada. The instruction manual is adequate but it's very helpful to cross reference the youtube videos for each installation step. You cannot use a foam mattress with a wall bed. They are not rigid enough when standing upright. A traditional spring mattress is best. Overall, we're very happy with the product and customer support.
Test Test Test Test Test Test Test Test
3-16-2020
This is a test This is a test This is a test This is a test This is a test This is a test This is a test This is a test
Great Bed, easy assembly
4-7-2020
This bed was actually very straight forward to assemble, definitely a two person job but we had it finished within a day. Once assembled it is a really beautiful piece of furniture to have in the room. We purchased a mattress that is ~11inches thick- which is more comfortable but we have a thinner comforter in order to make sure the bed closes all the way. The boxes are very heavy, so if you don't have a dolly and another person it would be worth arranging with the delivery company to see if they can bring it inside.
Decent but don't put your weight on edge as it can easily break
Test Test Test Test Test Test Test Test
6-22-2020
This is a test This is a test This is a test This is a test This is a test This is a test This is a test This is a test
So far so good! A bit hard to put together, definitely recommend you know how to do basic handy work. But the bed itself is great and visually appealing. Could definitely be 5 stars down the road, but just got it and want to make sure it holds up.
Looks good but cheap materials
6-24-2020
Quality is okay. I got everything put together then as I was getting ready to move the frame the leveling legs broke off the frame of the bed which is made of particle board I believe. I ended up having to use wooden shims to level.
ECHO Insomnio
Verified Buyer
6-25-2020
Great Quality and Construction!!
6-25-2020
Incredible quality and construction!! Will probably buy another one for another room soon.
Few defective parts were found. No response about resolutions from Bestar Service Department.
Absolutely love these Murphy Beds. This is the second one I've bought and would buy this brand every time. Sturdy, easy to install, easy to use and looks great!
Great purchase !!
7-10-2020
The bed came together very well I am very happy with the construction and quality of the hardware given. It is a two person job to put this together please read thoroughly all instructions there is a bit of a learning curve but the rewards are simple good quality.
Didn't get screws for hooks. Screws for handles were too short. Not enough labels for pieces
good quality product
8-28-2020
Very good instructions for assembly. Good quality product. Very solid. One place in the instructions where there was no hole to insert piece of wood. It would be good to add a note to verify doors have not moved before screwing them to the frame.
Boxes
Box 1
Width
Height
Length
Weight
820 mm
130 mm
2131 mm
51.71 kg
Width
Height
Length
Weight
32.30 in
5.10 in
83.90 in
114.00 lbs
Box 2
Width
Height
Length
Weight
533 mm
80 mm
2335 mm
52.62 kg
Width
Height
Length
Weight
21.00 in
3.13 in
91.94 in
116.00 lbs
Box 3
Width
Height
Length
Weight
814 mm
137 mm
2189 mm
68.04 kg
Width
Height
Length
Weight
32.06 in
5.38 in
86.19 in
150.00 lbs
Warranty
10-year warranty
Our furniture is warranted to the original owner against defects in materials or workmanship. These defects include all the imperfections that can affect the use of the product. As is most often the case, our warranty covers the normal use of the product. To this effect, note that except for the Outdoor collection, our furniture is not intended to be used outdoors.
Our warranty is expressly limited to the replacement of components and furniture for the period specified on the product sheet, and it does not include labor or assembly costs.
For more information, read the complete Warranty policy.
Shipping and Returns
Free Shipping on all orders
Enjoy free shipping on orders to most places in Canada or the contiguous United States, except remote areas.
Once your order has been shipped, you will receive a tracking number by email. We suggest you track the delivery so that you can plan for the arrival of your furniture. The merchandise will be delivered in front of your house or office. If the boxes are large (you can get the dimensions of the boxes online), we suggest you get assistance to move the boxes inside your premises.
Should you decide to return your furniture, you will have 30 days from the day the merchandise was shipped to do so. You must send us the furniture back unassembled and in its original packaging.
The first step in the return process is to complete a return form. Then a member of the Bestar Customer Service Team will contact you to process your request. If your request is approved, you will be refunded for the value of the merchandise minus 20% to cover for shipping costs.
For more information, read the complete Shipping Policy or Refund and Return Policy.
FURNITURE THAT FITS WITH ANY DECOR
With their clean lines and trendy designs, our Murphy beds will blend in with any decor. You can choose the style that fits perfectly with your home decor and your space. When the bed is folded up, it turns into a large, beautiful cabinet.
THE PISTONS—SO CONVENIENT!
Thanks to a well-designed dual piston system, our Murphy beds fold up and down safely in seconds without heavy lifting. As long as you remove the pillows, you can fold up the bed with its bedding in place. Making your bed has never been this easy!
A COMFORTABLE BED FOR OPTIMUM COMFORT
Our Murphy beds offer an increased comfort due to their Euroslat mattress support system. In addition, they are designed to accommodate most standard mattresses. All you have to do is make sure that the mattress meets our requirements, particularly in terms of weight and thickness.