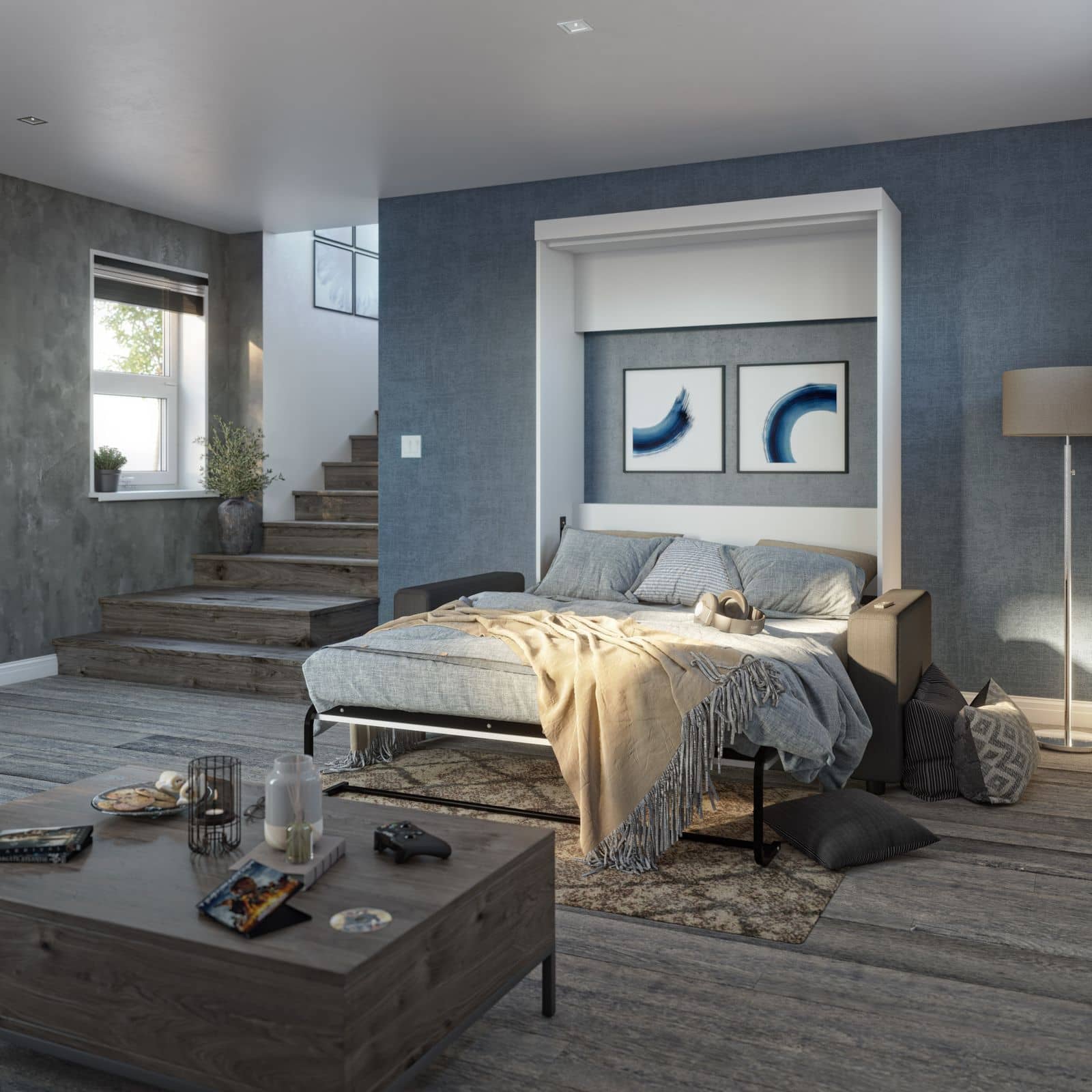 A Murphy bed is a great addition to any space, be it a  living room, guest room, family room, or even a master bedroom. They allow you to maximize floor space by folding the bed up into a cabinet when it's not being used. Other than being must-have space-saving solutions, Murphy beds can also be multifunctional pieces of furniture. Some wall beds come with storage, while others come with a complementary desk or sofa. They also come in many sizes and different designs.
Bestar offers a wide variety of Murphy beds. They are all equipped with a dual piston system that makes it easy and safe to fold them. They can also go up and down within a few seconds and don't require any heavy lifting. Additionally, the wall beds provide maximum comfort thanks to the slatted bed base.
Finding the perfect Murphy bed for your space and needs can be a real challenge. It's easy to get lost in all the different features and styles available. To make your shopping experience simpler, Bestar's wall beds are divided into eight collections. Each collection has unique characteristics. Every one of them was designed to serve a specific purpose and to have a distinct style. That way, you can find the collection that fits what you are looking for and shop from there. That will save you the time and effort it would take to navigate through hundreds of products. Finding the perfect furniture has never been easier!
To help you discover Bestar's Murphy bed collections and determine which one is best for you, here is a short description of each one:
Make Heads Turn with Wall Beds from the Cielo Collection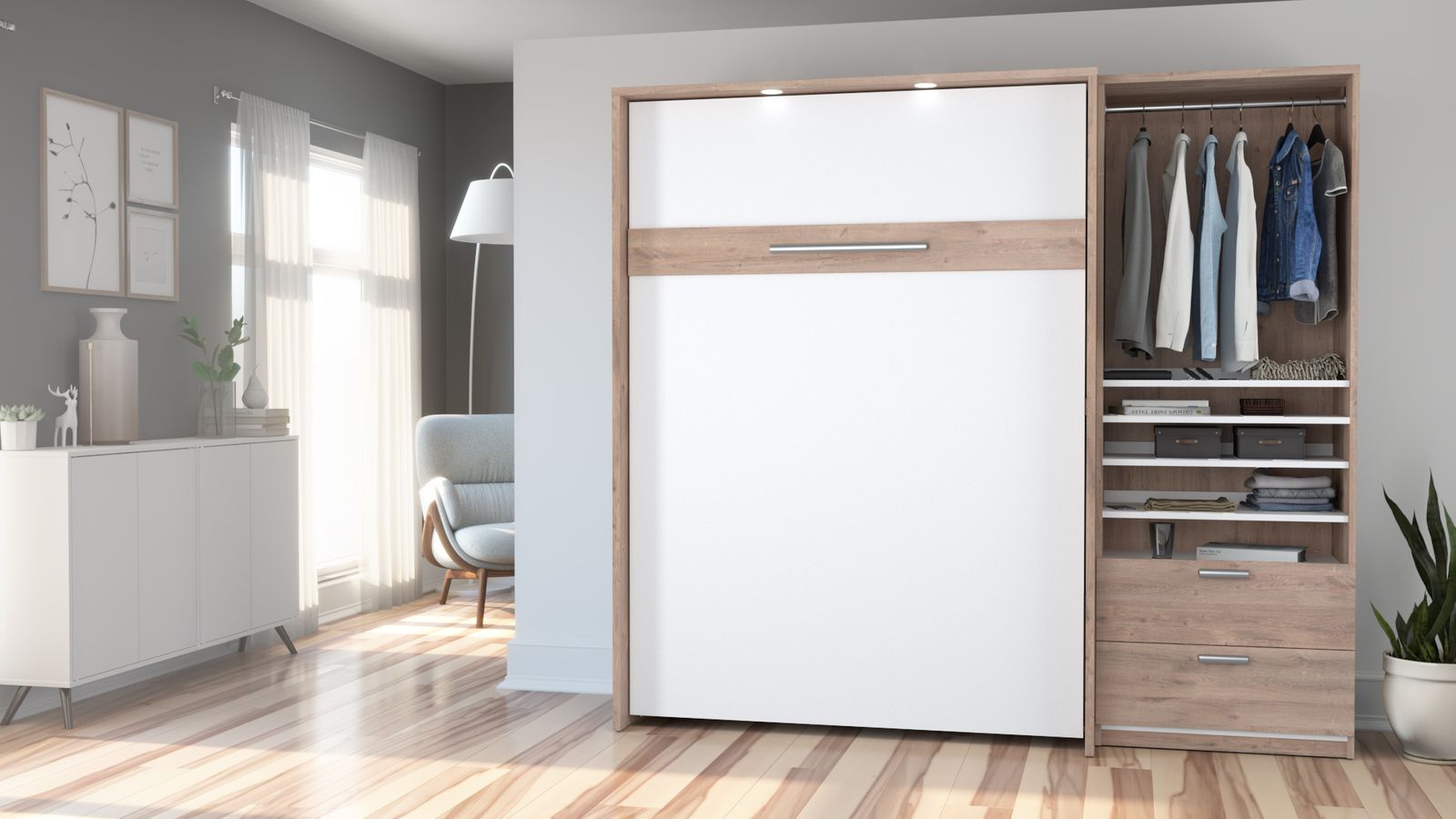 This collection offers a multitude of Murphy bed designs. Whether you want a standard wall bed or one with storage, Cielo has all you need. You can choose between integrated storage cabinets, drawers, or shelves. Some beds even have more than one option. This collection also provides other matching pieces of furniture such as shelving units and closet organizers. With this collection, you will be able to create a cohesive space for your Murphy bed.
The Cielo collection's style is modern and refreshing. Each piece has a two-tone finish and LED lights that catch the eye and create a beautiful ambiance.
Create a Multipurpose Space with a Sofa Murphy Bed from the Edge Collection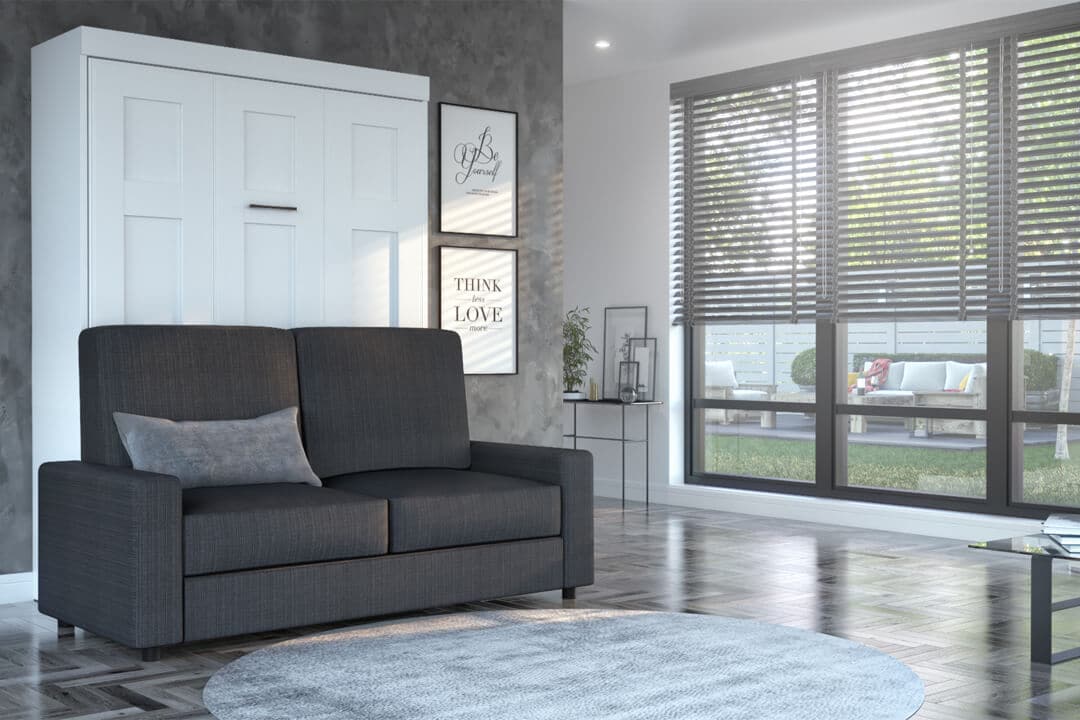 Dedicated to practical Murphy beds, this collection offers a variety of designs and sizes you can choose from. There are many storage options depending on your needs and preferences. It even has Murphy beds that turn into sofas when folded up. Perfect for a living room that serves as a guest room or any other multifunctional room.
In addition to all these great features, the Edge collection is also very stylish. The three-panel classic look blends very well with the trendy finishes available. You really get the best of both worlds with this collection.
Turn any Bedroom into an Office Thanks to Murphy Beds with Desks from the Lumina Collection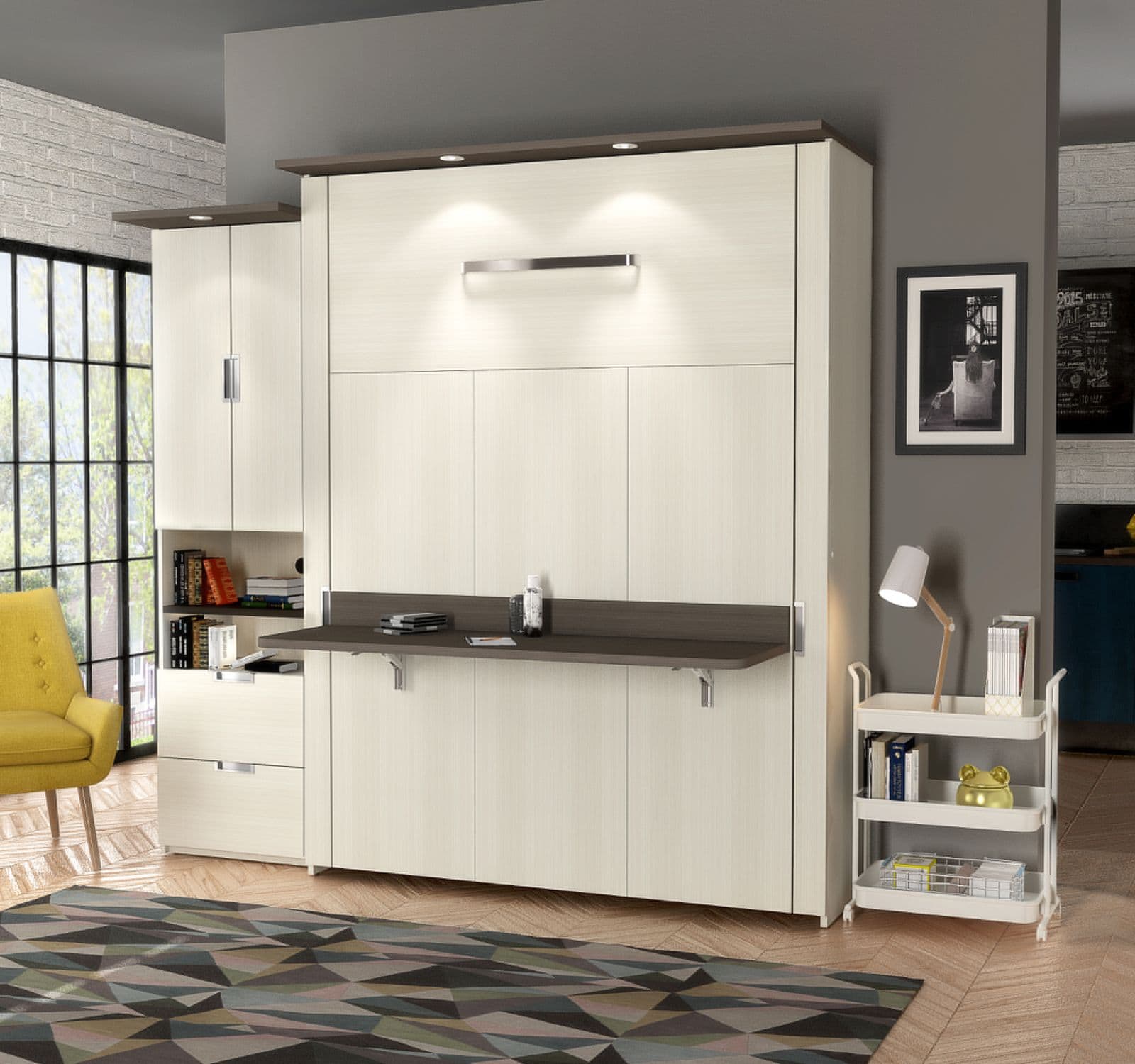 This collection has Murphy beds with simple designs yet still offers many alternatives. Regular Murphy beds, beds with storage options, separate shelving units, it has everything you need. Additionally, what makes this collection stand out is the Murphy bed that turns into a desk when folded up. It's the ideal piece of furniture to save some space and build a multifunctional room. It's also perfect if you work from home because it can turn any bedroom into a home office during the day.
The Lumina collection's style is modern and clean. Moreover, integrated LED lights and brushed nickel handles complete the minimalist look wonderfully.
Create a Beautiful Guest Room with a Diversity of Beds from the Nebula Collection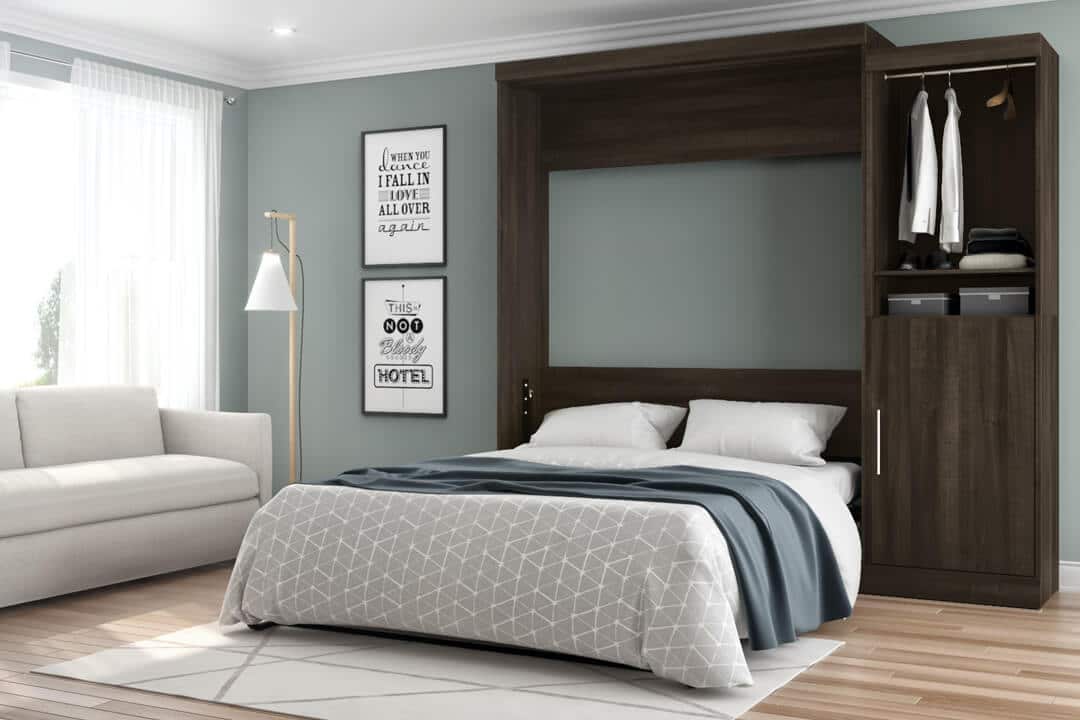 This collection's main purpose is to maximize space and be as versatile as possible. You will also have plenty of storage space with Nebula pieces. Furthermore, there are many types of beds and designs to choose from. You can get a standard wall bed, a Murphy bed with a sofa, or a cabinet bed depending on your needs. You can even decide what type of storage solution you want thanks to a variety of options available.
The Nebula collection has a contemporary style. The furniture's clean lines and brushed nickel handles add to that current look. Some pieces also have a refreshing two-tone finish.
Stay Organized with a Murphy Bed from the Pur Collection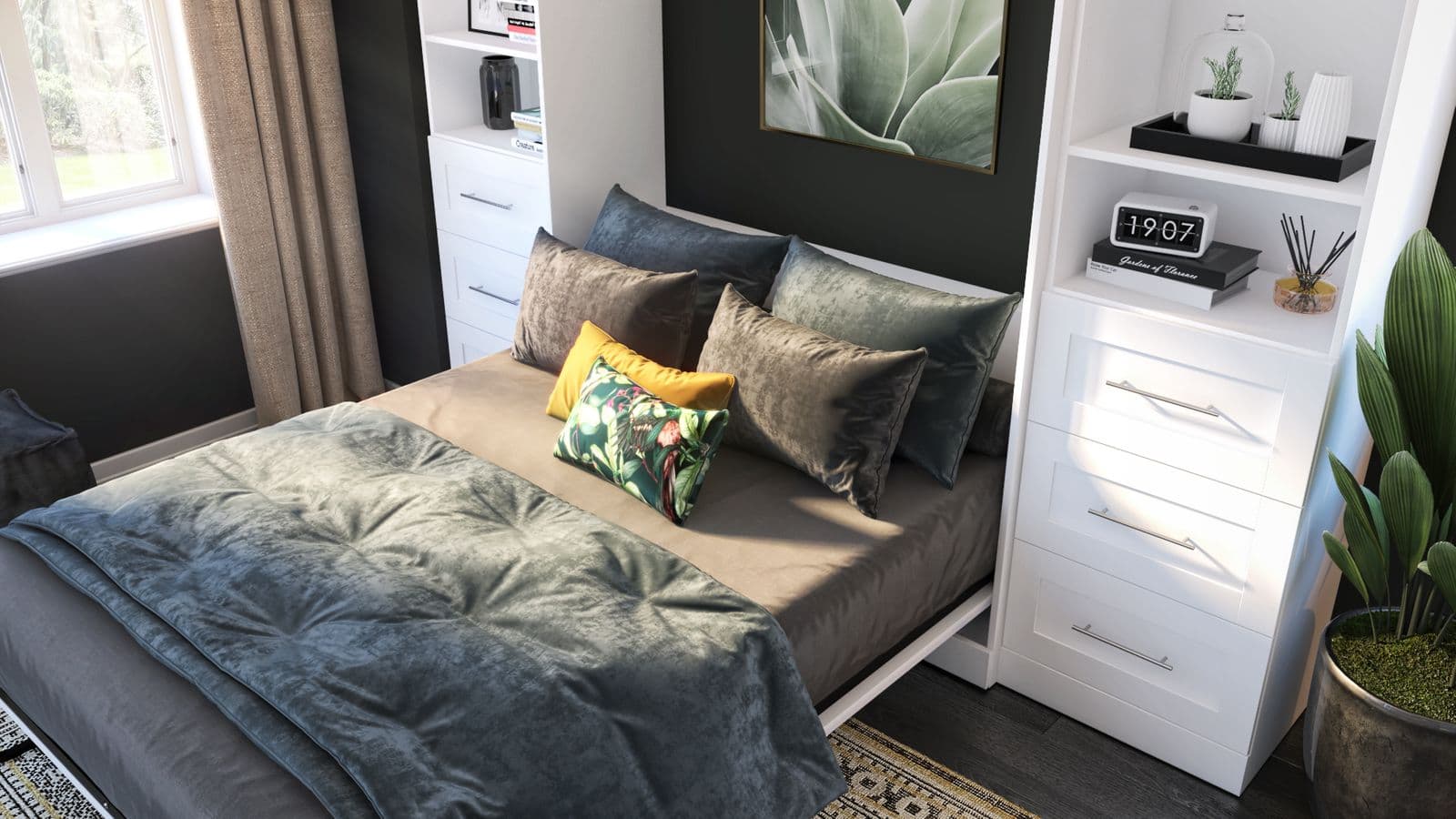 This collection is all about convenience and organization. The vast selection of Murphy beds comes with many storage options. That way, you can keep your room organized no matter how many things you have. There are also multiple bundles and sizes available to make sure you find pieces that will fit in any room. Furthermore, the collection offers other types of furniture such as dressers and wardrobes that you can add to your space. The Pur collection allows you to have more storage options to maintain a cohesive space.
The Pur collection was designed to satisfy your sense of style. The pieces come in neutral colors, and they feature shaker-inspired trim. These touches give the collection a chic look that will always be stylish.
Convert any Room into a Sleeping Area within Seconds with Wall Beds from the Versatile Collection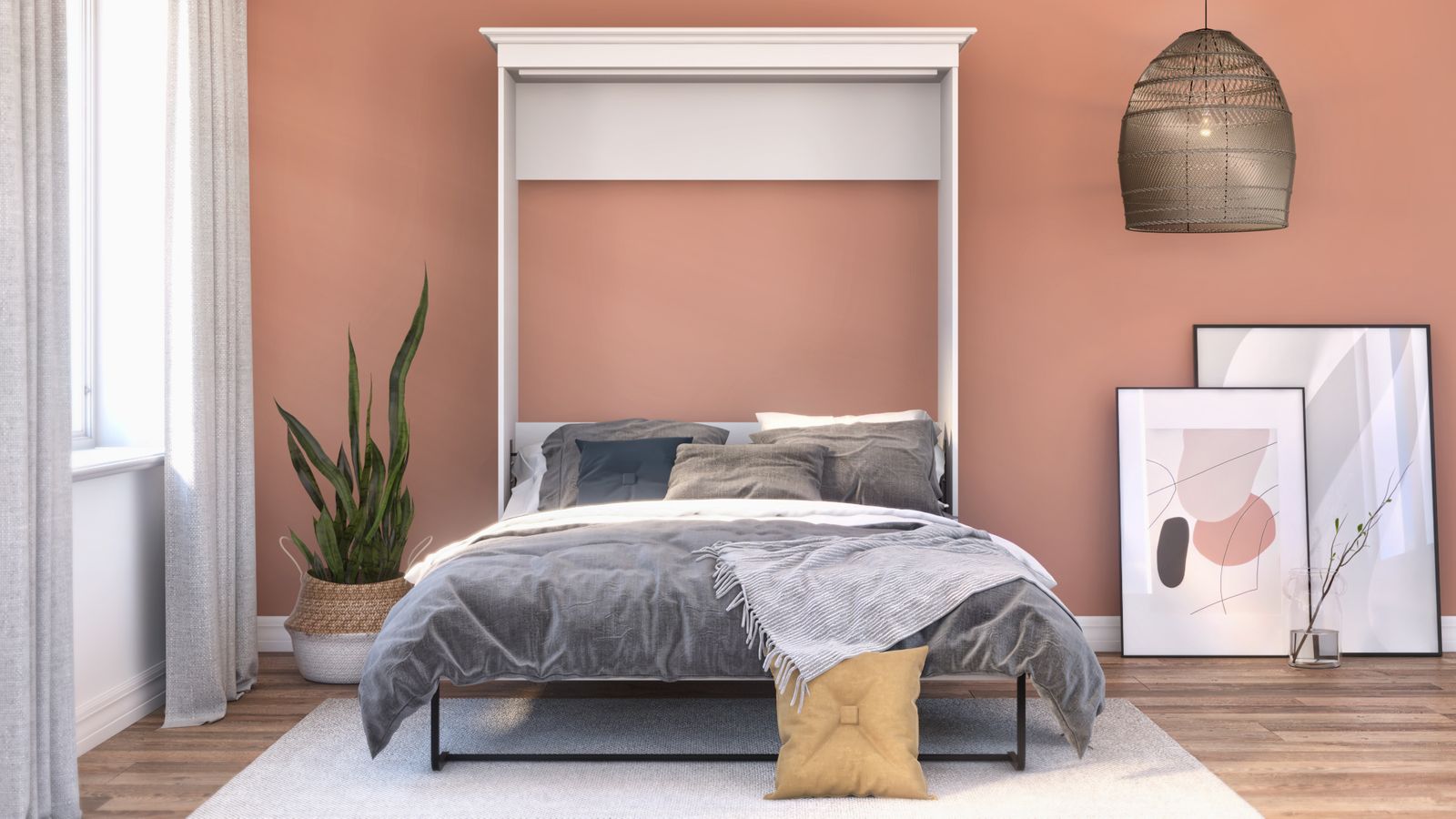 This collection's name says it all. It allows you to transform any room into a bedroom or a home office in a matter of seconds. With the standard wall beds, the Murphy beds with sofas, or the Murphy beds with desks, everything is possible. Versatile was also made to be practical. Setting up your room will be easy as can be. You can even get closet organizers, shelving units, and other types of furniture to match your bed.
The pieces from the Versatile collection are beautifully accented with crown moldings and classic cabinet knobs. The addition of monochromatic colors completes the traditional look to perfection.
Transform Your Smallest Spaces into Luxurious Ones with a Murphy Bed from the Novello Collection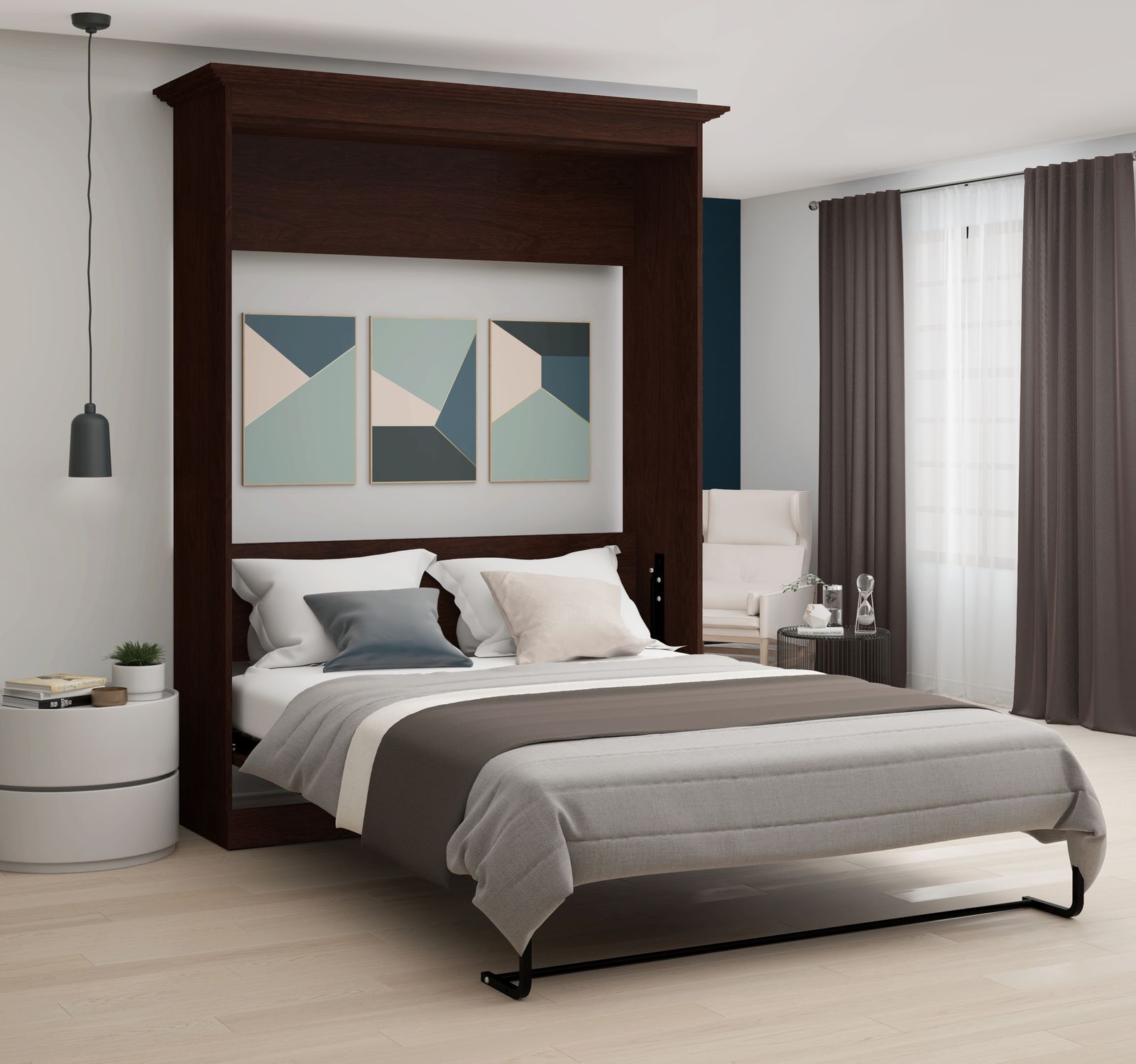 This collection features Murphy beds and Murphy beds with sofas. The pieces were made specially for smaller homes and studios. Their space-saving qualities are ideal to clear some floor space during the day. Creating a room with multiple purposes is also possible thanks to the ingeniously designed furniture.
One of the benefits of Novello is that it does not sacrifice aesthetics for practicality. All pieces have a gorgeous dark oak veneer finish accented by crown moldings. The espresso color gives the furniture a touch of classical style as well. If you want a Murphy bed that is luxurious and functional at the same time, the Novello collection is for you.
Never Run Out of Storage Space with a Wall Bed from the Orion Collection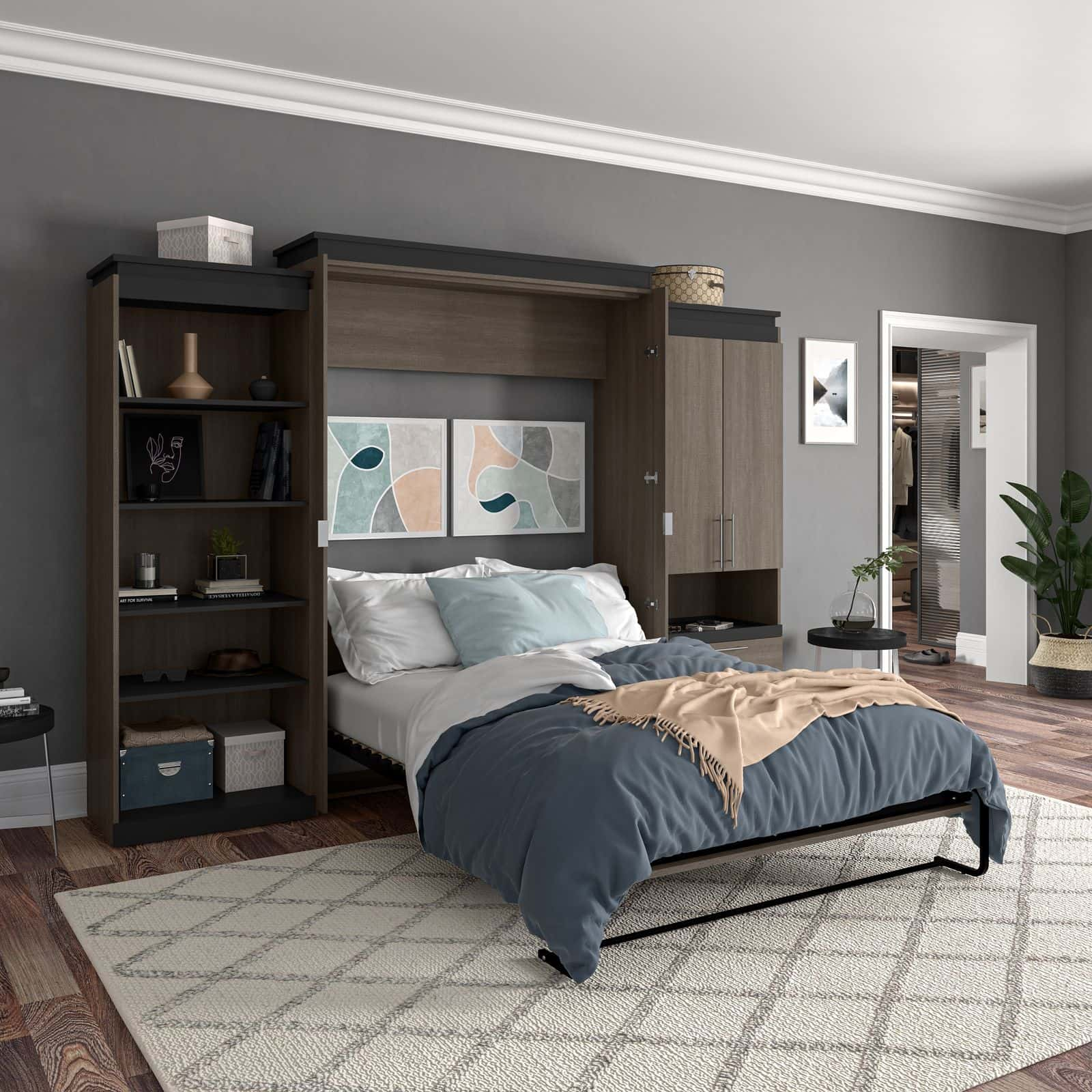 This collection was designed for people who want storage options with their Murphy beds. From shelving units to drawers and cabinets, it offers many choices, all integrated into a Murphy bed set. The bundles have different dimensions depending on how much storage they have. You will surely find one that fits into your space. However, if you need even more storage solutions, you can get other distinct units with the same look.
All pieces from the Orion collection have a two-tone color. Their smooth finishes, brushed nickel handles, and contemporary designs all come together perfectly. This furniture will fit very nicely in a room with a modern style.
Now that you know more about Bestar's collections, shopping for the ideal Murphy bed will be quick and easy. Once you get your dream furniture and have it installed, you might also need some tips on how to redecorate your room. If that is the case, check out these 10 decor changes to make your room feel fresh and new again.
Categories
Home