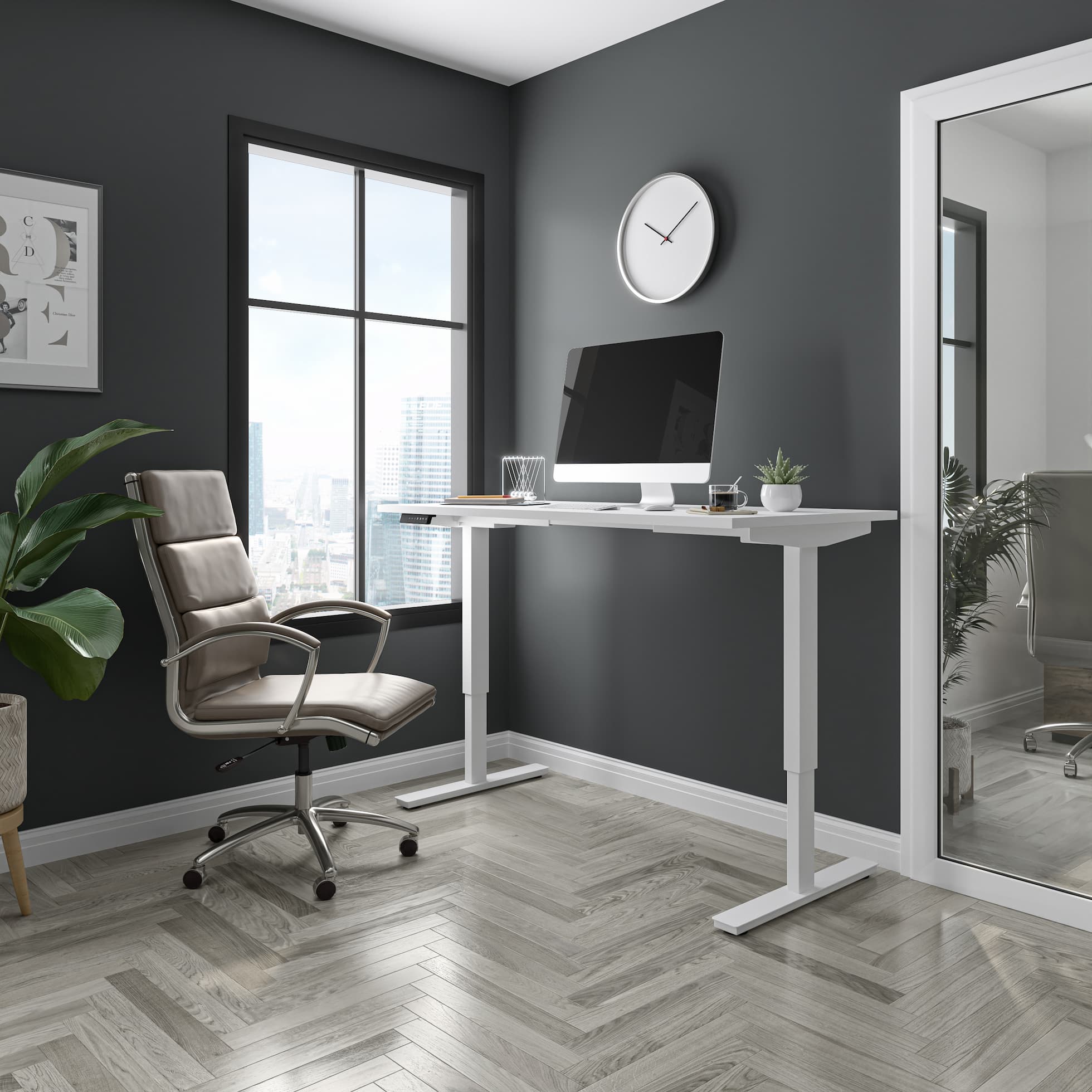 2023 is upon us! The new year brings new challenges, new expectations, and new goals. It's also a time to make resolutions and changes, whether it be personal or work-related. For instance, if you're looking for ergonomic office ideas to change up your workspace this year, it's the perfect time to make the leap!
Whether you're working in the office or at home, having an ergonomic workspace is a must. You need a space that breathes productivity, professionalism, comfort, and creativity. One way to make changes to your workspace this year is to opt for an ergonomic standing desk. Not only will you have a completely revamped office design, but you'll also improve your overall workflow and productivity. Ready to make the leap? Keep reading on how to choose the best ergonomic standing desk for you!
Consider Your Office Layout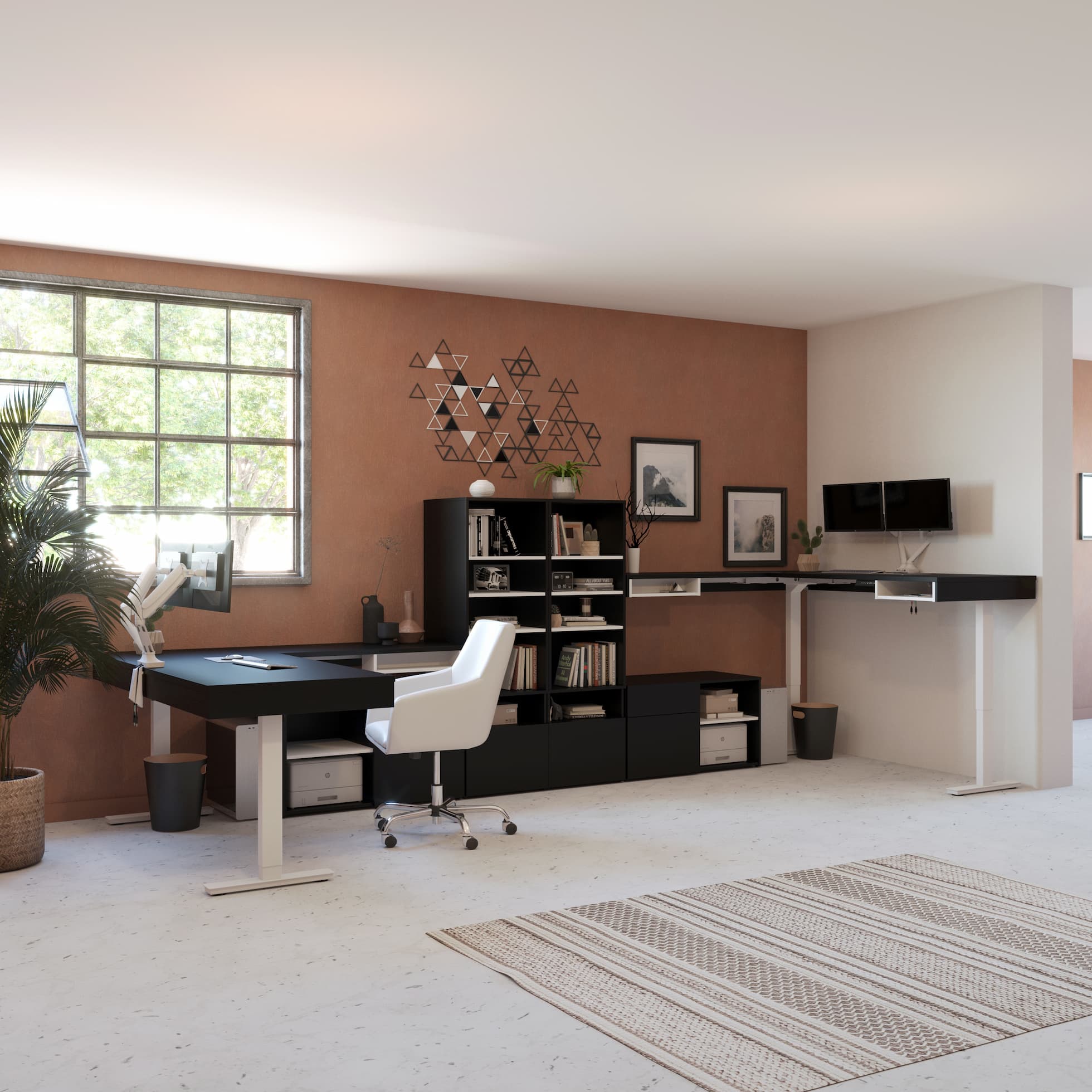 When looking for an ergonomic standing desk, the first step is to take stock of your space. Whether you have a small workspace or an entire dedicated office, you're sure to find a standing desk that fits your office design!
Choosing the right configuration
When looking for a height adjustable standing desk, you can consider what configuration will work for you. For instance, if you're thinking about a small standing desk for your home workspace or corporate office, you'll be able to put it practically anywhere! The compact design of Bestar sit stand desks allows you to maximize floor space, without overcrowding your office. You can choose between a 60-inch, 48-inch, and even 36-inch standing desk, all depending on your needs and expectations.
If you're considering a larger configuration, there are L shaped adjustable standing desks with storage options that can adapt to your space and needs. Most desk models come with a credenza or hutch, providing plenty of storage space for your office supplies. The L shaped desktop is a great option if you have multiple monitors and can accommodate all your supplies (printer, lamp, work papers, etc.). What's more, this configuration works nicely in any size space. Whether you're working at the office or at home, Bestar's L shaped standing desks have the flexibility you need. Place your L shaped standing desk in the corner of the room for added privacy, near a window for ample light, or even in the middle of your space. You're in the driver's seat!
Go with Features for Flexibility and Comfort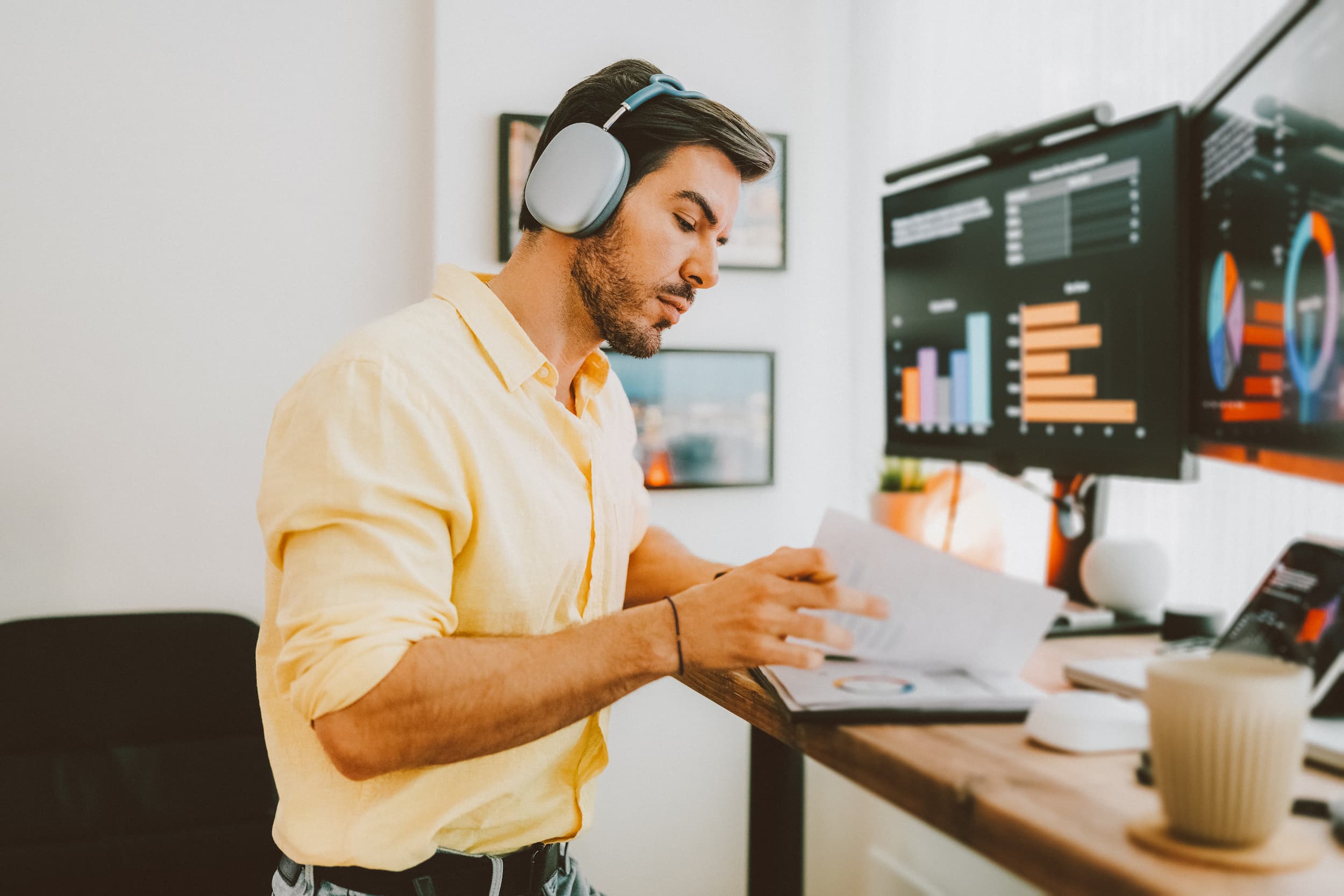 Next on your list should be ergonomic desk features. Standing desks offer tons of great features for ergonomics and practicality. No matter which Bestar adjustable standing desk you choose, you'll enjoy comfort and adaptability!
Bestar has height adjustable standing desks with different features to make your workday comfortable and adaptable to your needs. For instance, do you need to stretch your legs and arms after sitting for long periods? Do you have back pain from endless hours of sitting at your desk? Bestar has a solution! You can choose an electric adjustable desk with a digital memory display that allows you to go from sitting to standing simultaneously. With the push of a button, you can adjust your position whenever you see fit. You'll have the flexibility to change your work stance as often as you like, without disrupting your workflow. What's more, you can pre-program your four preferred positions with the digital memory display found on some models. It's never been easier to stay comfortable at work!
Do you have multiple monitors but find your desktop is overcrowded at times? No problem! Some height adjustable standing desks come with a dual monitor arm that accommodates two monitors. The monitor arm can rotate and tilt up or down, making it even easier for you to adjust the screens to your height. No more neck pain or eye strain! However, if the standing desk you choose doesn't come with a monitor arm, you can always add one to your standing desk. An ergonomic feature that's perfect for any workspace!
Opt for Ergonomic Furniture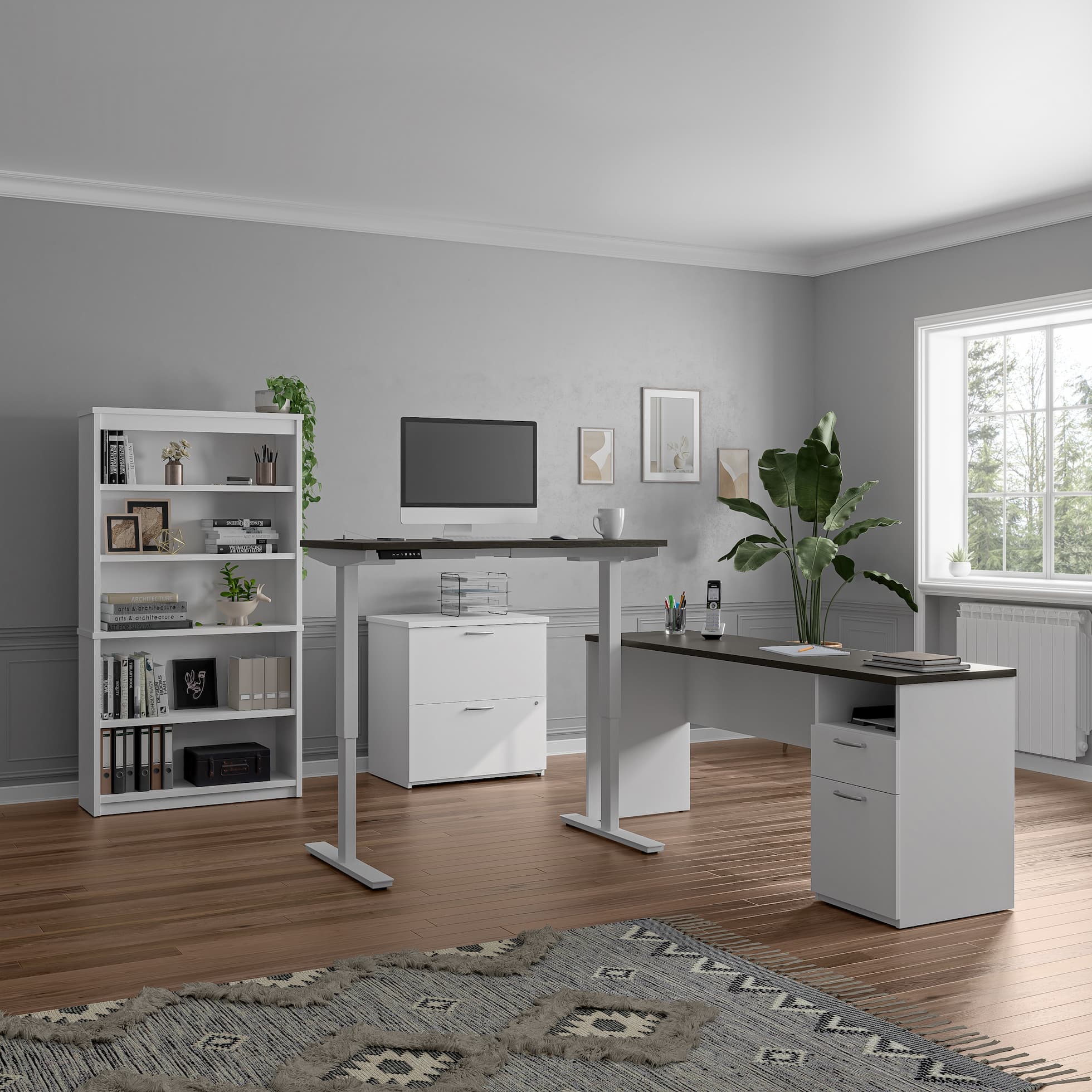 Whether you're working at home or at the office, you need to organize your space with furniture that offers flexibility, practicality, and efficiency. Adding ergonomic furniture can truly make a world of difference to your productivity.
Organization and practicality at your service
If you're looking for an all-in-one solution for your office space, why not opt for a height adjustable standing desk set? You'll have everything you need to complete your work tasks, while staying organized. For instance, some stand up desk sets come with a credenza or bookshelf, so you can store your dictionaries, work files, client folders, and books. You can also opt for a set that comes with a file cabinet for all your confidential documents. With a single lock, you can secure all your important files! What's more, opting for a standing desk set will avoid the headache of matching furniture in your space. You'll have an entirely cohesive space!
If you're looking to add individual ergonomic furniture to your space, Bestar has plenty of great options to choose from. For instance, why not consider a mobile file cabinet? You'll have the freedom to move the filing cabinet around the room easily, without minimizing floor space. With its compact design, the rolling file cabinet can easily be placed in the corner, in a closet space, or even under your height adjustable standing desk.
Office chairs that go the distance
Last but certainly not least, no ergonomic office would be complete without an ergonomic office chair. While working throughout the day, you need to be comfortable and focused. Finding the best ergonomic desk chair will not only be beneficial to your workflow, but it'll also boost overall well-being.
Ergonomic office chairs offer several features that will boost your productivity, comfort, and concentration. For instance, it's a good idea to choose a chair that has ample cushioning and a contoured backrest for all-day comfort. It's also important to look for an ergonomic chair that has adaptable features, such as a lever to adjust your height and adjustable armrests. That way, you can customize the chair to your specific height and needs for all-day comfort. For ample support, your arms should be at a 90-degree angle when sitting, and your feet should be on the ground.
Visualize a Professional Workspace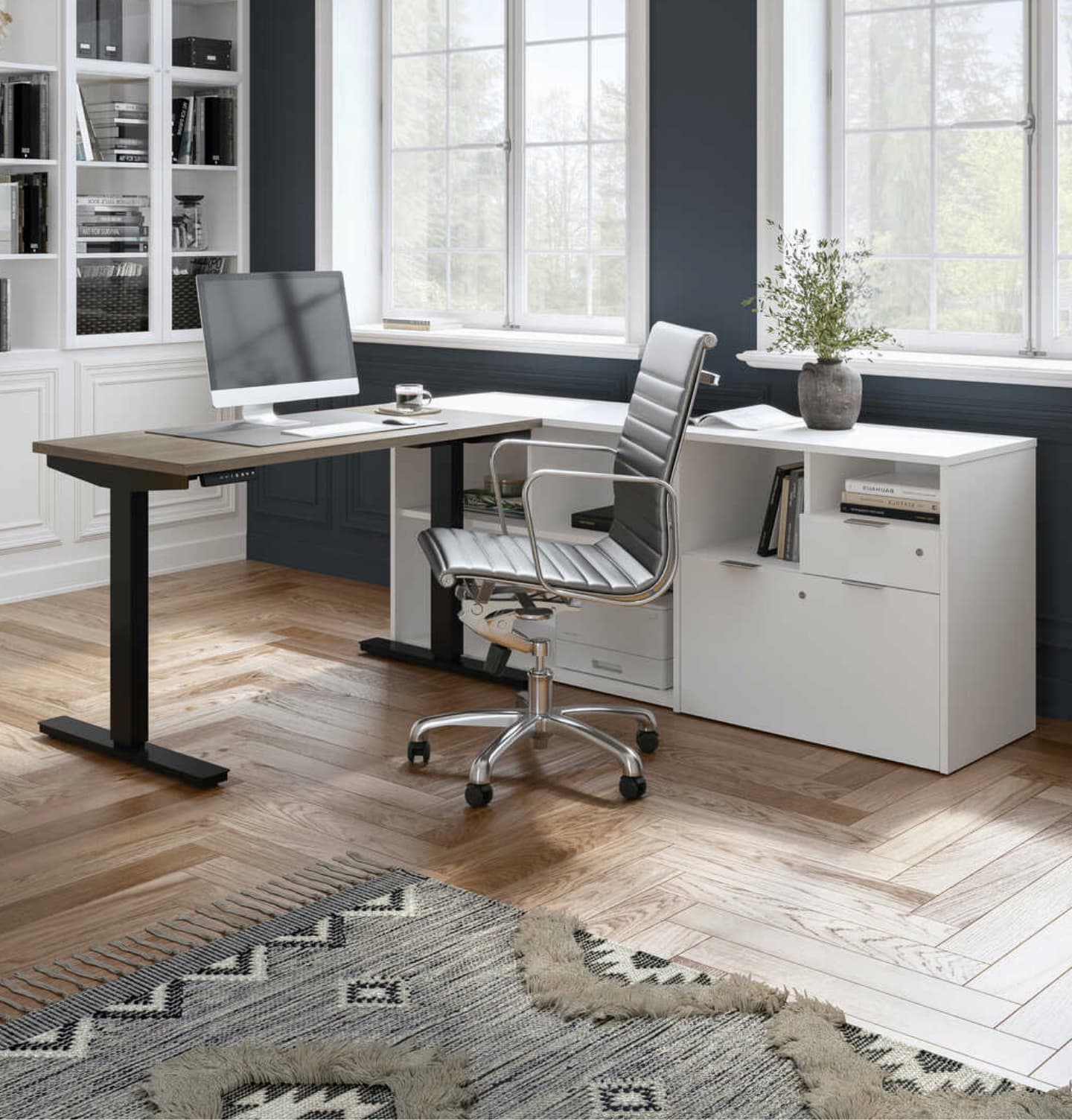 Lastly, when looking for an adjustable standing desk, it's important to think about your overall office design. Your workspace needs to be professional, while providing comfort or flexibility.
Home office design
When you're working from home, it's even more important to create a professional and productive workspace. Choosing the perfect standing desk will elevate your home office and give you the flexibility you need. Even if you don't have an entire room dedicated to your office, you can still create a professional workspace with a height adjustable standing desk. The standing desk's clean lines and compact design make it the perfect work-from-home ally. Easily place your standing desk in the basement, in the corner of the room, in your guest room, or even in your living room. Whether you're looking for a modern touch or a simple look, you'll be able to create a professional home office that matches the rest of your space with a standing desk!
Corporate workspace
Looking to revamp your company's workspace with an adjustable standing desk? No problem. Bestar has a range of height adjustable desks that will fit your company's and employee's professional needs. Your employees will have the freedom to adapt their position at any time during the workday with the click of a button. The more comfortable your employees are, the more productive and efficient they'll be. Comfort, versatility, and flexibility for everyone is the key to creating a professional workspace!
In 2023, make ergonomics in the workplace a priority with an adjustable standing desk. Whether you have a home office or a corporate workspace, you can enjoy all the benefits of a standing desk. Start looking for the perfect standing desk today at Bestar. It's time to make your move!
Categories
Business
,
Home Office