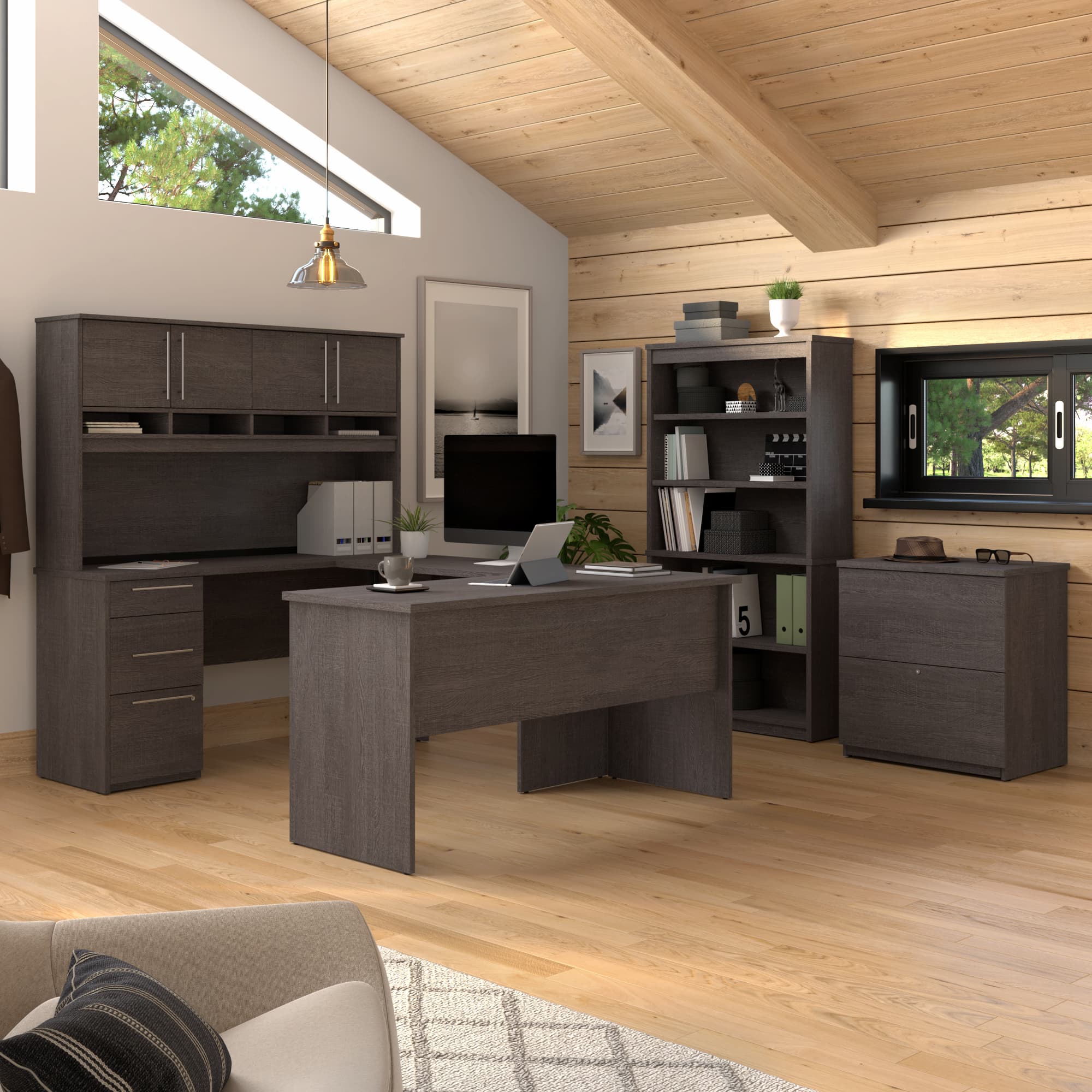 Whether you're working from home or at the office, creating a neat, organized and functional workspace is crucial. You need to find space to store all your work supplies and belongings neatly and efficiently, without taking up tons of floor space. That's where ergonomic office storage comes in.
By creating an organized and efficient office, you'll have everything you need to work at your very best. You can have peace of mind knowing where everything is when you need it most. The key to success? Choose practical office storage furniture! Whether it's a bookshelf, file cabinet, credenza or other furniture, you can arrange a workspace that checks all your boxes. Keep reading to find which office furniture is right for your space!
A Space-Saving File Cabinet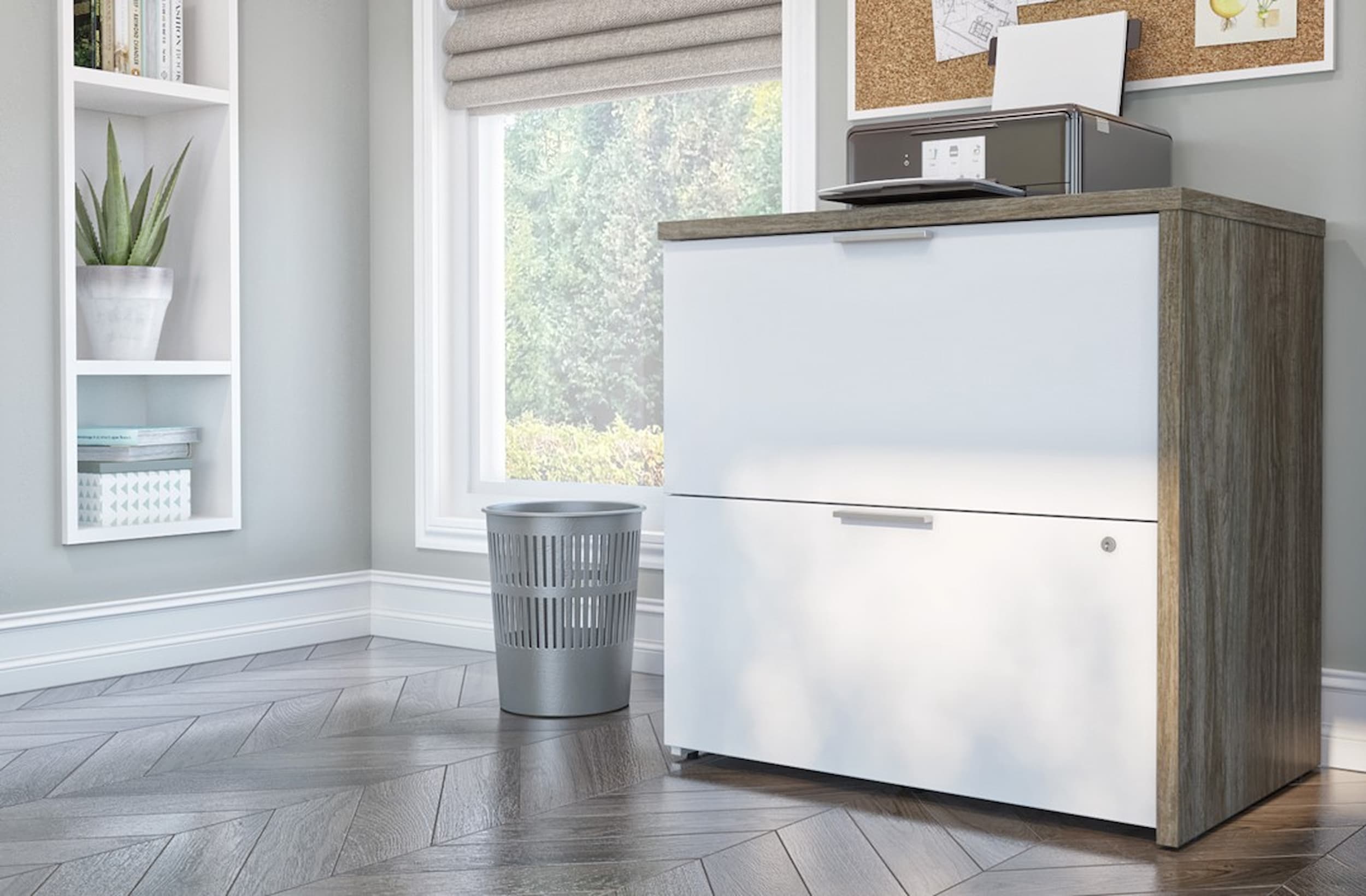 File cabinets are great for storing all work files neatly and efficiently in a single unit. Whether you're looking for a small file cabinet or a larger unit, you can easily find an option that works with your space and your needs.
Keeping all files organized is essential for any business. When time is money, it's important to be able to access your files at a moment's notice. With a two- or three-drawer file cabinet, you'll have a practical organization system in place, even for your most confidential files. In fact, some Bestar file cabinets have a lock that can secure one or more drawers. You'll have peace of mind knowing your most confidential documents are safe and organized.
Looking for a place to store your printer? No problem. You can add your printer on top of the lateral file cabinet to maximize space. Place your file cabinet near an outlet for easy access, and you're ready to start printing and filing!
Looking for a more compact, space-saving option? Opt for a mobile file cabinet! This small filing cabinet comes with casters, making it seamless to move the unit around your space. Slide your cabinet under your desk, in a corner, beside other office storage or even in a closet. Saving space has never been so easy!
A Versatile Bookcase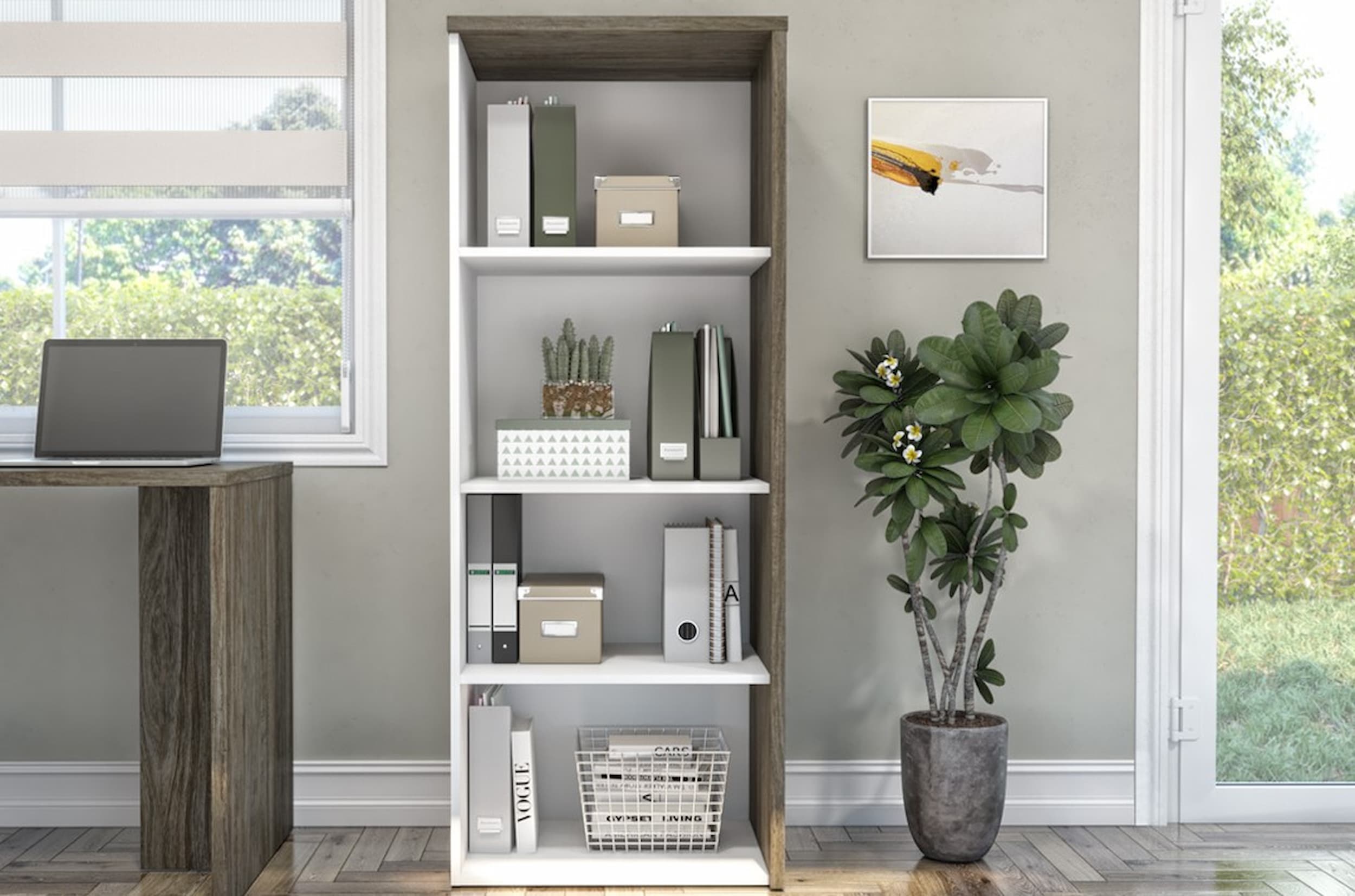 Another great addition to any workspace is a multipurpose bookcase. You'll have all your work supplies, and binders put away in an organized fashion. That's not all! You can use a bookshelf for much more than simply books or binders. Store your most prized possessions, awards, plants, photos, and more in a Bestar bookcase. It's the perfect versatile storage option!
Keep all your supplies together
It goes without saying that bookcases are ideal for storing various work files, books, binders, and more. Some bookcases have adjustable and fixed shelves, so you can easily adapt your unit to your specific needs. Bestar has bookcases that come in a variety of styles and sizes, so you're sure to find the right option to keep you organized. Want to up your organizing game? Consider labelling and colour-coding your binders or folders according to each client or project. So practical (and colourful!)
Think practical and versatile
Bestar bookcases are also practical solutions for shared spaces and common areas. If you're working at the office, you can easily add a five-shelf bookcase in a common area where all employees can access folders, reference materials, and client files. No need to knock on your coworker's door to borrow reference materials or books—everything will be accessible in the bookcase in the shared space!
If you're working from home, you can add a bookcase in the living room or basement to maximize space. Store all your work supplies and other personal items in the bookshelf, such as photos, movies, CDs, plants, and more. If you have awards or certificates, you can display these nicely on the top shelf of your bookcase, for example.
What's more, Bestar has plenty of different bookshelf models to choose from, so you can find the right fit for your space. Opt for a small or narrow bookcase or go for a tall bookcase with doors.
A Practical Credenza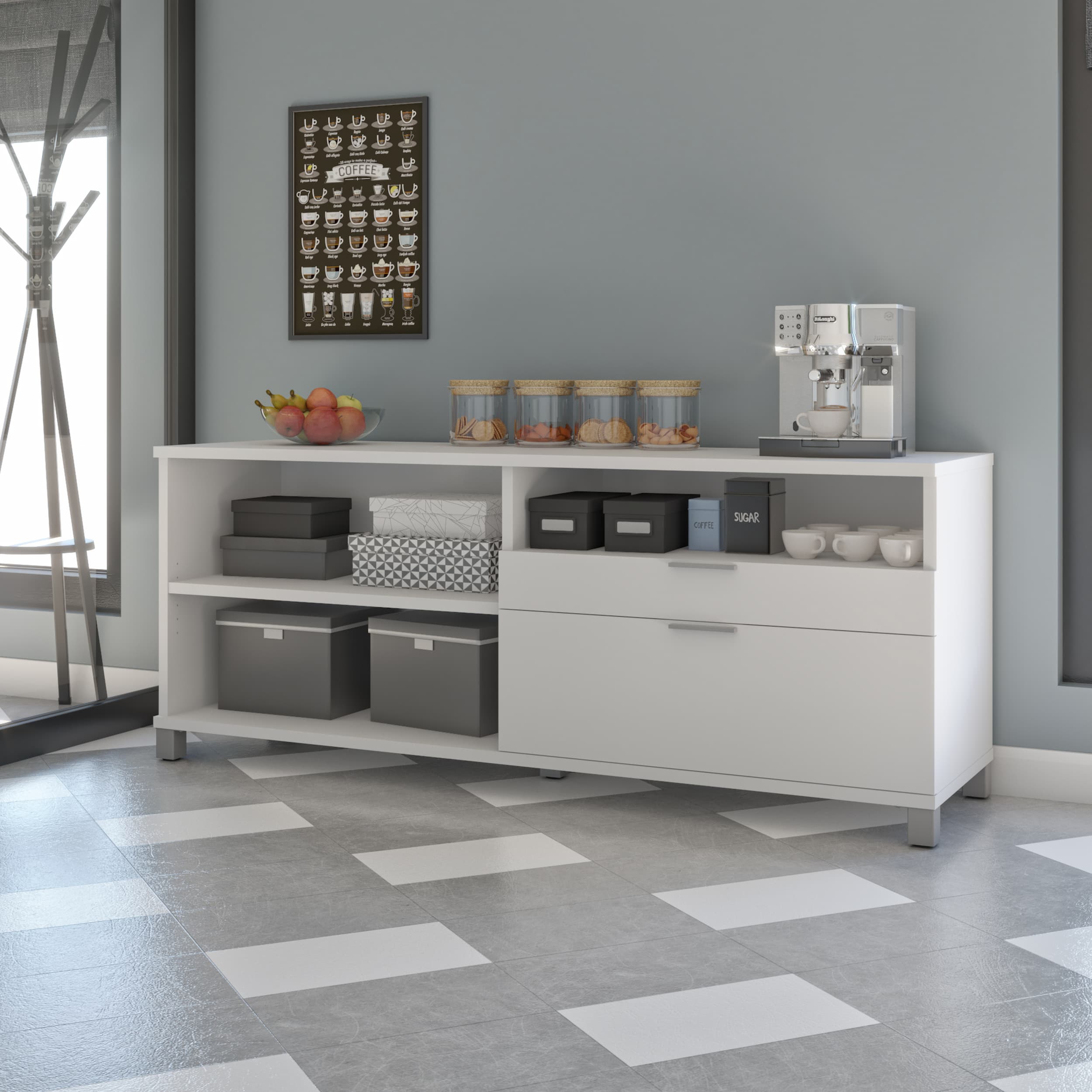 Next on your list should definitely be a credenza. This practical addition will keep your office organized and efficient, without taking up a ton of floor space. You can easily place a credenza in a common area of the office or right beside your desk to create an extended work surface!
You can choose a model that offers ample storage compartments for your supplies, work files, binders, and more. What's more, the top surface can accommodate heavier office supplies, such as a fax machine, printer, or desk organizer. Looking to extend your work surface? Simply choose a credenza and place it beside your desk to create an L shaped configuration. You'll have a newly revamped work surface!
Credenzas are not only great for individual office spaces, but also for common areas like the employee lounge or break room. For example, have you ever considered setting up a breakfast station or snack corner for your employees? With the credenza's ample storage compartments, it's an ideal solution for storing mugs, glasses, silverware, food items, and more. You can even place a coffee machine on top of the unit since the durable surface is resistant to scratches, stains, and wear. Add some comfy chairs, a water cooler and a dining table to create the perfect break room. Your employees will have a place to refuel for the day ahead, which will in turn, increase their productivity and efficiency. By creating a space entirely for your employees, you can keep them motivated to continue with their workday.
Professional Solutions for Any Workspace
It's equally important to choose organizational furniture that's both functional and stylish, so you can create a professional workspace. Bestar has office furniture in a variety of styles and colours that can match your existing furniture. Whether you're looking for a unit with clean lines or a modern flair, you're sure to find something that fits with your needs!
Adding a hutch to your workspace is a great storage solution because it uses the vertical space in your office. You can easily pair your L shaped, U shaped or small desk with a matching hutch to store pens, papers, photos, and even small organizers. You can also add a small plant or decorative item to personalize your space. Depending on which model you choose, you can opt for a hutch with doors to conceal all work supplies or an open compartment for easy access to your belongings. Some models even have frosted glass doors, giving a refined look to your workspace.
Bestar also has a variety of office storage cabinets that will match your existing furniture so you can easily create a cohesive space. Whether you're looking for a more compact design or a larger storage unit, Bestar has exactly what you need! By adding ergonomic office storage, you'll create a professional workspace that breathes productivity.
When you're working from home or at the office, organizing your workspace is crucial to ensuring optimal productivity. You need to be able to find all your supplies and files quickly and efficiently. Thankfully, there are plenty of office storage options that can help take your workspace to new heights. No matter what size space you have, you can create the perfect workspace with practical office storage essentials.
Categories
Business
,
Home Office