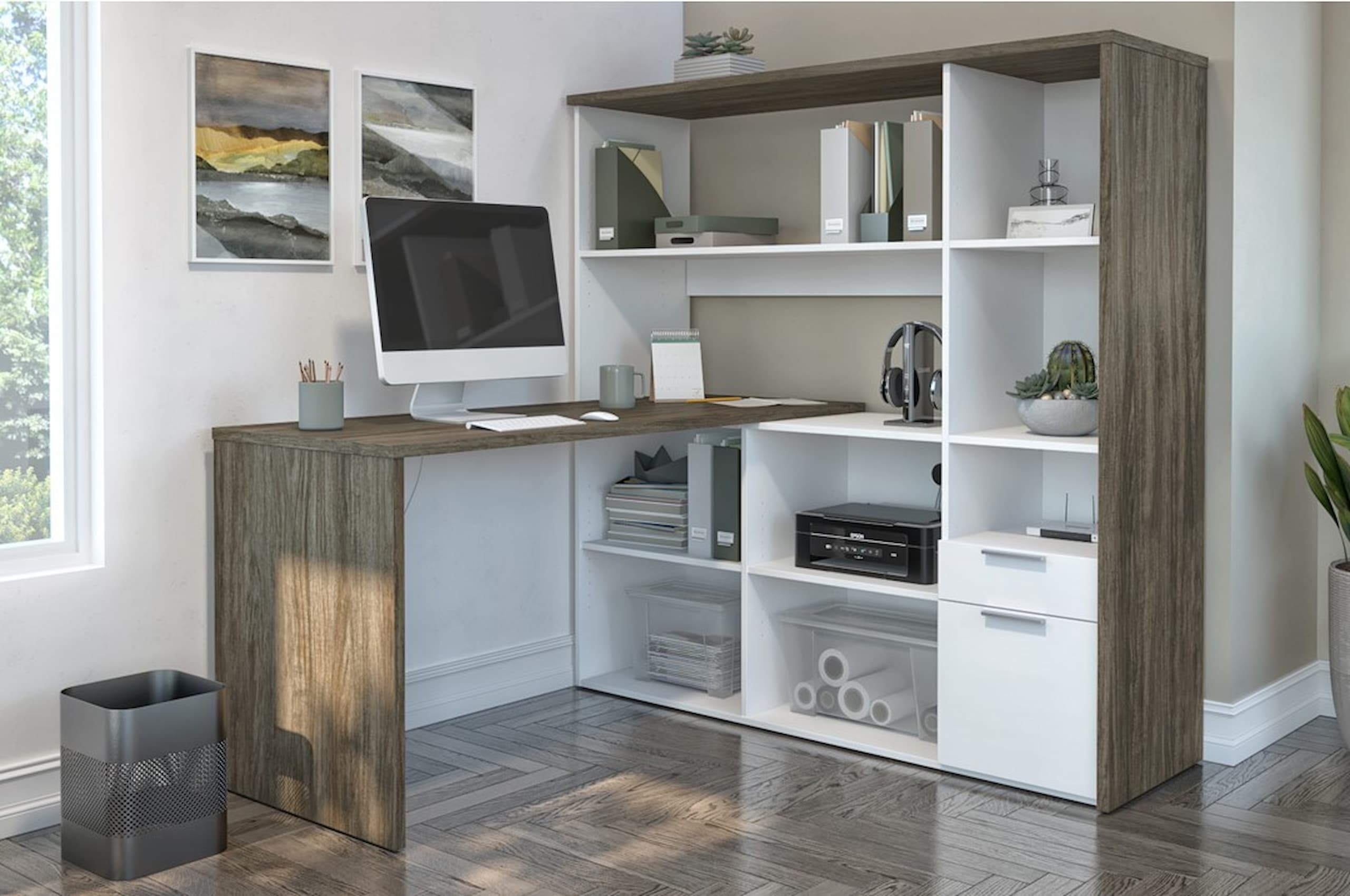 What's the first thing you think about when you hear the words "home office"?
The first piece of furniture that comes to mind is most likely a desk. Following that will most certainly be an office chair, with reliable office storage not far behind. While office storage may not appear to be vital to some, it has acquired its reputation as an office staple for good reason.
Many companies are attempting to go paperless but achieving a completely paperless workplace remains a challenging — if not impossible — goal to achieve. And, when files and random papers pile up, it becomes chaotic and distracting.
Luckily, all of this is completely and easily avoidable with the right office storage furniture and office storage cabinets! Let's look into some gorgeous options for your home office or business office and answer some questions you might have.
Why Is Office Storage Important?
Even if you work from home, you must maintain a professional demeanour to guarantee that you are capable of meeting the expectations of your workday. When it comes to keeping track of and managing the numerous duties, paperwork, deadlines, and other important aspects of your professional life, organization is essential.
Office storage furniture — be it a computer desk with storage, narrow storage cabinet, or a credenza — is a very important part of office organization. 
Where to Buy Office Storage Furniture?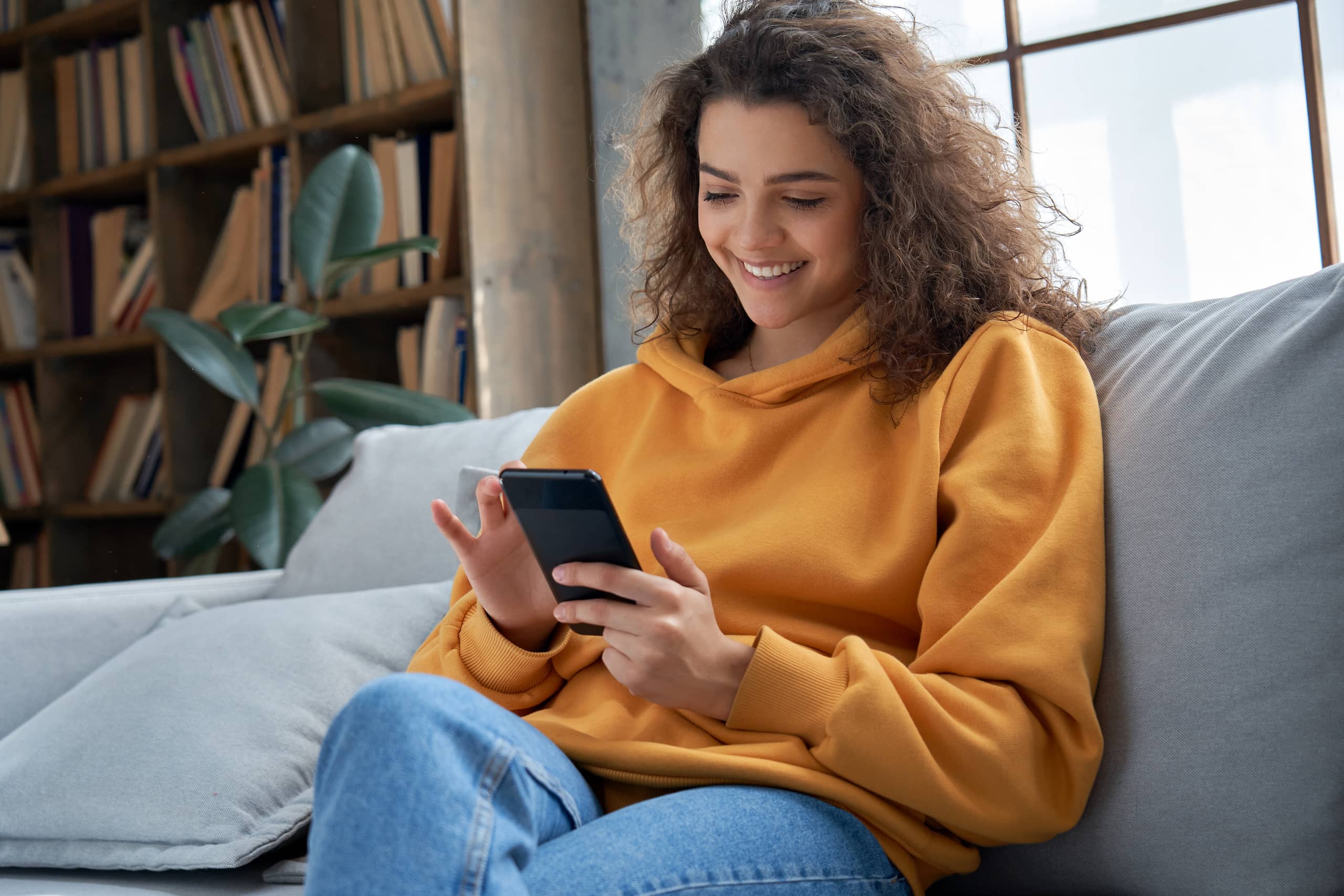 While shopping in store might seem preferable for some people, not everyone has the time to check out several stores before finding the perfect office storage furniture. A simpler solution to finding the perfect storage furniture is shopping online.
Wait times are long and stock is limited in stores, so expect long lines and exhausting waits. Online, you can take advantage of regular sales, a variety of different styles and collections, and even free shipping when you choose Bestar.  
Shoppers who like to visualize their purchase — be it a desk or a personal storage cabinet — may find shopping online a little more difficult. For this reason, it's always advisable to check out the dimensions and characteristics of every product you shop for online. Check out every detail before making a purchase to be sure that the materials and dimensions of the furniture are exactly what you are looking for.  
Free shipping is one of the many benefits of shopping online on our website. It can be time consuming and expensive to drive to the store and back to pick up your furniture. With all the stress and time you can save, free shipping makes shopping online even more appealing. 
Also, let's take a minute to talk about sensory overload. Whether you're buying a cabinet or a desk, the many options available online can become overwhelming, especially if a website is poorly designed! Luckily, everything on our website is organized by category for a user-friendly shopping experience. If you're planning on buying a storage cabinet, you can go to the dedicated section on our website. If a credenza is what interests you, simply check out that section on the website instead. Every product is neatly organized for you so that you can look directly at what you need. We also offer several filters to help narrow down your search, so you can find the perfect storage furniture for your office.
What Types of Office Storage Should You Consider Buying?
When it comes to filing and organization, office storage cabinets are undoubtedly the most important pieces of office storage furniture. While you may periodically rearrange your office layout, whether at home or in a commercial facility, office filing cabinets have always been and should continue to be an office storage furniture staple.
We may have digitized most of our work and rely on the cloud for our electronic papers more than ever before, but there are still enough print and hard copy items that come across our desks to require a dedicated office storage place. Office storage cabinets are an efficient solution to keep important paper documents in a simple, safe, and secure manner.
Office Storage Cabinets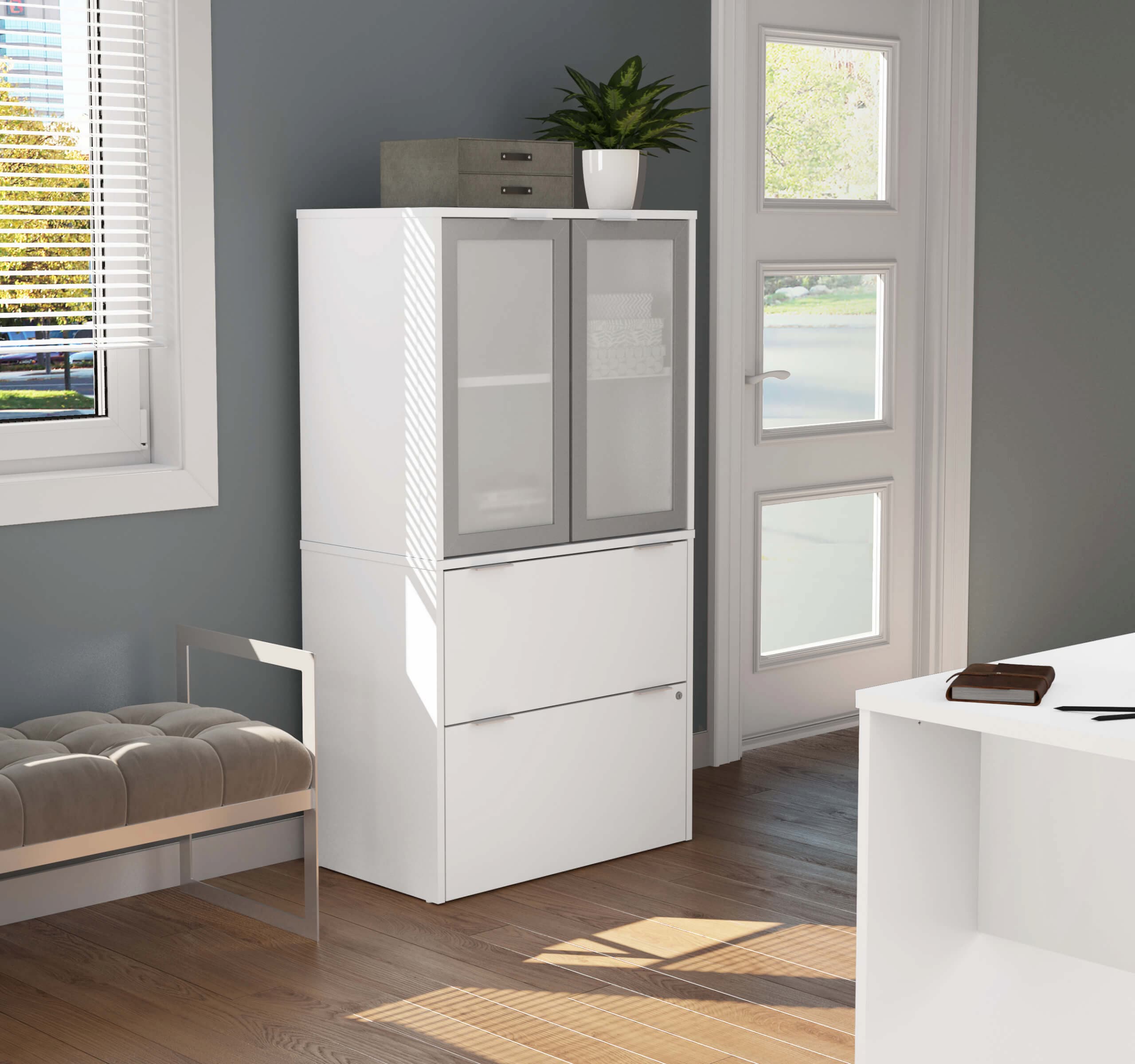 You might be wondering if a file cabinet is truly necessary for your home office — the answer is yes! Whatever profession you have, you almost certainly have documentation that needs to be filed — contracts, receipts, spreadsheets, you name it!
You might believe that putting those papers on your desk, a table, or a neighbouring counter will suffice, but this is an idea you will probably come to regret. Your home office is, after all, in your house, and the last thing you need is for it to become cluttered and disorganized.
Drawers on ball-bearing slides are one of the most crucial features that distinguish a good filing cabinet from a mediocre one. A drawer on full-extension ball-bearing slides can be completely pulled out, allowing you to see all the contents, including those hidden away in the back. Choose between a lateral file cabinet and a mobile file cabinet based on your needs. If you want your file storage close by, a rolling file cabinet is certainly easier to move around and can even fit under your desk. If you prefer simple but reliable storage in the corner of your office, a lateral file cabinet is a fine choice that tends to have wider drawers for even more storage space.
Desks with Built-in Storage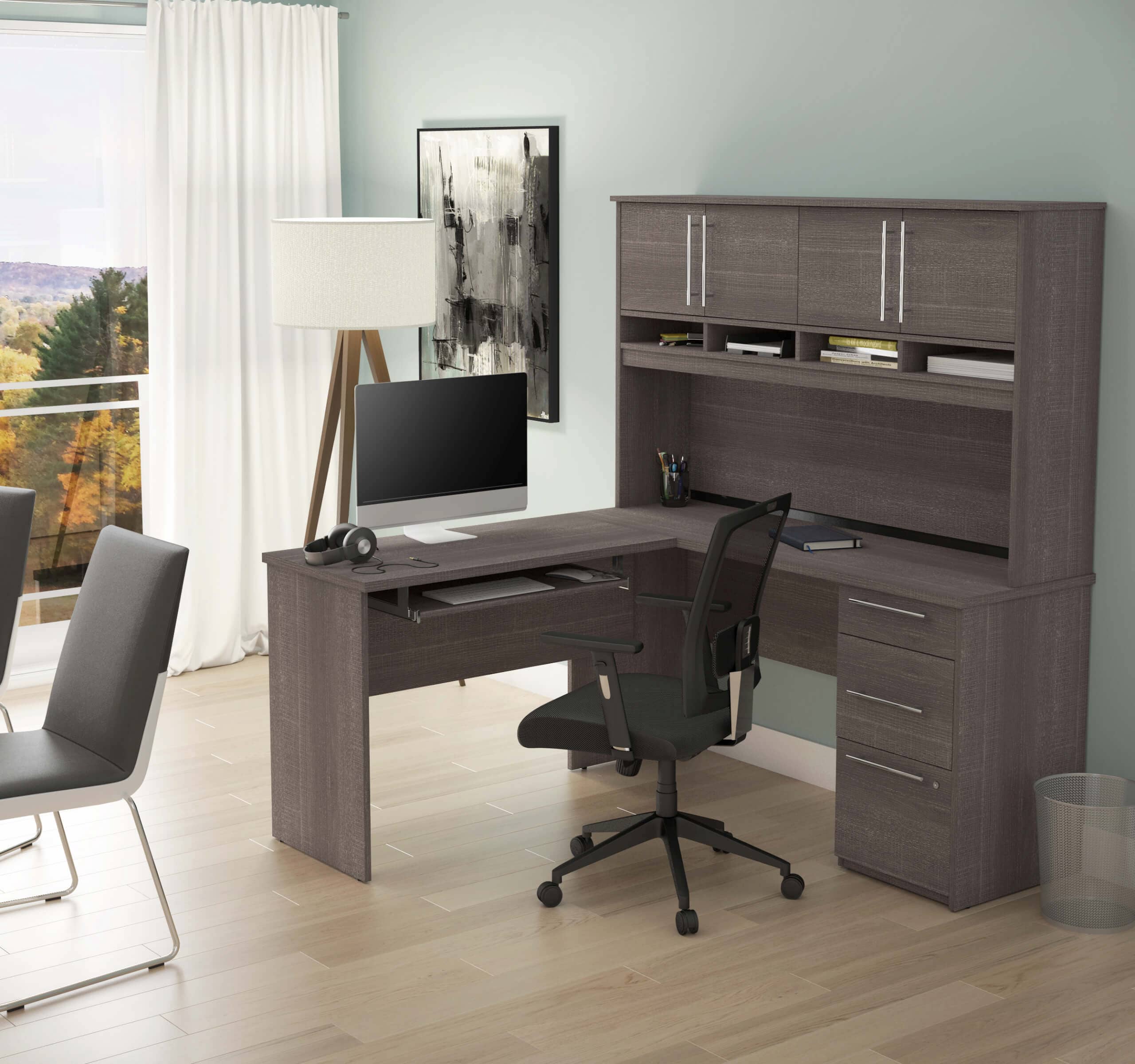 If you're tight on free space in your work area, a great office storage furniture solution is a desk with built-in storage. An L shaped desk with storage, for example, is a great choice to save space and gain a one-and-done workstation.
Moreover, an L shaped desk with storage can save a lot of space when placed in the corner of the room. A corner desk allows you to free up the center of the room, make space in your home, and utilize an otherwise dull and forgotten area in your home.
If a neat and organized office makes you happy, then an L shaped desk with hutch will make your dreams come true. Whether you are organizing your belongings or spreading out your work materials, this workstation is perfect for you. With the built-in storage compartments, the desk allows you to store books and small decor items, and you can hide anything you want out of sight in the drawers and closed cabinet. Baskets or bins are also a great way to store all your essentials, and they can fit within the various compartments of your hutch.
Hutches are excellent for saving floor space, but they also take up a considerable amount of wall space. If you want to decorate your walls with paintings or photographs, a low storage solution like a credenza may be more suitable.
Many of our L-shaped computer desks are composed of a return table and a credenza. These desks are quite functional because they provide a wide work surface as well as built-in storage. While you can add a credenza to your office, a computer desk with a built-in credenza allows you to keep your supplies and equipment close at hand at all times. You can also shop for a separate credenza, and you can always reuse it in different rooms of your home for extra versatile storage options.
The Right Office Storage Will Help You Declutter and Be More Productive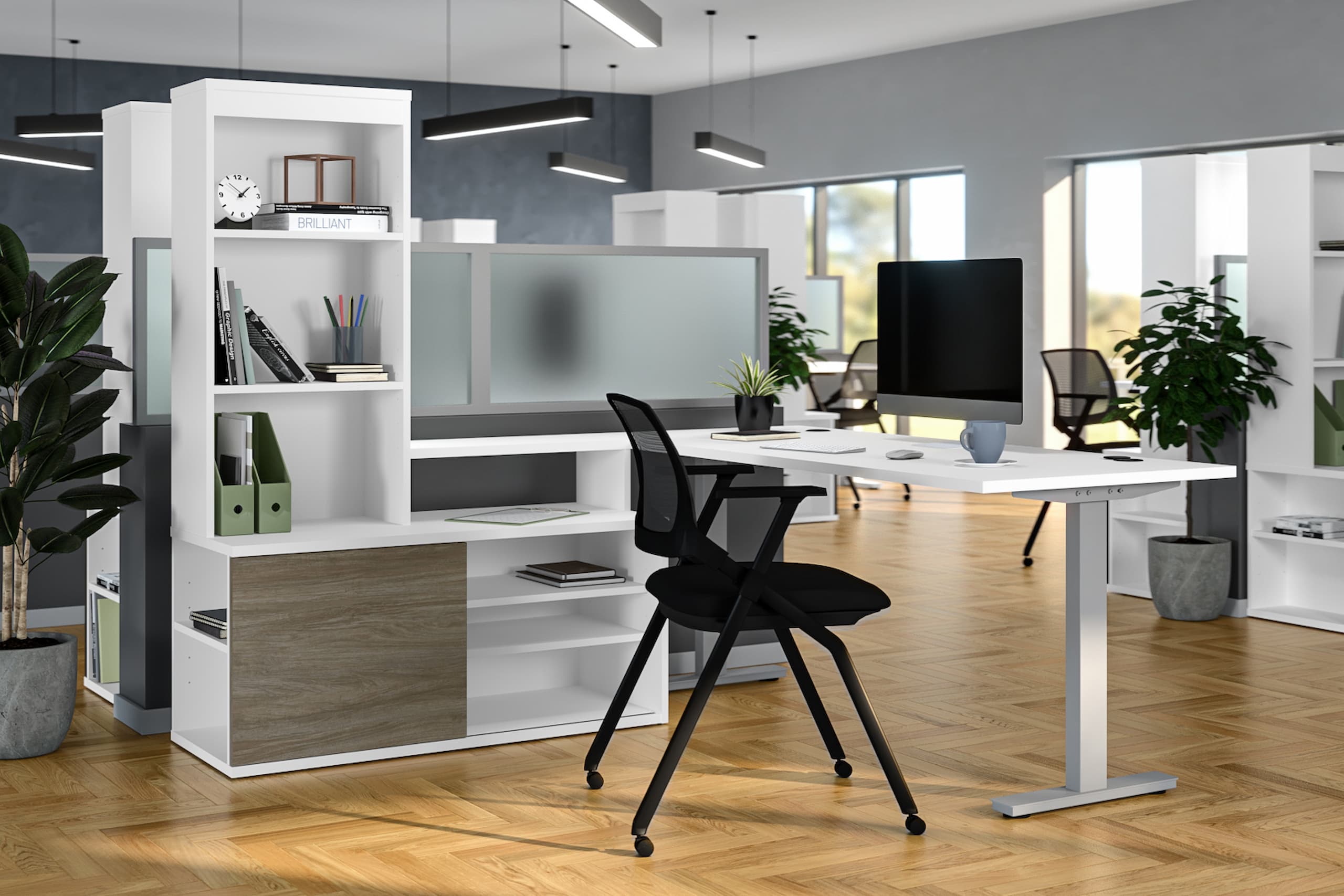 It's easy for an office to become cluttered. Stacks of papers, books, and magazines, as well as unattended garbage from coffee or lunch, can soon overwhelm the style and functionality of your workstation.
Clutter can greatly affect your ability to focus. Think about it: if you had to choose where to spend a workday, would it be in a clean, tidy, and aesthetically pleasing space, or a cluttered room seemingly full of junk? Cleaning up your office is one of the simplest and most cost-effective methods to improve its efficiency, functionality, and appearance.
Office storage can greatly help you declutter your space by neatly organizing and storing your personal items in drawers and on practical shelves. Office filing cabinets or a compact credenza are just two of the many options you can choose from to add to your office, unless you decided to invest in an office desk with storage, such as an L shaped or corner desk with storage.
Quick tip: We know that bunches of cords and wires are not only unsightly but also take up valuable surface and floor space. Try using tags to name them, wrapping them in Velcro strips, or using eye hooks or clips to run wires and cords around the backside of your desk as best you can.
Extra Tips to Maximize Space with Your Office Storage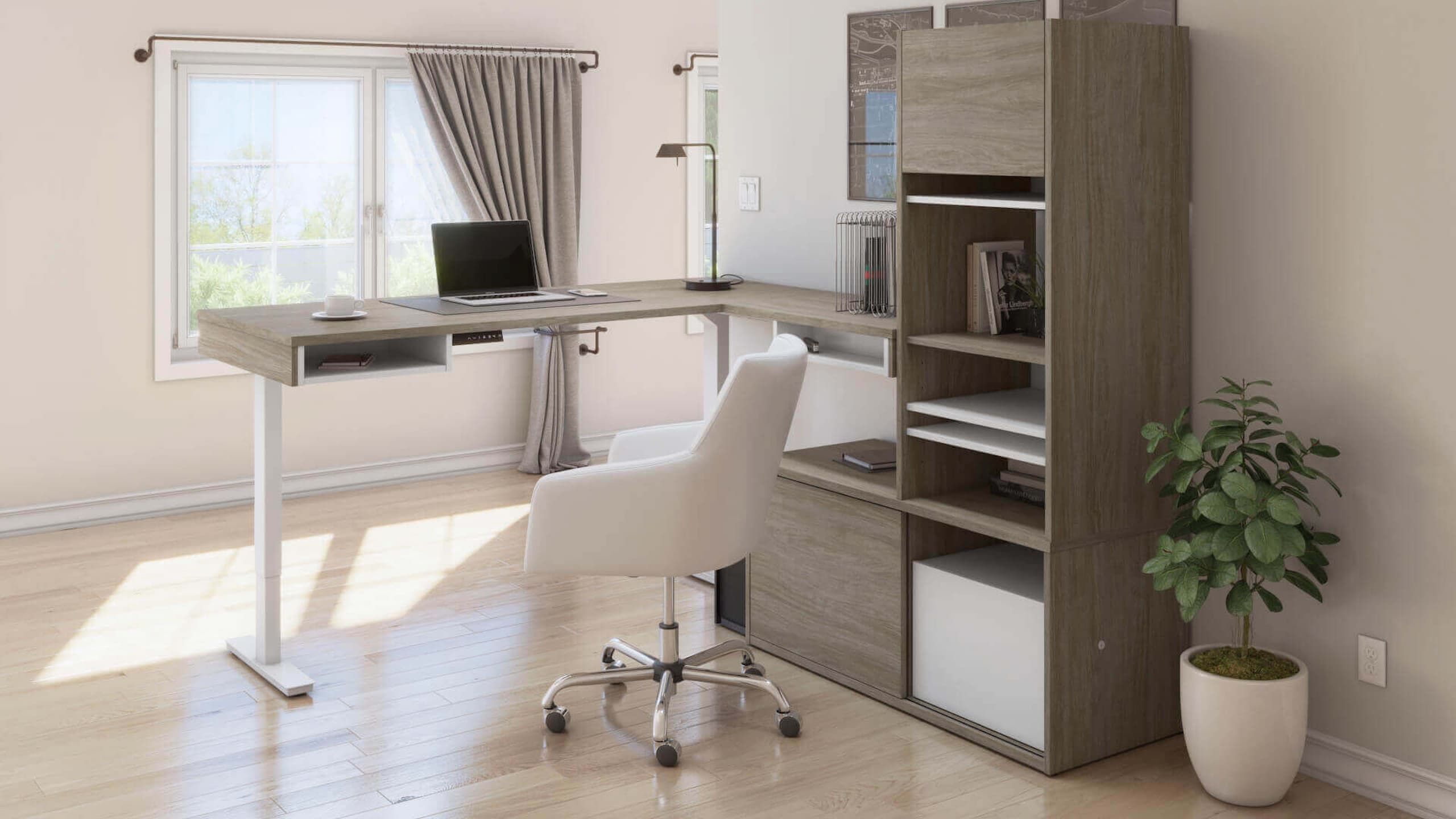 Office storage furniture is necessary to keep your work area organized and to maximize space in your work area.
However, your office storage cabinets or credenza shouldn't take up too much room. Most of us have limited storage space for our personal belongings — storage space is always in short supply, regardless of the size of your office! Make every effort to reduce the amount of printed paper you need to store, or create an almost paperless office if possible. Also, think about how you're going to store and stack your files.
You want to create a system that allows you to quickly access your documents and files when you need them. It should also allow for the insertion of new files without creating disorder in your file cabinet.
Now that we've covered everything you need to know about office storage, are you ready to buy yours? Shop today!
Categories
Organization