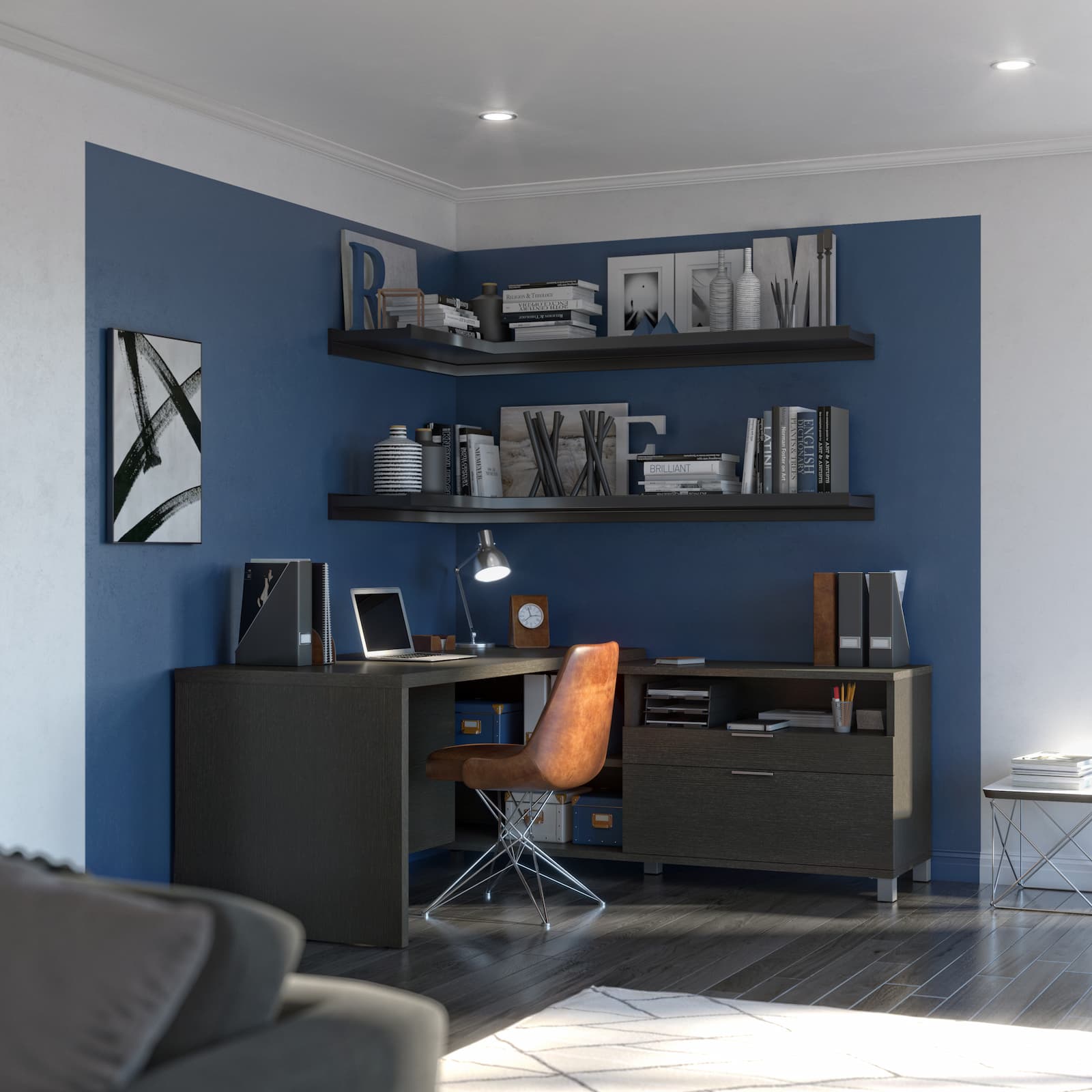 A clean home is one of the steps toward a happy home. To organize any room, you need the appropriate storage solutions. Depending on which space you want to clean out first, you might need different pieces. Some storage solutions can help you organize many rooms. Get ready to discover Bestar's most versatile storage solutions! Between a stylish credenza and a gorgeous bookcase, you are sure to find one that will suit your storage needs.
The Credenza: A Stylish and Multipurpose Piece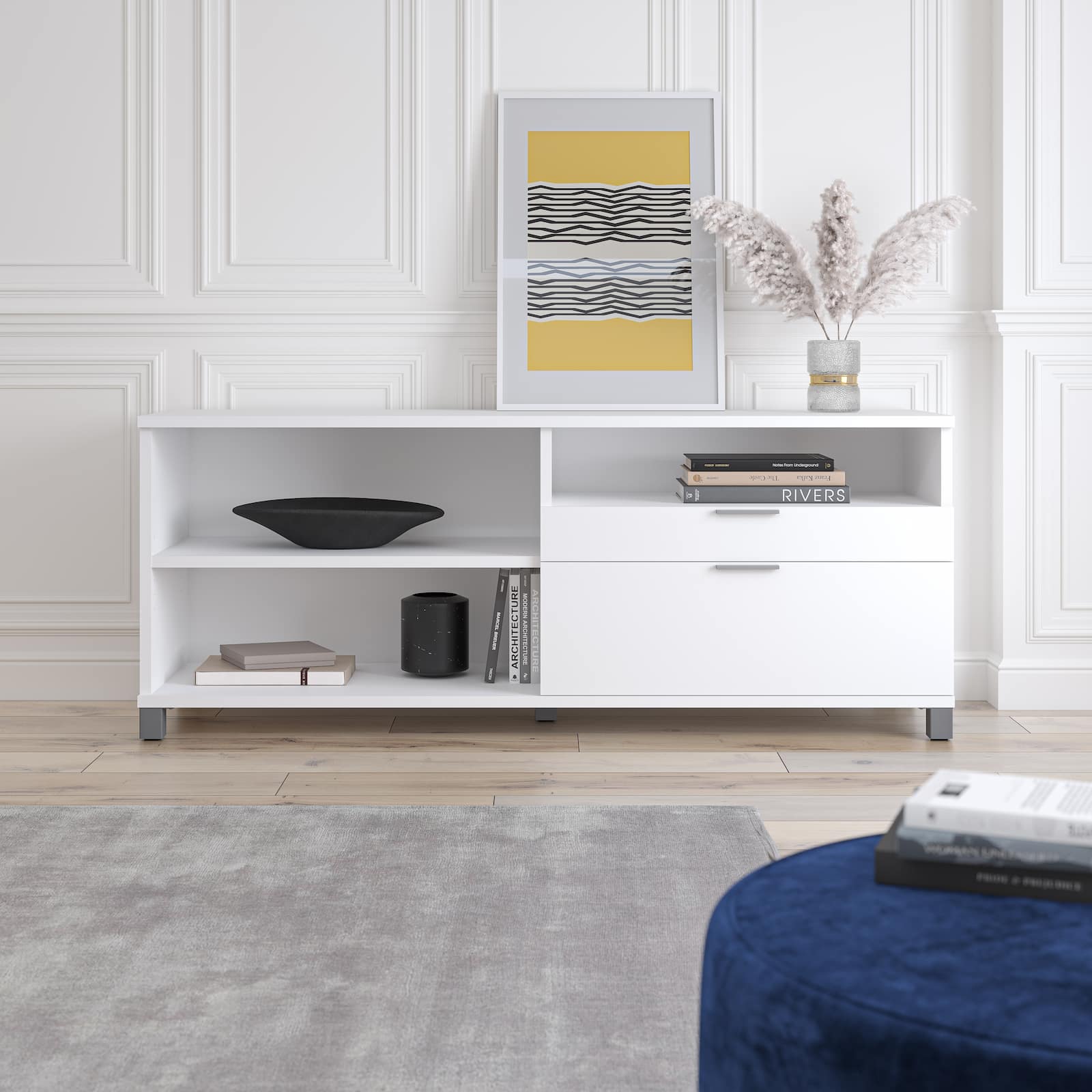 Our first option is very subtle and will blend perfectly with most decors. Credenzas come in many different designs and colors, so you can pick your favorite one.
For Your Home Office
In your office, a credenza will serve various purposes. First, you can place a credenza next to your table desk or your desk shell to create a spacious L-shaped desk. On our website, you can also find desk sets with these two pieces. These matching pieces are great because they will make your office space look cohesive. On the table desk, you can work comfortably and efficiently. In your practical credenza, you can store your office supplies, and, on top of the credenza, you can place your printer or your shredder. You'll no longer get distracted when going to get your printed documents. Thanks to the large box and file drawers, you can keep your belongings and documents organized. Remember to add dividers, so you can easily distinguish all your projects. Many of our credenzas also have open and closed storage compartments, which are perfect to display some decorations.
For Your Entryway
Another great spot for a credenza is your entryway. Indeed, your entryway credenza will serve similar purposes as those of a sideboard. Thanks to its compact design, you will be able to place it in smaller vestibules as well. Having a piece of furniture near your front door is ideal; you can leave your essentials such as your keys and handbag on the piece. They will always be there, so you will not have to worry about losing them anymore. In the drawers, you can store your outdoor items like gloves, hats, and scarves.
The Bookcase: More Than Just for Books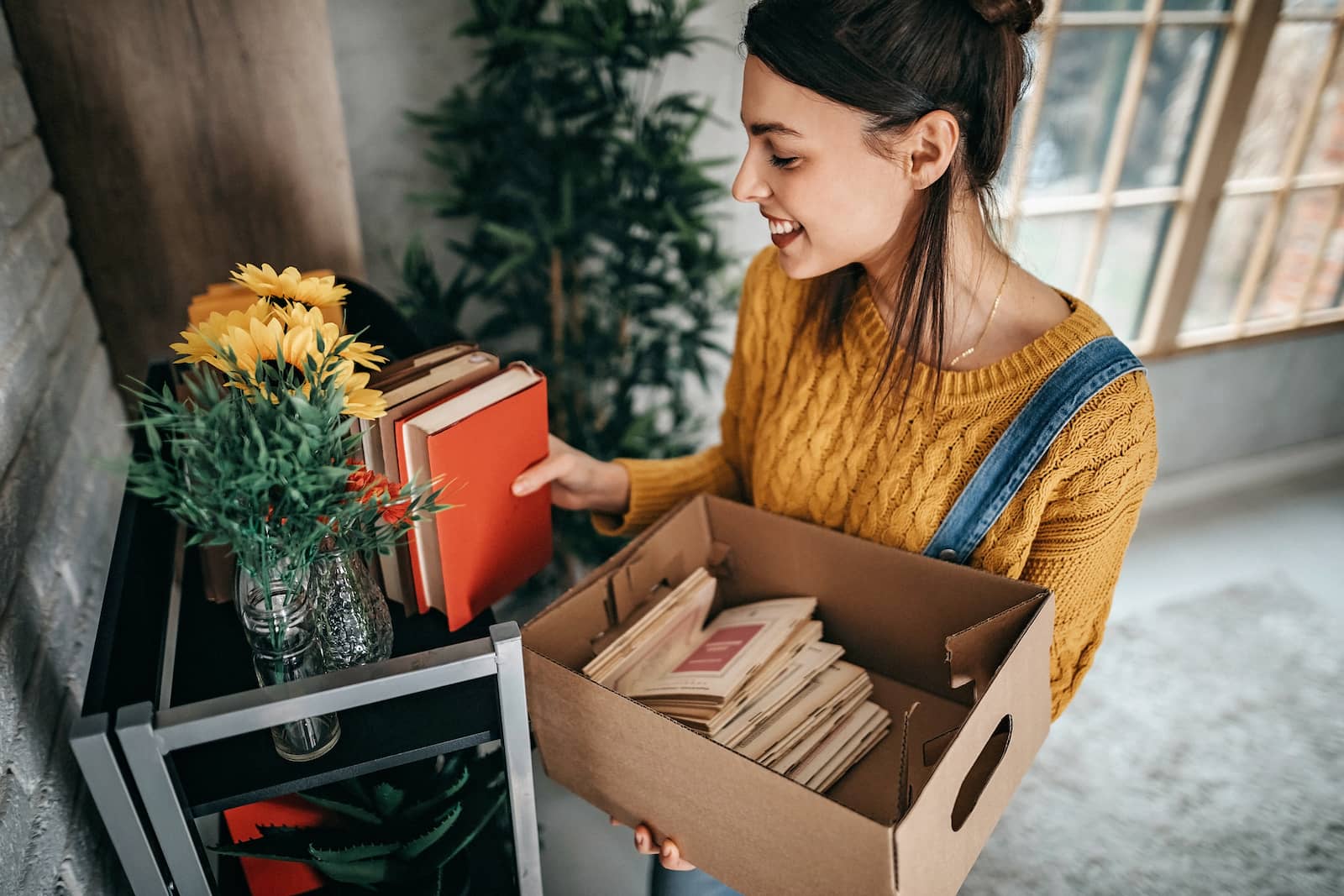 The next storage solution can add style to any room, and you can use it to store various items. Bookcases can be useful in roughly every room. Additionally, they are available in many colors, styles, and sizes, making it easy for you to find the best one for your decor.
For Your Living Room
Your living room has so many different pieces of furniture in it, from a sofa to a TV stand, all the way to a coffee table. In this space, storage solutions are necessary. They allow you to keep the room clean and organized, so you can relax peacefully. Believe it or not, you can have a storage solution that is both practical and stylish. A bookcase, which can accommodate various items, will look great in this shared space. It is compact, so you can place it in small corners. To embellish yours, simply place picture frames of your family or small potted plants on the shelves. Thanks to our bookcases' vastly different designs, you will find the perfect one for your space.
For Your Home Office
Unlike a credenza, your bookcase will fit vertically in your home office. Some of our bookcases come with closed storage compartments, which allow you to keep your personal documents and items secured. If you have a small workstation, a bookcase will help you to keep your desk organized and clutter-free, which is best if you want to be productive and to stay on task. Although, even with a large desk, you will love the practicality of a bookcase. After all, an additional storage solution is always welcome.
Similar to your living room, a bookcase is perfect to decorate your home office. Simply dedicate one of the shelves to your best decorations, and your space will look great. To better organize your items, you should use small storage baskets. Depending on the size of your bookcase, you may install many baskets on each shelf and set aside one for each category of item. You will soon discover how easily you can find your supplies when they are properly organized. If you want to create a beautiful, cohesive home office, you should consider getting all your furniture from the same collection. You could also buy a desk set made up of a workstation and various storage solutions.
For Your Bedroom
You may also want a bookcase in your bedroom. For every avid reader, having an entire bookcase to themselves is a dream come true. Imagine filling the shelves up with all your favorite novels. To transform your bookcase into a stylish decoration, you could organize your books by color, size, or by series. This will make your bookcase look like an aesthetically pleasing masterpiece. Instead of getting the classic bookends to hold your novels, you should consider using small potted plants. They will add touches of life to your bedroom.
The Closet Organizer: The Solution to Organize It All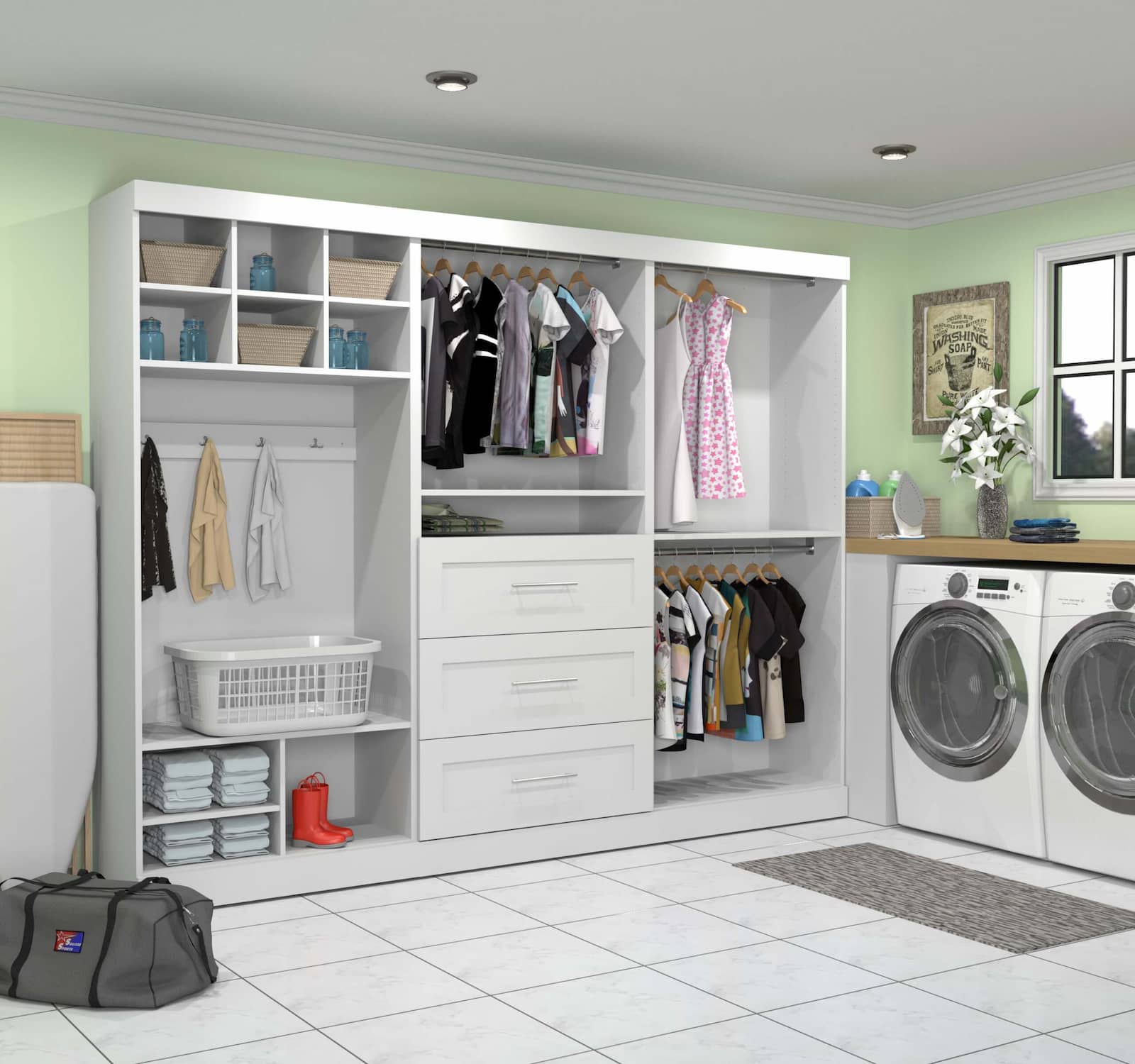 Do you have a space in your home that just needs a larger storage solution? A closet organizer might be the solution that you need. As the name suggests, you can, of course, use a closet organizer in your closet. By combining many pieces, you can create a big organizer that suits all your needs. However, a closet organizer can be useful in many other rooms.
For Your Laundry Room
Installing a closet organizer in your laundry room is a great idea. Simply place it next to your washer and dryer, and store all your cleaning essentials on the shelves and in the compartments. You will be able to reach all the heavy bottles easily. Since our closet organizers are available in vastly different sizes, you can find the perfect one even for smaller laundry rooms.
For Your Mudroom
If you need more storage space in your entryway or in your mudroom, you should consider getting a closet organizer or mudroom shelving unit. Just like a credenza, this storage solution is perfect for your outdoor accessories. Since Bestar offers different configurations, you can build your ideal closet organizer. Some have storage cubbies, which are ideal for handbags and storage baskets; others have slanted shelves, which are best for your shoes. All our mudroom storage solutions have a bench, so you can sit comfortably while you put on your shoes.
Thanks to Bestar's versatile storage solutions, you can find the perfect piece of furniture to organize any room in your home.
Categories
Organization