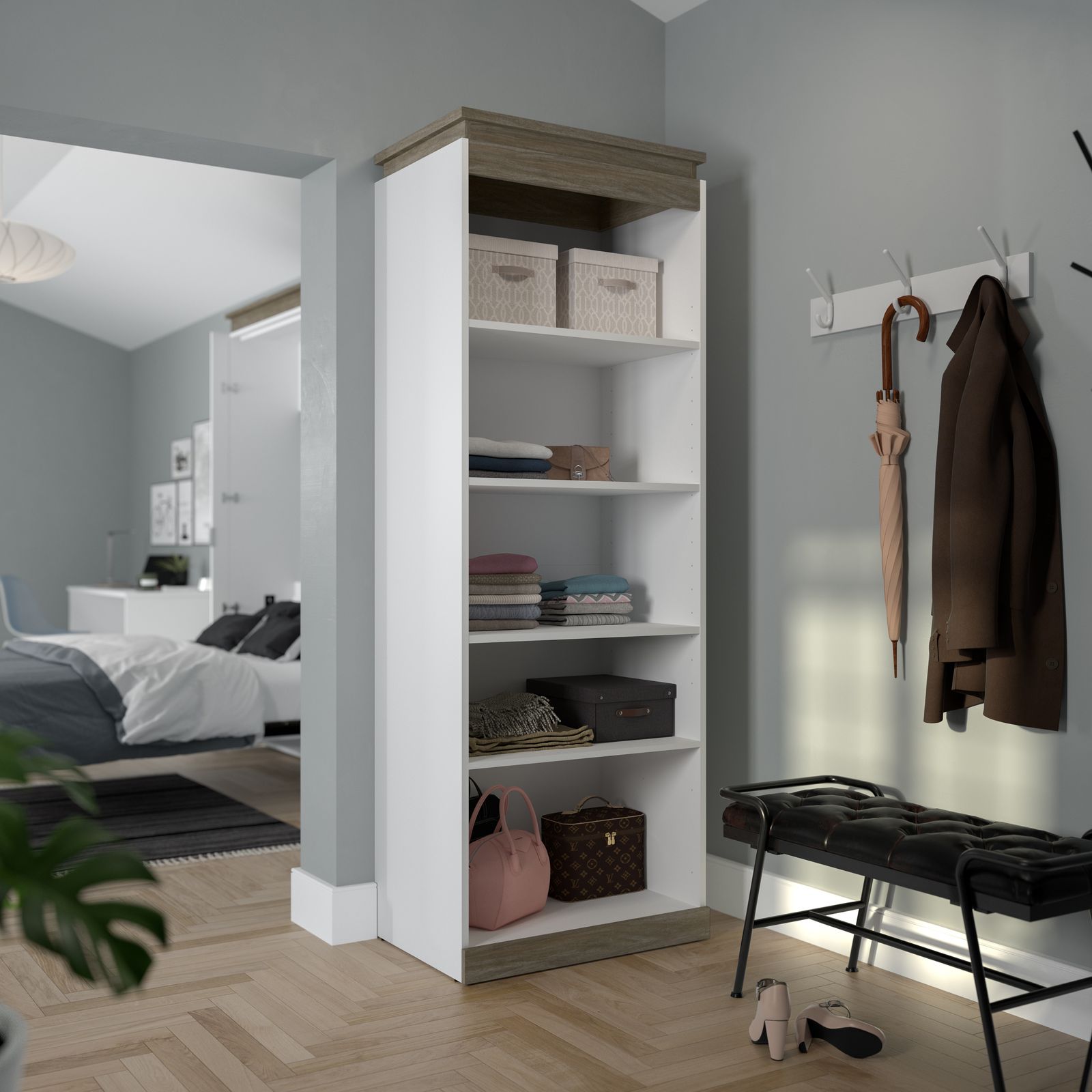 This year, our homes have become more important than ever. With the measures put in place to reduce the spread of COVID-19, our homes are exactly where we now spend most of our time. What used to be simply our homes have become offices, gyms, classrooms, entertainment centers, and much more. With all of the new jobs and hobbies we do at home comes a lot more supplies than before. Now more than ever, we need more room than usual to engage in all of our activities.
In order to organize a multitude of additional items without losing floor space, it's important to have practical pieces of furniture. Bestar's narrow shelving units are great space-saving solutions and provide plenty of storage options. Their ingenious and stylish design can turn an area into a clutter-free and commodious space. Any room can benefit from a narrow shelving unit, but here are 5 rooms in which they will be particularly handy:
A Kitchen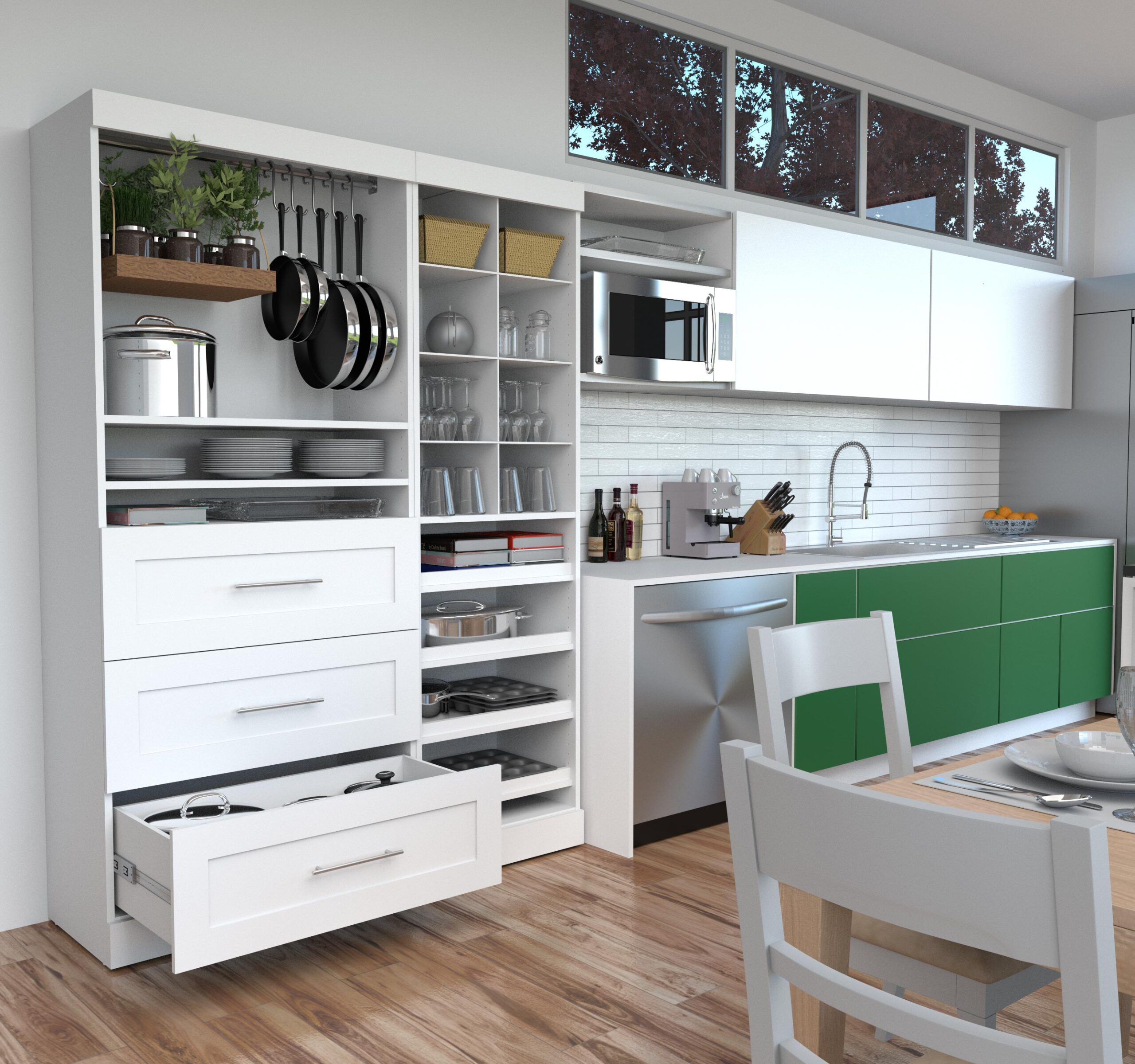 The kitchen is often referred to as the heart of a home. It is where all our meals are prepared and where we gather to eat together. It can also be where we work or catch up with family and friends. With these multiple purposes, there are a lot of different things to store in a kitchen. Hence why it needs to be well organized.
With a narrow shelving unit, you can get rid of countertop clutter for good. It can store all types of kitchen essentials that usually accumulate on counters and tables. Whether it is a jar of jam, a spice rack or dish towels, everything will find its place. The kitchen needs to be practical enough for you to move freely when cooking and eating. Therefore, a narrow shelving unit is ideal because it provides some storage without taking up too much space.
Moreover, Bestar's narrow shelving units add a stylish and modern touch to any space. They are the perfect pieces of furniture to create a warm and welcoming area where everyone will feel at ease.
A Bedroom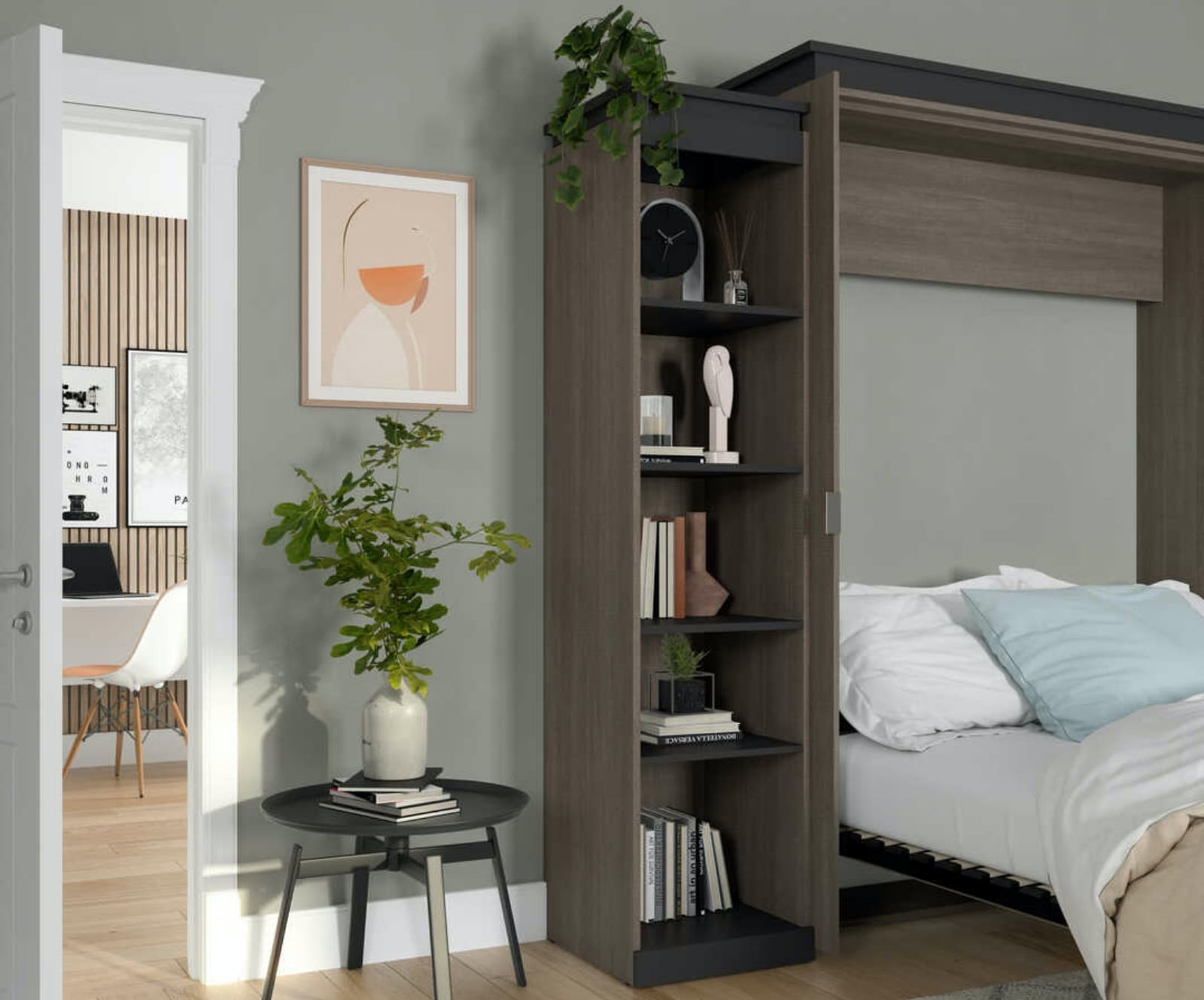 If there is an area of our home we need to feel comfortable in, it is the bedroom. It is where we can let go of all our stress and concerns after a long day. It is also where we get those essential hours of sleep. However, a messy room can have the opposite effect on us. It can interfere with our sleep, therefore causing mental and physical health problems. This is why it is important to keep our bedroom organized.
In smaller apartments and condos, bedrooms often have limited space that makes it hard to keep them in order. This is exactly why they can greatly benefit from a narrow shelving unit's space-saving design. Narrow units can serve many purposes in a bedroom. They are a great alternative to the traditional nightstand. They will hold your alarm clock, phone, glasses, and any other items you might want to have close by. If you like keeping books in your bedroom, they make great bookcases. The narrowest shelving units can even fit in a closet to store shoes and accessories. They are also a great storage option for toys and games in children's bedrooms.
Bestar's narrow shelving units are what you need to add some style to your room as well. Their contemporary design alone is enough to create a stylish and warm space. Moreover, putting up picture frames, plants, candles or other items on the shelves will help you create your ideal bedroom.
A Bathroom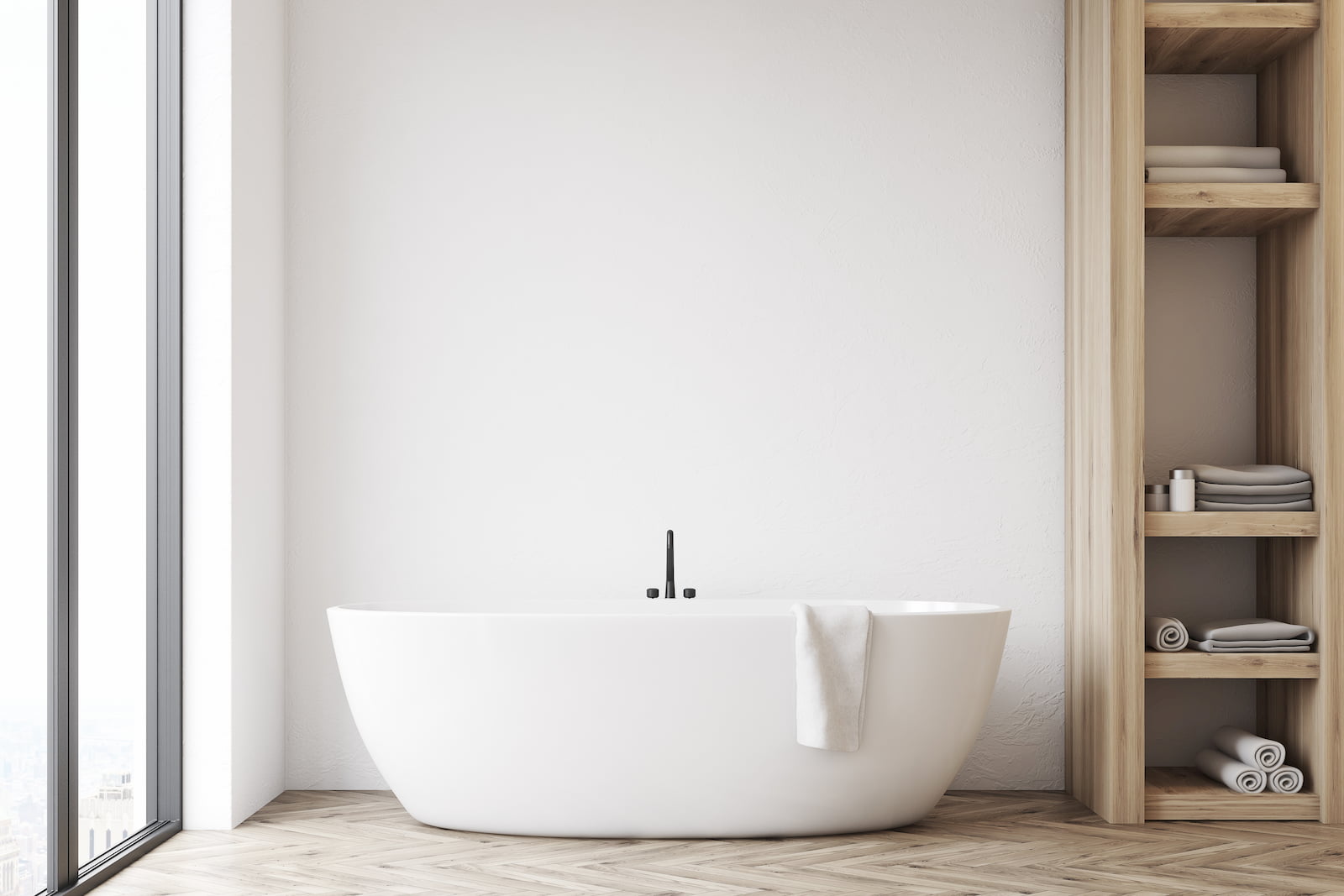 A bathroom is much more than just any plain old room. It is often where we start and end our day by getting ready for work or for bed. It is also a space where we can have some privacy and where we can relax in the bath or the shower. In short, it is a multifunctional space where we spend more time than we might think. Hence why it is important to keep it clean and organized.
Our bathrooms can often become cluttered because of all the essentials we need in there. With a narrow shelving unit, it is possible to store everything without taking up too much floor space. From towels and hairdryers to toothbrushes and skin care products, every item finds its place. You'd be surprised at how many belongings these units can contain. The best part is that you also save space.
Bestar's narrow shelving units allow you to keep your bathroom organized while still having plenty of room to move around on busy mornings. They're also very stylish and will fit in any space, even the smallest ones.
A Living Room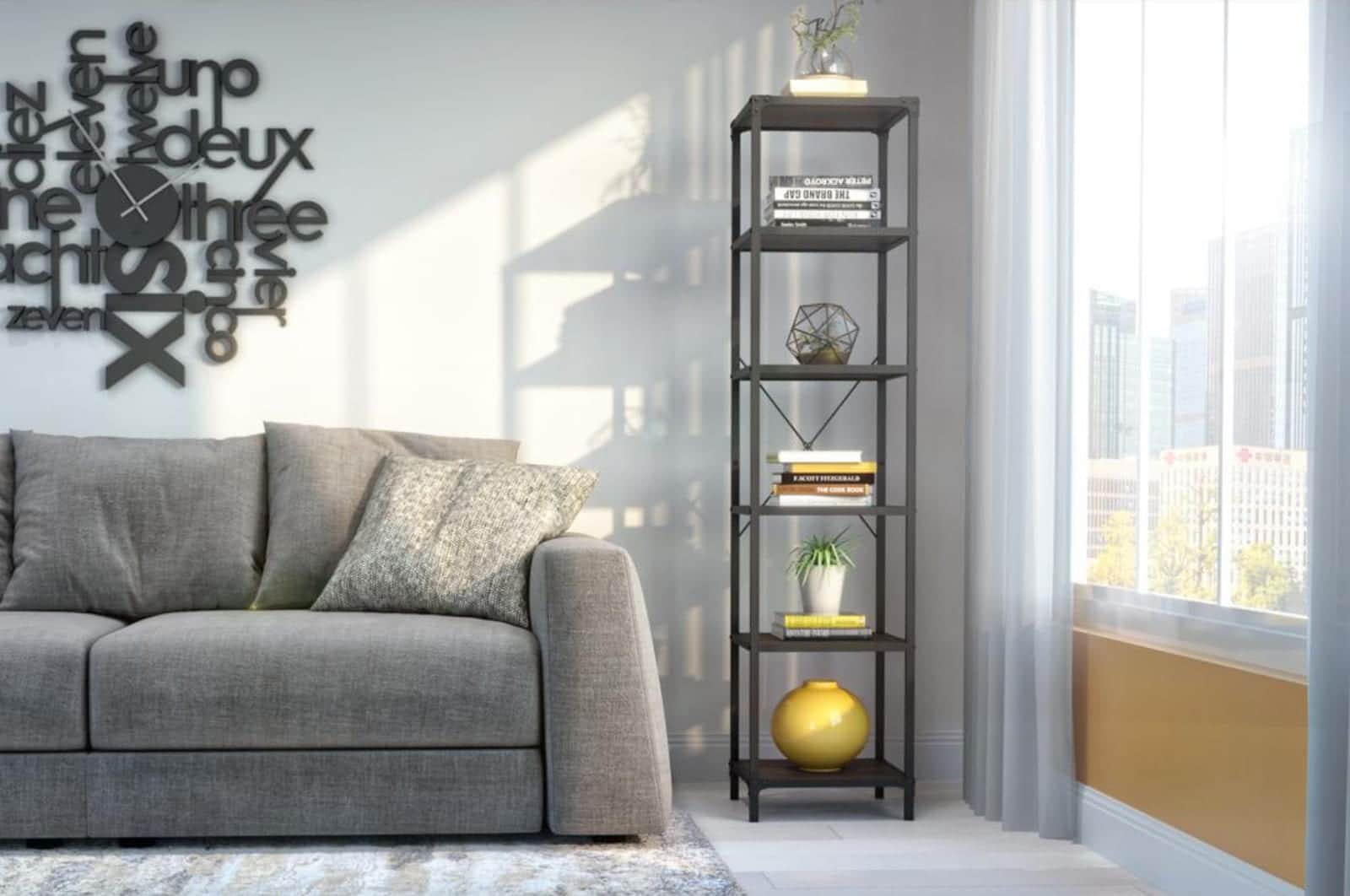 The living room is a space that every member of your household shares. Whether you live with your family or with roommates, everyone spends time in the living room. A shared space can become very dynamic, since many different activities can take place in the same area. A lot of items thus tend to be stored in this room. It is then very important to keep it well organized.
Adding a narrow shelving unit to a living room is a judicious choice. It allows you to store what you need in the room and avoid clutter. With its space-saving qualities, it also leaves you plenty of space to engage in your daily occupations. The shelves provide enough space to store all of your living room essentials, be it books, movies, board games, video games, television remotes or decorative items such as candles. A narrow shelving unit is what you need.
Decor is also a key element of the living room if you want to create a homey and welcoming space. Narrow shelving units can help you do that by adding style to your space. You can choose from modern designs or rustic ones to find the perfect fit for your room. One thing is sure, Bestar's narrow shelving units will charm you and your guests with both their practicality and their style.
A Home Office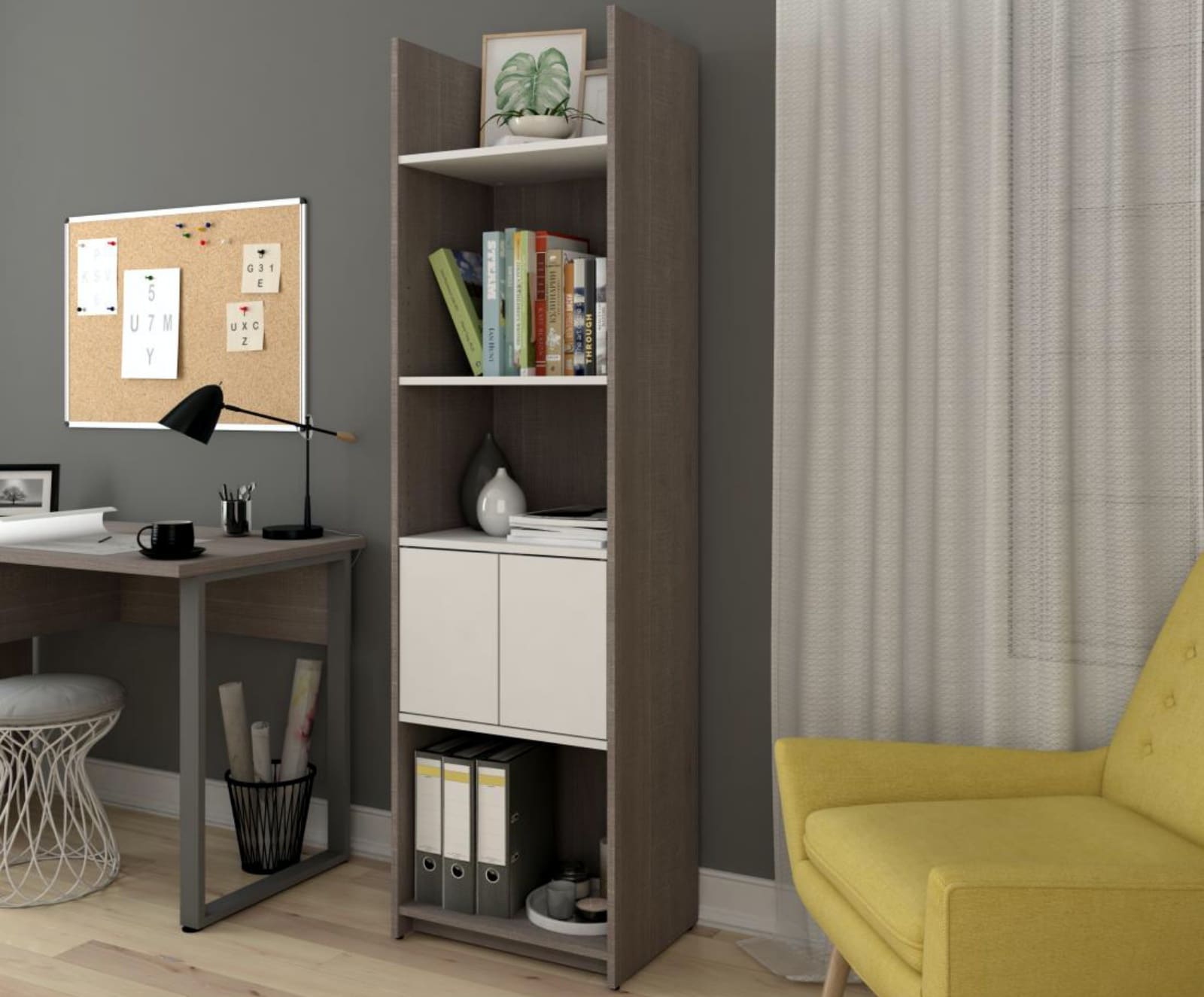 When you work from home, having a dedicated room that serves as your office is essential. Creating a separation between your office and the rest of your home allows you to maintain a productive balance. There are also other important aspects to take into consideration when setting up a home office. To make the most out of your working area, you need privacy, space, good lighting, and the right equipment. But above all, you need adequate storage and organization options.
A narrow shelving unit is the perfect solution for a home office. Bigger desks and storage units will often crowd your room. A narrow unit, on the contrary, lets you store all the office supplies you need without sacrificing your valuable space. Thanks to them, you can keep your home office neat and organized. It also allows you to have plenty of room to work freely, no matter what task you execute.
Creating a workspace where you can be productive and comfortable is easy with narrow shelving units. If you need more advice on how to improve your remote work experience, check out these 6 life hacks to maximize work-from-home productivity.
In short, many rooms in your home can benefit from narrow shelving units. These ingenious pieces of furniture are a great way to add some storage to a room and still maximize your space. They also bring a touch of style to any area of your home. With narrow shelving units, keeping any room organized, spacious, and stylish is easier than ever!
Categories
Home