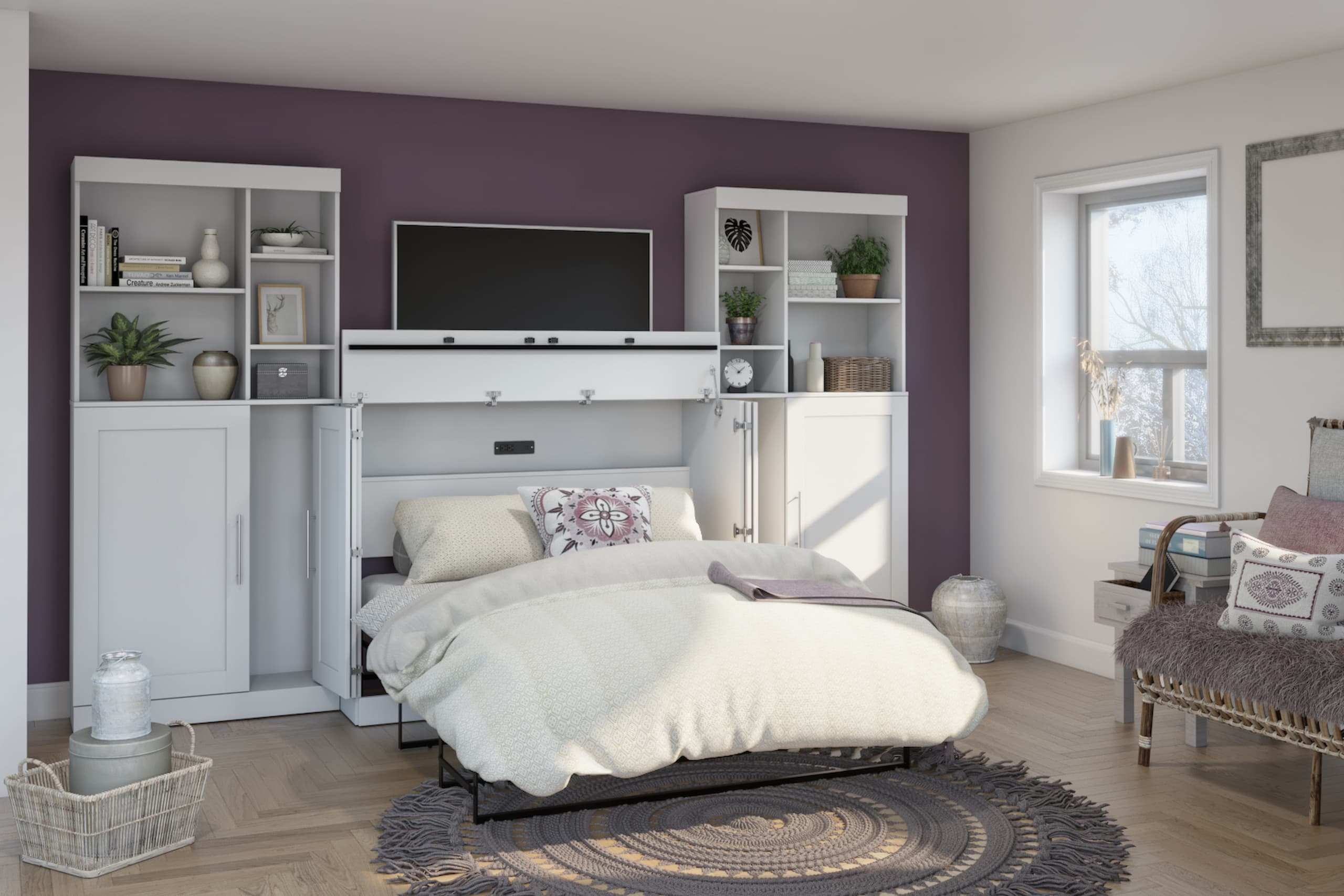 Your home is your sanctuary, so it's important to keep your space clutter free and efficient. However, life can get extremely busy, making it hard to find the time (and energy) to keep your home organized. That being said, Bestar has storage and organization solutions for every room in your home. Get your home organized and tidy in no time—no matter what size space you have!
At Bestar, you can easily organize your home office, guest bedroom, and living room! With the right storage options and organization ideas, you'll have everything you need to keep your home looking its best. Keep reading to learn about Bestar's home storage and organization essentials!
Start With Your Home Office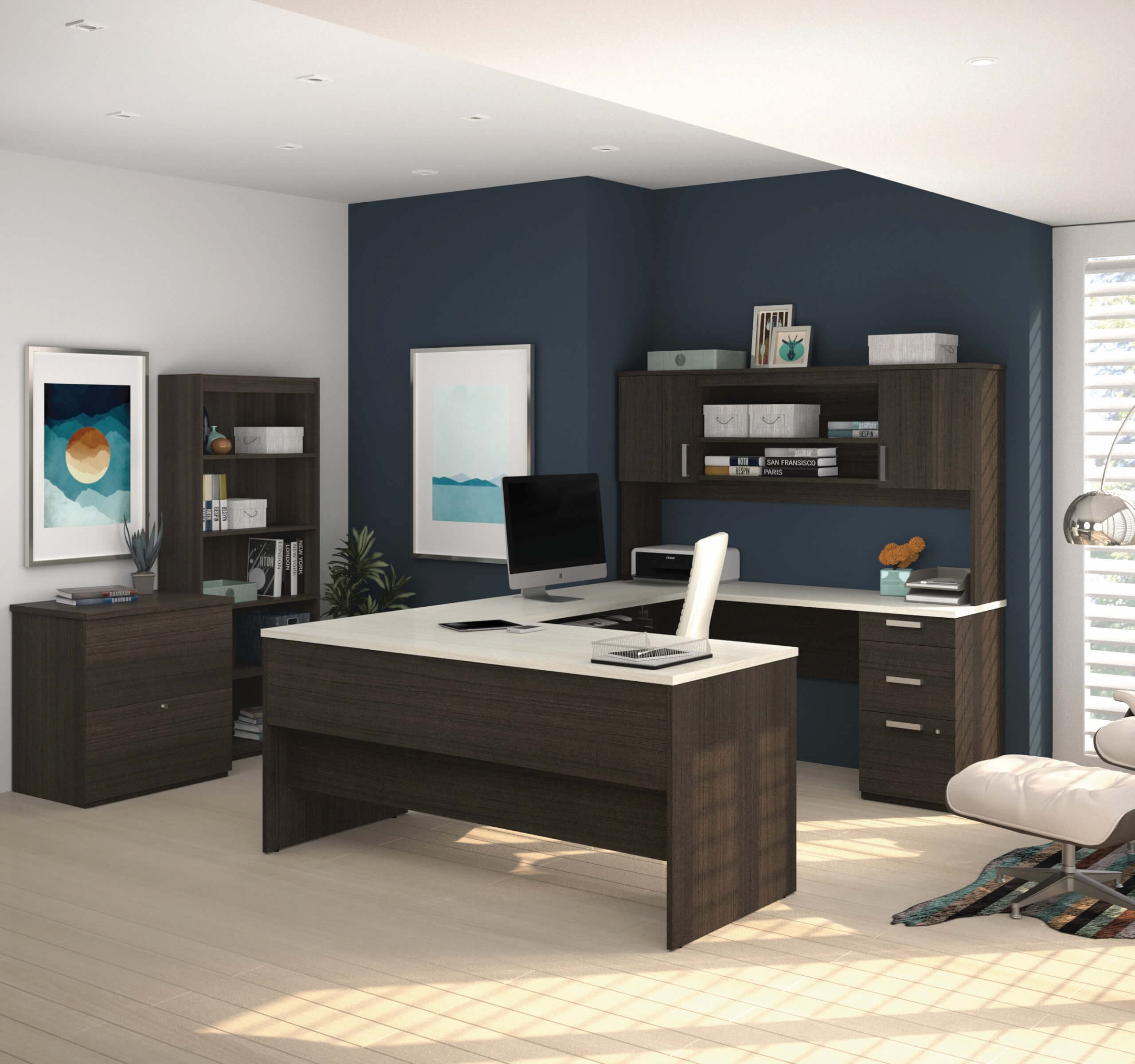 Do you work from home? If you do, then you know how crucial it is to have an efficient work-from-home space. You need a desk that can accommodate all your work activities. It's equally important to find a place to store all your supplies, without overcrowding the area. For that reason, office storage options are a must in any office space.
Ergonomic Desks with Built-In Storage
All depending on the office space you have, you can opt for an ergonomic desk with built-in storage. For example, you might consider a U shaped desk if you have a dedicated space in your home for an office. Some of our U shaped desk models come with a hutch or credenza so you can store client files and invoices, and various office supplies. Moreover, the large work surface creates three desks in one, which can hold a printer, a table lamp, and even multiple monitors. You can also rest easy knowing the surface can handle all your work activities since most of our desktops are resistant to scratches, stains, or wear.
If you're working in a shared living space or are looking for a more compact desk, you might consider an L shaped desk. The L configuration will save you space, all while ensuring complete productivity. You can even place the L shaped desk in a corner to create a secluded work area, giving you additional privacy during your workday. In addition, some Bestar L shaped desk models come with a file cabinet to store invoices, receipts, paperwork, and more.
Office Storage Furniture for Optimal Productivity
If you want to add more storage to your office space, Bestar has options that will work with your needs. For example, if you have an overflow of dictionaries, books, and office supplies, you can consider adding an office shelving unit to your space. The sturdy design offers lasting durability, so you can store books, plants, and more in a single unit. Your items will all be within reach, without cluttering your space.
Another office storage staple is the lateral file cabinet. If you work with a lot of files and documents, then you'll want drawers wide enough and deep enough for your paperwork. Bestar file drawers are designed to hold legal, letter, and A4-size paperwork, making them ideal for the most office files. Some models even come with locks, allowing you to keep private and personal documents tucked away safely.
What about office storage for small spaces? No problem. Bestar has office storage cabinets with drawers in a variety of styles, shapes, and sizes, so you can maximize space and stay productive. For instance, Bestar mobile pedestals are ideal additions to any office space since they can be moved around the room thanks to rolling casters. If you want to clear space in your office, simply store the pedestal underneath your desk. In addition, some models come with two or three drawers, which are ideal for filing documents and storing supplies. You can find solutions that work with the space you have, without compromising on functionality. Good office storage can make all the difference!
Tackle the Bedrooms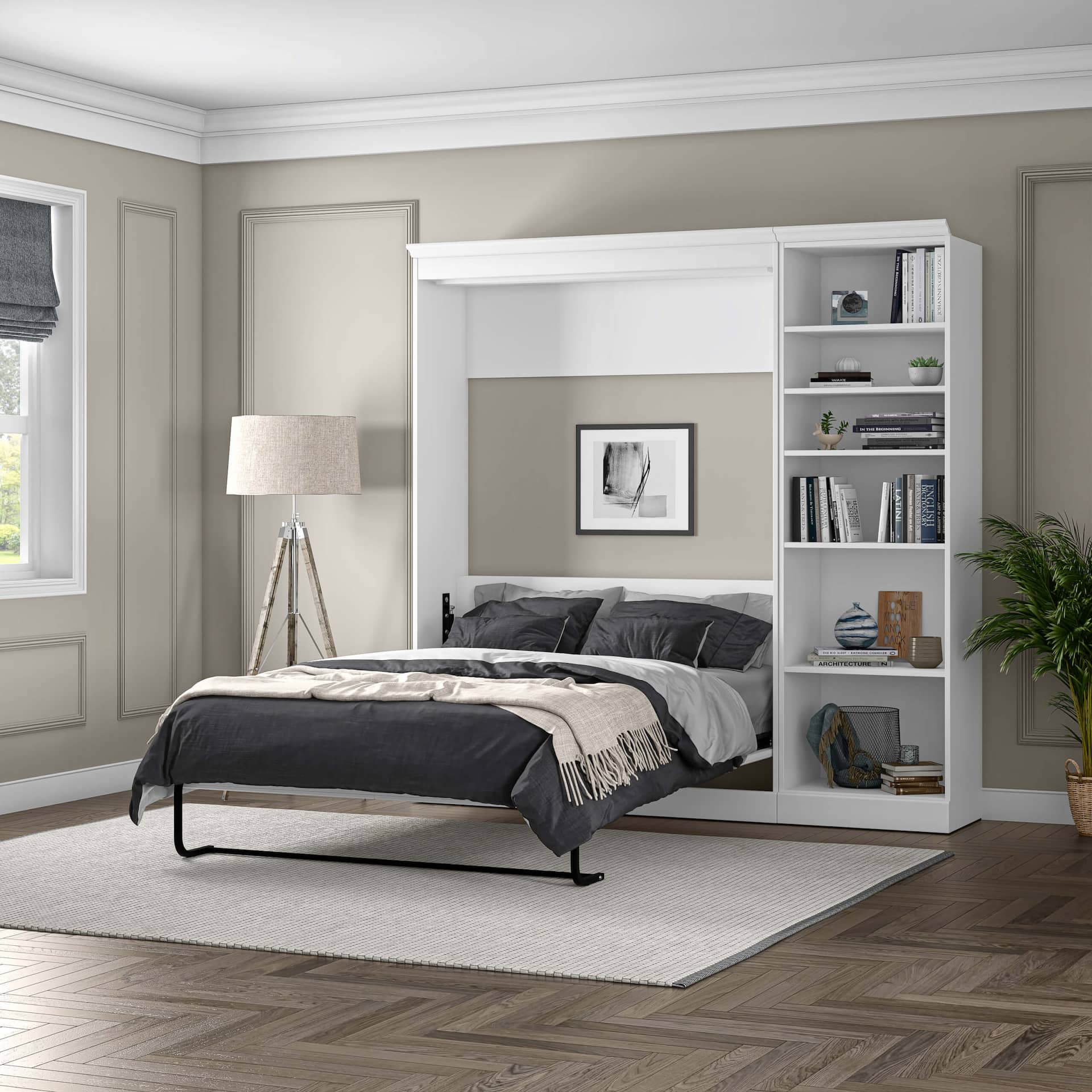 No matter what size your bedroom or guest room is, it's important to find home storage units that provide ample comfort and organization. With the array of bedroom storage furniture options available at Bestar, you're sure to keep your room stylish and clutter-free!
Closet and Bedroom Storage Solutions for All Your Belongings
Bestar has a variety of storage options for bedroom spaces that can help get all your space and your belongings organized. For instance, you can choose a wardrobe storage cabinet that fits with your bedroom's style and configuration. Opt for a simple 25-inch wide wardrobe that comes with a hanging rod and storage drawers to keep your items neat and organized. If you need a bigger wardrobe, Bestar also has models that come with shelves, a pull-out shoe rack, and a clothing rod (or two) to keep your clothes wrinkle free. You can choose a wardrobe that works with your space to ensure the style or color doesn't clash with other furniture pieces. Once you've decided on the right model for your space, you can neatly organize your ties, scarves, shoes, and clothing. All you need to do is pick which model works for you!
Have you always dreamed of having a walk-in closet? Well, now you can! Bestar has a selection of closet organizers with drawers that will help you create your dream closet. Customize your walk-in closet by choosing a color, style, and even configuration that works with the space you have. For instance, you can choose a corner closet organizer that will maximize the space in your room. In addition, some models come with cubbies to store bags or bins, and slanted shelves with lips to prevent shoes, bags, and other accessories from falling. If you need some inspiration, browse online to find great tips on how to organize a closet.
Small Space Bedroom Storage
Offered in queen or full size, Murphy beds are perfect for maximizing space and providing a multipurpose solution. Transform your spare room into a guest space in seconds by lowering the bed from the cabinet anchored to the wall. Need the space for other activities in your room? No worries. All you need to do is clear the floor space by folding the bed back into the cabinet and you're done. You might be wondering: do Murphy beds have storage options? Great question! You can choose a model that has one or two shelving units, so you can store your favorite pictures, plants, decorative items, spare bed sheets, and even clothes in the unit. You'll have a practical and organized space for you and your guests to enjoy to the fullest!
Murphy beds are ideal space-saving solutions for small bedrooms or guest rooms because they allow you to open up your space in the day or whenever the bed isn't in use. This means you could create two rooms in one and have a home office or a home gym in the same room. We even offer Murphy beds with sofas, allowing you to create a cozy seating area as well. When it comes to saving space, a Bestar Murphy bed is the right choice.
Consider Mudroom Storage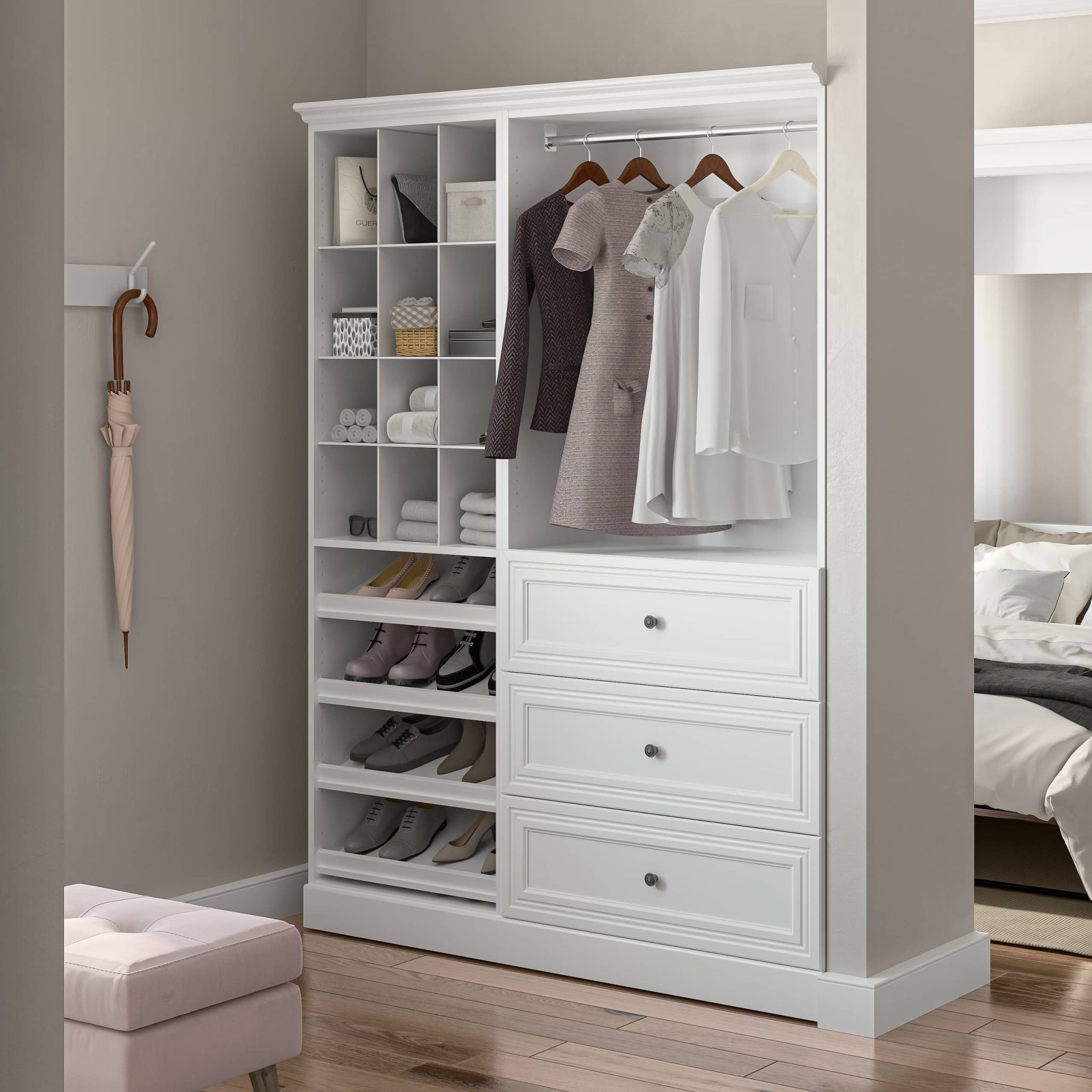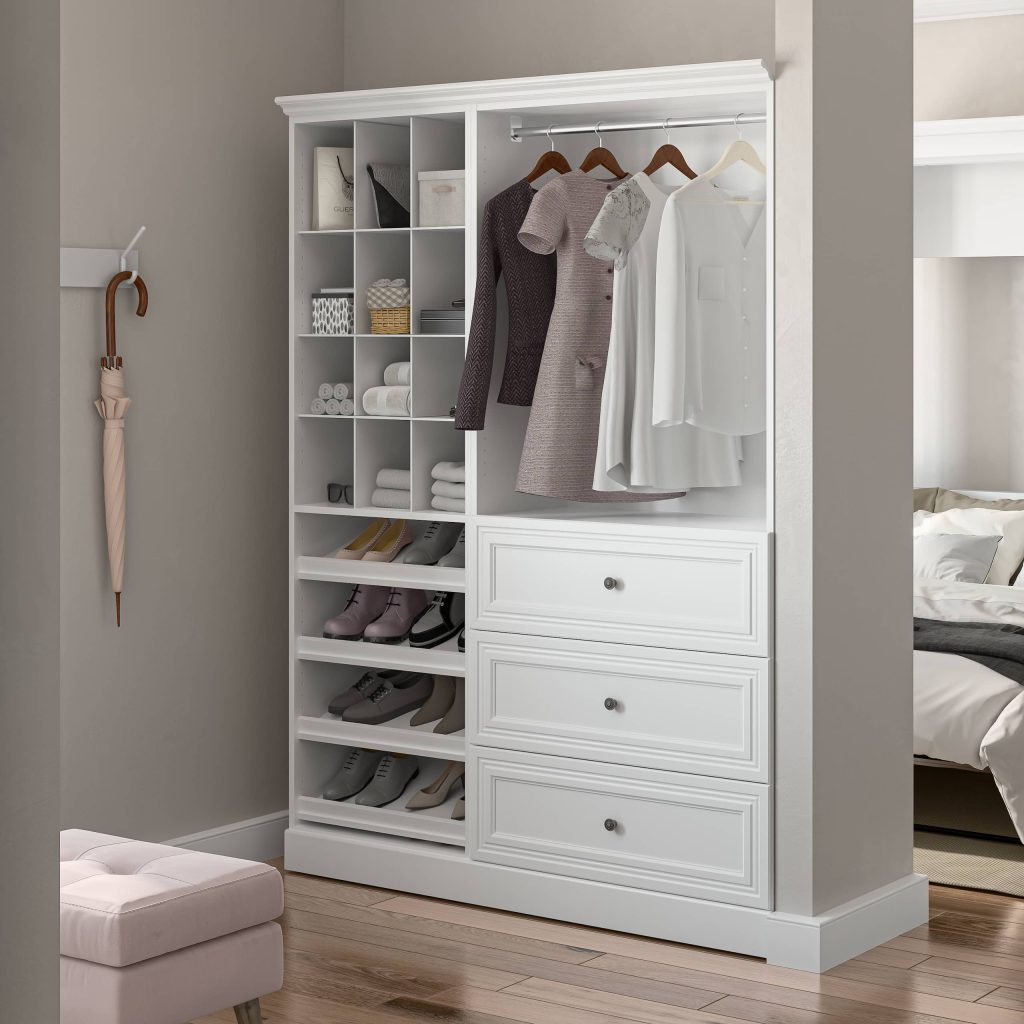 When you live a busy life, your home can get very messy, very quickly—especially if you have kids who have soccer games, swim meets, ballet lessons, and so on. That's why the mudroom can also benefit from a storage system. Thankfully, you can get your mudroom neat and organized in no time with Bestar!
Do you have tons of sports equipment, jackets, boots, and more overcrowding your entrance? If you want to get your mudroom looking its best, you should definitely consider a closet organizer. Whether you need a large organizer or a more compact unit, Bestar has closet organizers with drawers that will work with your space and needs. From the moment you walk through the door, you'll have order in your home. Store your family's shoes, sports gear, pet leashes, and more. Place your closet organizer in the mudroom to keep your space organized and your home clutter free!
You might be wondering: Will I be able to find an organizer that works with my existing decor and furniture? You're in luck, because Bestar has tons of different closet organizer collections in various styles that will allow you to create a cohesive space. You can choose matching units to work with your space, so you don't have to compromise on style and functionality!
Move Onto the Living Room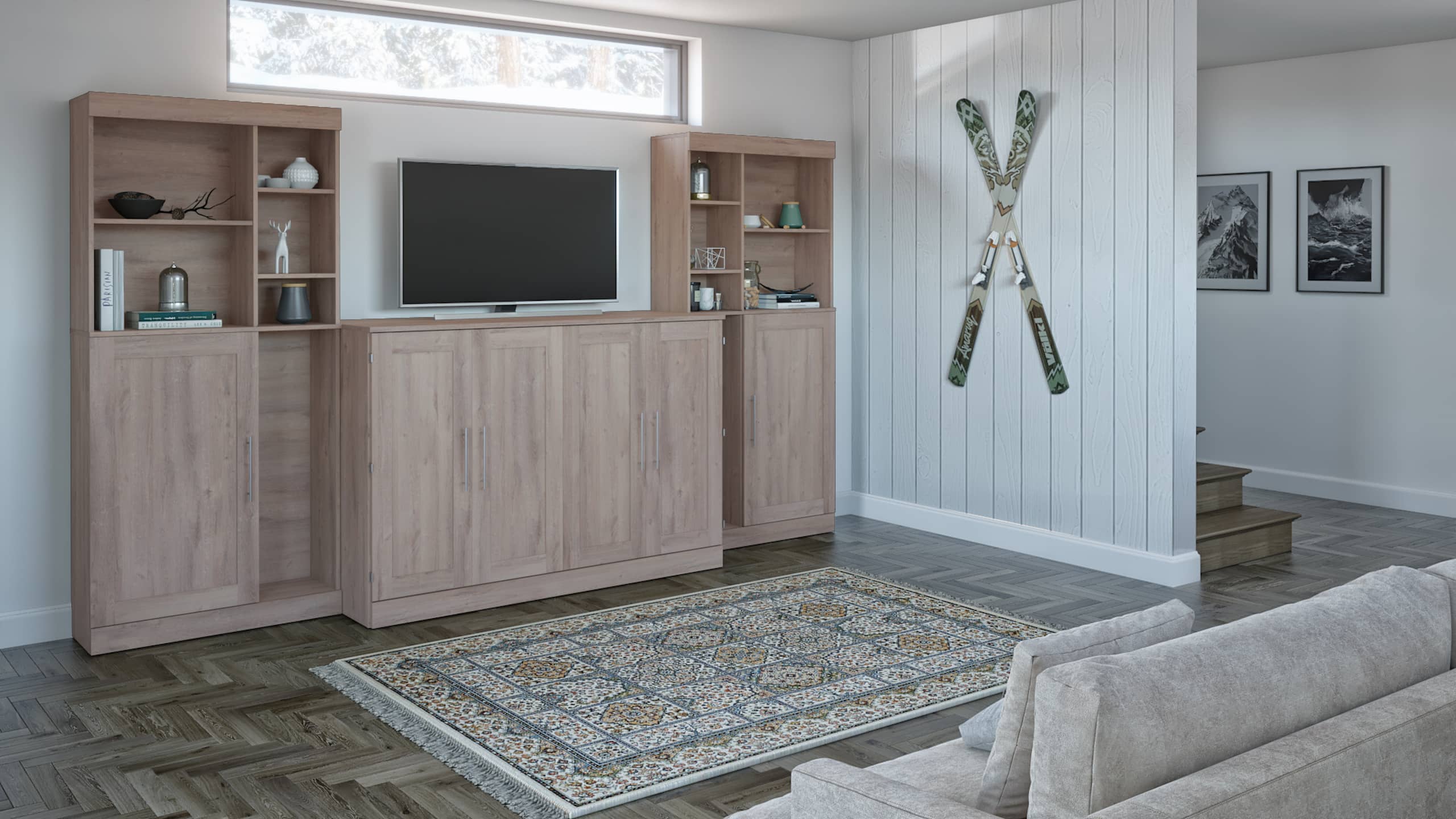 Your living room is truly the heart of your home. It's where all your game nights, movie marathons, slumber parties, and play dates take place. For that reason, your living room needs to adapt to your needs and activities. Luckily, Bestar has an array of storage units that will help you save space, avoid clutter, and maximize comfort.
Multipurpose Furniture
Do you want to accommodate overnight guests, but don't necessarily have the space in a spare room for a bed? Bestar has an ingenious piece for your space: a cabinet bed. All you need to do is clear the floor space in front of the cabinet, open the doors, and fold out the bed. When you're done using the bed, simply fold the mattress back into the cabinet and close the doors. It's that simple! If you're looking for a cabinet with storage, you can choose a bed model with storage units. You'll have plenty of space to store media equipment, game consoles, DVDs, CDs, pictures, decorative items, and more. You can also put a flat-screen TV on the top of your cabinet bed (perfect for movie nights!) It's easy to create a multipurpose and versatile living room with a cabinet bed!
Bestar also has other space-saving furniture pieces for your living room, such as a lift-top coffee table. The large compartment underneath the tabletop is perfect for storing books, magazines, arts and crafts, games and so on. The tabletop surface lifts from 15 to 23 inches, so you can eat comfortably while sitting on the sofa. Having a game night with friends? Lift the tabletop, grab your games from the storage compartment, and close when you're ready.
Efficient Furniture that Work with Your Space
Are you a collector? Do you have a collection of books, records, or maybe even DVDs? Then you might want to choose a bookcase to show off your collection in your living room. Bookcases are generally wide but not too deep, allowing you to easily place them against a bare wall without taking up too much space in the room. You could even try lining up a couple of bookcases to create that built-in library look.
Bookcases are indeed made for storage, but they're also made for decor. A simple bookcase is the perfect spot to show off your style. If you're an avid book reader with tons of physical copies, then you can try placing them in a creative way on the shelves of your bookcase. Sorting them by color and creating a rainbow effect is a beautiful trend popular amongst book lovers that you may want to try. Continue to personalize your shelves by adding some of your favorite plants, a few decorative candles, or trinkets that you've collected over the years. A bookcase is the perfect spot to show off the things that make you happy.
Last, but certainly not least, you can opt for a shelving unit for your living room. Some models come with adjustable and fixed shelves, so you can customize your unit to your needs. Shelving units are generally less wide than bookcases, allowing you to still have storage in the room but to use up less square footage in the process. Display photos, decor, books, or plants in your unit to make sure everything has a home and isn't taking up valuable space elsewhere. Shelving units are also perfect for keeping other small spaces organized, such as your pantry or laundry room. The options are endless!
Now you should be ready to shop for storage furniture for any room in your home. It's time to have fun with it and get organized!
Categories
Home
,
Organization