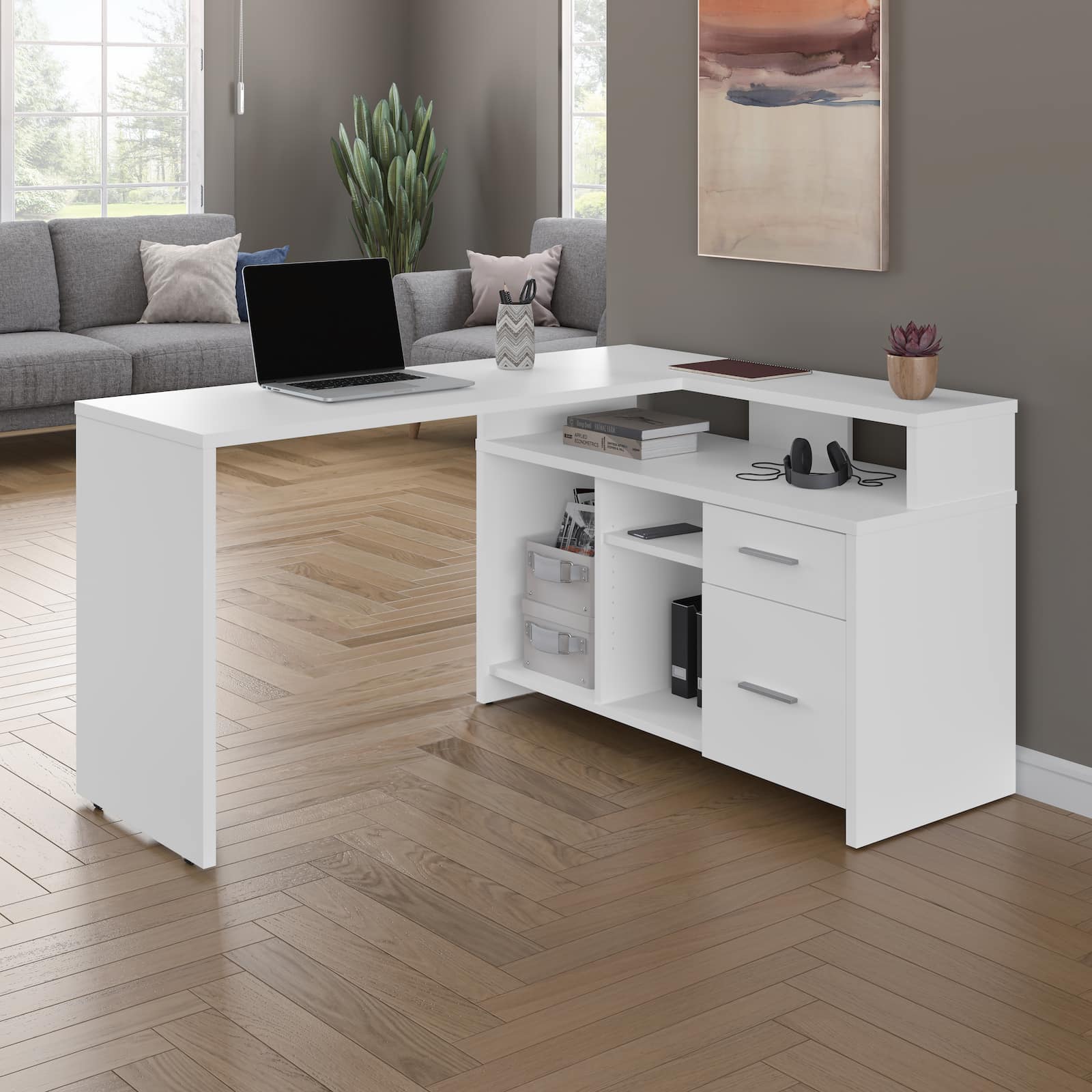 Choosing the right desk can seem like a daunting task at first, especially if you're looking to maximize space. You need to think about a number of different features that meet your needs perfectly and fit with your available space. The variety of desks also makes it challenging to pick one. You might be wondering: Do I need storage options? Can I fit this desk in my space? Will it suit my needs? If these sound like some of the questions you've asked yourself, we have a solution: an L shaped desk!
With its versatile designs and various storage options available, an L shaped desk can truly make your life simpler—all while saving space. Whether you have an office, multipurpose room, study or recreational space, an L shaped desk will be the perfect addition to your home. Check out our wide selection of L shaped desks and find the desk you've always wanted!
Smart and Practical Configuration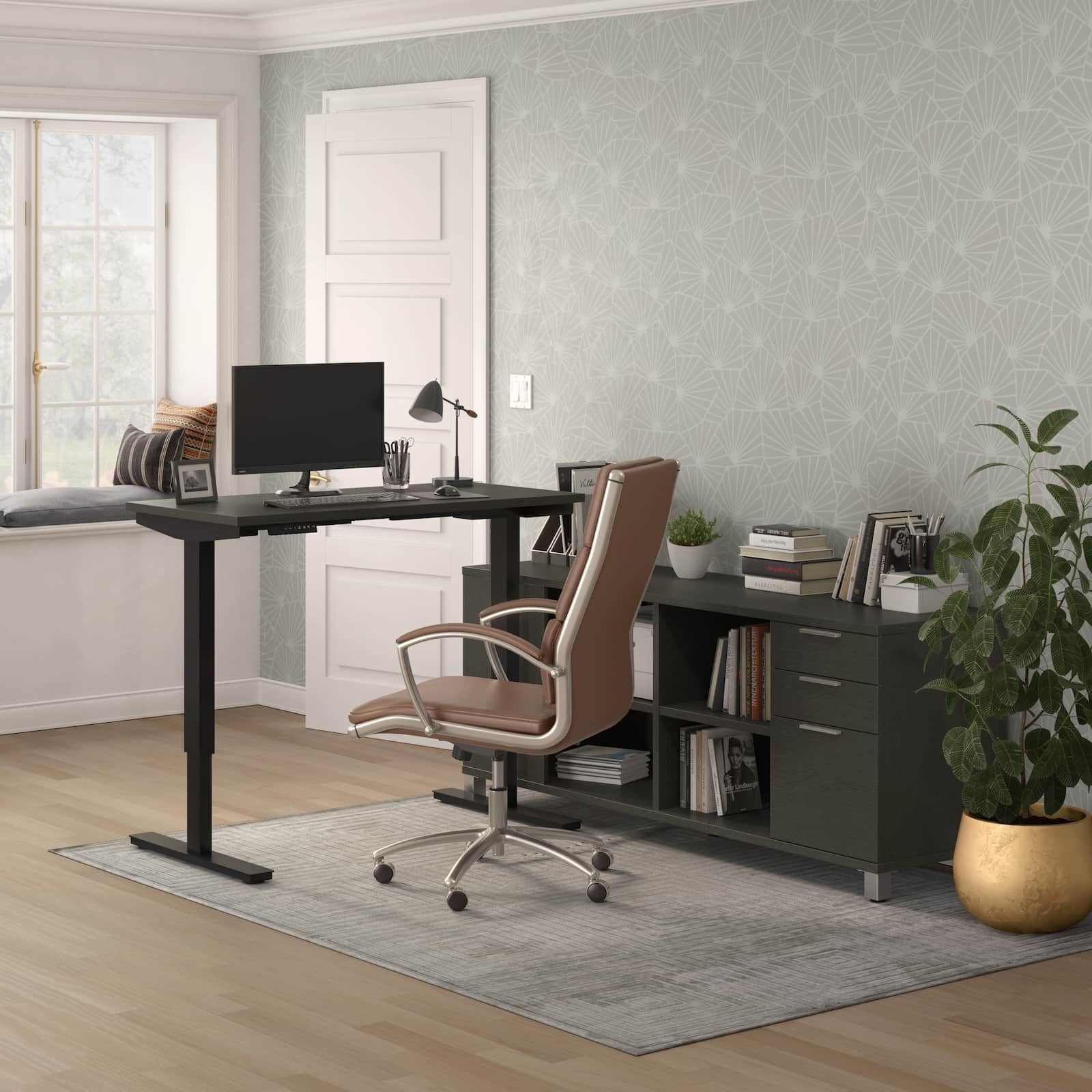 We want to maximize every square inch in our homes. Thankfully, Bestar's L shaped desks are perfect for getting full use out of your space. L shaped desks have smart, practical configurations to match your needs with your space. It's a win-win!
The L shaped work surface provides two desks in one. You can be sure to have all the necessary supplies on hand and within arm's reach. No more worrying about clutter and looking for your supplies. Everything is where it needs to be.
Is an adaptable desk on your wish list? Great! An L shaped standing desk is extremely practical if you want to shift between sitting and standing throughout the day. A simple click of a button is all you need to go from sitting to standing in a moment's notice. This is also a great option to have if you want to take a break, stretch or relax!
Once you've chosen an L shaped desk, you need to find a spot for it. Not quite sure where to place it in your space? Most L shaped desk models have finished backs, which means you can place yours practically anywhere in your home. Behind the couch, in the corner, near a window—any place will do!
Sophisticated Materials with Lasting Durability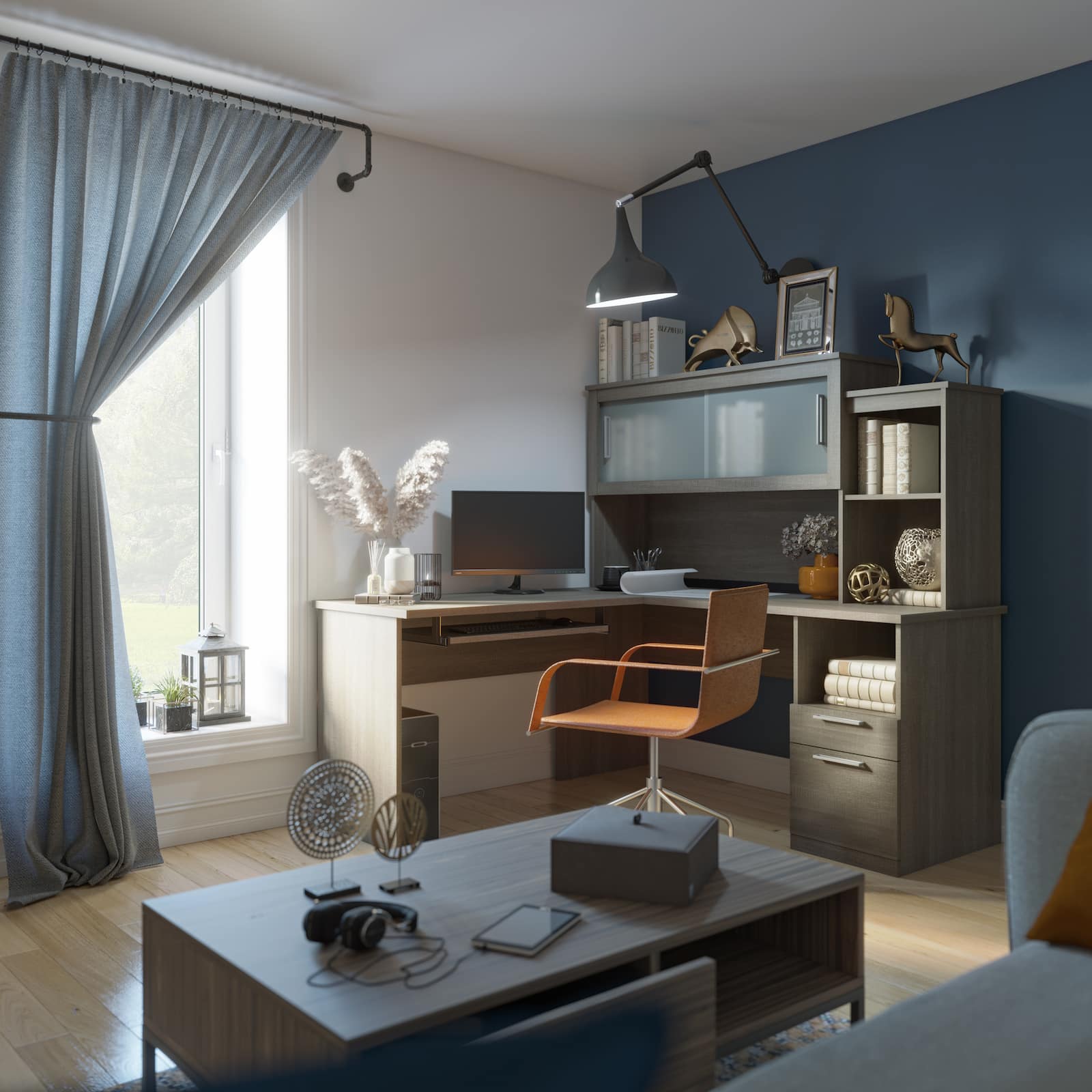 Of course, style is always a plus when looking for a desk. You want to create a space that's inviting and sophisticated, all the while maintaining the durability of your desk. With an L shaped desk, you can sigh in relief knowing you'll have a two-in-one solution!
Each Bestar L shaped desk is equipped with a thick desktop made from high-density, commercial-grade particle board. The robust work surface can hold heavier objects such as a printer or multiple computer monitors. You won't even need to worry about wearing out your desk because most surfaces are resistant to scratches, stains and wear. Coffee rings? No problem! Easily clean the desktop with a damp cloth to keep your work surface in tip-top shape.
There are also different colours, accents, and storage options to choose from when shopping for an L shaped desk. Some models have metal legs and brushed handles that give the space a modern look, all the while offering complete sturdiness. You can even choose a desk with two tones or a solid colour that works with the rest of your space. One thing will always stay the same: you'll always have a beautiful, high-quality desk.
So Many Options to Stay Organized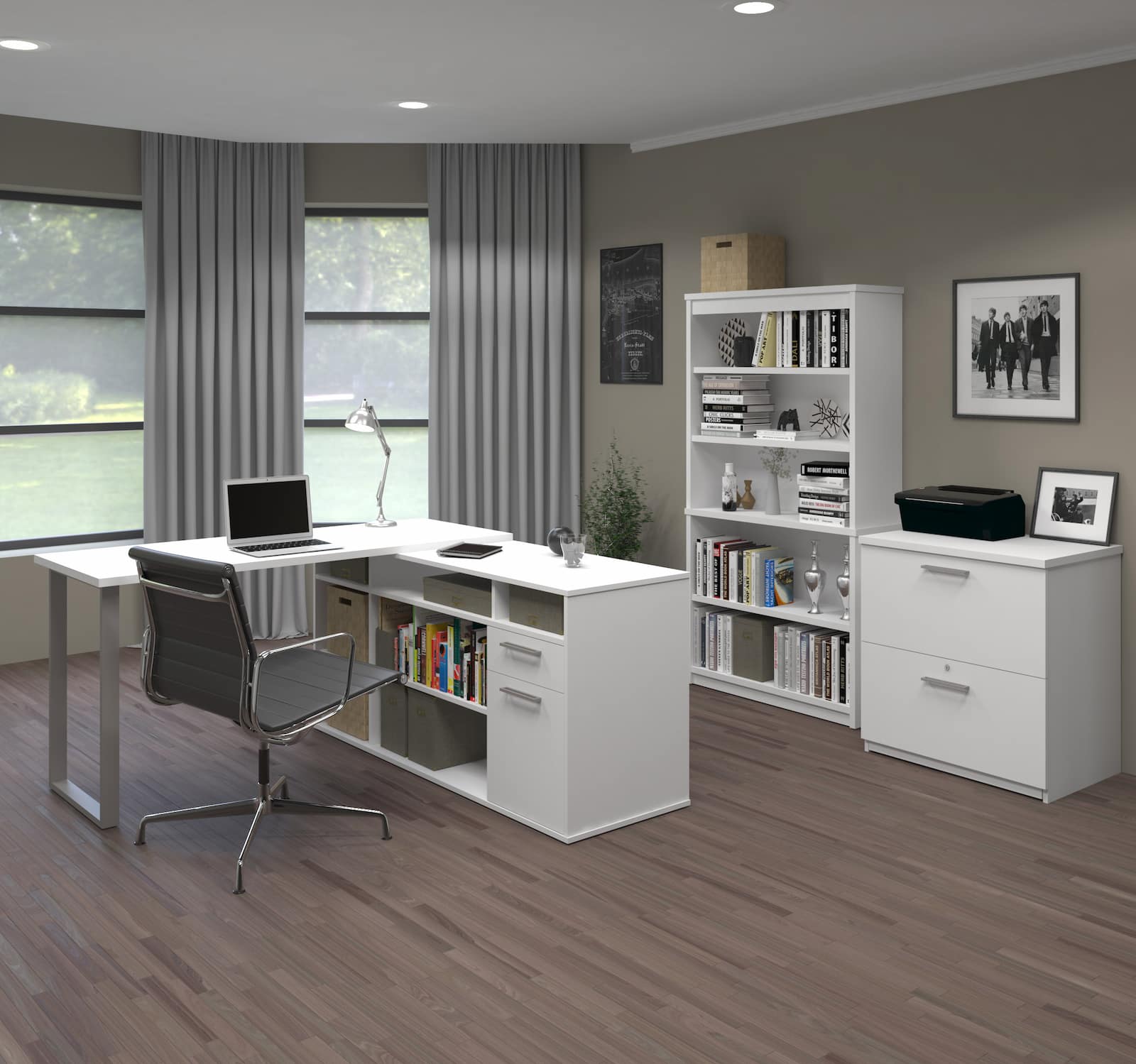 We all know that having storage options is a must in any space, whether it's for work or play. That's why our L shaped desks are great for making sure all your supplies are neatly and practically stored away. Store everything from A to Z!
Depending on what you're looking for, you can opt for an L shaped desk that has a variety of storage features. Some models come with a simple pedestal for storing papers, while others have a hutch, possibly with beautiful frosted glass doors, and a credenza to store any and all belongings. The open and closed storage compartments make it easy to store files, client invoices, and your printer. Even if this desk is for crafts or activities, you can store supplies, media, and even snacks in the drawers.
With an L shaped desk, you can easily create a cohesive space with matching furniture from the same collection. Feel free to add a bookcase for your book collection or a shelving unit for your kid's arts and crafts' supplies. No matter what you choose, you can have something that will fit with your space.
Multipurpose? Absolutely!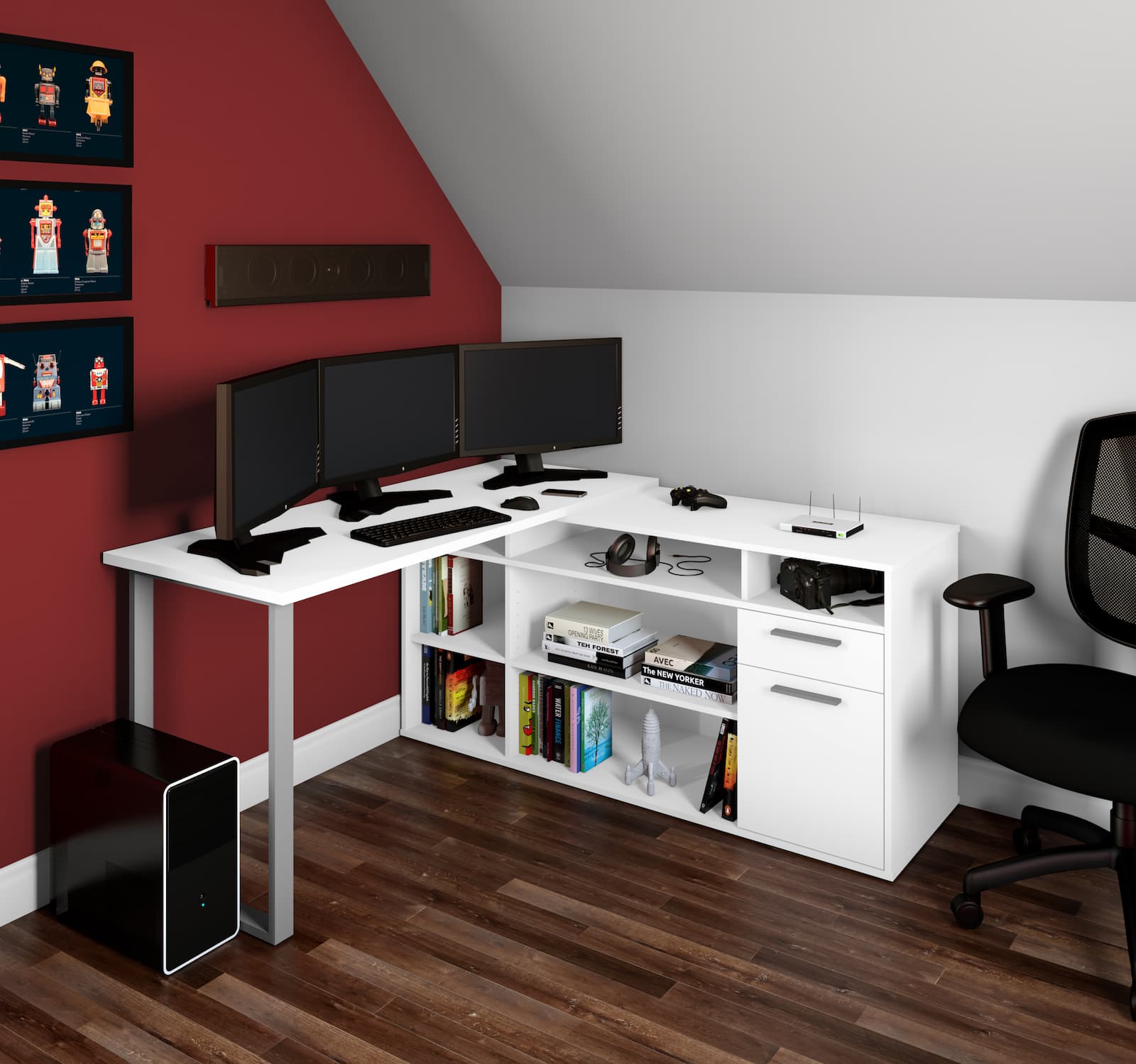 It's important to keep in mind that an L shaped desk can be used for a variety of reasons—not just in corporate offices. Have a teen who needs a study space or an avid gamer looking for a practical gaming desk? Maybe you need to add a work desk in a shared space? An L shaped desk is the way to go!
Let's start with a gaming space. Finding the right gaming desk is a must for gamers. Luckily, our L shaped desks will suit all your gaming needs. The ample storage compartments makes it easy to store media, including headphones, consoles and games. Also, a tall computer tower can easily be tucked away under the desktop, which can accommodate up to three monitors. You can even look online for some amazing gaming accessories to improve your game play. Get ready to take your gaming to a new level!
Looking to add a desk to your guest room or create a study corner in the basement for your teen? We've got you covered. We have a range of different L shaped desks, so you can be sure your needs are met. Some units are fully reversible, so you can decide on the best configuration for your space — ideal for both right- or left-handed folks. Rest easy knowing your L shaped desk will save room to ensure all other activities can happen seamlessly. You can also take a look at some tips for organizing your desk and making your workspace yours.
Although it might seem like a challenge, choosing a new desk can be easy and stress-free when you know what you're looking for. The right desk can set the tone of the room and help get the most out of your space. With an L shaped desk, you will have the efficiency you need, all while saving much-needed space—for all activities!
Categories
Home Office