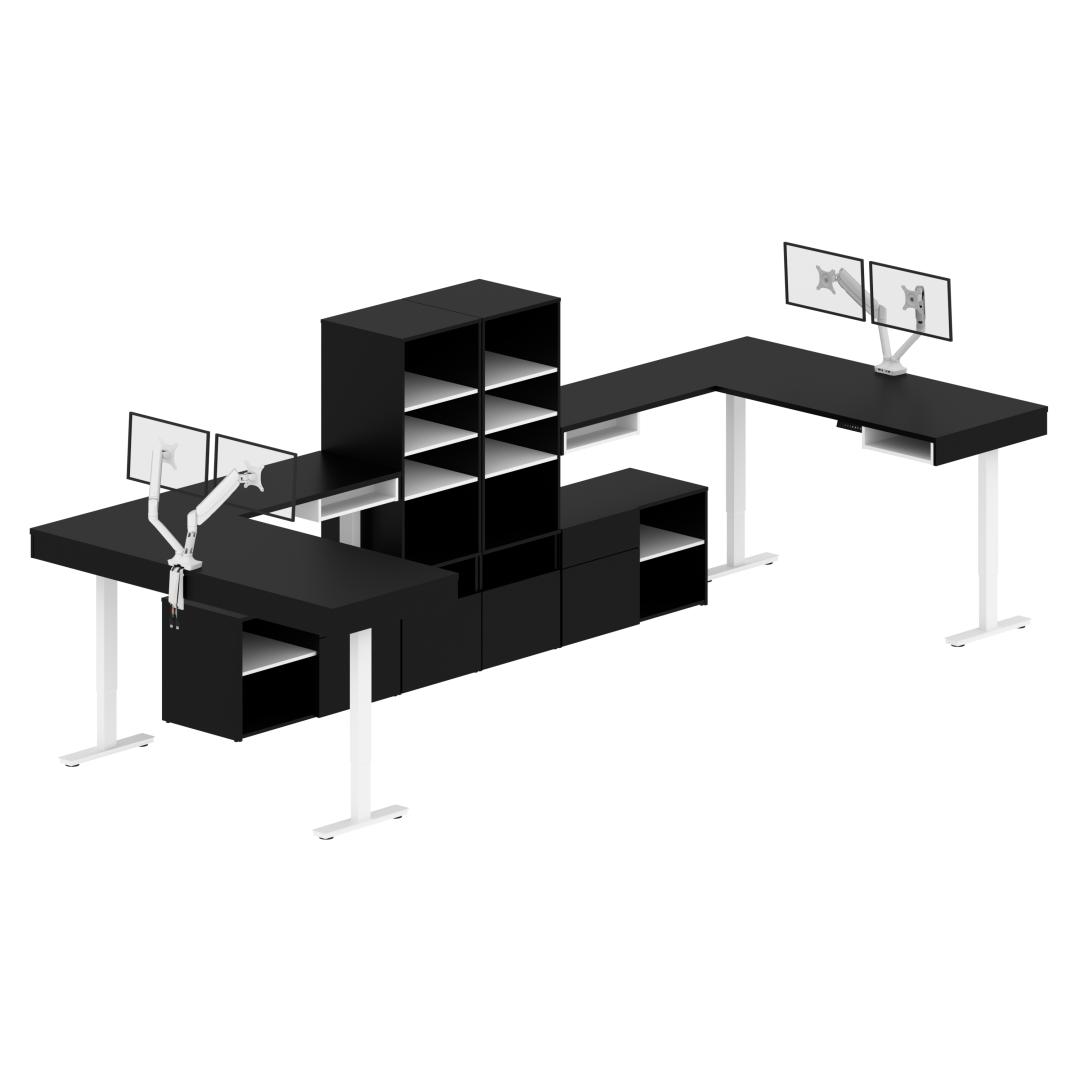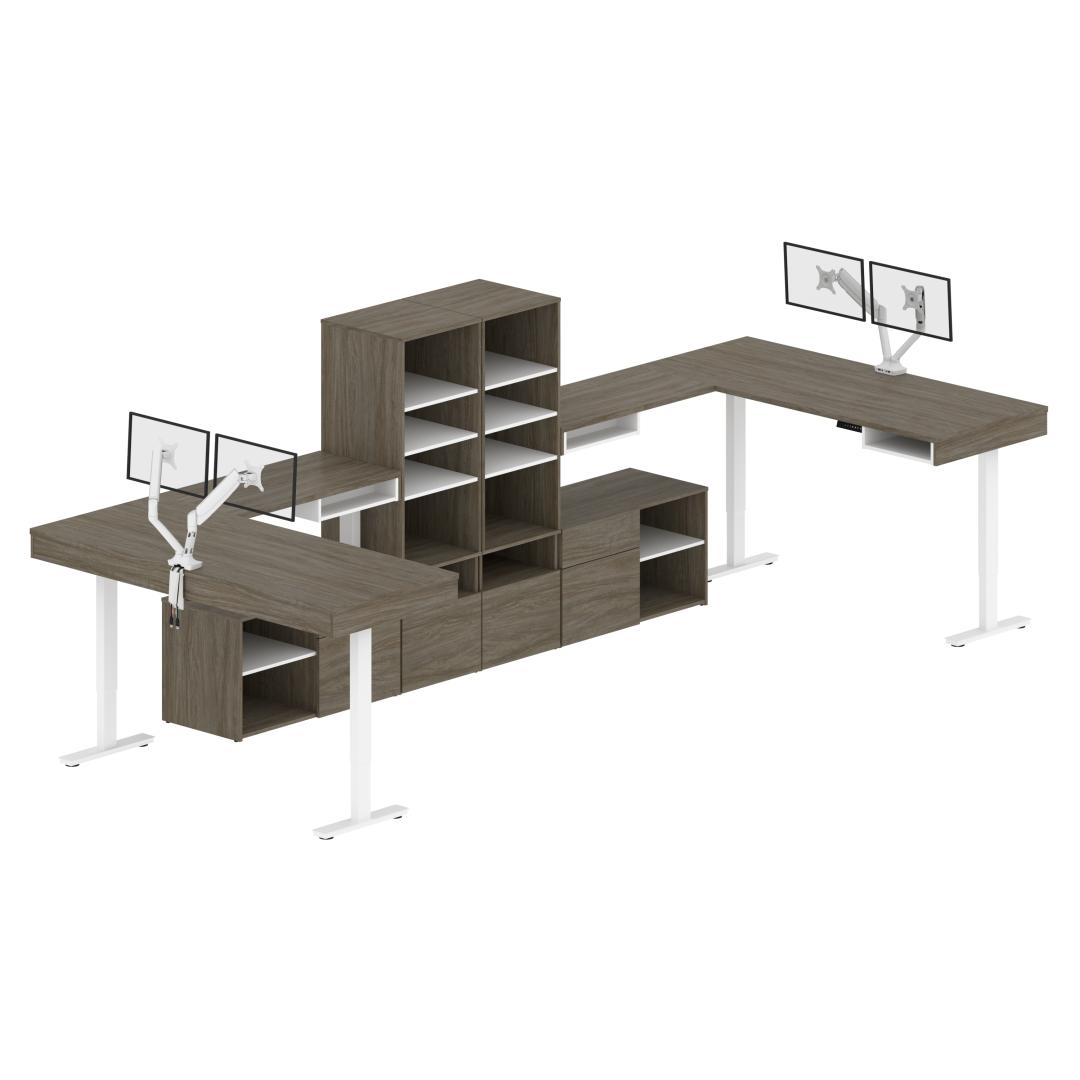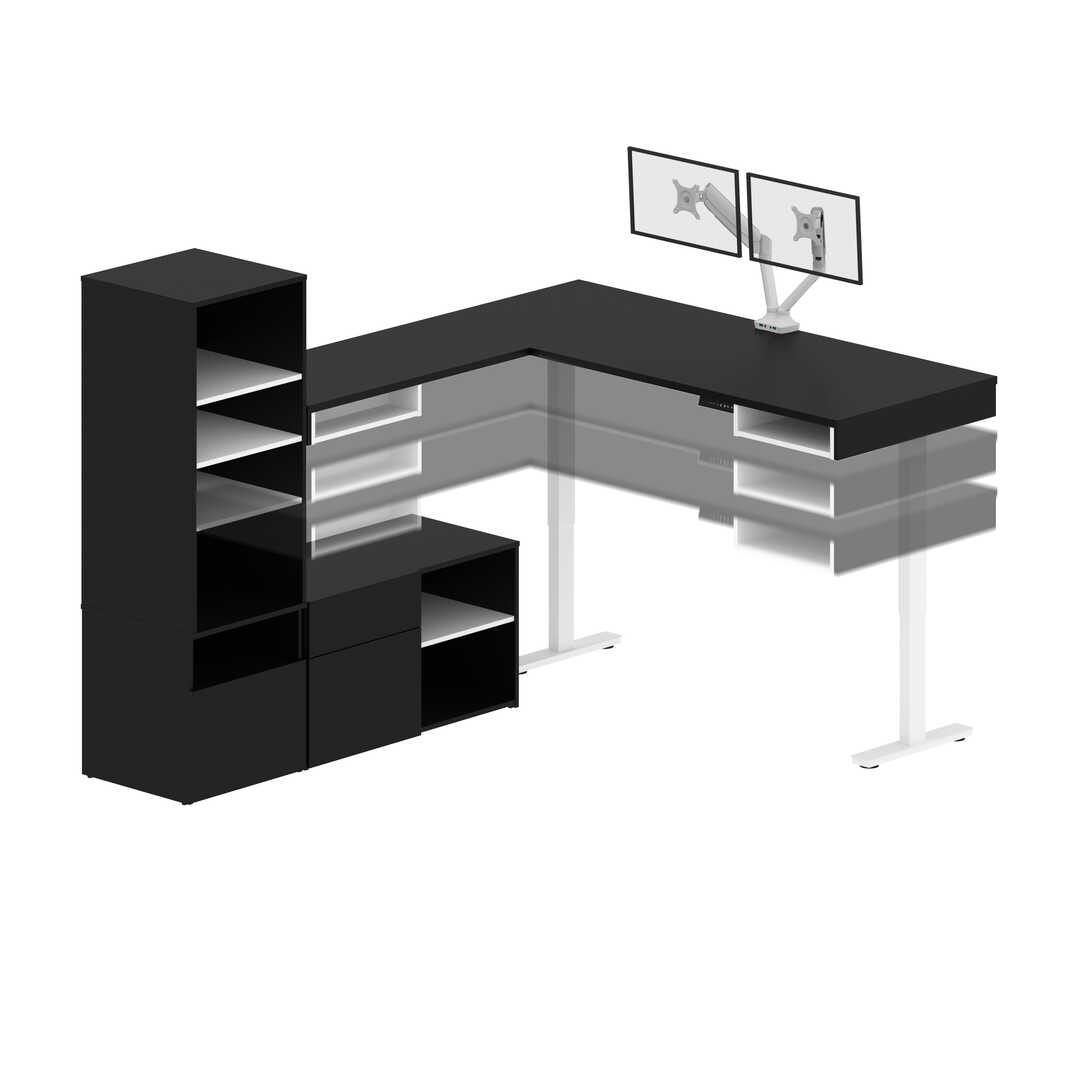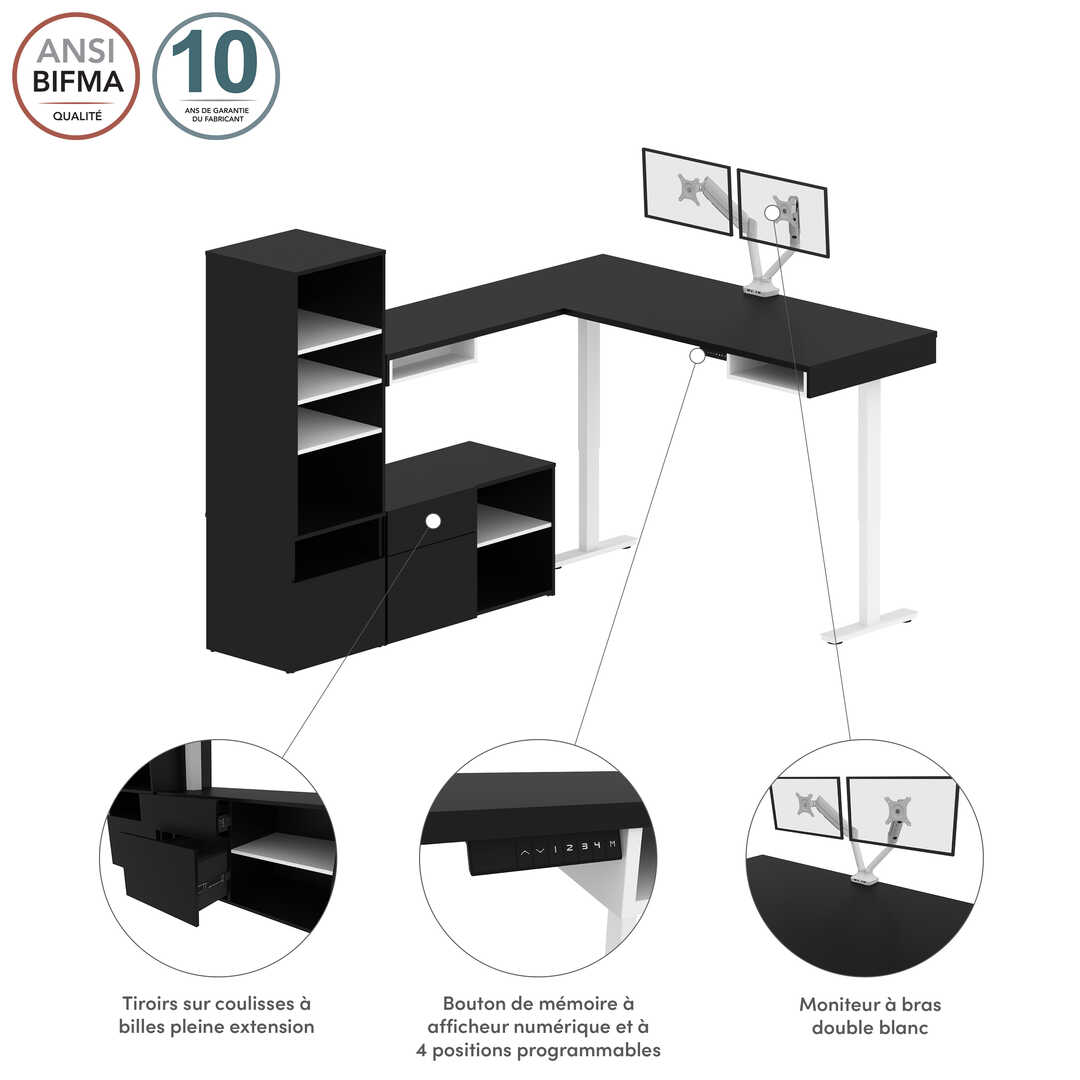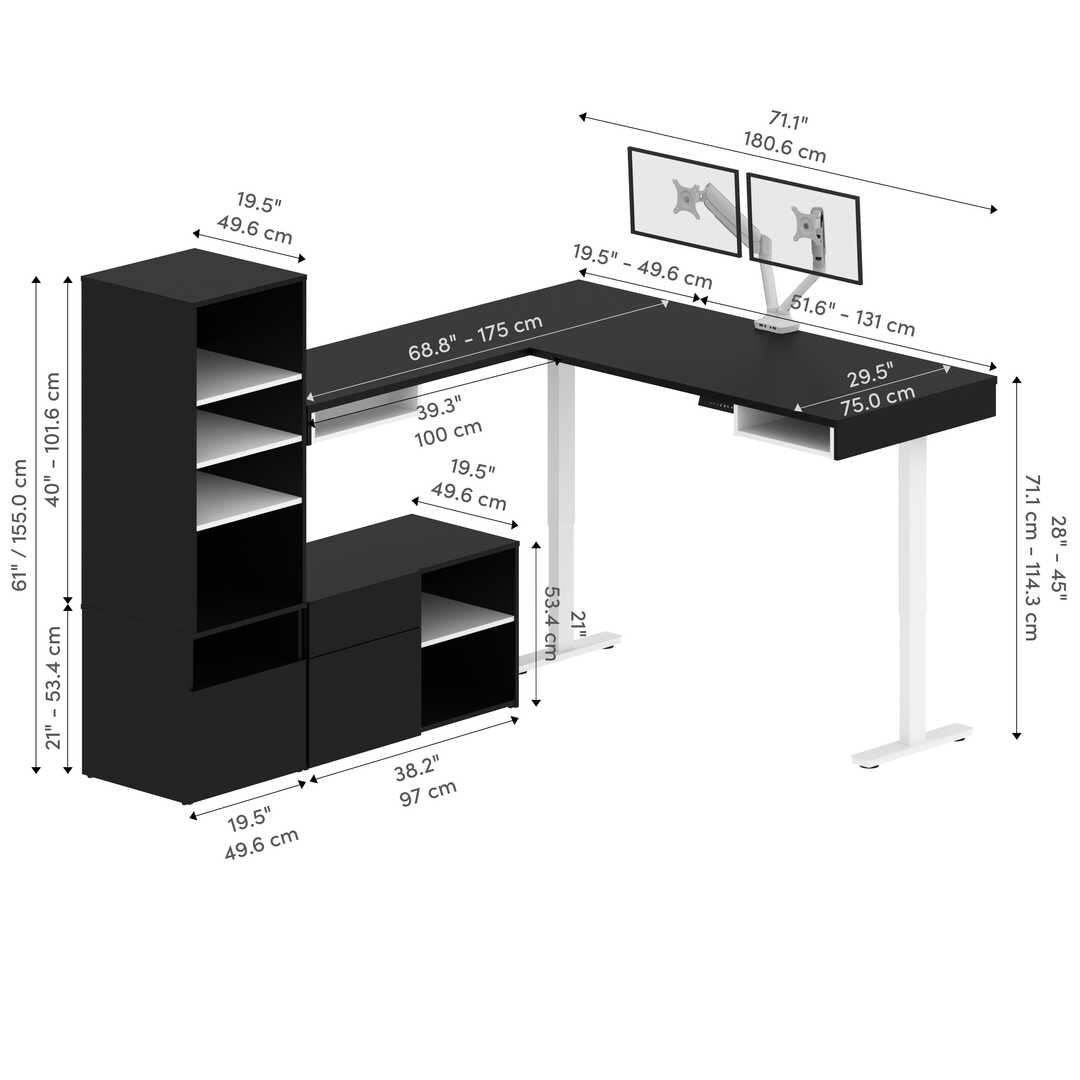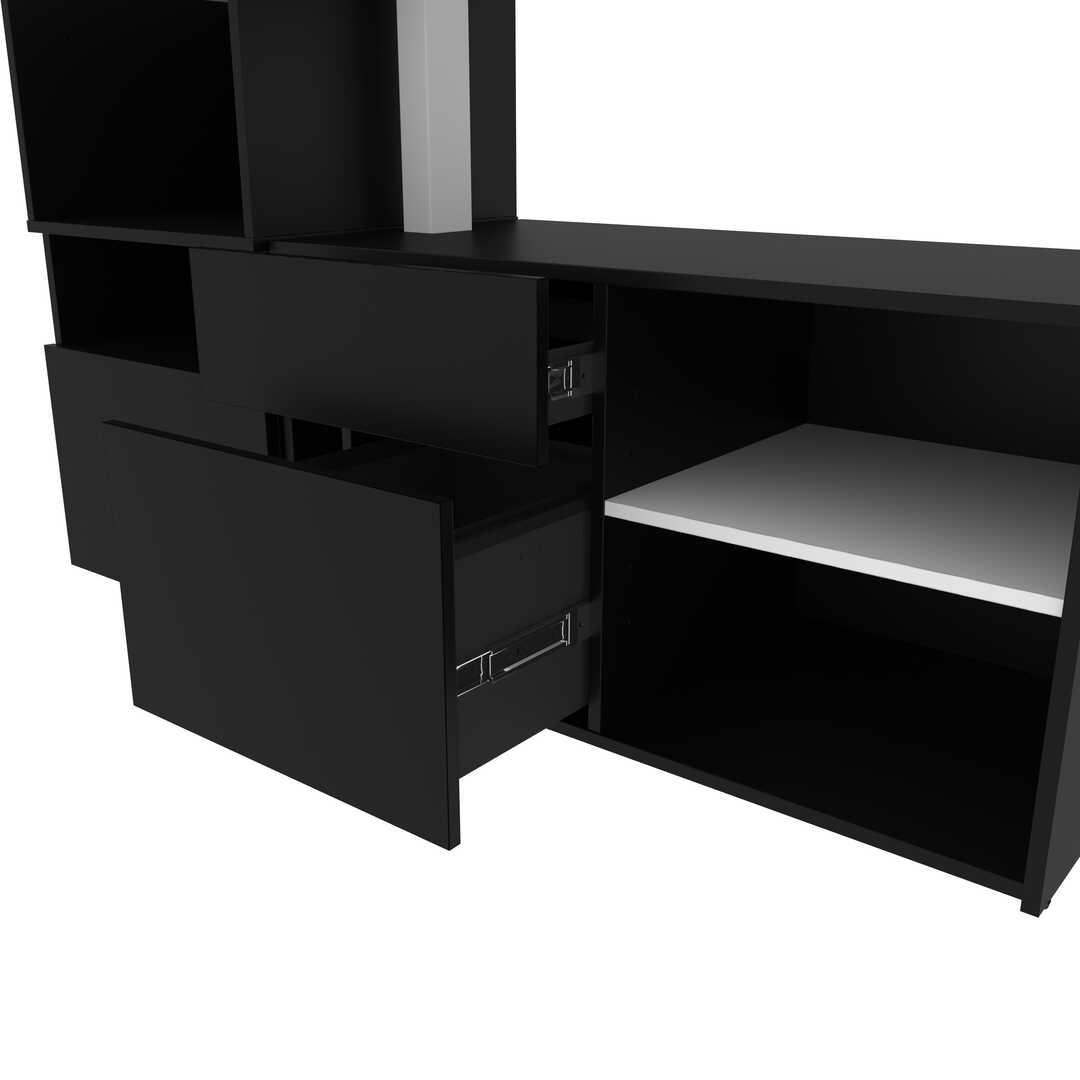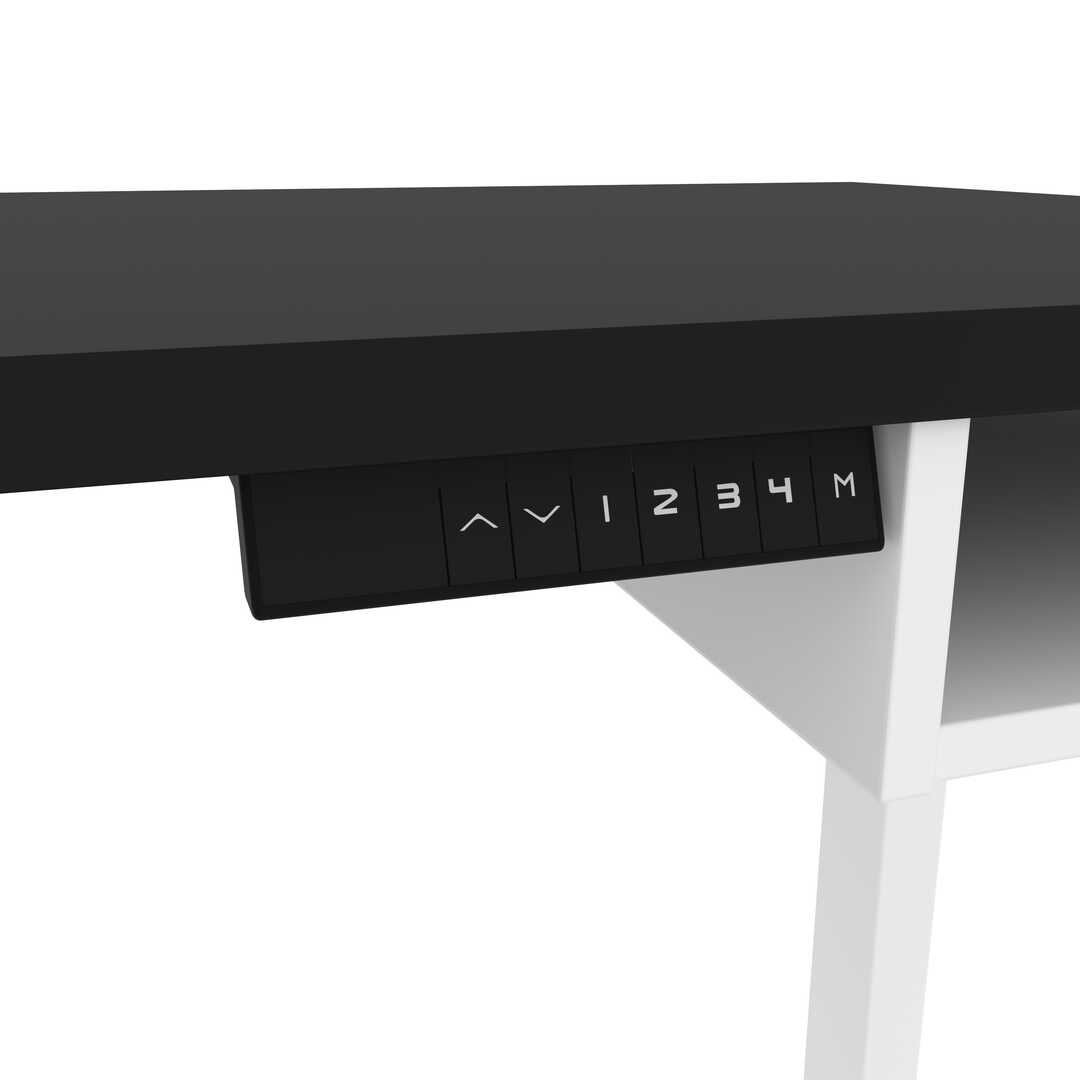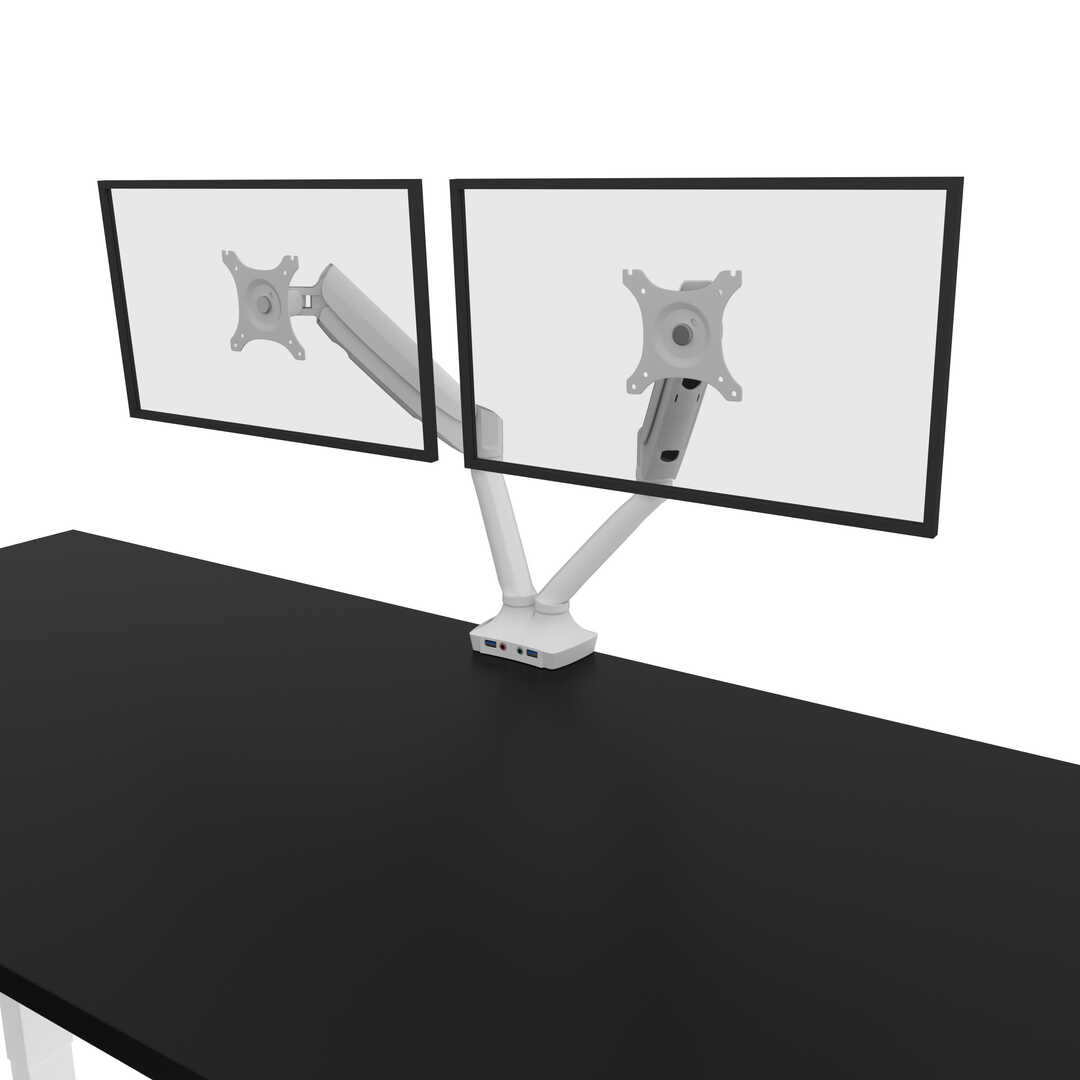 Description
Made in Canada
Assembly required
L-shape Height-adjustable Workstation:
Durable 2.5 cm (1 in.) commercial-grade work surfaces with melamine finish resists scratches, stains and burns
Maximum weight on the desk: 79.9 kg (176.3 lb.)
Electric mechanism: Voltage 110 V
Digital display memory switch with 4 memory positions
2 sides open spaces under the work surface
Credenza provides 1 utility drawer, 1 file drawer and 1 open space
Fully reversible
BIFMA approved furniture
Storage Tower:
3 adjustable shelves on the upper part
Rubber wire management strip finishes off the back panel and allows for better organization
Lowest part of the storage offers 1 open and 1 closed storage sections
Dual Monitor Arm:
Colour: White
Made with aluminium and stainless steel
Each arm holds an LCD monitor up to 8 kg (17.6 lb.)
Each arm holds screen size up to 35.5 cm (14 in.) minimum and 81.2 cm (32 in.) maximum
Easy to mount clamp though grommet hole
Tilts up or down +/- 28 cm (11 in.) and swings left or right (360-degree rotation capability)
The 2 L-shaped desks can be used back to back to encourage collaboration or can be used in separate areas of your office. Designed to fit flawlessly with your working environment, you can be sure these desks will provide ergonomics and accessibility with the luxury of very generous surface areas. Fully independent adjustable monitor arms allow for effortless monitor adjustment. The 3-legged L-shaped workstations allow the large surface to be raised and lowered at once. Featuring a digital display memory switch with 4 memory positions, the work surface is raised and lowered with the fastest, smoothest, electric mechanism in the industry. Two open storage areas are attached under the work surfaces. The credenzas fit seamlessly under the return of the L-shaped height-adjustable workstations and offers plenty of space with 1 utility drawer, 1 file drawer and open space. The free-standing storage towers compliment these workstations allowing for better organization.
Includes: 2 workstations, 2 storage towers and 2 dual monitor arms
Boxes
Box 1 (x2)
Width
Height
Length
Weight
475 mm
140 mm
874 mm
26.44 kg
Width
Height
Length
Weight
18.70 in
5.50 in
34.40 in
58.30 lbs
Box 2 (x2)
Width
Height
Length
Weight
315 mm
193 mm
1374 mm
20.46 kg
Width
Height
Length
Weight
12.40 in
7.60 in
54.10 in
45.10 lbs
Box 3 (x2)
Width
Height
Length
Weight
533 mm
168 mm
1110 mm
44.45 kg
Width
Height
Length
Weight
21.00 in
6.60 in
43.70 in
98.00 lbs
Box 4 (x2)
Width
Height
Length
Weight
787 mm
99 mm
1915 mm
45.36 kg
Width
Height
Length
Weight
31.00 in
3.90 in
75.40 in
100.00 lbs
Box 5 (x2)
Width
Height
Length
Weight
549 mm
147 mm
1080 mm
38.56 kg
Width
Height
Length
Weight
21.60 in
5.80 in
42.50 in
85.00 lbs
Box 6 (x2)
Width
Height
Length
Weight
325 mm
160 mm
390 mm
4.99 kg
Width
Height
Length
Weight
12.80 in
6.30 in
15.35 in
11.00 lbs
Warranty
10-year warranty
Our furniture is warranted to the original owner against defects in materials or workmanship. These defects include all the imperfections that can affect the use of the product. As is most often the case, our warranty covers the normal use of the product. To this effect, note that except for the Outdoor collection, our furniture is not intended to be used outdoors.
Our warranty is expressly limited to the replacement of components and furniture for the period specified on the product sheet, and it does not include labor or assembly costs.
For more information, read the complete Warranty policy.
Shipping and Returns
Free Shipping on all orders
Enjoy free shipping on orders to most places in Canada or the contiguous United States, except remote areas.
Once your order has been shipped, you will receive a tracking number by email. We suggest you track the delivery so that you can plan for the arrival of your furniture. The merchandise will be delivered in front of your house or office. If the boxes are large (you can get the dimensions of the boxes online), we suggest you get assistance to move the boxes inside your premises.
Should you decide to return your furniture, you will have 30 days from the day the merchandise was shipped to do so. You must send us the furniture back unassembled and in its original packaging.
The first step in the return process is to complete a return form. Then a member of the Bestar Customer Service Team will contact you to process your request. If your request is approved, you will be refunded for the value of the merchandise minus 20% to cover for shipping costs.
For more information, read the complete Shipping Policy or Refund and Return Policy.
A STANDING DESK FOR OPTIMAL COMFORT
The height of our standing desks is so easy to adjust that you can change it several times a day to work in the most comfortable position. The electric mechanism allows you to quickly and quietly adjust the height of the table from 28″ to 45″.
QUALITY MATERIALS
Our standing desks are made of high-density particle board panels. Because of their density, the panels we use are rigid and unlikely to sag or warp. In addition, the panels are made from recycled wood and they comply with California Air Resources Board (CARB) Phase 2, the highest standards in North America regarding formaldehyde emissions.
COMBINE YOUR STANDING DESK WITH A STORAGE UNIT
Most of our standing desks come from collections that include storage units such as hutches, bookshelves, file cabinets or even credenzas. Adding storage to your office becomes easy with our selection of matching pieces!