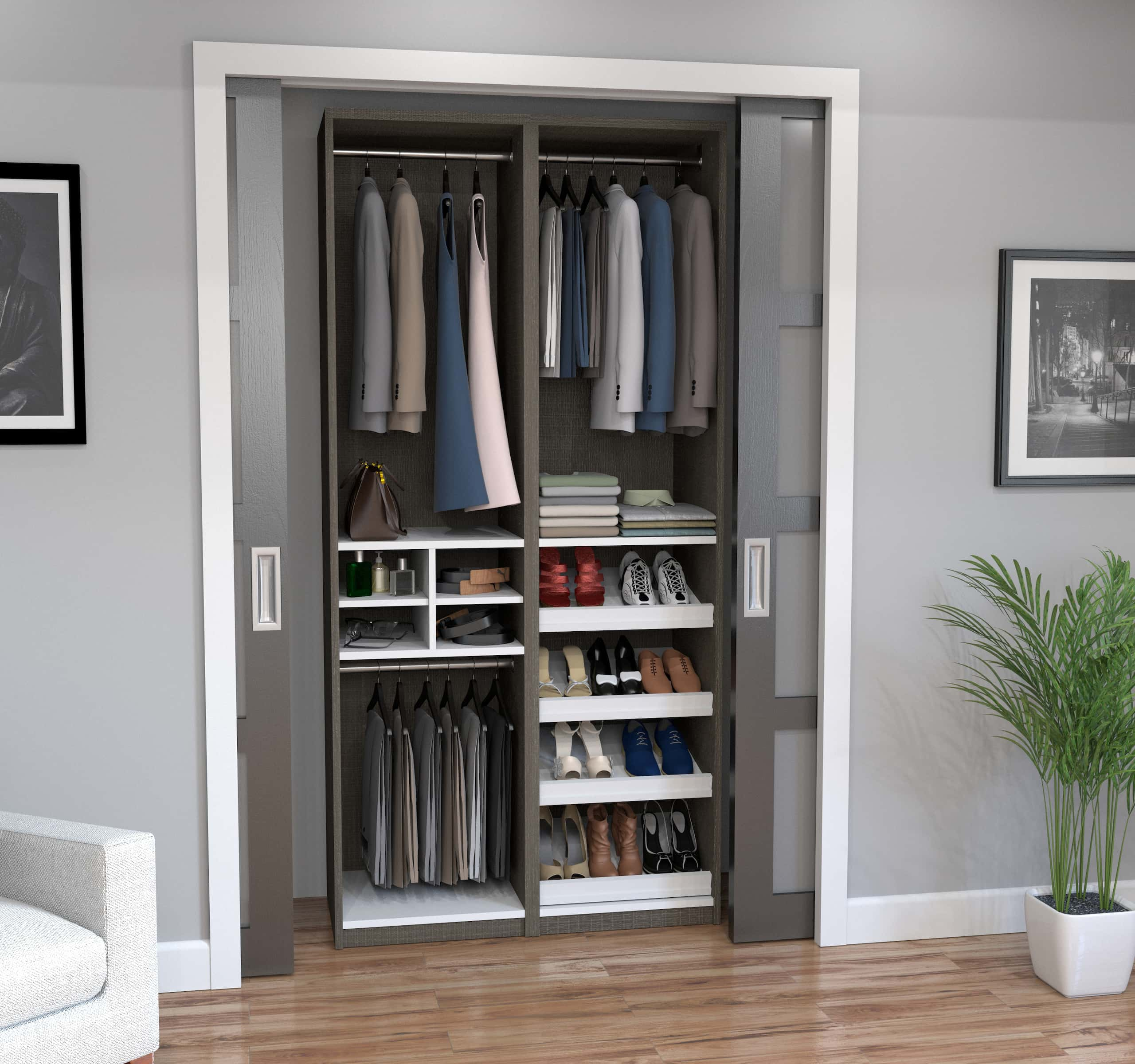 Since spending so much time at home, it has become even more important to keep our space clean and tidy. No one likes clutter, as it's distracting, unpleasant, and even dangerous when kids and pets are around. One simple way to keep your home organized is by choosing the wonderful Bestar closet systems.
Whether you live in a small or a big home, Bestar closet systems are made for you. With many different models and finishes to choose from, you can find one right for you and your style. And while it might not seem so essential to have a good closet, it actually can change the look and feel of your whole home.
Alternatively, you could always invest in a Murphy bed with built-in shelving, which offers both a comfortable bed and a storage solution all at once. Murphy beds are perfect even for the smallest homes, and the added practicality of Bestar closet systems is a great bonus.
Whichever way you set up your furniture, we are sure Bestar closet systems will complement your space. Moreover, many Bestar closet systems are part of versatile collections with other interesting items for your home. You can pair them with your bedroom furniture or even home office furniture. This will allow for a cohesive and coordinated design throughout your space.
Naturally, you can also mix and match styles and create unique compositions singular to you. Keep reading below on how to incorporate our Bestar closet systems into even the smallest apartment.
Large Closet Systems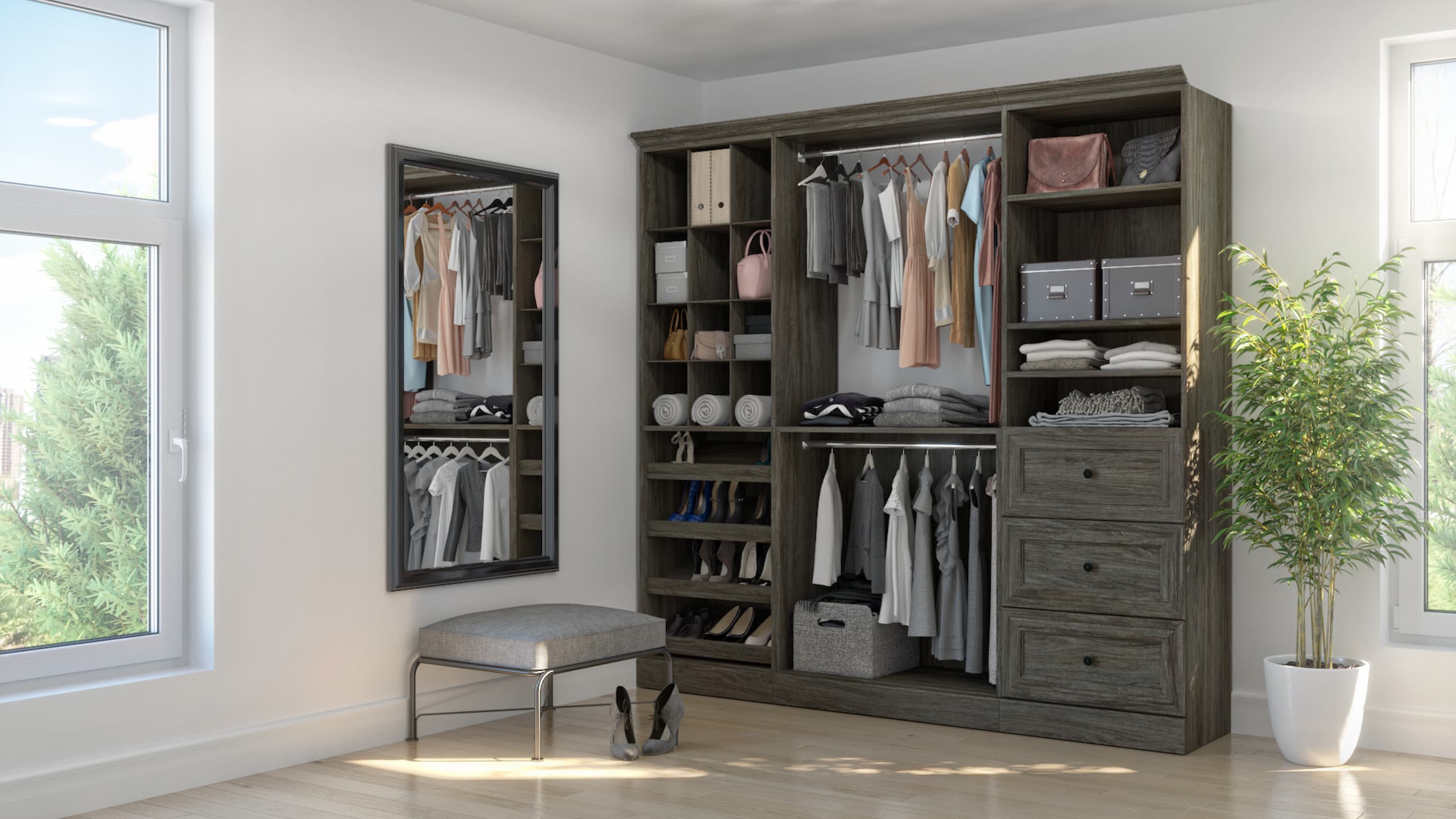 Let's start with large Bestar closet systems, perfect for bigger homes and apartments. There are many collections to choose from, depending on your personal style and preference.
Large Bestar closet systems can effectively free any room of clutter, tucking all your essentials away with style. Many models have built-in drawers and different compartments to store your textiles and clothes. Drawers are also perfect for socks, underwear, and anything you'd like to keep out of sight.
Bigger Bestar closet systems come with two or three parts, and each contains multiple fixed shelves, adjustable shelves, or clothing rods. While this solution might be best for a bigger home, when tucked in a corner adjacent to a wall, larger Bestar closet systems fit wonderfully into any room. However, our larger closet organizers are truly at their best in a walk-in closet. If you're lucky enough to have a huge closet that you can easily move around in, then you'll want an organizational system to keep your clothes, shoes, and accessories in order. You can even purchase two closet systems and create a his and hers walk-in closet.
Seeing your place neatly organized will not just be aesthetically pleasing, but practical too. You'll free so much space you can use to decorate, or simply keep it free. A gorgeous tall plant, for example, would look amazing next to a Bestar closet organizer.
Alternatively, the newfound free space in your bedroom can be used for workouts, yoga practices, or simple stretching. Just roll out a mat and enjoy a quick practice that will help you feel more energized and centered for your day ahead. You don't need to go all in: sometimes even a few minutes a day can make a drastic difference in your energy and productivity levels.
Narrow Closet Systems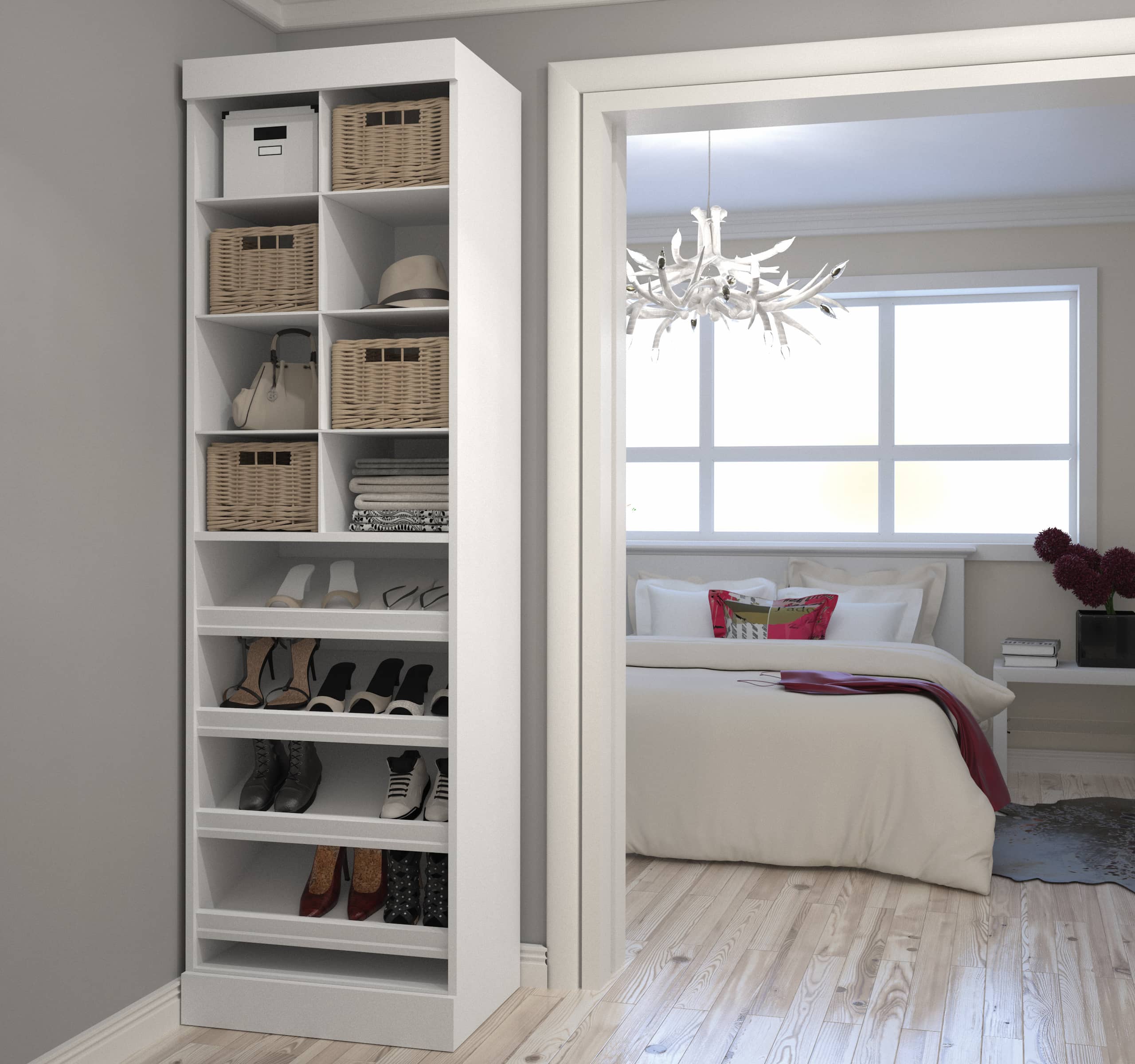 Next in line are narrow Bestar closet systems, and these are perfect for smaller rooms or apartments. They can fit anywhere and they offer a practical solution to store shoes, baskets, and smaller items. A compact closet organizer might even fit into the back of a small closet, providing you with more vertical storage than just a plain old clothing rod.
Moreover, you can use them to store small accessories like hats, belts, and shoes you'd like to keep displayed. These Bestar closet systems come with many small compartments that help organize everything neatly.
Furthermore, you can use them to decorate the room. While the bottom shelves can be used to store your belongings, the upper shelves are perfect for decorations. Smaller designer items, photographs, and other objects can fit in there perfectly.
Another great perk of narrow Bestar closet organizers is that they look great in different rooms. Even though it might seem intuitive to place one close to the bedroom, you can explore different setups. For example, have you considered placing yours in the entryway? With practical storage for hats, accessories, and shoes, it would complement the entrance beautifully. Entryway furniture is incredibly important and it can change the feel of your home immediately upon stepping in! Your belongings will be organized, and your home will look welcoming.
You might also want to place a narrow closet organizer in your laundry room. This will help organize your detergents, linens, and all laundry-related items.
Murphy Beds with Built-in Closet Systems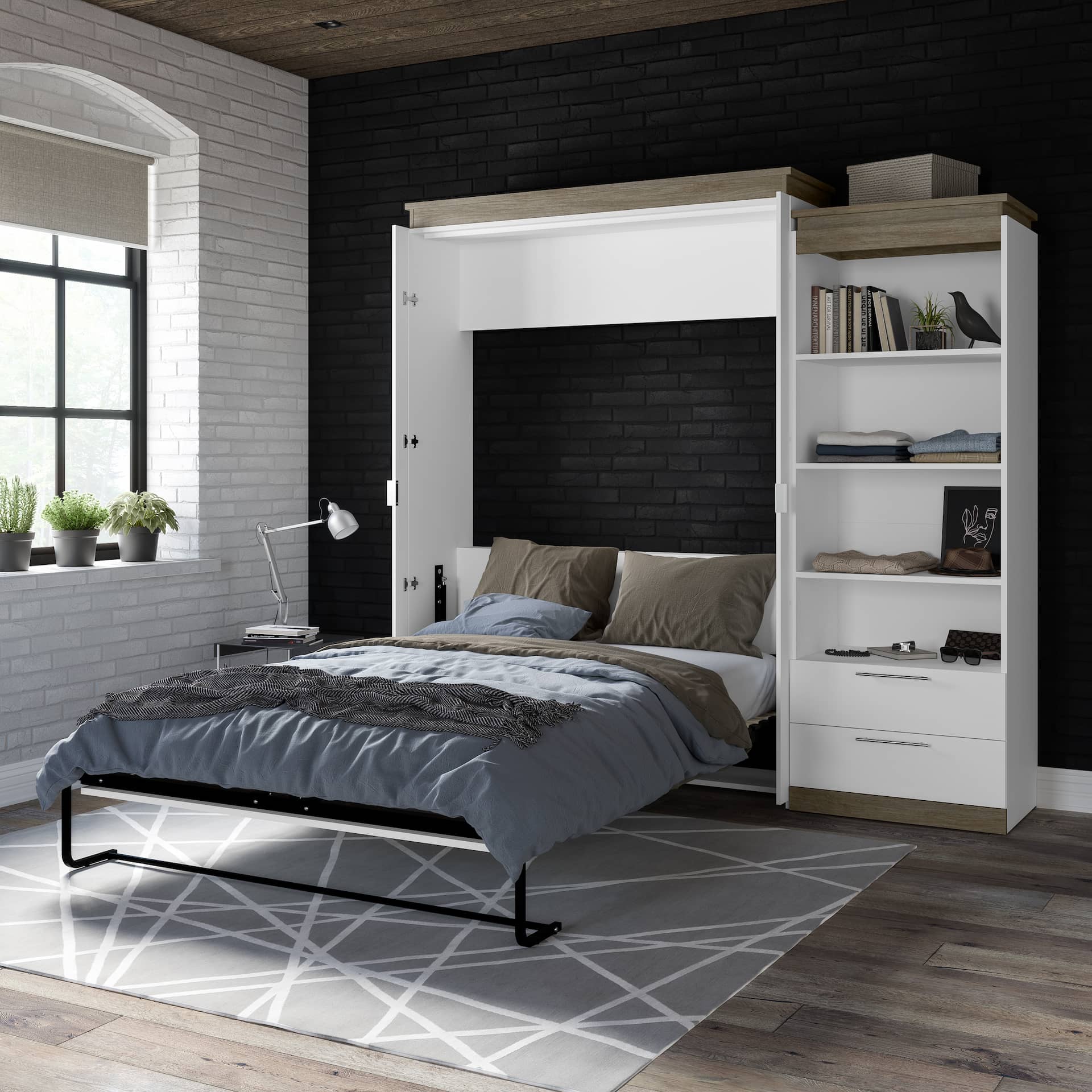 Lastly, let's talk about Bestar closet organizers built into our gorgeous Murphy beds. This is a fantastic solution for any home, regardless of how much available space you have.
In a small home, Murphy beds are a versatile solution that allows you to transform the room without using all your available space at all times. When you need to rest, simply pull out your bed and enjoy a fully functional bedroom with a superbly comfortable setting. When you don't need to use your bed, you can close it and enjoy the free space.
It's an ideal solution for small apartments where one needs to sacrifice having all the needed furniture. With a Murphy bed, there is no such scenario! You can easily enjoy a fully functional bedroom and transform the area during the day. Furthermore, if you work at home, this will help you focus even more. How many times have you been tempted to go back to bed when working? By closing your bed, you'll feel like you're in a professional work setting without distractions. The practical storage solution built into your Murphy bed is ideal both for personal objects and clothing and textiles. You can organize the various compartments in a way that suits you best. 
A Murphy bed is also ideal as a guest bed solution. A wall bed with shelving is the perfect option for your guests' overnight items and clothing. Sometimes the room we designate for our guests is smaller than a master bedroom, but there are ways to maximize that space. With the right bedroom decor and a Murphy bed, you can make the space look so much bigger. This also allows for easy cleanup, without having the bed get all dusty when not in use. It's the perfect solution whichever way you decide to use it.
Categories
Home
,
Organization