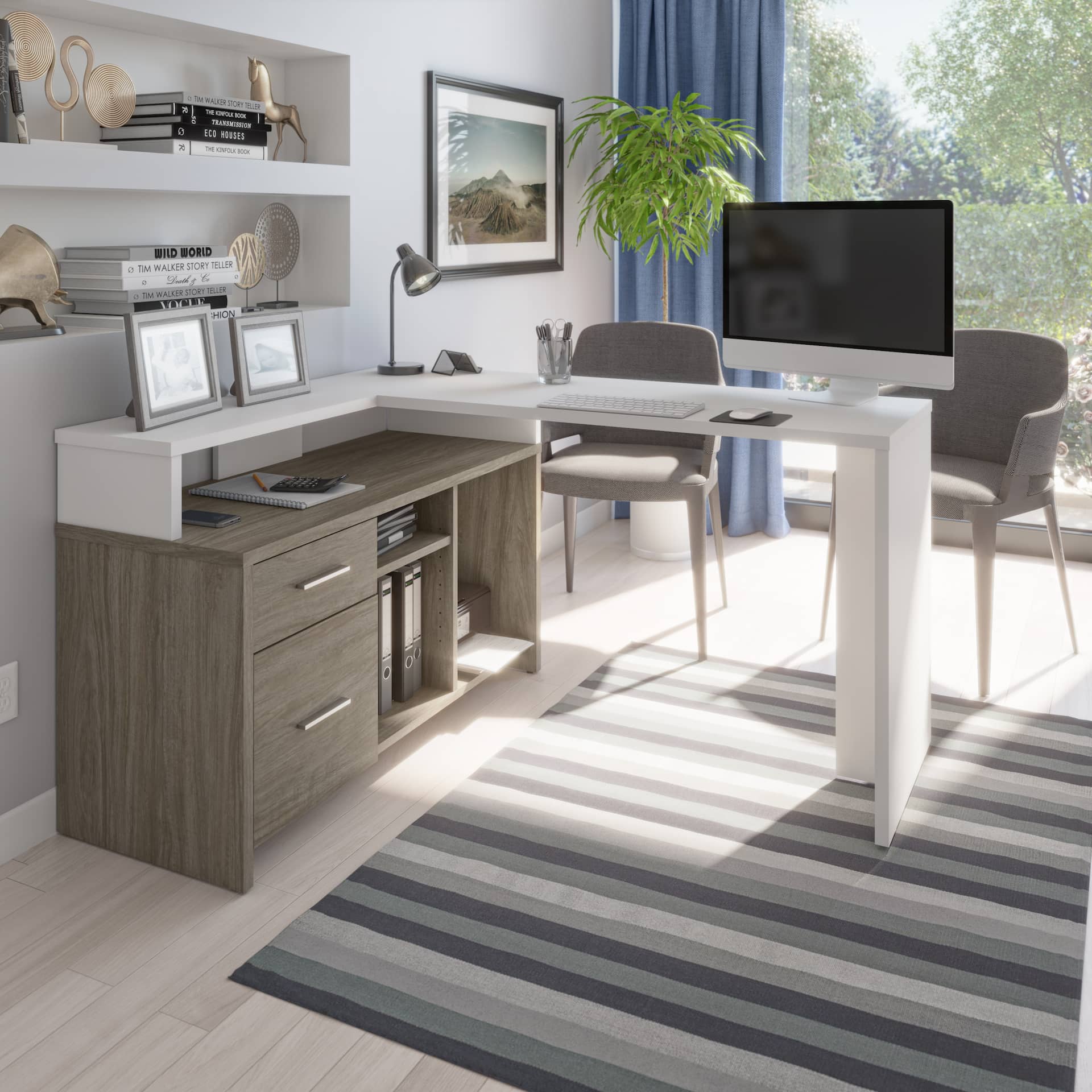 Whether you're working from home or in a corporate office, it's crucial to create a productive and comfortable workspace. However, designing your dream office space can seem nearly impossible when you're on a budget. If you're not quite sure how to create a workspace on a budget, there's a simple solution: look for budget-friendly office furniture!
Creating a plan for your space will help you decide what furniture is most important to factor into your budget. For instance, do you need a desk with storage compartments because you have tons of files to store away? Maybe a large desktop for multiple monitors? Or maybe you need a more compact desk? No matter how large or small your budget is, you can opt for budget-friendly office furniture that checks off all the boxes on your list. Keep reading to find out more!
1. Consider Built-in Storage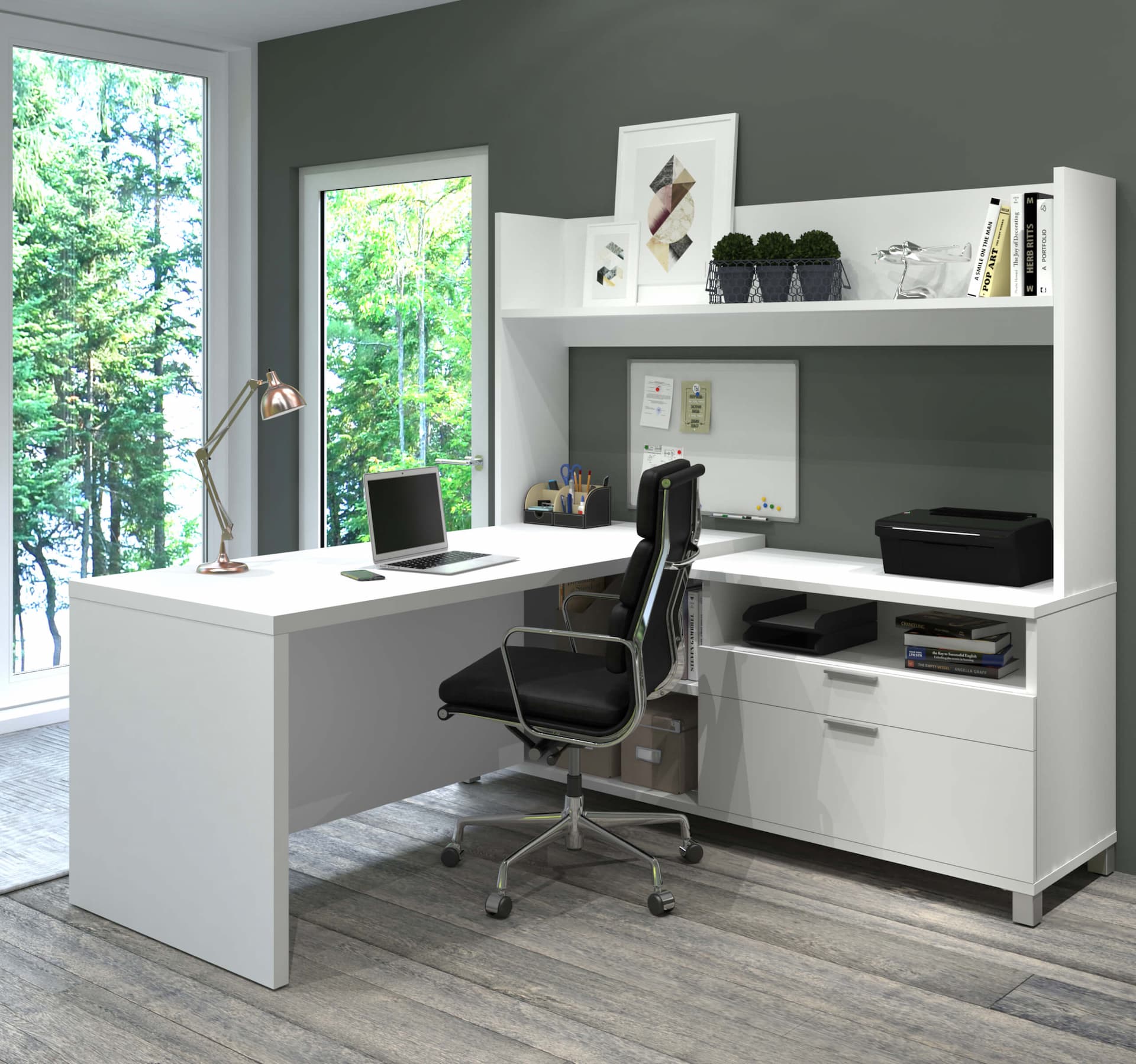 Arranging an office space can be a costly task, especially when you factor in multiple storage options. The desk, the bookcase, the file cabinets—the list goes on. So, why not consider a two-in-one option? Opt for a desk with built-in storage!
Adding a desk with storage options will reduce the cost of designing your space, all while ensuring optimal productivity. Depending on the space you have, you might consider an L shaped desk that has drawers and open storage cubbies to store all your work supplies. You'll have room on the large desktop for your monitor(s), office supplies and even a printer. The L shaped configuration is also ideal for creating a secluded, dedicated workspace, especially if you're working from home. Put it in the corner, in the middle of the room or in front of a window in your office—the possibilities are endless.
Thinking about opting for a more compact desk? No worries! Bestar has a selection of small desks with open and closed storage compartments that work perfectly for your needs and space. The work surface is large enough for your computer or monitor, and the storage compartments provide ample space for your supplies. Not only will all your supplies be organized, but you'll also avoid unnecessary clutter on your desk. It's a win-win!
2. Be on the Lookout for Great Deals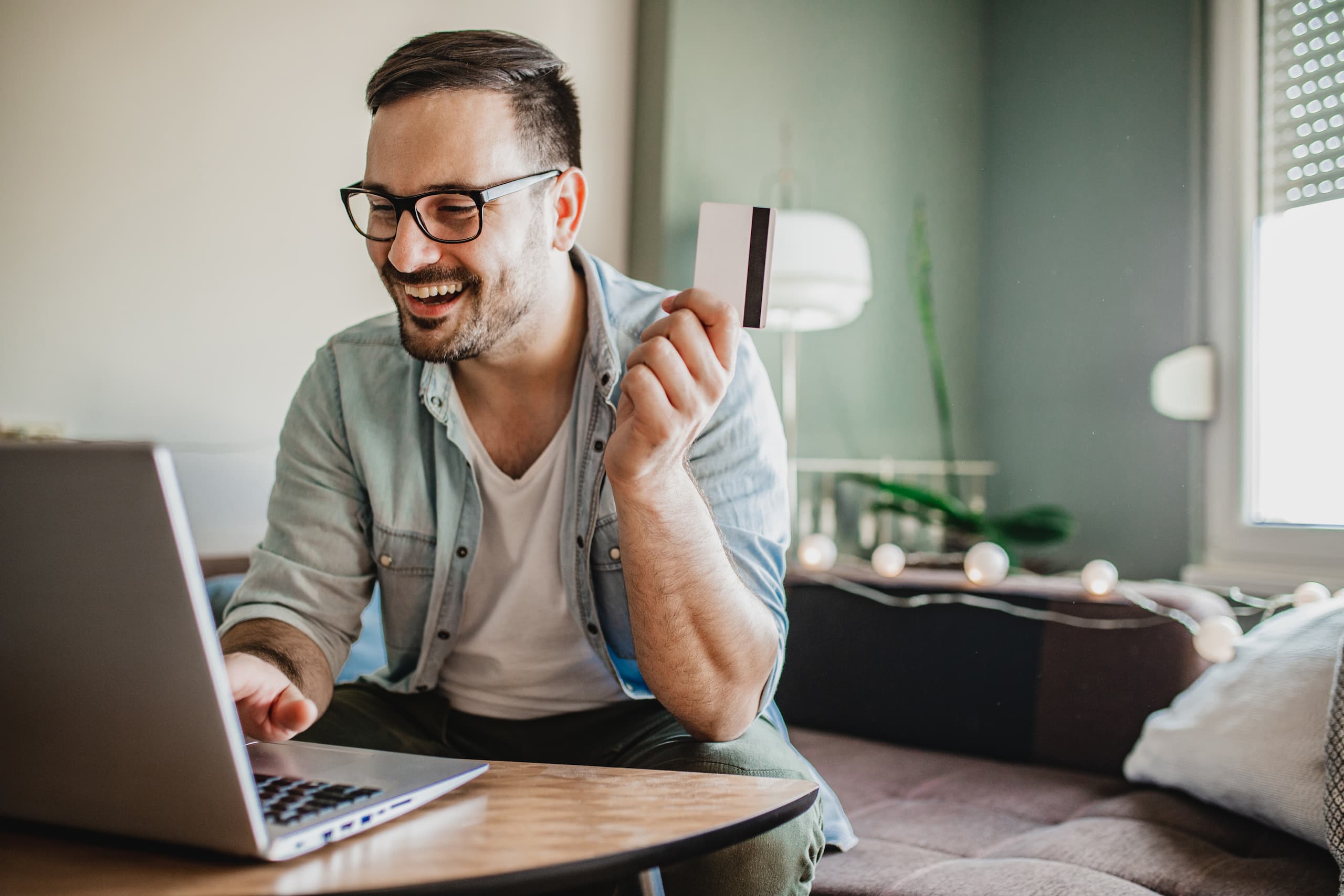 Keeping an eye out for sales is a must when looking for budget-friendly office furniture. You can find amazing deals that fit your budget and your needs. Are you considering a U-shaped desk or a height-adjustable desk? Or maybe you have your eye on a furniture bundle for your office? Once you've narrowed down your search, you can easily navigate through the sales pages and discounts. Shopping and saving for the win!
If you're actively looking for budget-friendly office furniture, it's a good idea to check the sales pages regularly. However, if you lead a busy life, you might not have the time to browse the latest deals on a regular basis. An easy, stress-free way to keep track of sales and find amazing deals is to sign up to the Bestar newsletter. You'll get the scoop on the latest discounts and events at Bestar, without missing a single deal. You're sure to find the perfect budget-friendly office furniture for your space in no time!
Another great time to look for deals on office furniture is during the holidays. You can find tons of great budget-friendly office furniture during the holiday season. We're offering tons of online holiday discounts in 2021, making it even easier for you to furnish for your office. You can find exactly what you need for your office when you're on the lookout for great deals.
3. Bundle and Save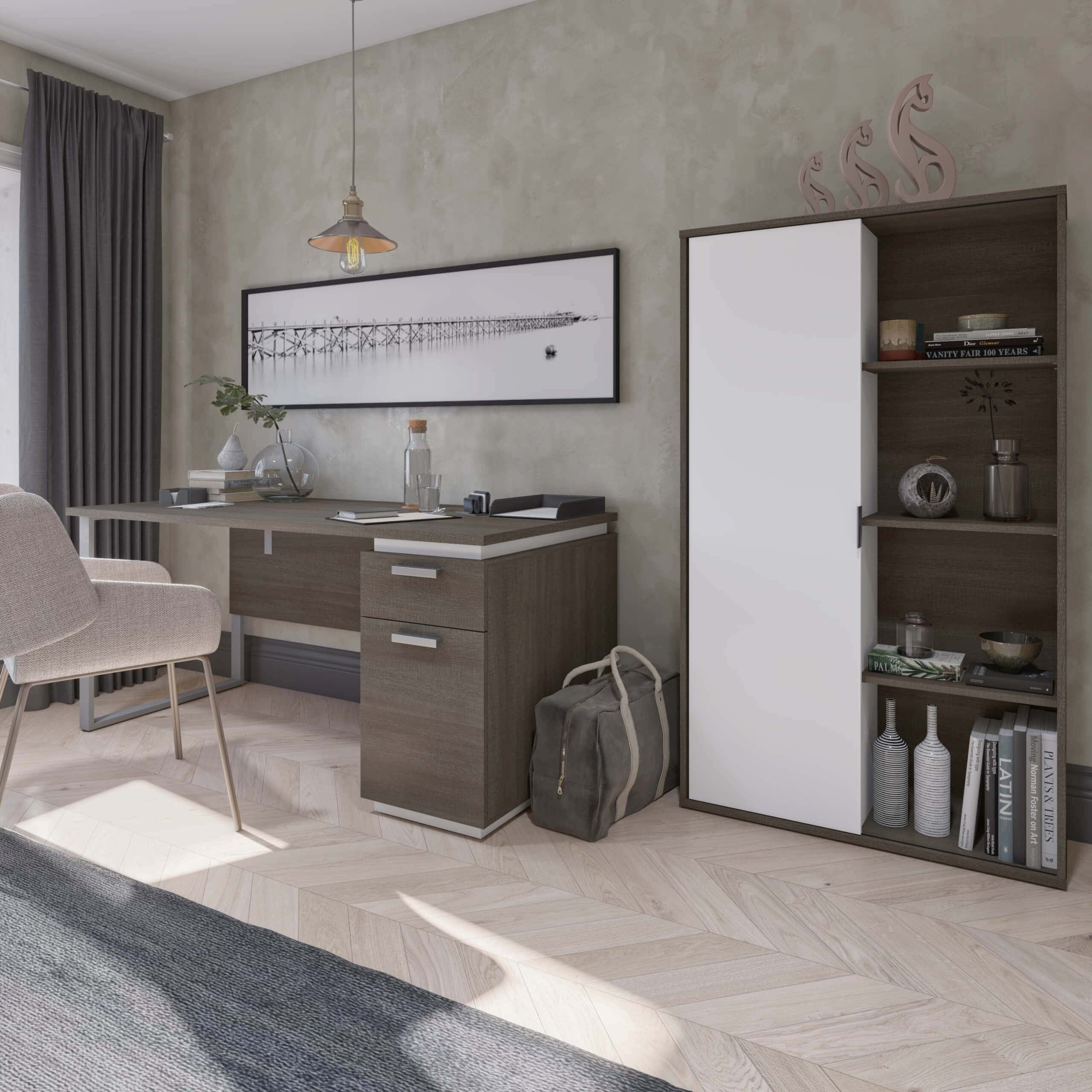 When you're on a budget, it can be costly to furnish an entire office space. Thankfully, you can easily furnish your workspace in one fell swoop when you choose a furniture bundle or desk set. No need to search endlessly for matching office furniture—you'll have everything you need to work at your very best.
Are you looking to fully furnish your office space but aren't sure how to do so on a budget? If you are, a desk set might be the perfect option for you. When you opt for a bundle or desk set, you'll avoid the added expense of buying individual pieces. What's more, you'll have a professional, cohesive space that's ready to work in. Style and practicality truly do go hand-in-hand!
If you're a business owner, the added task of furnishing your space for you and your employees can be difficult when you're on a budget. Fortunately, Bestar has a solution for businesses looking to buy office furniture on a budget. We offer different levels of discounts for businesses looking to completely furnish their space. Contact our customer service team to make your bulk order and inquire about volume discounts. Our team will be happy to help you find the best way to furnish your business office.
4. Make It Yours!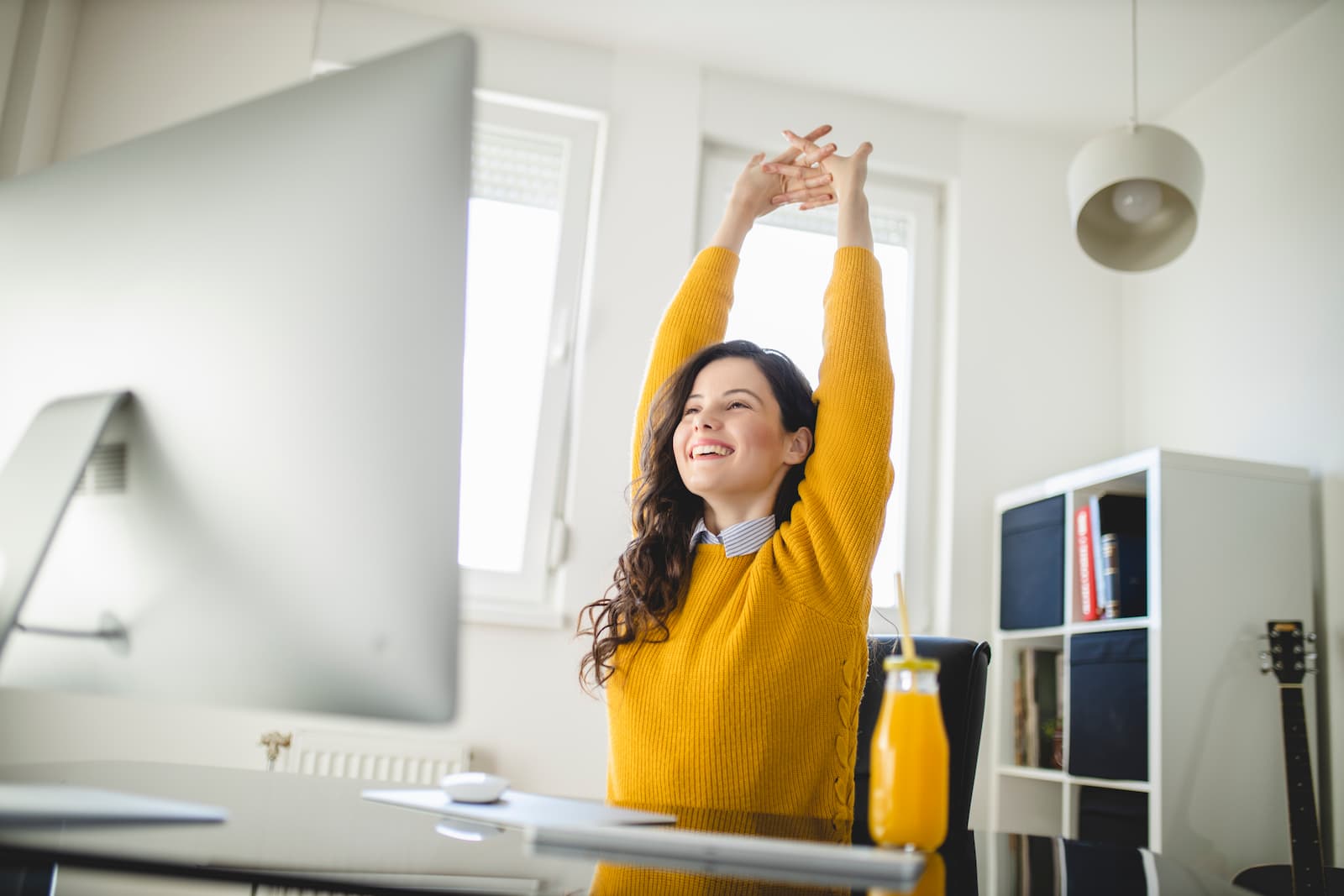 Once you've chosen your budget-friendly office furniture for your space, you can focus on making the space your own. No matter what size your budget is, you can create a productive workspace that checks off every box on your list!
We all know that a productive, professional workspace space is a must, no matter if you're working from home or at the office. While this is true, it's equally important to be comfortable in your office. Adding personal touches to your space is a great way to create the vibe you're looking for, without breaking the bank. Display your kids' artwork or photos on your desk or even hang inspiring messages and posters on the walls. You might even consider some DIY ideas to be extra thrifty (and crafty). Even on a budget, you can create a motivating space that fuels your creativity and boosts your overall productivity. The bottom line? Make it yours!
Although designing a workspace on a budget can seem like a tall order, it can be done. There are so many options to consider when looking for office furniture on a budget. The key is to focus on what you need and what works with your budget. Creating a productive space with budget-friendly office furniture is easier than you think!
Categories
Business
,
Home Office