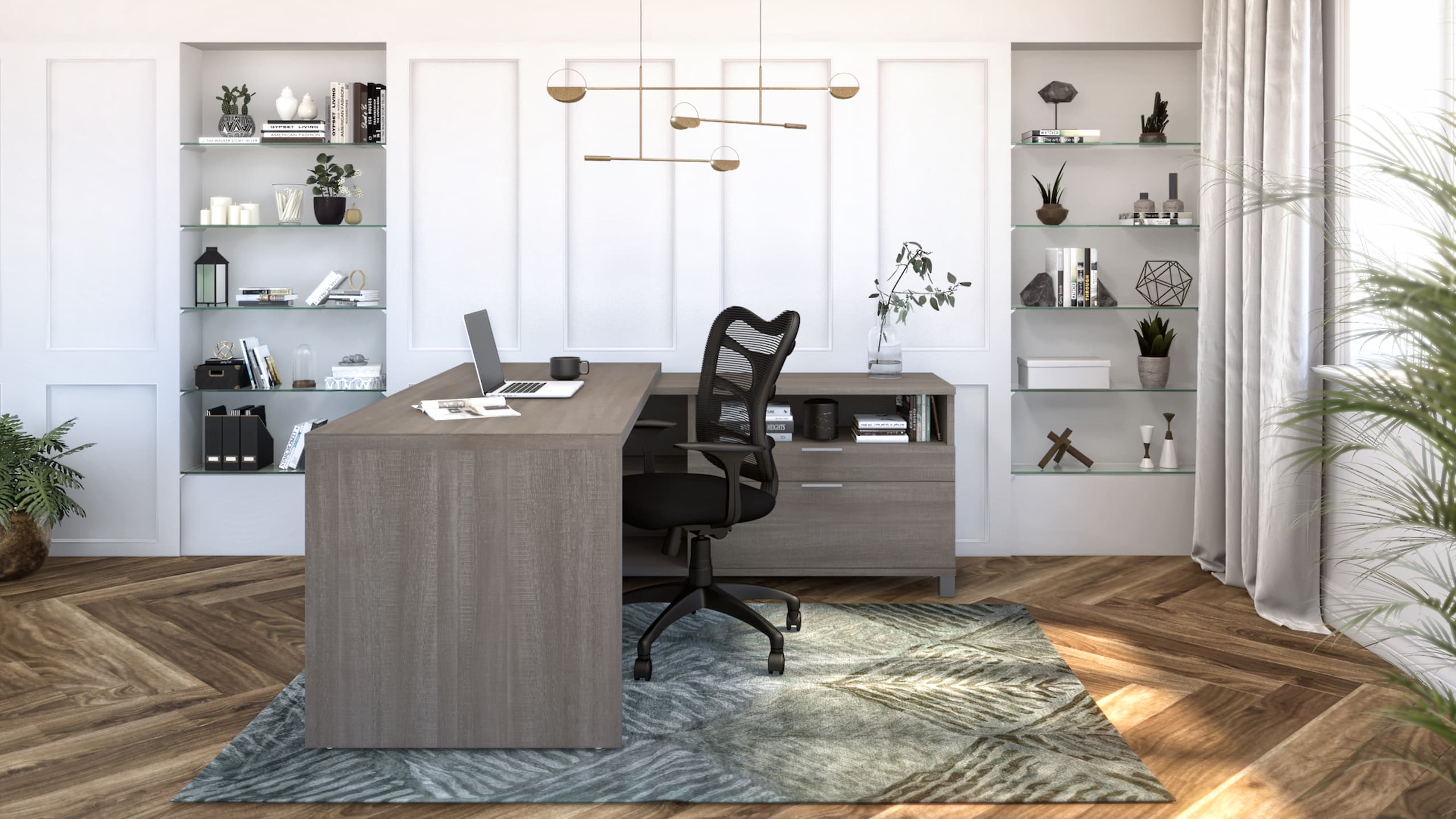 Choose from among the best office desks in Canada to maximize comfort, ergonomics, and productivity at work. It's hard to think of an industry or sector that hasn't allowed, encouraged, or facilitated at least part of their workforce's transition to working at home over these past couple of years.
As a result, the demand for office desks in Canada virtually exploded alongside the number of people all of a sudden working from home. But how many new remote workers can say they have a desk that is right for them? How many people working from home have created a space where they can truly maximize their performance and productivity?
Despite searching and browsing office desks in Canada, it can be challenging to identify what we need from a desk. Let alone what constitutes a perfect office desk. Particularly today, when so many of us have to share our living, sleeping, eating, and other spaces with our work. We mistakenly consider the dining room table to suffice!
As you settle into another day preparing proposals, managing your team, or consulting with clients, bear in mind that your desk is often the only thing that lies between organization and chaos. It defines not just the physical space within a room, but your mental space, too. It offers a beautiful and organized buffer between the demands of work and the seemingly endless pressures of life.
So, stop perusing the internet or your local office supply store, and let us arm you with all the information you need to make the best choice. Because, as you probably already know, there are endless office desks in Canada from which to choose, but the best ones can be found at Bestar.
Any old desk (or your dining table!) just won't cut it anymore. At least, not if you want to be at your most productive, with the least stress. Read on to learn what you need to know to find the ideal desk for you.
What Makes a Great Office Desk?
A great desk will hold all of your workday essentials, including your laptop or desktop computer and office supplies. But you also want it to contribute to the look and feel of your office space – it should look nice and suit your decor.
The best desks are durable, versatile, have plenty of storage, and look great. Your desk will be the anchor in your office space. It will likely also be where you spend the bulk of your waking hours – you want it to be comfortable.
That's why it makes sense that you should take your time to identify what will be best for you and the work you do. The desk you purchase should serve the various aspects of your life – working from home, managing household paperwork, and helping the kids with homework.
And, among all the office desks we offer, there's sure to be a desk to suit you, no matter the size of your space, the shape you require, or the budget you have available.
The Best Office Desk for You – What to Consider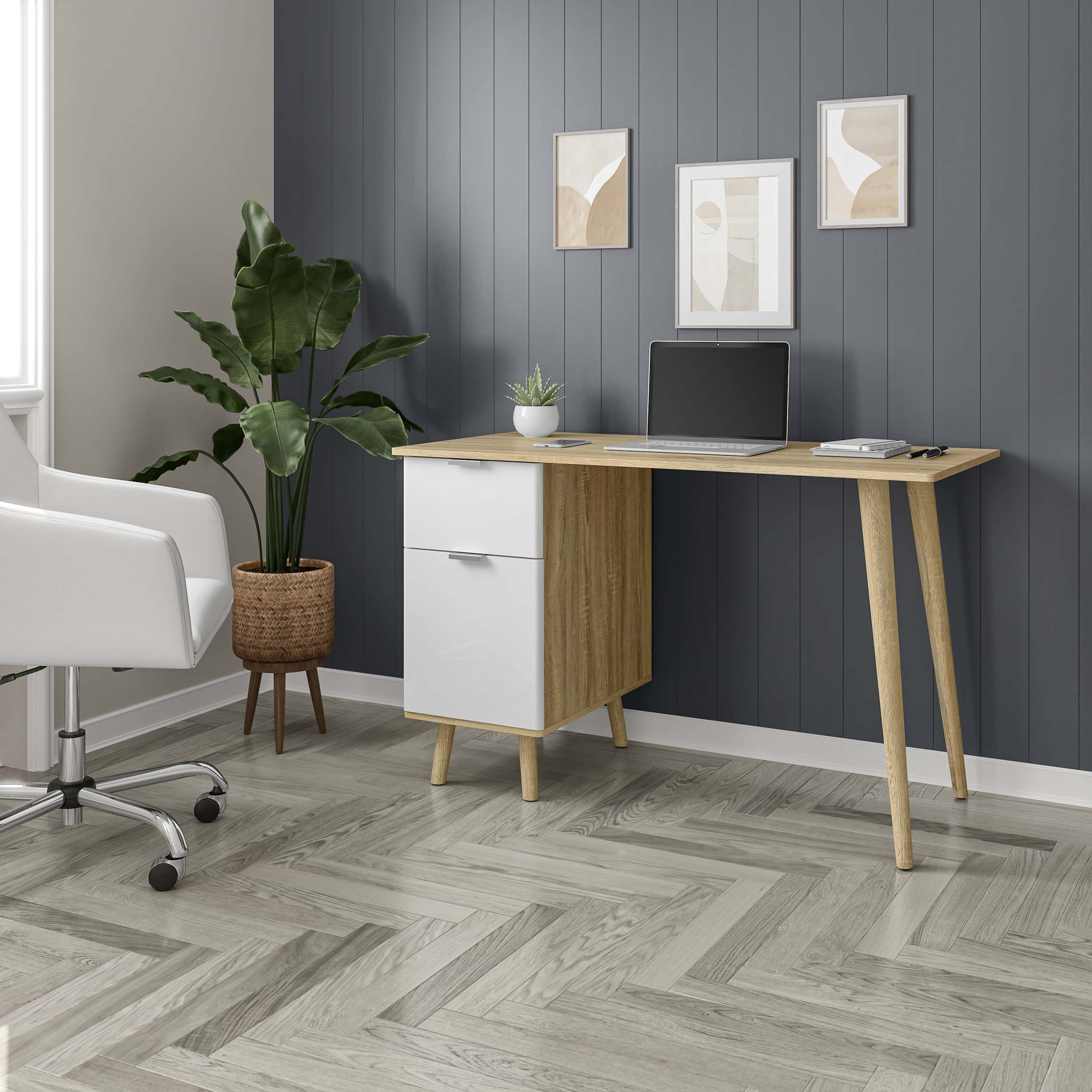 Your Work Style
When you begin your search for a desk that meets your needs, begin with information about the way you work. You want to ensure that the desk you buy aligns with your work habits and patterns. To identify the chief requirements for your office desk, ask yourself the following questions:
Do you work with a computer?
How much desktop surface area do you need?
Do you manage a lot of paperwork and documents?
Does your work involve a combination of tasks?
Will you require a lot of storage?
Answering these questions will help you decide if you need a model with a lot of storage, or maybe a larger desk that offers ample surface space.
Available Space
A significant factor in your decision-making process will be how much office space you have available. You'll need to comfortably fit both a desk and a comfortable, ideally ergonomic, chair into your home office.
If your office is small, you'll want to opt for a more compact option such as a writing or computer desk, for instance. A huge desk can be visually overwhelming and will take up too much square footage that can be better used by other furnishings or a chair for a client or visitor.
Packing your office full of furniture makes it feel cramped, and it's probably more likely to become crowded with clutter and stuff. Free up space as best you can for comfort and mobility.
On the other hand, when you have a larger office, a tiny desk will make it feel empty and cavernous. Your desk size should complement the space you have available. Quick tip: A corner desk or and L-shaped desk is ideal for using up forgotten corners in any room.
Desk Configuration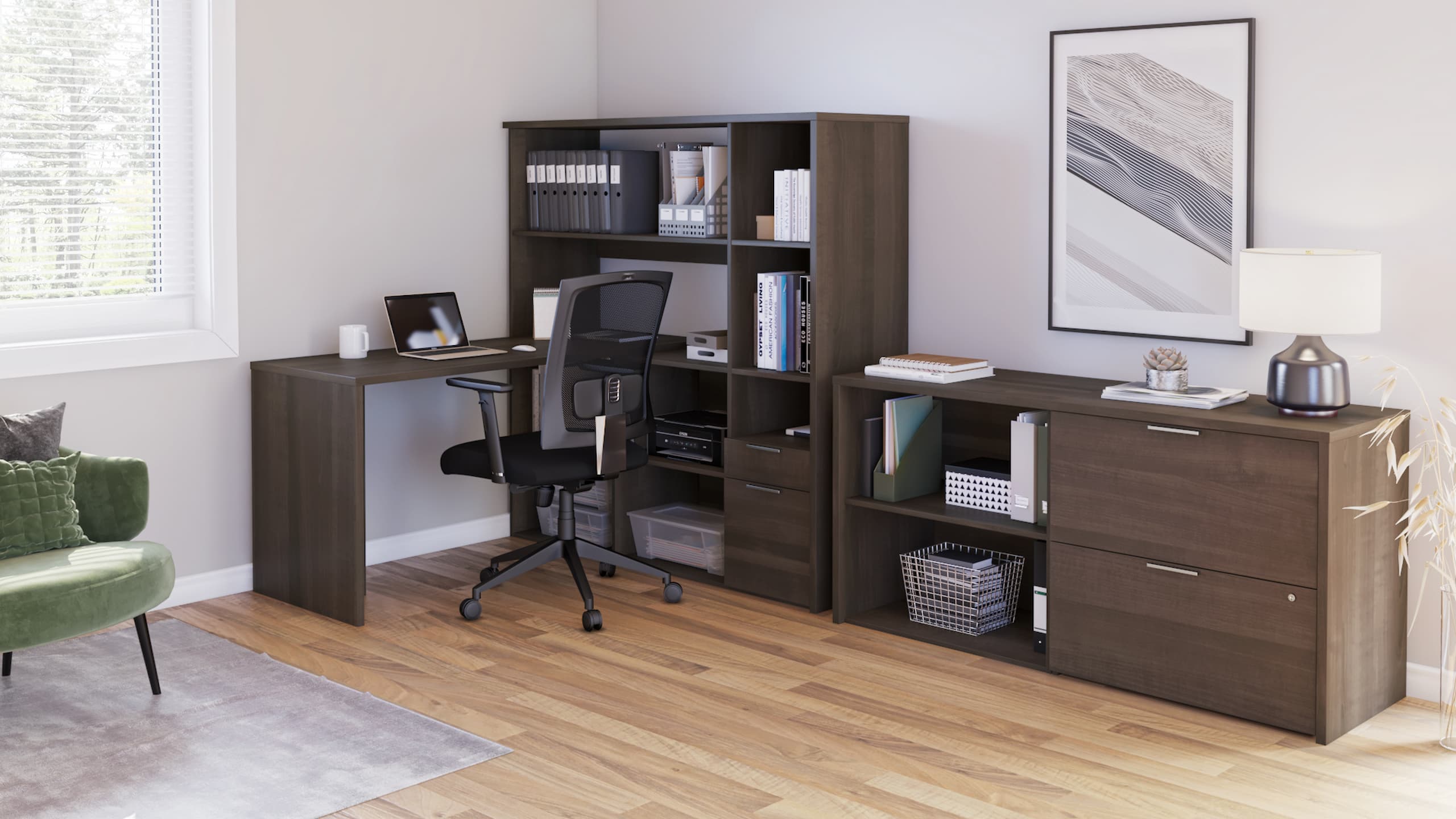 Office desks come in all manner of configurations. You have a lot of choice, from standing desks to computer desks to larger, more luxurious executive desks. You'll spend a lot of time seated at your desk, so you want to pick the right one.
Rule of thumb: think ergonomics when you are looking at different desk configurations. How will you move on and around your desk throughout the day – will your desk choice make you reach for things uncomfortably? Will it hold all of your essentials within easy arm's length? Is it too tall or too short?
There are a variety of desk configurations that consider ergonomics. These include standing desks, corner desks, L-shaped desks, and U-shaped desks, for example.
Additionally, look for adjustability to help ensure your comfort day in and day out while sitting at your desk. Many desk workers opt for an alternating sit-stand configuration to enjoy more dynamic movement throughout the day.
Ample Storage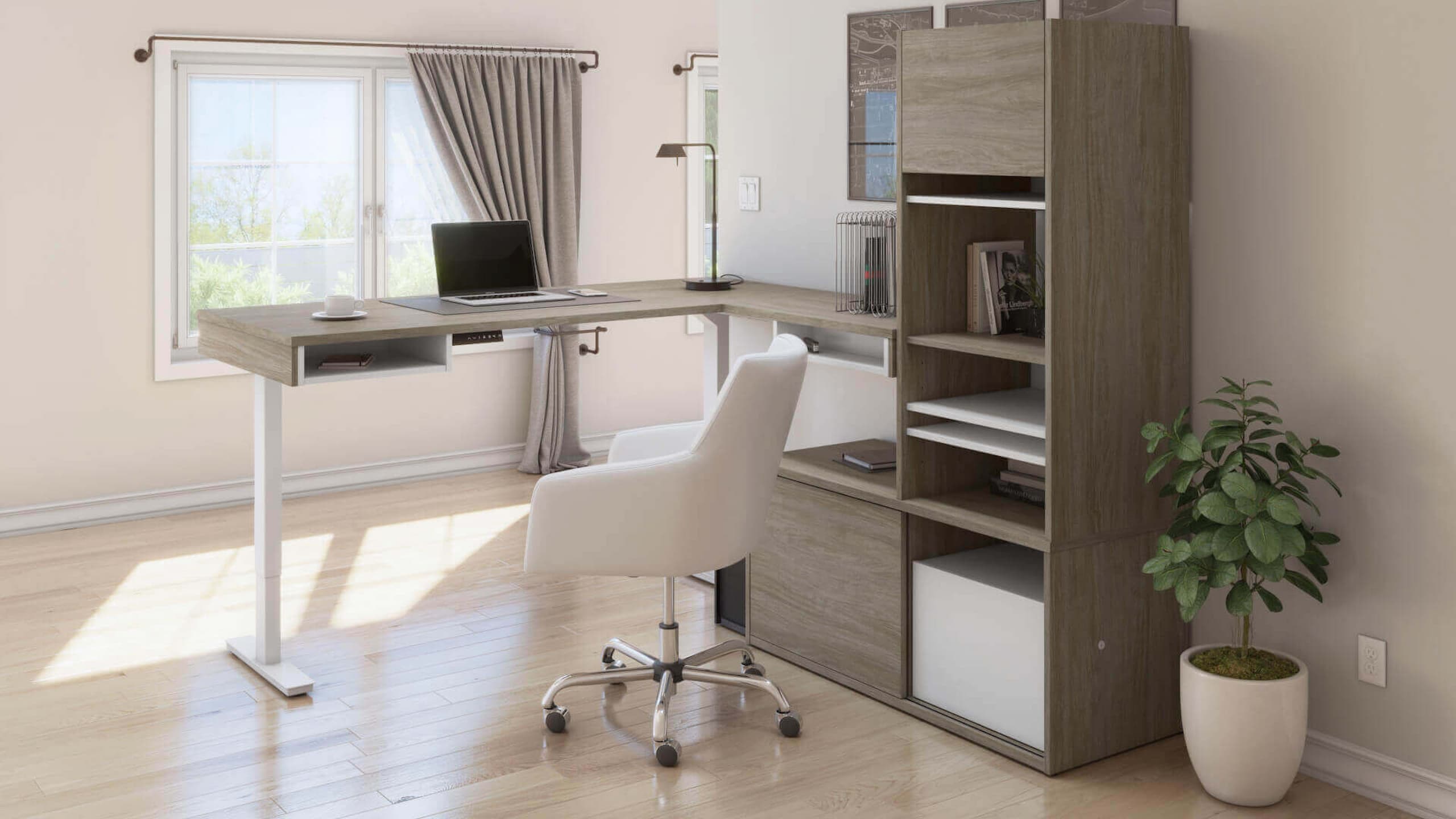 Whether your office is big or small, located in your living room or spare bedroom, adequate storage is essential. Ensure that you have easy access to all of your supplies whether they be inside built-in drawers, shelves, or cabinets.
Look at your desk configuration. Does it allow for an attached hutch or a drawer cabinet below? Shelves around your office are great, but it's the storage options at your fingertips while you're seated at your desk that really count when it comes to efficiency and productivity.
Desk Surface Area
Even if your room may seem limited in size, you should choose a desk that feels as though you've got a ton of surface space. Room enough for your computer and paperwork, and a few vital supplies, without feeling cramped or cluttered.
Your desk reflects your personality and should have room for all of your practical necessities but a few treasured personal trinkets, too.
Your Budget
There are desks at virtually all price points. And while it might be tempting to look at the cheapest options, chances are you will compromise on quality and durability. Your desk needs to be able to meet your workday demands, all day, every day.
However, spending a fortune isn't necessary to get a high quality, long-lasting desk that will hold up to your longest, most challenging days. When you buy a desk from Bestar, you can expect affordability and quality. We love offering excellent warranties on our office desks because we know they're made to last.
As the Holidays approach, we encourage you to keep an eye on our sales. We're positive you'll be able to find some great office desks in Canada at Bestar this month.
Technology Needs
Do you work on a computer with multiple monitors? Do you work with a tablet? Or do you prefer to use a keyboard on a sliding keyboard tray for comfort? Chances are, no matter what you do, you have to manage several electric cords and would prefer they don't take up surface space. Choosing a desk with wire management options is usually a great decision.
Consider where you will position and power your various electronics, from laptops and desktops to tablets, to speakers, to your printer or scanner. And don't forget to charge your mobile devices. You want a desk that facilitates ease, tidiness, and organization for your electrical wires and cords.
Categories
Home Office