Having an ergonomic, quality computer desk is imperative—whether it's for work or play. You need to be sure your desk provides comfort, functionality, and durability for all your projects. It's not only important to know what you're looking for, but it's also key to know where to find the perfect computer desk in Canada.
At Bestar, we take pride in making stylish, functional furniture for your home and office space. Our desks are made with quality, durable materials. What's more, most of our furniture is manufactured here in Canada! We offer a wide selection of computer desks in Canada that work with your specific needs—and your space. Not sure which style is right for you? Browse this list of Bestar computer desks in Canada and start planning your space!
Standing Desks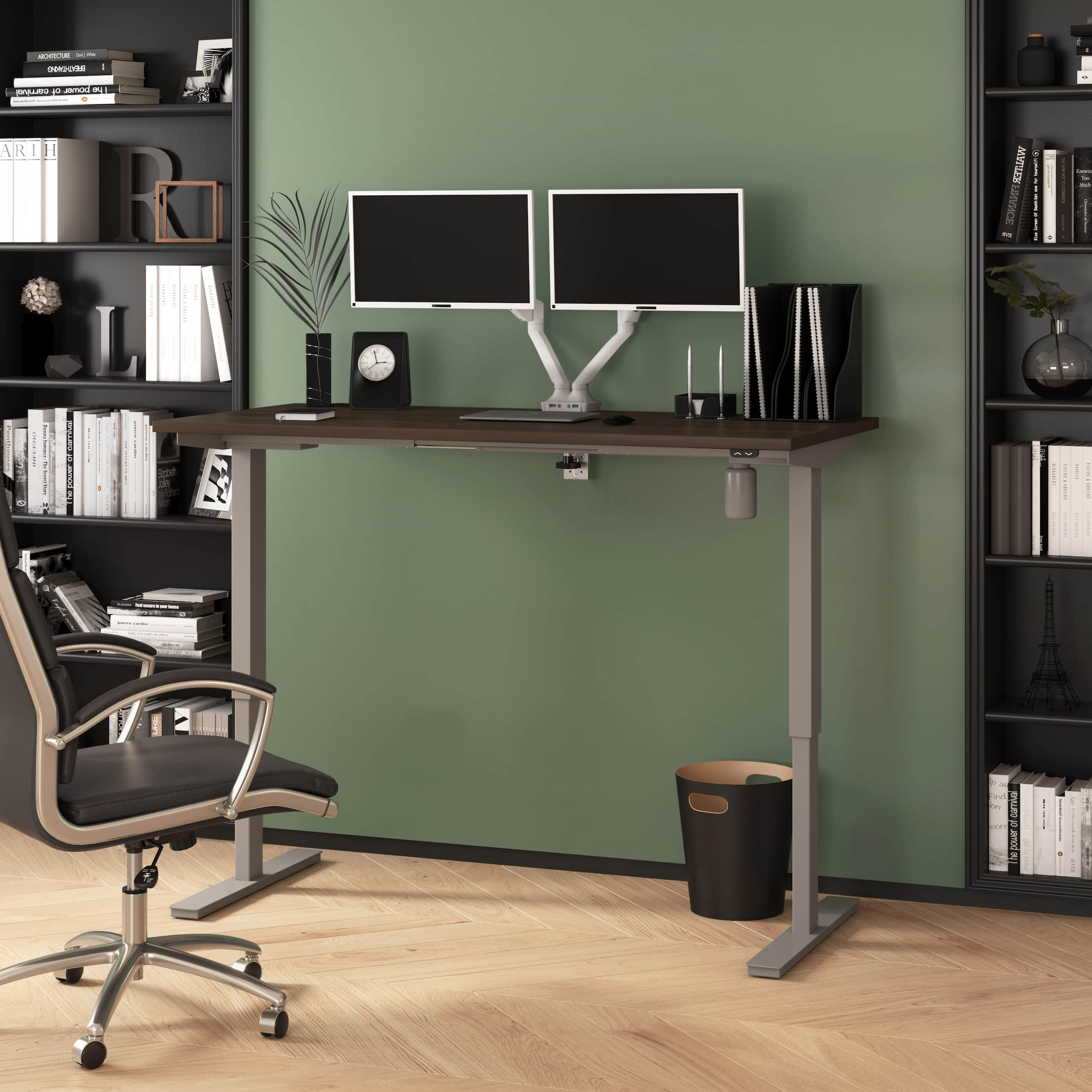 A great way to ensure complete comfort and productivity is to opt for a Bestar standing desk for your office. The space-saving design will help you create a workspace that's efficient and practical, so you can be sure you're working at your very best. Finding the perfect ergonomic computer desk in Canada has never been easier!
A standing computer desk is the perfect addition to your space because it adapts to your needs. Tired of sitting all day? No problem! Each Bestar standing desk comes with an electric mechanism that adjusts the height of the desk with the push of a button. You can even stretch your legs and work at the same time by raising the desk to your desired height. When you're ready to sit, all you need to do is lower the desk to a sitting position. Simple and efficient!
Wondering if you can fit two monitors on the desktop? You sure can! In fact, Bestar offers a dual monitor arm that can be mounted to standing desks. The monitor arm rotates to better adapt to your needs, providing ample space on your desktop to conduct all activities.
Another great feature of standing desks is that you can easily add other Bestar furniture to your computer desk. Depending on the space you have, you might even consider adding a credenza to create an L shaped desk configuration. Your space, your design!
U Shaped Desks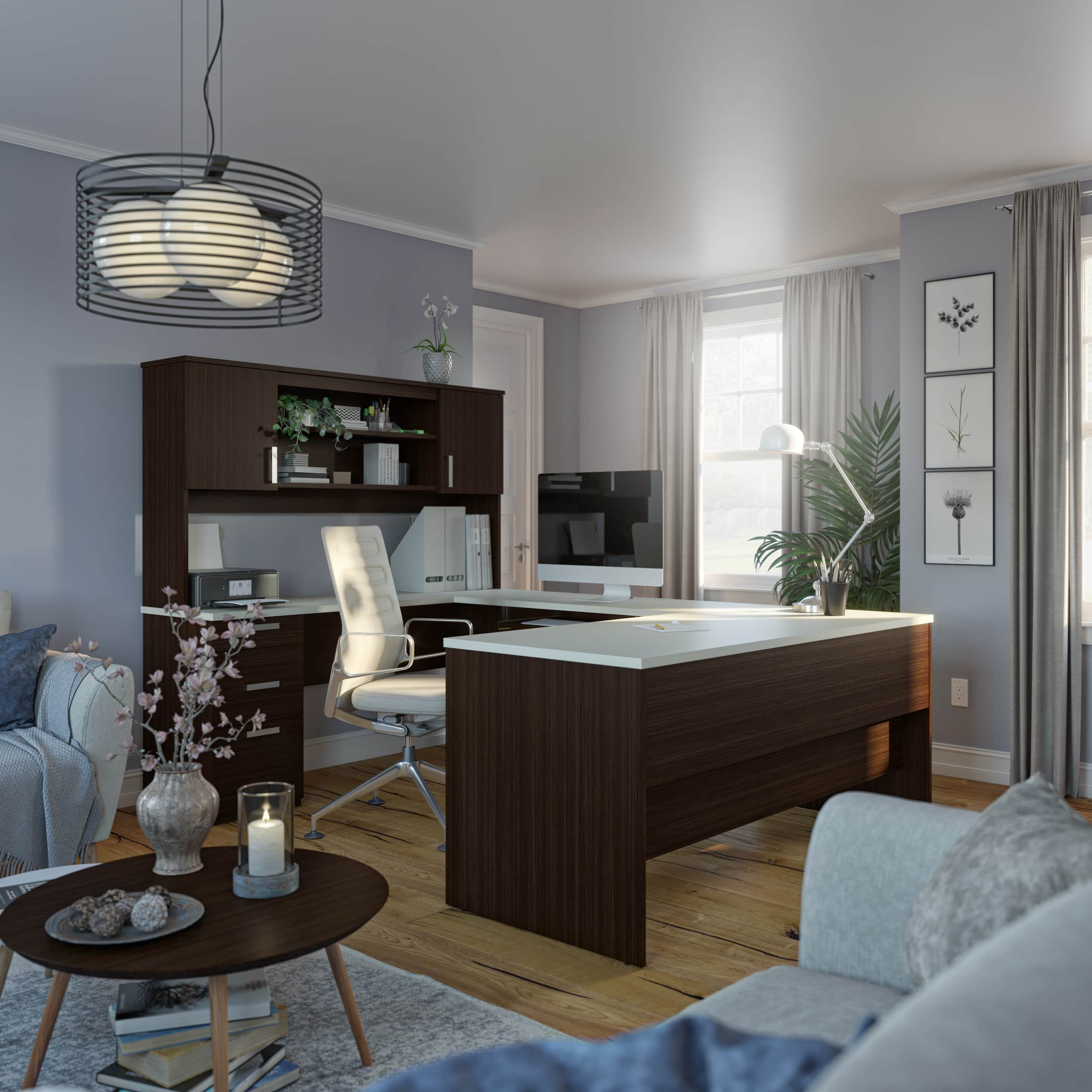 If you're looking for an executive computer desk in Canada, we highly recommend considering a U shaped desk. Bestar has a unique selection of U shaped computer desks in Canada that provide complete professionalism and efficiency. Feeling motivated and confident in your office space is key!
Are you working in a corporate office space or from home? No matter where your office is, you need a desk that suits your work needs and can accommodate all activities. The large work surface acts as three desks, perfect for holding in-person meetings with clients and colleagues alike. The desktop can also accommodate multiple monitors, a desk lamp, stationery and even a printer. Everything will be within arm's reach and neatly in its place when you need it. You'll also have peace of mind knowing your desk will last since our melamine work surfaces are also resistant to premature wear and tear. With a U shaped desk, your space will breathe sophistication and professionalism from the moment you step into your office!
Another great feature of a U shaped computer desk is the different storage options. Some desk models have a hutch, perfect for storing important files, client information, binders, and more. All depending on the model you choose, there are closed storage compartments to keep all your important work supplies tucked away and out of sight. Not only do these features create a certain level of professionalism, but they also contribute to an organized workspace that you truly want to work in!
Small Desks
Thinking about getting the perfect computer desk in Canada, but you don't have the space for a large desk? No worries! At Bestar, you'll find a great selection of small computer desks in Canada that fit perfectly with your space. The compact, space-saving designs make it easy to choose something that fits with your budget, your space, and your vision!
Whether you're looking to set up a study corner or a work-from-home space, a small computer desk is the way to go. Our desktops still provide ample space for your computer and stationery (don't worry, there's still room for your morning coffee!). Depending on the desk model you choose, you'll also have space to store folders and supplies in the drawers or storage compartments. When you're done studying or working, all you need to do is store your supplies in the compartments. You might also consider browsing the web for practical ways to organize your desk and get rid of clutter for once and for all!
Moreover, finished backs and sides make it easy to place our desks practically anywhere in your home. Whether it's in the living room, your bedroom or in the basement, your small computer desk will fit right in. You can choose from a variety of styles that work with your space, without clashing with your existing decor.
Gaming Desks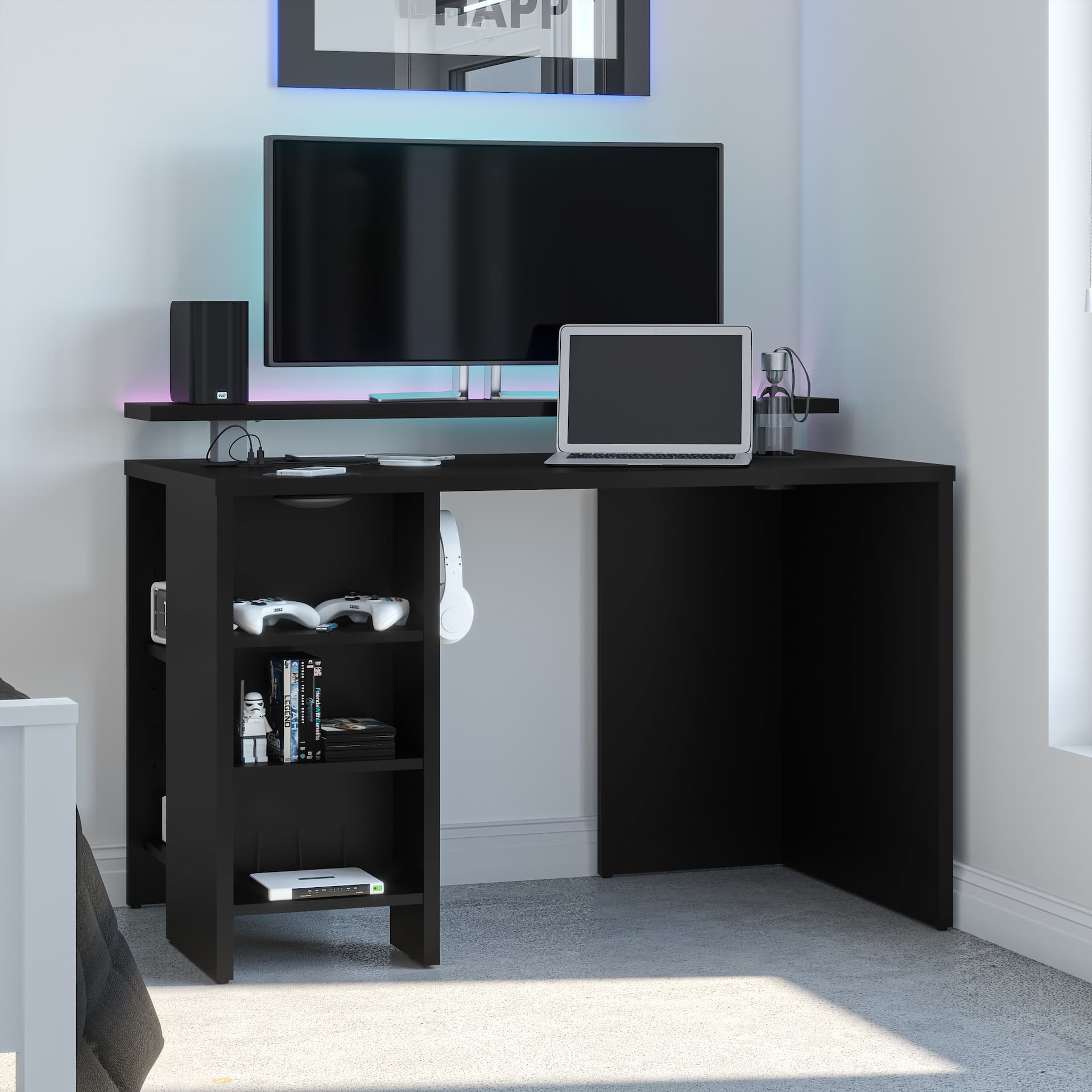 Finally, we have a computer desk in Canada specifically for gamers! Bestar gaming desks have all the characteristics of a high-quality computer desk, with additional features specifically for gaming. Get ready to game in style!
Gamers understand that having a high-performing, comfortable gaming desk is key to enhancing performance. The Bestar Electra Collection offers two gaming desks filled with unique features that will improve your game play. Each gaming desk model has a built-in cup holder on one side of the desktop (perfect for staying hydrated while gaming!). On the other side, there's a USB/power outlet, so you can charge your phone or remotes while gaming. You also have plenty of space for your mouse and keyboard because the desk has a steel monitor stand that supports two monitors. There's even a built-in headphone holder underneath the desktop to hang your headphones when you're done gaming. What's more, the 60W Electra model even has a built-in shelf for tall computer towers.
If you're looking for a compact gaming computer desk in Canada, the 48W Electra model is a great option. This model can easily fit in a bedroom, a shared living space or the basement. Setting up a gaming space has never been easier!
When you're looking for a computer desk, there are several things you need to consider. You need to find a desk that meets all your criteria, all the while ensuring complete efficiency and durability. If you're narrowing your search for a computer desk in Canada, Bestar has a variety of quality, high-performing computer desks. Whether you're looking for an executive desk for the office or a small desk for home, you're sure to find the perfect computer desk in Canada at Bestar.
Categories
Home Office