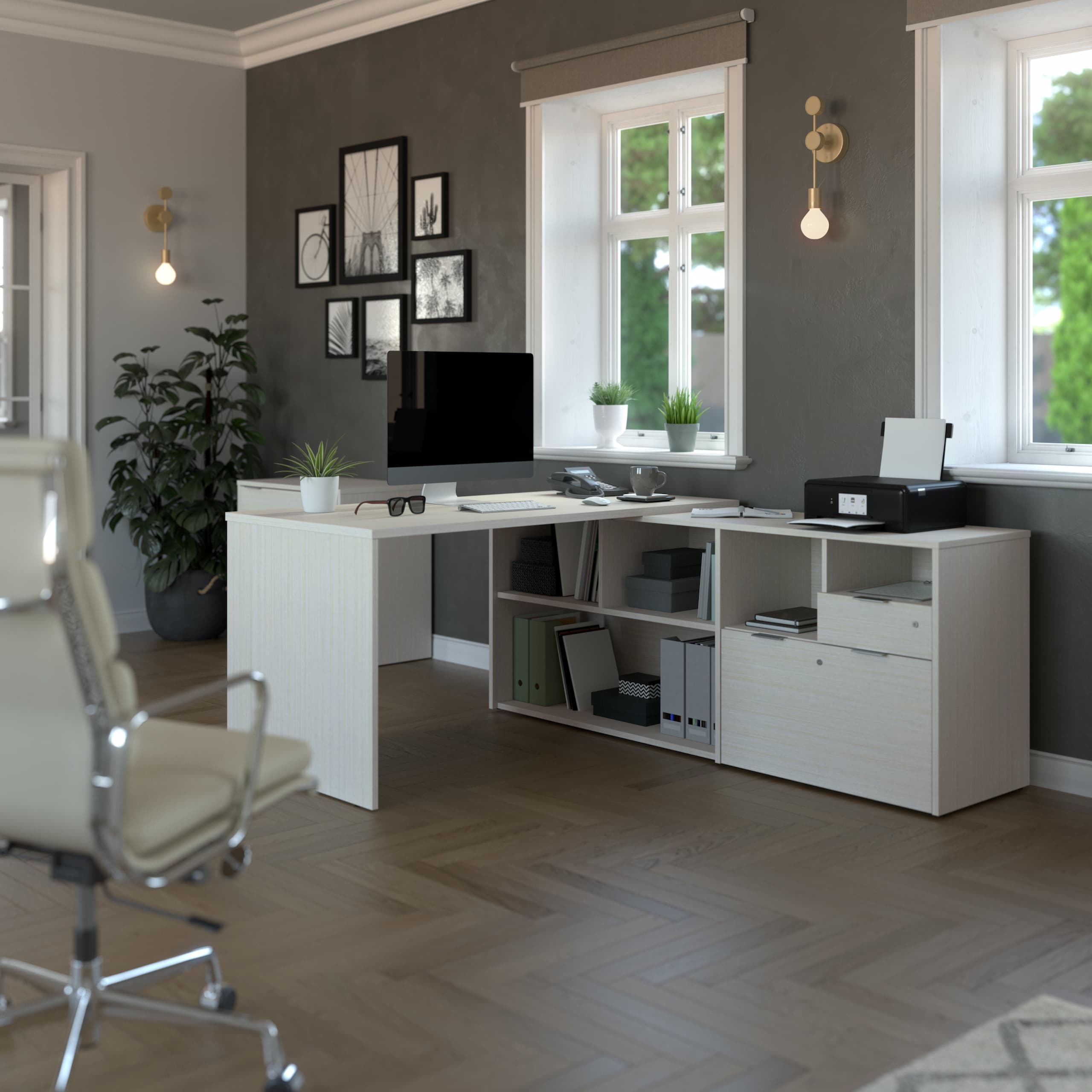 In today's day and age, a quality home office setup is a must have for any serious professional. Even if you don't work remotely full-time, chances are there will still be some occasions when you need to tackle a project or assignment from home. So how do you build an adequate home office without giving up too much of your living space? An L-shaped desk or corner computer desk is a great solution that gives you an ample work area while not overpowering the room.
Corner computer desks do exactly as their name suggests; they're designed to be placed conveniently in any corner of the room to provide a practical, space-saving workstation. This leaves the center of the room open and forms a natural divide between your work and living space, helping to eliminate some of the distractions that can arise while working from home. It's a common misconception that you need to sacrifice an entire room to have a suitable home office, but corner desks prove that isn't the case.
A space-saving design isn't the only thing that makes a corner computer desk the perfect choice for many home office setups. Most corner desks also offer built-in storage solutions like drawers and shelves to organize important work materials, which help prevent clutter from your professional life from drifting into the space you use to recharge and destress. Furthermore, you can choose a style and finish that works with the rest of your home decor – because who wants bland office furniture taking over their personal space?
Let's take a closer look at some of the many benefits of a corner computer desk:
A Real Desk for Real Professionals
Let's start with the basics: no matter how often you work from home, you need a proper workspace. The couch or kitchen table might sound intriguing to begin with, but your back and neck will soon feel the effects of working somewhere that wasn't designed for ergonomic comfort. While you may or may not need to go all in with a standing desk (more on that later), you should have a desk that keeps you healthy and productive through a full shift.
A corner computer desk or L-shaped desk gives you the support needed for both short stints of work and full days on the job. We recommend pairing your corner computer desk or L-shaped desk with a commercial quality office chair to get the full benefits of a professional workstation in your home. Besides durability and ergonomics, a true workspace will also help put you in a good mindset to buckle down and power through your daily tasks.
A Small Space Solution
As we mentioned above, corner desks are a great way to get the most out of your space if you don't have an entire room to dedicate to a home office. By utilizing the often-neglected corner of the room, these L-shaped computer desks allow users to enjoy a spacious work surface while still leaving plenty of floor space open for other purposes. The shape also makes it possible to set up your computer monitor on one side with the other open for paperwork and other miscellaneous tasks, further separating your personal and professional responsibilities.
Many people think a small home or apartment will prevent them from having an adequate home office, but that isn't the case. You can easily fit an L-shaped desk in the corner of your living room, bedroom, guest room, or foyer. Because of the convenient design, these spaces don't have to be completely repurposed for you to have a practical space to get work done.
Separate Home and Workspace
One of the most important – yet often overlooked – aspects of building the perfect home office setup is making sure your professional and personal lives remain separate. Nobody wants work creeping into the time they've set aside for rest and relaxation, while productivity is also sure to take a hit if the many distractions around the home keep drawing attention away from the task at hand. Corner desks and L-shaped desks can help address this problem when they're positioned facing a wall, creating a visual barrier from the rest of the home.
Try decorating your work area with pictures, wall art, and items that inspire your professional best. It's also a good idea to have all the supplies and materials you need close by so you can access them quickly without having to get up and look around the house. Make sure others who live with you understand that being at your corner desk means you don't want to be disturbed – exactly the same as if you were at the office.
Built-In Storage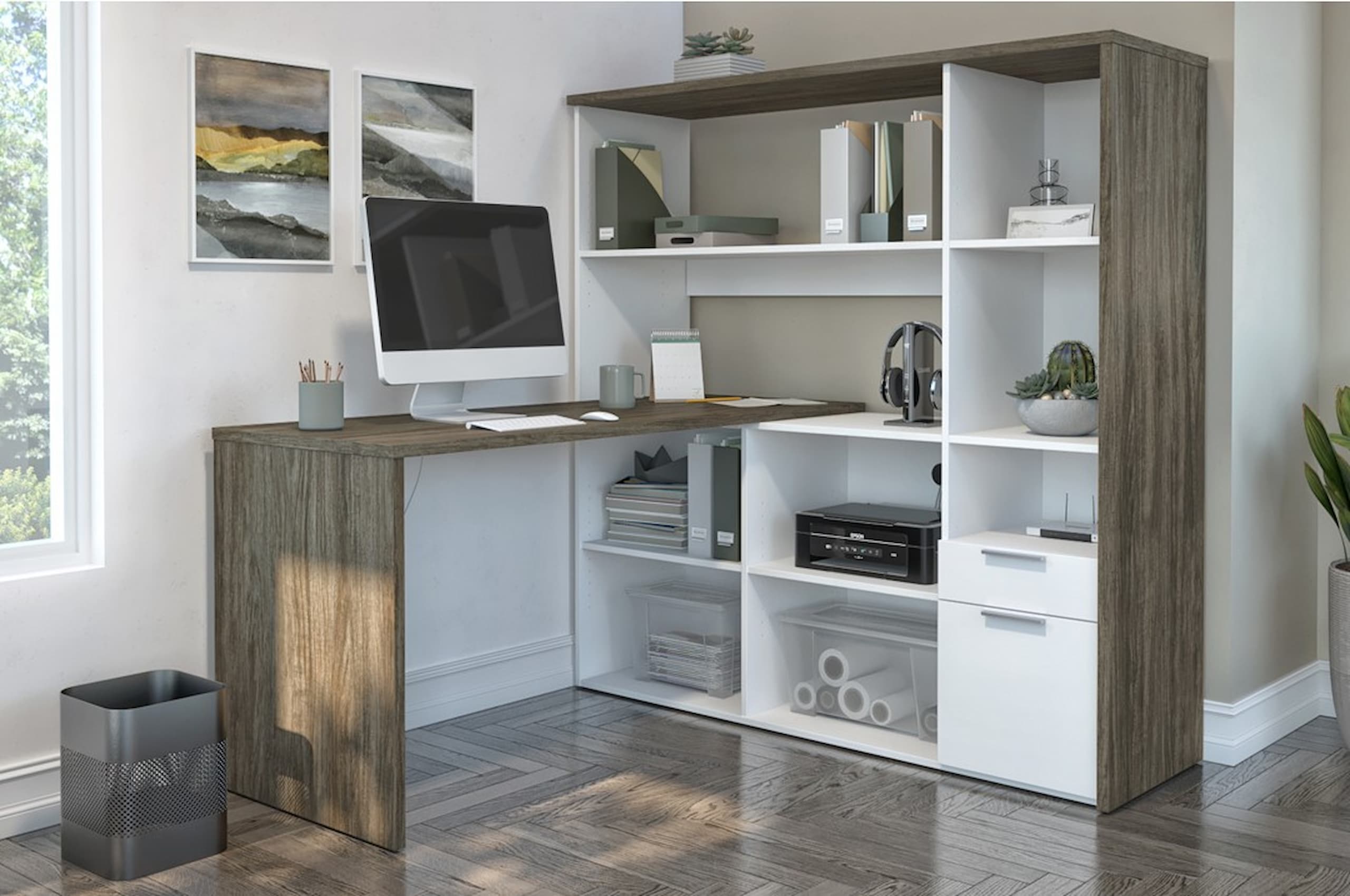 Another added benefit of a corner computer desk is the built-in storage options you'll find on most models. If you're someone who deals with a lot of paperwork, you may want a desk with storage that includes a file drawer or two. Open shelves are another convenient way to organize work-in-progress and frequently used supplies, while a closed storage cabinet can conceal bulkier items like reference materials and equipment you want kept out of sight.
Maybe you have even more work materials than a corner desk with built-in storage can handle. In that case, a corner desk or L-shaped desk with hutch could be the perfect solution. Hutches attach to the desktop to add even more storage capacity – usually with open shelving or small cabinets. You can use a hutch to organize a small collection of books, store supplies, or give your home office a personal touch with plants, pictures, and decorations. And because you're adding storage vertically, a corner desk with hutch set is still a great way to save valuable floor space.
Of course, another option is to add standalone storage pieces that coordinate with the L-shaped desk or corner desk of your choice. Several Bestar office furniture collections include desks, file cabinets, bookcases, and more. Simply take stock of your storage needs and available space, then choose the items that give you the home office of your dreams.
A Multiuse Workspace
Living in a small-space means needing the ability to handle a variety of different tasks on your corner computer desk or L-shaped computer desk. When the workday is over, your desk becomes a practical space to stream media on your computer, browse the web, or handle routine tasks like paying bills or online shopping. Furthermore, if you have kids, your corner computer desk or L-shaped desk can offer a productive space for them to finish assignments and research projects for school.
Did you know that many of the qualities that make a corner computer desk or L-shaped computer desk perfect for home offices are also great for gaming? That's right, the same space you use to thrive in your professional life can become the ideal escape into the digital world at the end of the day. Many of our corner computer desks and L-shaped computer desks include wire management grommets to keep cords and cables in order in addition to offering scratch-resistant surfaces.
You can also craft, write, and do other recreational activities at your corner computer desk or L-shaped desk, especially if yours includes storage for the materials you need. Our high-density commercial quality particle board work surfaces offer a beautiful laminate finish that protects against cosmetic damage like scratches and stains.
Choose Your Style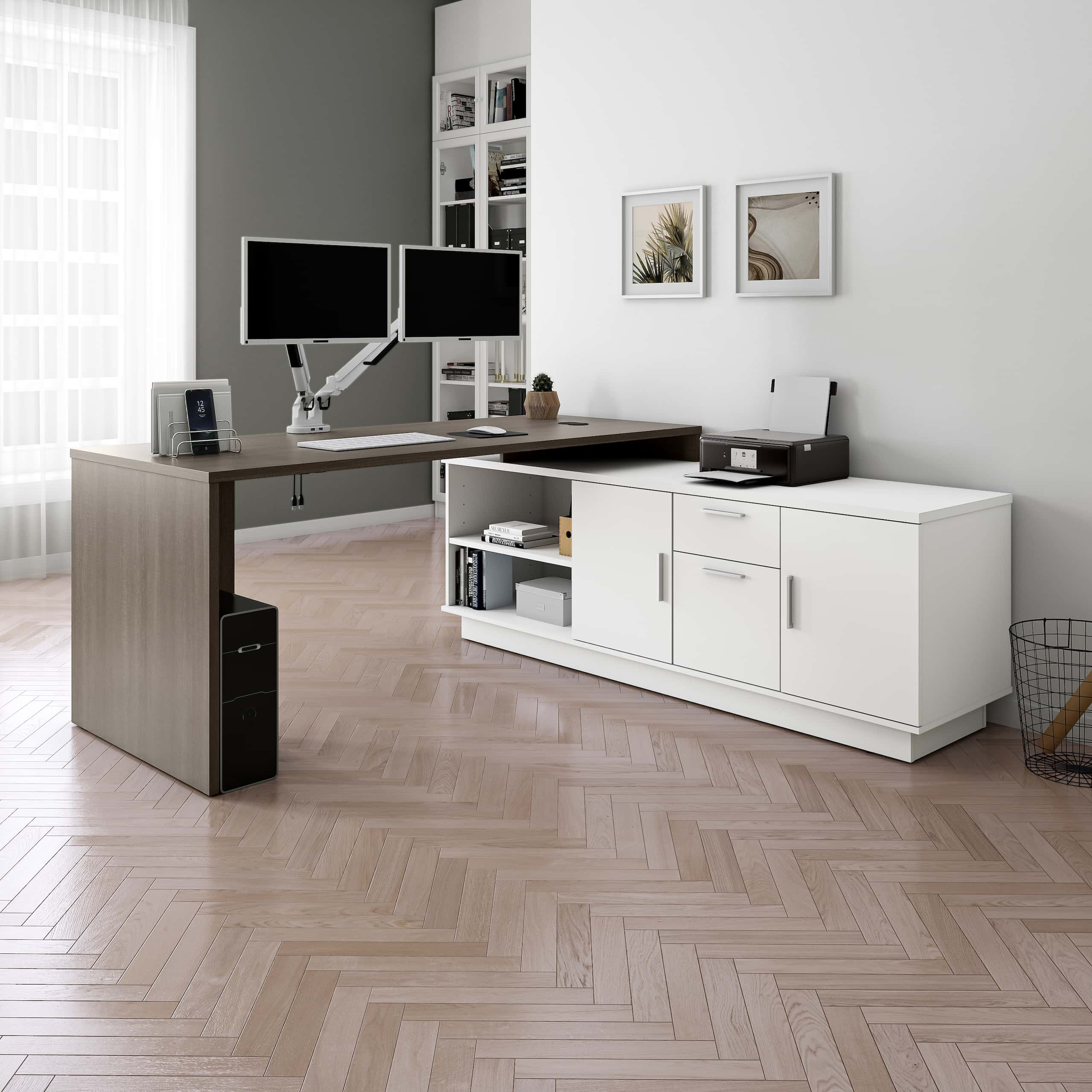 When you think of a work desk, your mind might go to the bland furniture that's in most professional workplaces. That doesn't have to be the case for your home office, however. No matter what your style preferences are, there's a corner desk or L-shaped computer desk that complements your tastes. You're picking something that's going to be part of your personal living space for years to come – it should look exactly the way you want. Be sure to consider the appearance and feel you're hoping to reflect as well as your existing furniture when making a decision.
Bestar collections cover the spectrum of styles. Traditional, modern, and contemporary corner computer desks are ideal for conveying a sense of professionalism and sophistication. On the other hand, styles like farmhouse and industrial offer a more casual look that many prefer in the home. There's no wrong answer, and your desk doesn't need to match the rest of your furnishings perfectly. Some styles complement each other while not looking exactly the same, which can make each individual piece stand out without hurting the cohesiveness of the room.
An easy way to blend your corner computer desk or L-shaped computer desk with the rest of your room is by using appropriate desk decor. If you have open shelves or a hutch, consider decorating your workspace with trinkets and knickknacks that mean something to you personally or match the overall vibe you're going for in your room and home. Plants are another great way to bring out the best of your home office. Place your corner computer desk or L-shaped desk next to a source of natural light or choose a plant that thrives in low light settings.
Should You Take a Stand?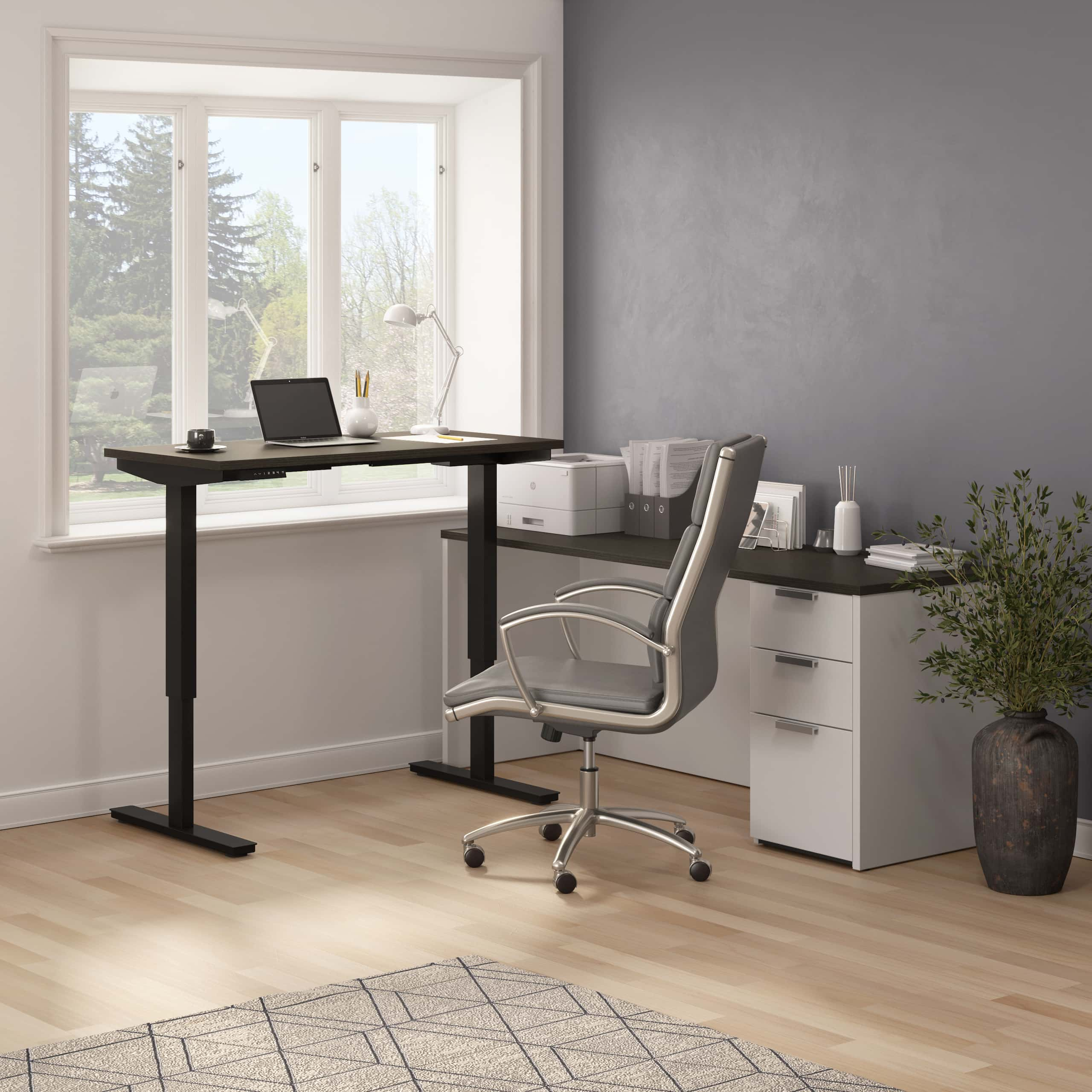 You've probably seen or heard of height adjustable standing desks, but did you know they also come in L-shaped models? That's right, you could get a corner computer desk or L-shaped computer desk that allows you to change positions quickly and easily throughout the day. Workers who use a standing or adjustable desk have reported fewer health problems related to back and neck pain, along with increased productivity. If you find yourself slouching over a normal desk while working long hours, a standing desk could be what you need to stay active and maintain good posture while on the job.
Adjustable desks can be electric or mechanical. Electric standing desks – like this model from Bestar – can be conveniently raised and lowered with the push of a button. It even comes with programmable presets that save your favorite heights so you can stand or sit without breaking focus. You can complement your adjustable desk with a standard office chair or an ergonomic desk stool to use at varying heights.
Another example of an ergonomic home office solution is the L-shaped computer desk with hutch, which includes an adjustable desk surface next to a storage credenza with drawers, shelves and cabinets. This corner computer desk blends the best of both worlds – the ability to sit or stand along with plenty of room to organize important work materials.
Find the Best Price
Shopping in a brick-and-mortar store means being subject to a limited selection of in stock items. It also severely limits your ability to shop around for the best price. That's where shopping online holds a distinct advantage – you can pick out the exact home office furniture you want, then continue to look around for the best price. Bestar products are frequently on sale through our own website along with several other major online retailers such as Amazon, Wayfair, Costco, and many more.
If you're on a budget, don't forget to check out the sales page on our website. That's where you'll find our best deals on L-shaped computer desks, corner computer desks, office storage, and more. It's a great resource for finding our best discounts, and it's updated often to reflect the latest offers. The Bestar site also includes a page that specifically highlights our work-from-home solutions. 
For a great deal that's quick and easy, subscribe to our newsletter to get a 15% discount on your new L-shaped desk or corner computer desk! For a limited time only, all new subscribers will get a unique discount code for regular price items.
And what about shipping? Bestar will deliver your new corner computer desk or L-shaped computer desk right to your doorstep free of charge in Canada and the contiguous United States. That's right, once your order is placed, all you need to do is sit back and wait while we take care of the rest. Bestar will provide a tracking number for you to follow the progress of your delivery online.
Categories
Home Office