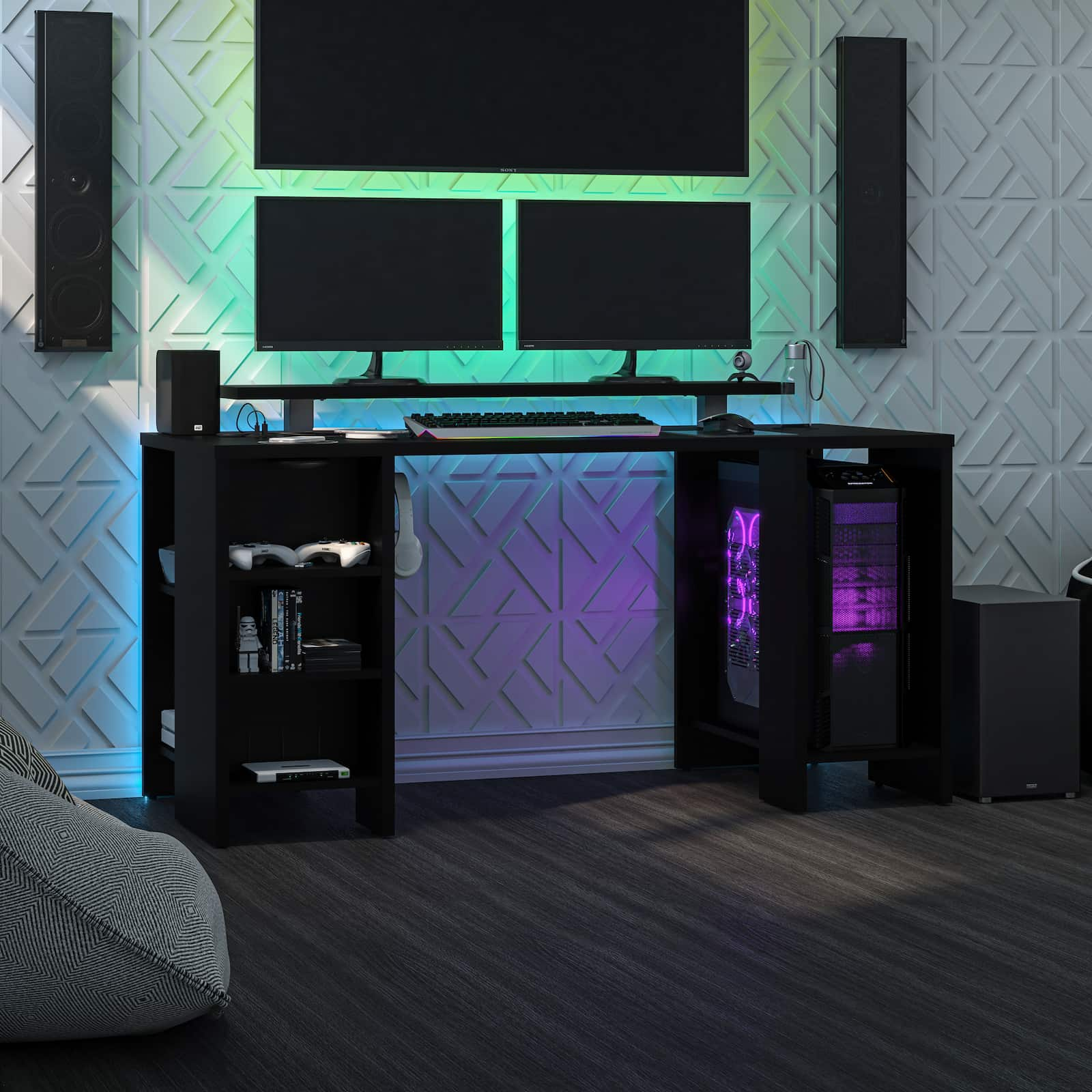 Are you an avid gamer? If you are, then you know how crucial it is to have the perfect gaming setup in your home. Gamers also know that it's a must to have an area dedicated to gaming, whether it's in a shared living space, a corner in the basement, or an entire room. Finding the best gaming desk is key to creating the high-performing gaming area you've always wanted.
There are a few different features you need to look for in a gaming desk. For instance, the size of the desktop is key to supporting all your gaming equipment and activities. You might also want to consider the type of configuration for your gaming desk. At Bestar, we have a selection of gaming desks for every type of gamer and every space. The question is: Do you know which one is right for you? We've put together a shortlist of our best gaming desks for 2021. Keep scrolling to discover the best gaming desk!
The Universel Collection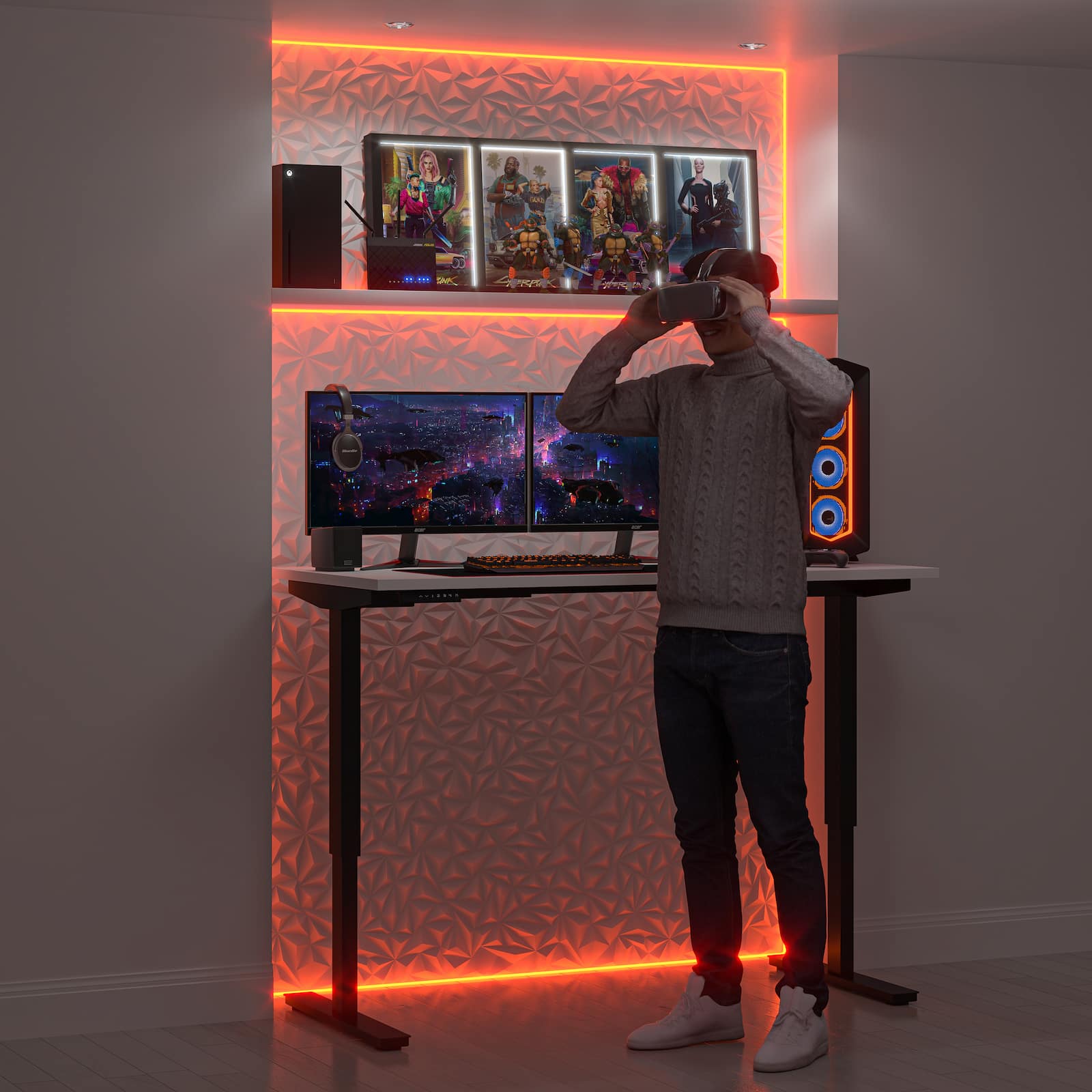 The Universel Collection features a desk that is on our list of best gaming desks for a few reasons; one major reason being that it's completely adjustable. With any one of our Universel height-adjustable gaming desks, you'll have the option to sit or stand at any moment. That being said, we strongly recommend our 60W x 30D Electric Standing desk because it also provides you with a large work surface for multiple monitors. You'll never have to compromise comfort or style ever again. It's truly a game changer!
Of course, one of the key features of this desk is the sit-stand option. This unique feature brings gaming to an entirely new level. Feel like taking a break from sitting while gaming? Or maybe you need to move around during your interactive VR game? With the click of a button, you can raise the desktop from 28" to 45" high. When you're ready to sit back down, simply lower the desktop to your desired height. It's that easy!
Another great feature of this gaming desk is the large work surface. Your monitors, speakers and keyboard will fit comfortably on the desktop. Most models can accommodate up to two monitors (all depending on the size of the monitor). There's plenty of space for all your gaming equipment—plus, the surface is resistant to scratches, stains, and wear. You can even install a dual monitor arm from the Universel Collection on any Bestar desk with an open back. We also have L-shaped standing desks that come equipped with the dual monitor arm from the Pro-Vega Collection. It's a genius add-on to your best gaming desk!
These desks also come in different styles and colors, so you can be sure to find a model that fits in nicely with the rest of your space. No matter what, you'll be able to personalize your gaming environment with the best gaming desk from the Universel Collection.
The Hampton Collection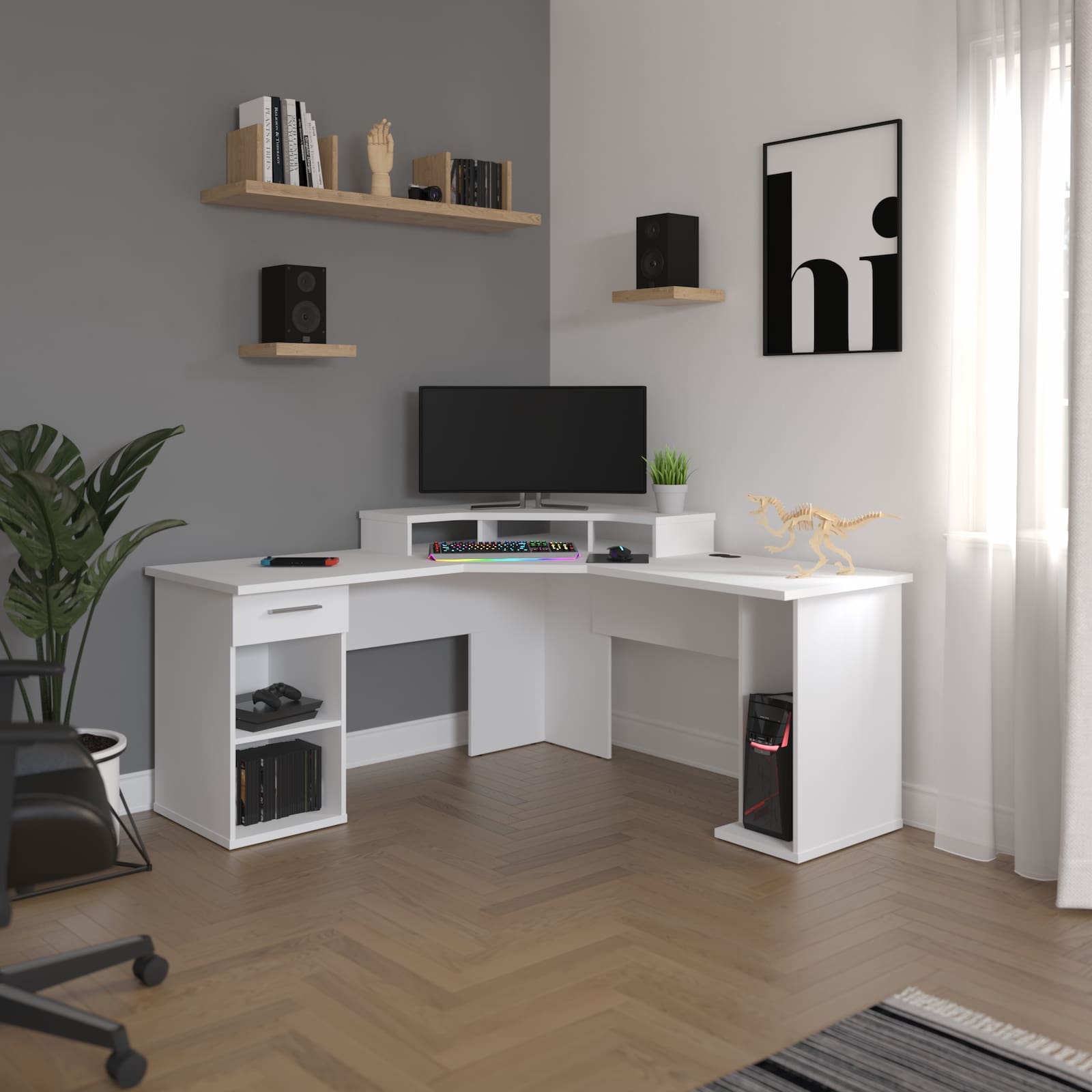 Another best gaming desk on our shortlist is the 66W L-Shaped Corner Gaming Desk from the Hampton Collection. It'll be a breeze finding space for your gaming area because you can place this desk in a corner. Your gaming space will be practically secluded from the rest of your home. Gaming corner for the win!
A large work surface is a must for gamers, and the Hampton Collection desk certainly delivers. Corner desks are exceptional for their large work surfaces and abundant space on the desktop. The large wings and deep center unit on this desk provide ample space for up to three monitors. It also has an integrated monitor stand with three open compartments underneath to keep small items within reach. You might be wondering: If I have three monitors, will I have space for my keyboard? The answer is yes! There's plenty of space in front of the monitor stand for your keyboard and mouse.
What about space for gaming equipment? You got it! This model has a 30-inch-high open storage compartment specifically for computer towers. There are also storage compartments that are ideal for storing essential gaming supplies. You can store your game consoles and remotes, games, VR headsets—even a few late-night snacks!
The Electra Collection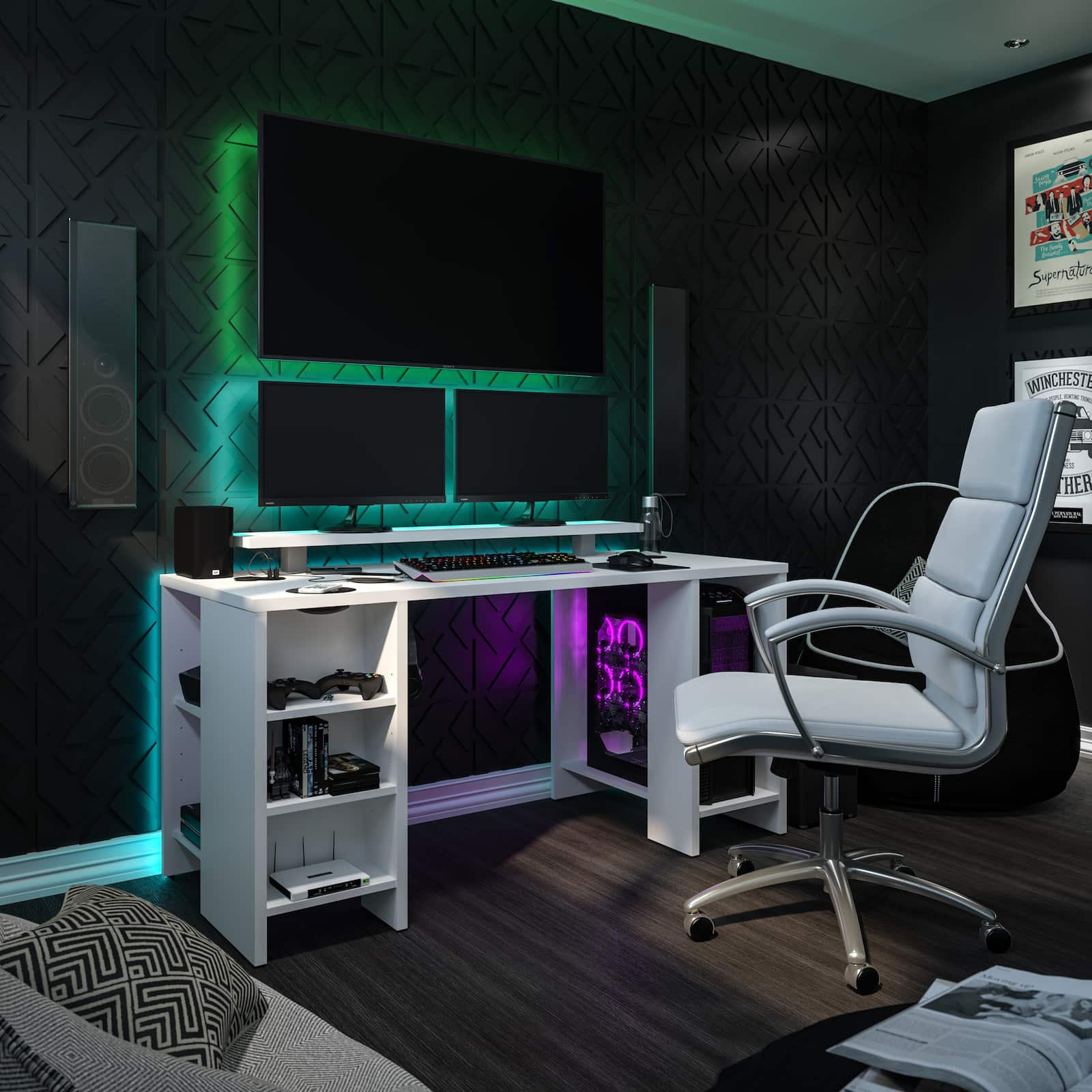 Last but not least, we have the Electra Collection, which features 2 amazing gaming desks. These desks have clean lines and come in 2 different sizes to fit nicely in your space. You'll have the best gaming desk for your needs, all in complete style!
The Electra Collection desks will support all your gaming activities. These gaming desks each have a built-in steel monitor stand that supports up to 25 lbs. You can set up two monitors on this stand, at the perfect height. For optimal support, you can choose a high-performance gaming chair. During your gaming sessions, you'll be able to sit comfortably, at the right height with the monitors thanks to your gaming chair.
On the desktop, you have space for your keyboard, mouse, and speakers. On one side of the monitor stand, there's a built-in USB power outlet to charge your phone or tablet at all times. There's even a built-in cup holder on the other side of the stand—perfect for staying hydrated during gaming sessions!
These gaming desks also have compact storage options with fixed and adjustable shelves. Under the desk, there's ample space for your computer tower. The 60W Electra model even has a built-in shelf specifically for tall computer towers (up to 23 inches high). There's also a built-in headphone holder for when you're done gaming for the day (or night!)
Gamers around the world need to think about lighting, equipment and so on before designing the ultimate gaming area in their home. The first step, however, is to find the best gaming desk for your specific needs. Our list of best gaming desks is the perfect place to start narrowing down your search. Ready, set, game!
Categories
Design