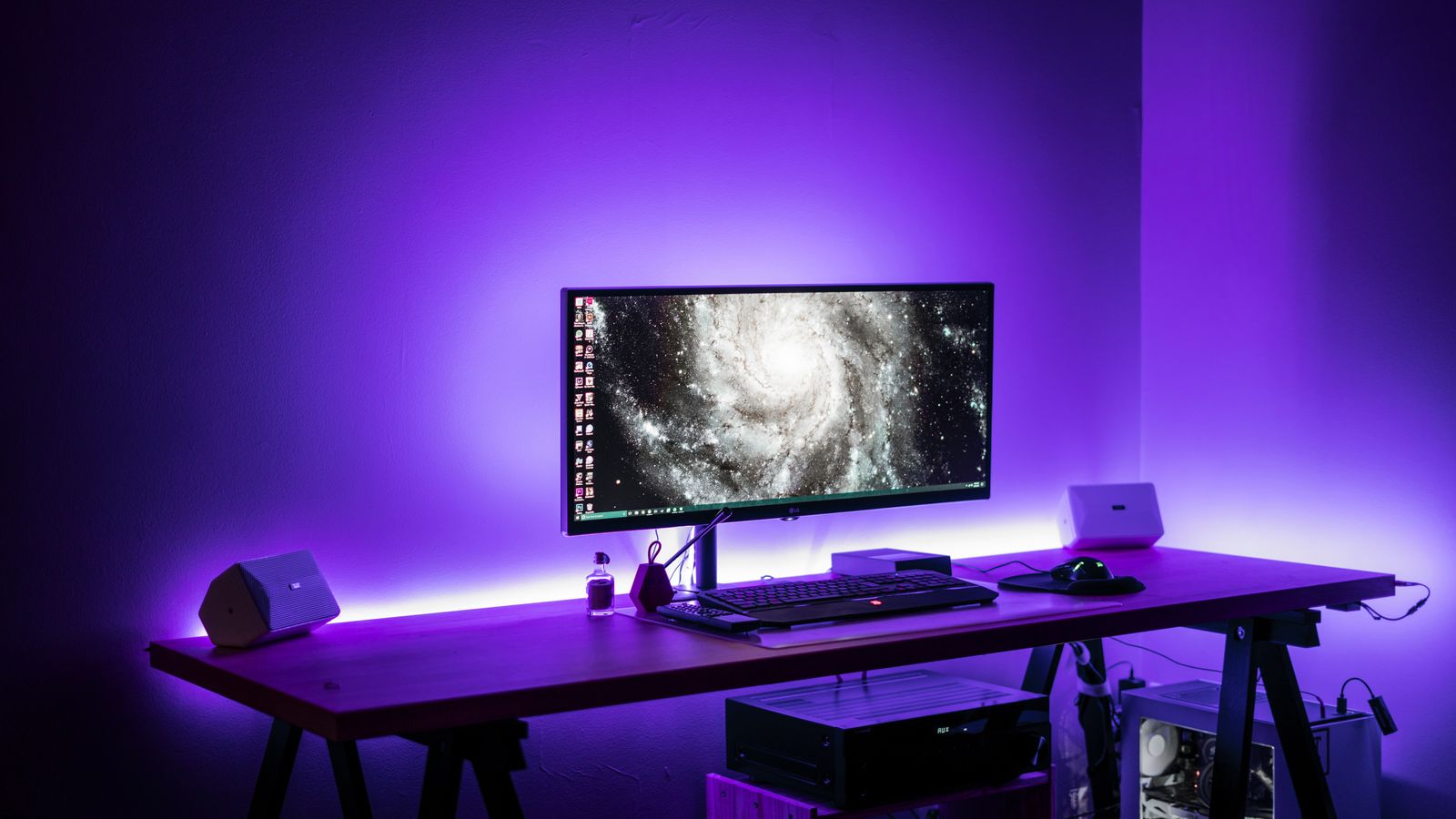 Take your gaming seriously? A comfortable, high-functioning gaming desk can mean the difference between winning and losing. Which desk will help you win: the standard desk or the L shaped desk?
Gaming can be a very serious endeavour. In dollars and cents, gaming can result in monthly salaries ranging anywhere from $1,000 to $5,000. The highest-paid players can earn up to $15,000 per month — over-and-above the money they receive in prizes.
There are millions of Americans who play video games. Serious gamers understand that every element of the gaming experience is important; one of the most essential being the desk from which they play. A dedicated gaming desk, be it a standard desk or an L shaped desk, can help make use of your space and make all the difference in those final moments before achieving your gaming goal.
An excellent desk will provide comfort, convenience, and cool features to make your gaming experience better than ever. Include extra space and ergonomic capabilities you'll have all that you need for a full gaming setup to help you play at your gaming best.
On the other hand, an inadequate desk could easily hinder your abilities when you need them most. Only you know the best arrangement for your monitor(s), keyboard, and joysticks; where you'd like to keep your speakers; and the easiest access to drinks and snacks!
You need a desk that offers the space you need to keep all the necessary gaming components at your fingertips and allows you to customize your gaming surface. There tend to be two standard designs of gaming desks. There is a standard design that mimics a traditional desk and the L shaped desk. The L shaped desk is best installed in a corner and great if using multiple monitors or need ample space for a more extensive gaming setup.
Below are a variety of desks in both styles that can help maximize your gaming skills and talents to ensure that your experience is a winning one.
Atlantic Gaming Desk Multi-Function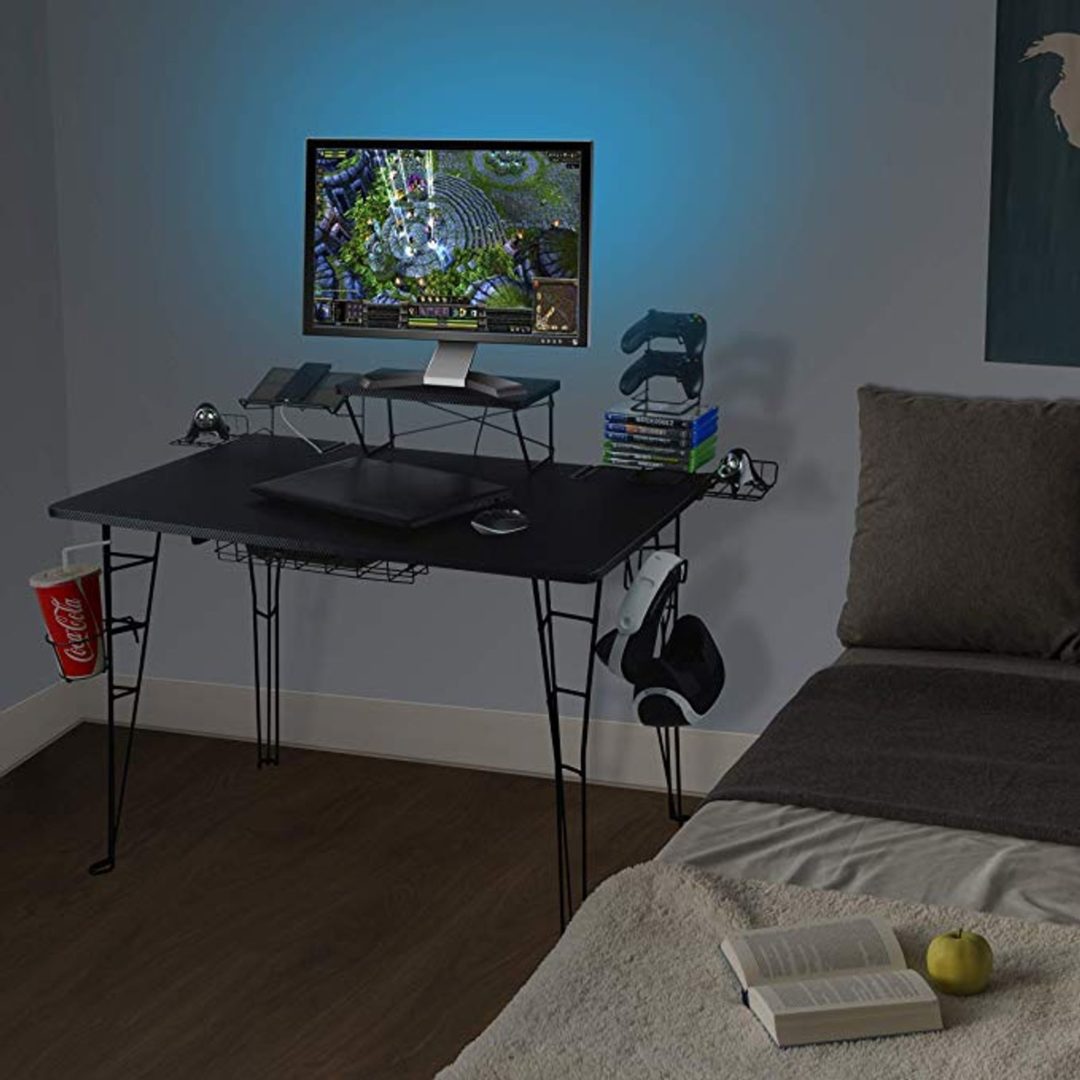 The look of a gaming desk is important, but functionality is even more so. The ideal gaming desk should be designed for space and storage to accommodate your needs best.
A true "gaming" desk, the Atlantic Gaming Desk Multi-Function is designed with the serious gamer in mind. Not only is this desk great for the video gamer, but it's also perfect for anyone who is into video editing as well. The table, made out of a carbon fiber finish, is 40 inches wide and 23.5 inches deep and is supported by steel rod feet. There is also an elevated stand on the rear of the table designed to support monitors weighing up to 40 pounds — perfect for monitors up to 32 inches in size.
The desk is outfitted with attachments on either side of the desk to hold stereo speakers. There is an angled cradle attachment to hold mobile devices allowing you to view the screen more comfortably. Another convenient attachment can hold CDs, DVDs, games, and two controllers. The legs provide more little features such as a hook to hold your over-the-ear headphones as well as a convenient cup holder, positioned nicely out of the way of your activity. No doubt, you know how frustrating and even scary it can be when soda gets all over your components!
A ton of comfort, space, and convenience for the price, the Atlantic Gaming Desk Multi-Function is a highly functional and attractive way to up your gaming game.
Bestar Height-Adjustable L-Shaped Desk with Credenza, Hutch, and Dual Monitor Arm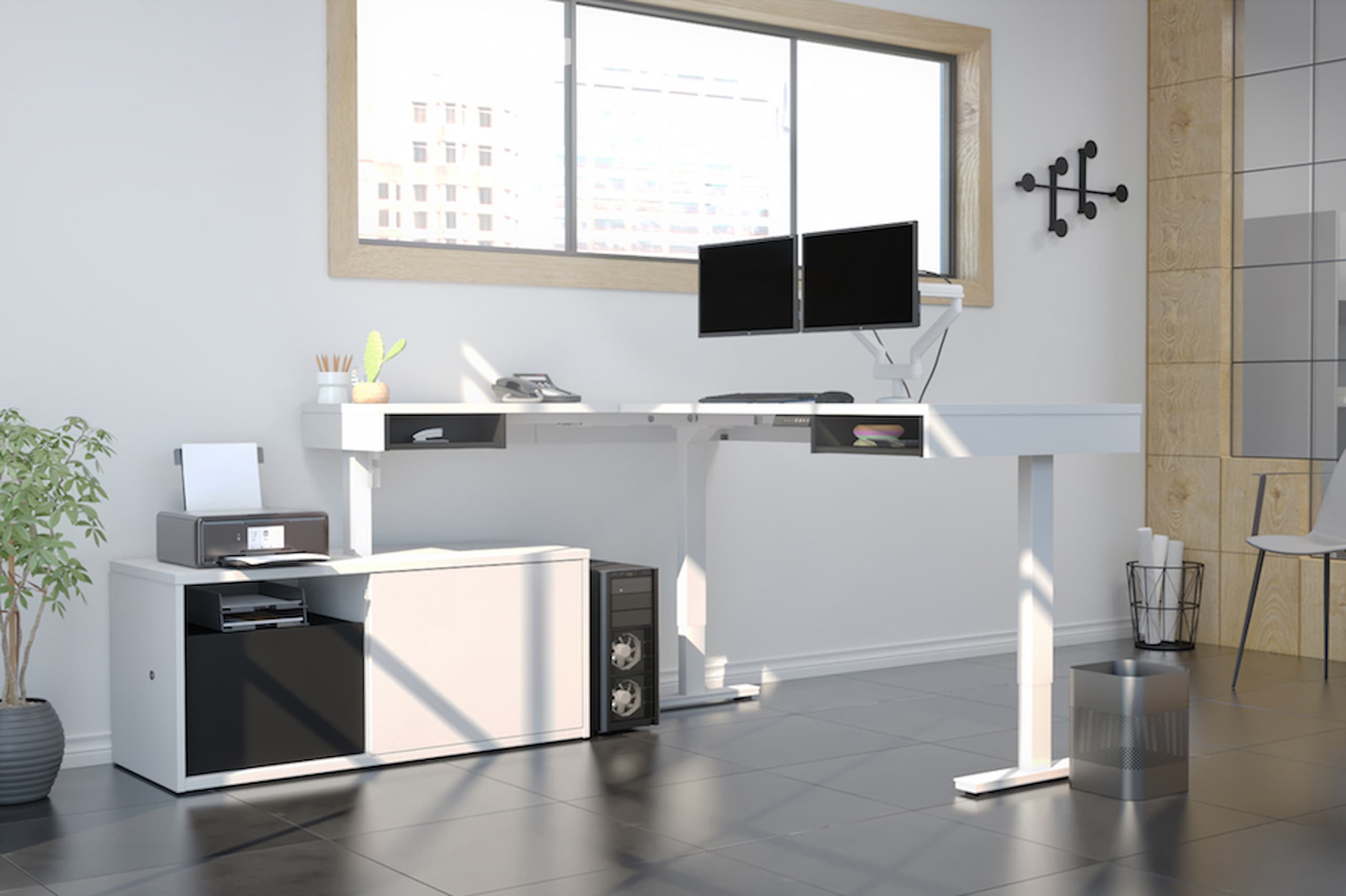 A gaming experience geared to comfort, organization, and success comes down to the versatility and design of the desk. The Bestar L Shaped Standing Desk with Credenza, Hutch, and Dual Monitor Arm offers a sitting or standing option in addition to ample surface and storage space.
While you should never sacrifice functionality for looks, this desk offers the best of both! A deluxe gaming setup, this arrangement includes a spacious and comfortable L shaped standing desk, a credenza to fit neatly beneath, a small hutch for additional storage, and a unique dual monitor arm.
Elegance, comfort, and expanded storage all wrapped into one package! By enabling you to switch between working sitting down and standing up, the L shaped desk can enhance your comfort while you game. Simply press a button to adjust to the desired height — even more convenient, save up to four desktop positions to memory. Set your L shaped desk comfortably and quickly at any moment.
Ideal for just about any space, the desk and credenza are both reversible with the short side of the L easily arranged either to your right or on your left. Likewise, the credenza's drawer can be installed on the left or on the right of the unit.
Adding to the comfort and ergonomics of the L shaped desk while freeing up valuable surface space, the dual monitor arm can hold two 14- to 32-inch monitors, each weighing up to 17.6 lb. The arm rotates and tilts, adjusting to the most comfortable position for your eyes and neck. For additional comfort, easily change this position throughout the day.
Arozzi Arena Gaming Desk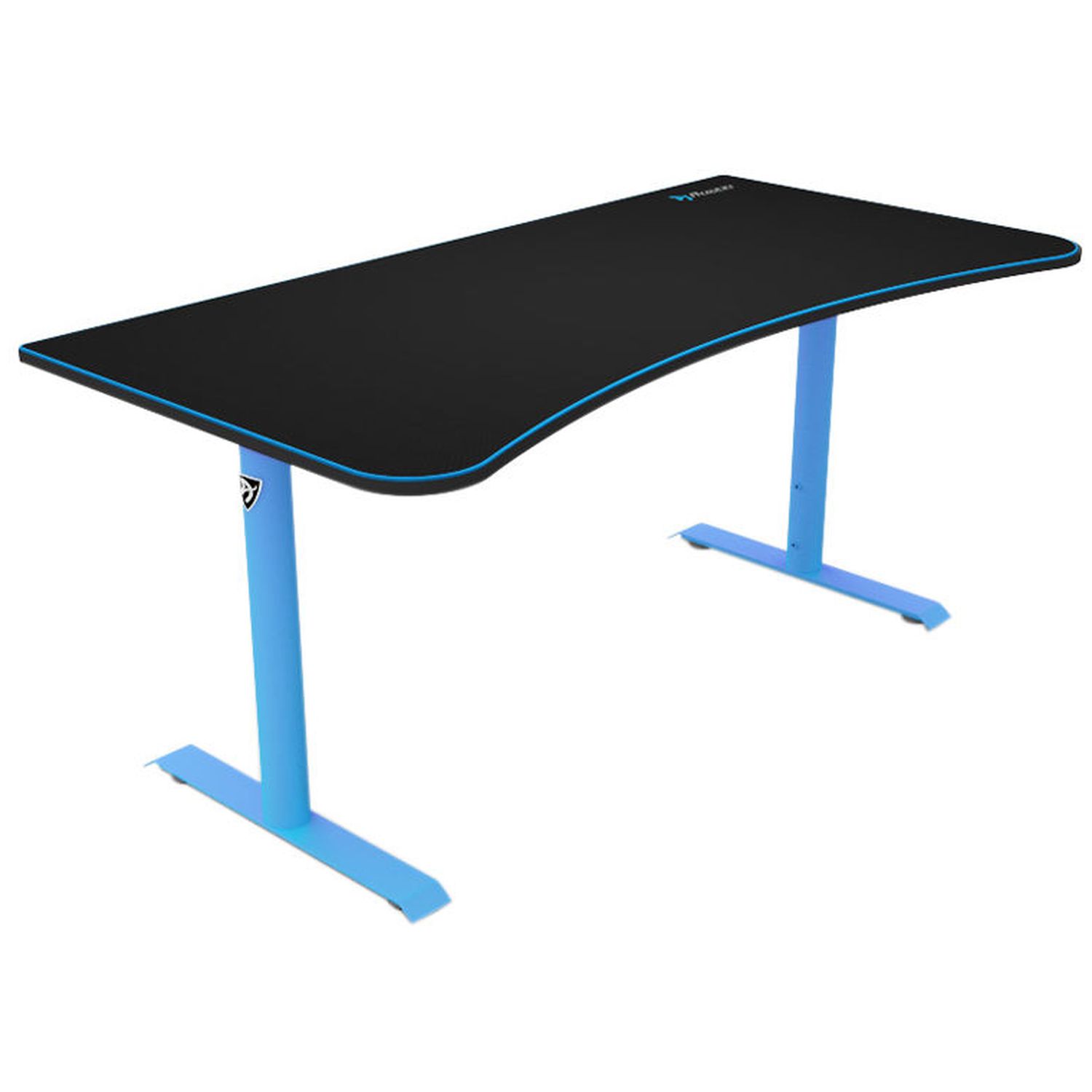 If you're looking for clean simplicity and prefer a flat, beautifully crafted desk designed more for the gaming experience rather than that of an overall computer user, the Arozzi Arena Gaming Desk is the one for you.
One of the wider, more expansive desktops available, this desk offers plenty of room for all of your gaming components. Fitting up to three large monitors side by side, this is one of the few gaming desktops that can provide the surface space you need.
Remarkably, the entire surface is made from a solid mousepad material. Rather than being limited to a mousepad or losing sensitivity on a conventional desk surface you can keep your game in top form and use your mouse on the entire desk.
Keep your gaming surface free and clear of cable clutter with the excellent cable management system built into the Arozzi Arena Gaming Desk. Three well-placed cutouts let you easily slide cables through the desk and into a small cubby out of the way of your activity.
With ergonomics in mind, you can adjust the height to suit your needs, and the slightly curved front bevel lets you move closer to the desk in comfort. Built to last, the Arozzi is also made for travel — easily pack it up when you need to take your game on the road.
Electra Gaming Desk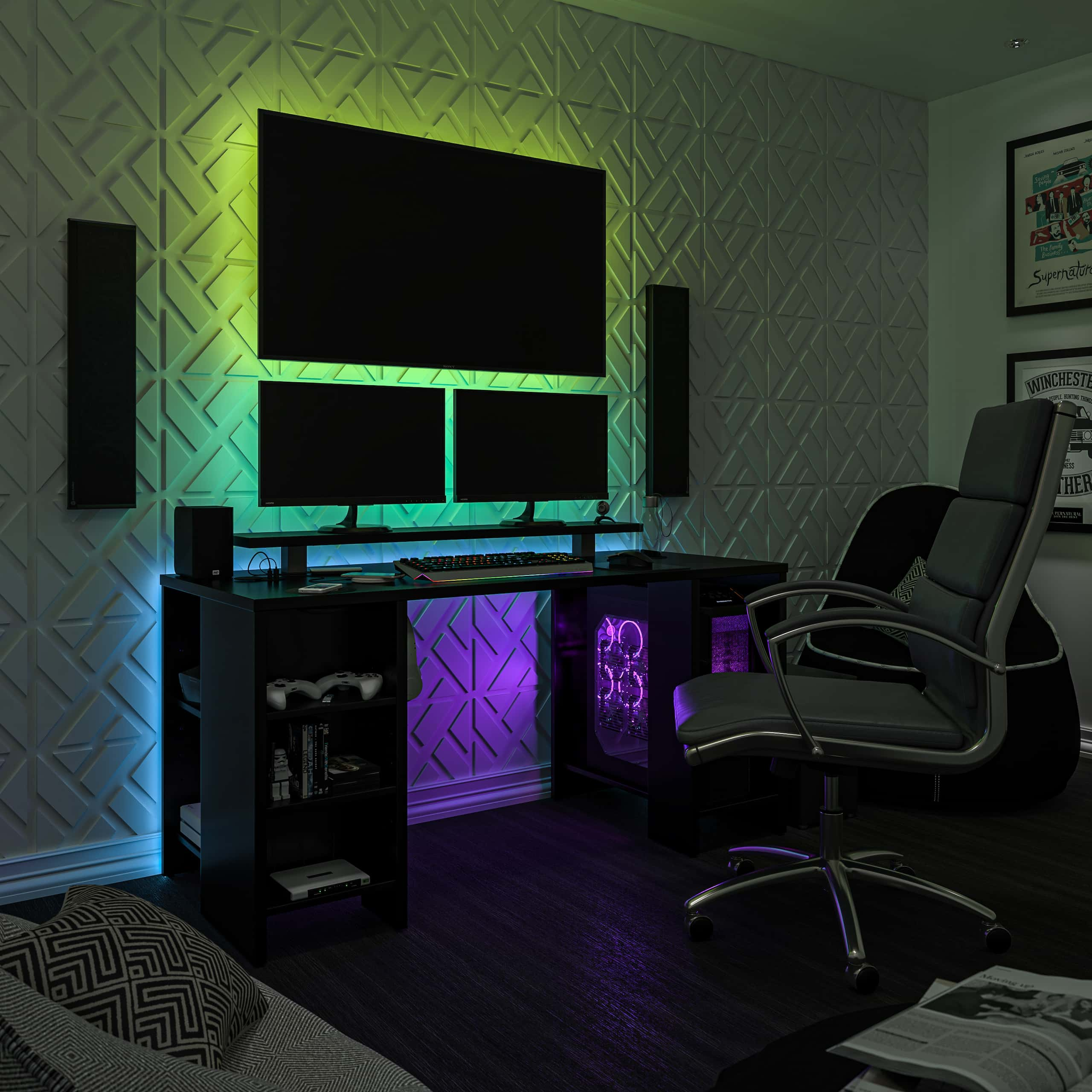 The Electra Gaming Desk is a desk with storage and shelves for display. Its compact design allows you to have access to your necessities at all times. You can deck your gaming space with your favourite items and decorations. This desk supports up to 100 pounds so you can keep all your things and equipment in one place.
With its built-in cup holder and headphones holder, you can keep your essentials close. A power outlet also lets you keep all your chargers and cables nearby and organized.
This desk is available in two different sizes: 60 inches and 48 inches. This way, you can choose which one fits in your space the best. With the monitor stand, which can hold up to 25 pounds, your monitors are raised to eye-level which can prevent neck and back discomfort while playing.
This gaming station also has a spacious open area under the desk. You can keep your computer tower out of your way and off your desk space.
How to Choose?
Each desk can improve your gaming experience in different ways. When choosing your desk, you will first have to consider how much space you need for your equipment. As you have seen, a larger desktop, such as that on an L shaped desk, can provide more space for multiple monitors. The standard desks, however, are more compact and fit nicely in smaller spaces. Choosing between an L shaped desk or a standard desk for your gaming corner might be challenging since they are both so appealing, but if you take the time to evaluate your needs, you should end up with a desk that works for you and your gaming personality.
Categories
Home