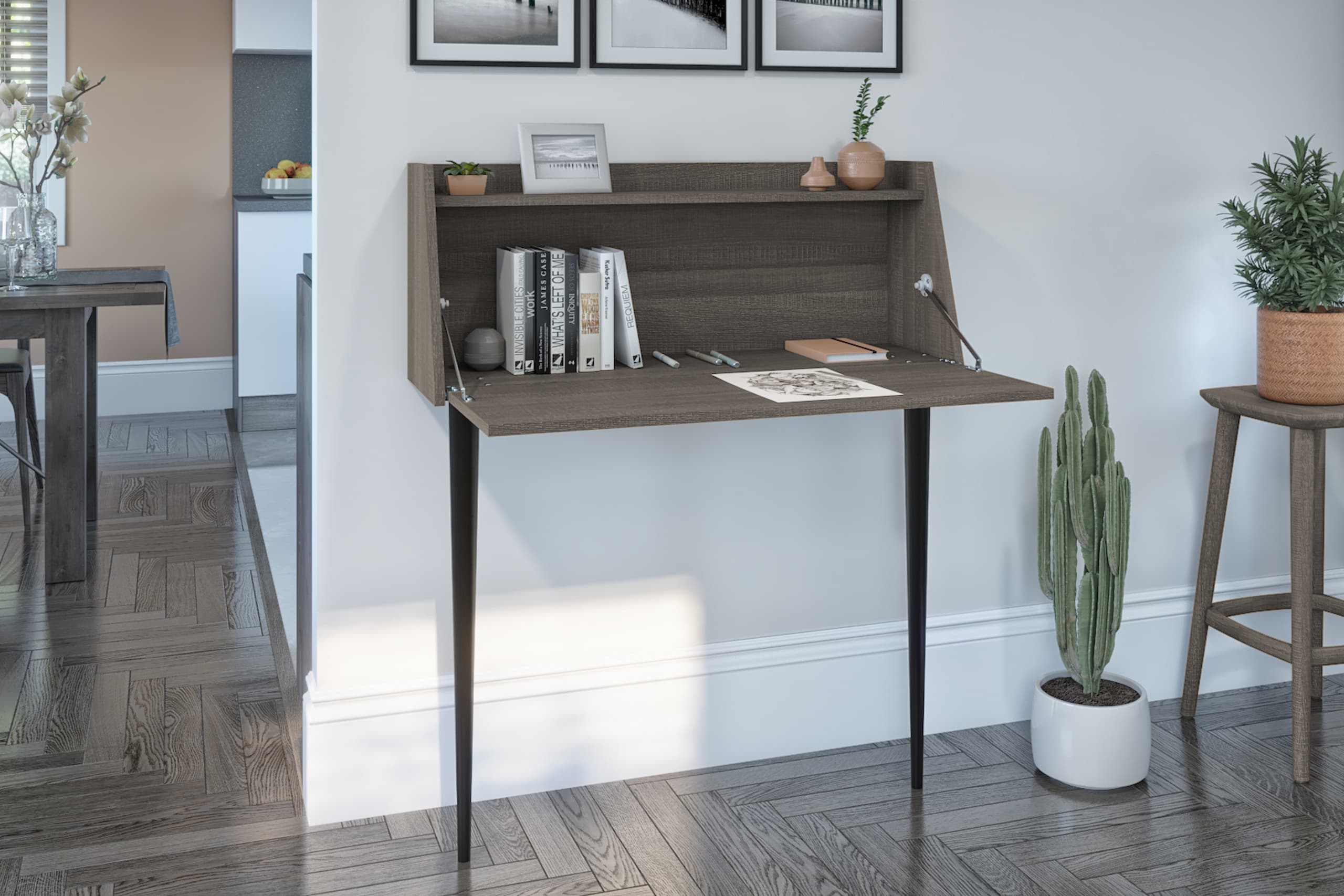 Whether you still live at home or moved for your studies, you need a good study space with quality furniture that meets the demands of your busy life. Between classes, friends, family, and various activities, you need a place for yourself. A space that allows you to forget about the outside world to concentrate on your schoolwork or hobbies. A desk is key to creating that space. After all, it can accommodate all your activities: studying, working, gaming, journaling, drawing, and much more. A practical small desk is the perfect solution for any student. Keep reading to discover 6 reasons why!
1. Budget Friendly
As a student, spending your money on furniture is probably not a priority, but that doesn't mean you have to settle for less. Some pieces of furniture are essential, like a nice bed, a comfortable chair, or a functional desk. It can be worth it to invest in those items. And, luckily, you can do so without breaking the bank! If you're looking for nice, affordable furniture, our small desks are perfect for you.
Because of their size, these desks are less expensive than their bigger counterparts. Yet, they still offer enough space for your computer and your various supplies. Whatever your needs are, you are sure to find the right small desk for you. By opting for a Bestar small desk, you're choosing an affordable desk, without sacrificing style or functionality.
2. Compact and Discreet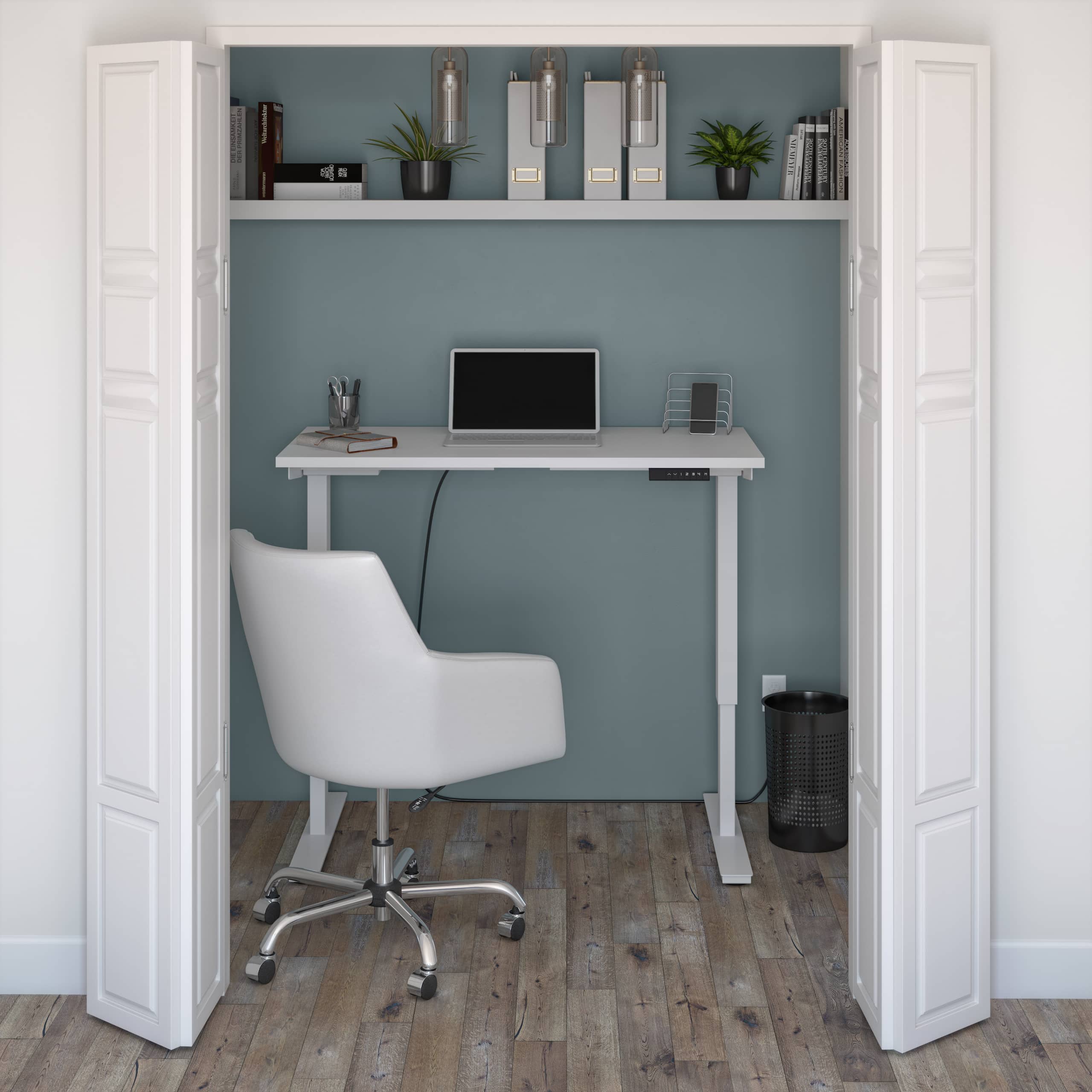 The obvious appeal of a small desk is that it doesn't take up too much space. It can fit in any space, even the smallest. These desks are also discreet. We even offer a model with a work surface that can be folded up when it isn't being used for the utmost discretion. They can be placed in unusual spaces—under the stairs, in your wardrobe, or in the corner of a room—to create a secret study space. That way, you can save space for other activities or pieces of furniture!
Small desks are particularly convenient if you live in a small space; in which case you won't want bulky furniture. You have to choose your pieces carefully and focus on what you truly need. If you want to work comfortably and efficiently, a desk is a must. A large desk could make your space feel crowded, however. A small desk, on the other hand, will fit right in, leaving space for you to move around the room freely.
Whether you need a desk for your bedroom, dorm room, living room, or studio apartment, you are sure to find a place for your small desk.
3. Functional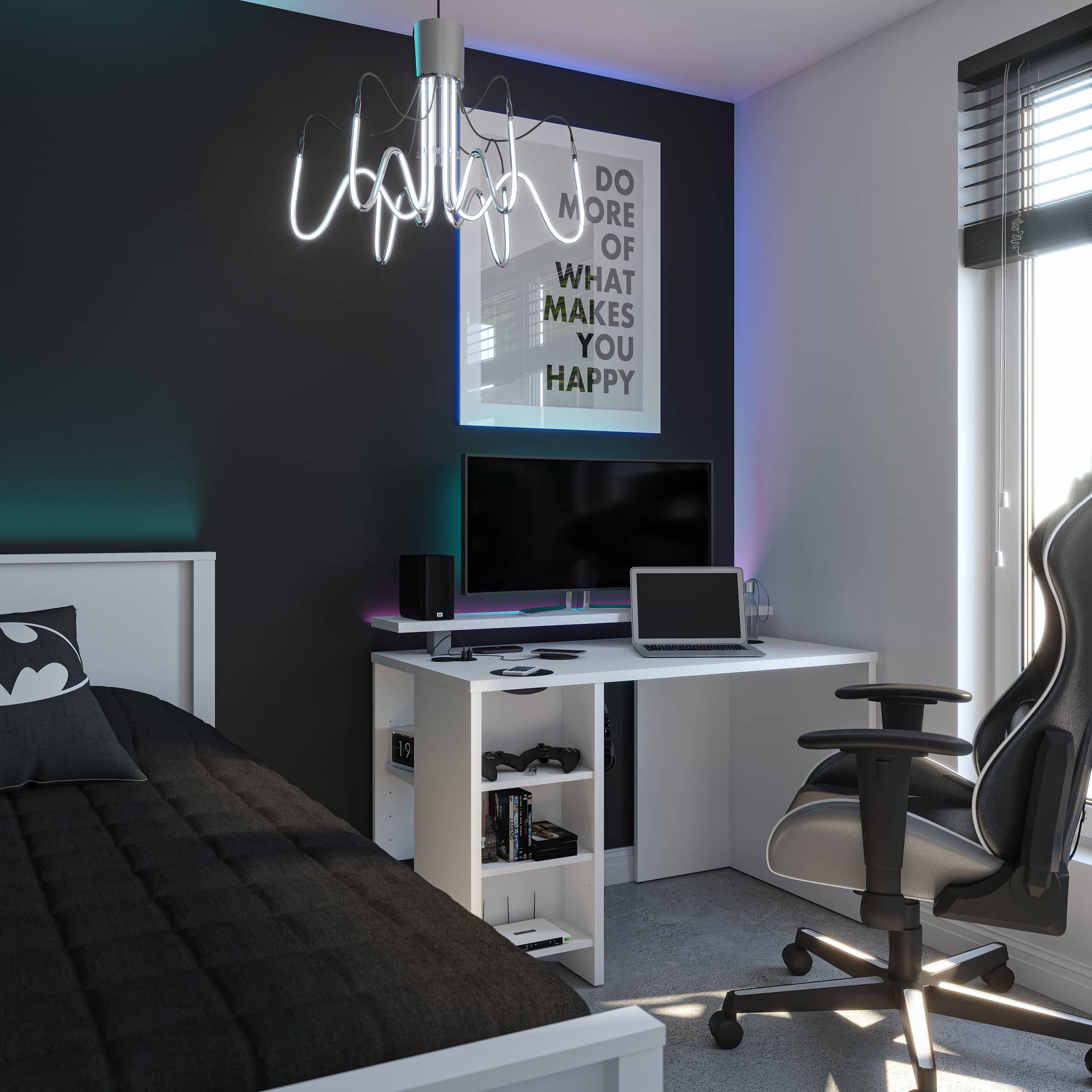 Our small desks are created with your needs in mind. They each offer different features such as shelves, drawers, or even height-adjustable legs to suit your specific needs. You can even find a small gaming desk with a built-in cup holder, headphone holder, and monitor stand. These features are ideal for intense gaming sessions, as well as long study sessions.
If you're looking for a desk that moves with you throughout the day, a small standing desk is a great option. Standing desks offer many advantages. They help with pain relief, blood circulation, productivity, and motivation, to name a few.
If you need storage space, however, other options might be better suited for you. Many small desks offer storage solutions to organize your supplies and your documents. After all, an uncluttered desktop can help you stay focused on the task at hand, therefore also improving your productivity.
If you still want additional storage space, Bestar offers plenty of storage furniture. You can add a narrow bookcase to display your book collection or a small file cabinet to organize your documents, for example. You can even shop by collection to find matching pieces and create a beautiful, cohesive space.
4. Stylish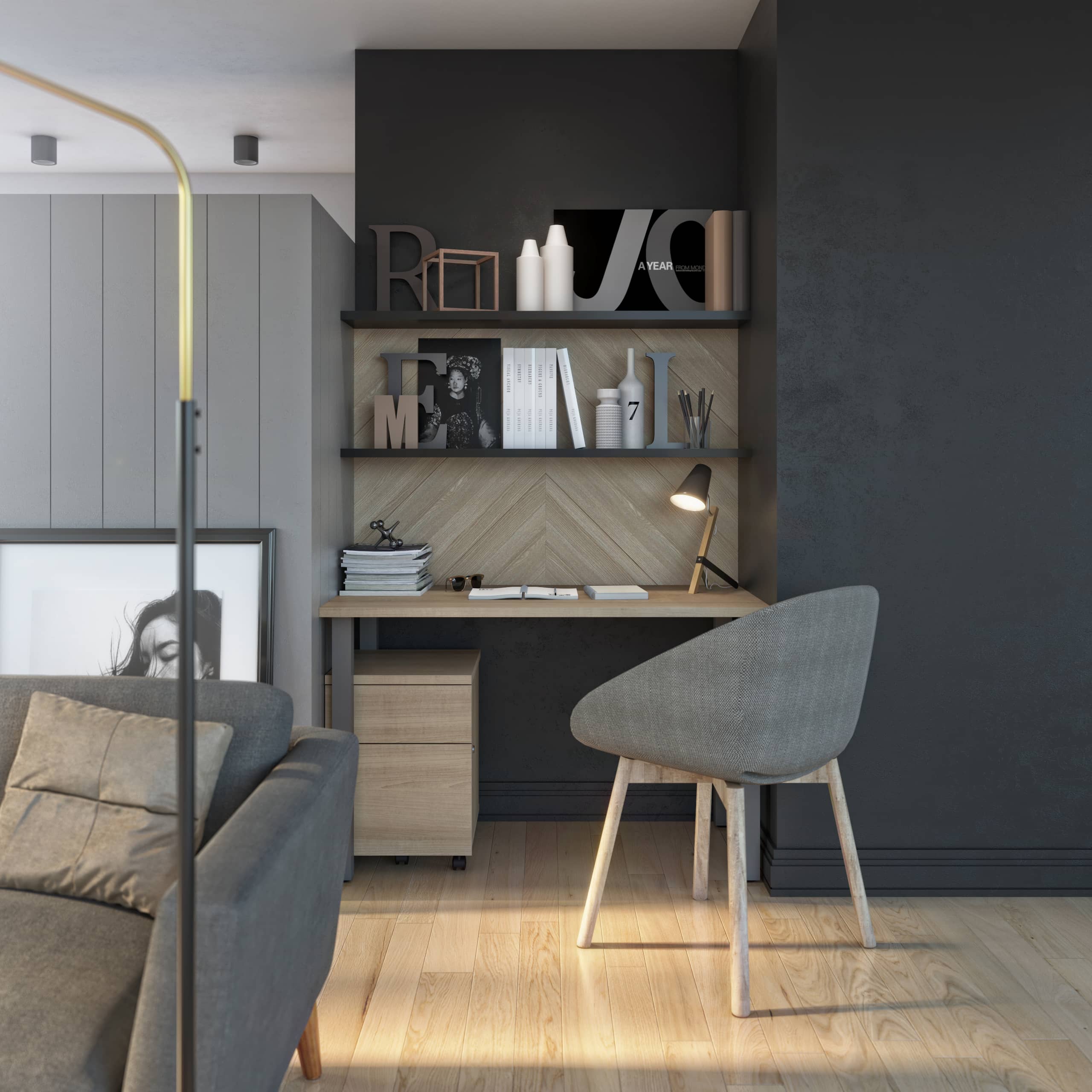 Style is a nice plus when choosing a new desk. It elevates your space and helps you feel inspired when you're working on your projects. By opting for a desk that reflects your taste, you can create a study space you actually want to spend time in.
Bestar small desks are offered in a variety of styles and finishes to match any decor. With features such as two-tone finishes, metal legs, and attractive hardware, they will certainly add a touch of style to your space. You can choose a finish that blends seamlessly into your room, or you can opt for a contrasting finish to accentuate your decor. The choice is yours!
Once you have found the perfect desk, make it yours by adding decorative elements, such as plants, photos, and souvenirs. Let your creativity shine!
5. Easy to Move
Students often live in temporary spaces during their studies. Life moves fast! Next semester, you might be moving in with a friend, in a bigger apartment, or in one closer to school—who knows! And, even if you stay in the same apartment or at home throughout your studies, chances are you will move sooner or later.
Luckily, a small desk is easy to move around, from one room to another, or one place to another. When it comes time to move, your desk won't take up too much space in your car or moving truck. You won't have much difficulty getting it up and down the stairs if needed either. That might not be the first thing you think about when buying a new desk, but it's a considerable advantage for any student.
6. Durable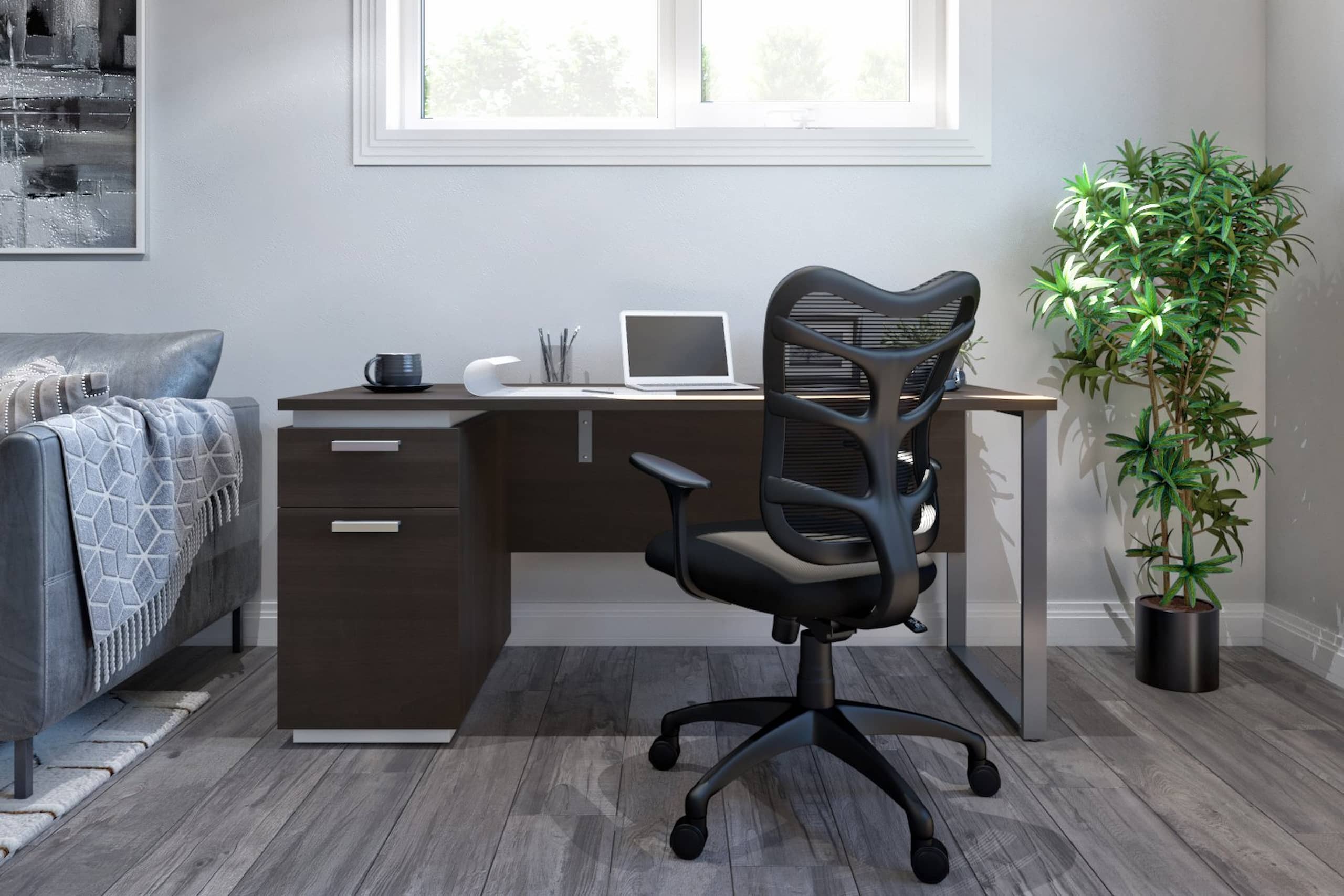 Finally, Bestar small desks are perfectly adapted to your busy life. Most models feature durable finishes that resists scratches, stains, and wear. It's ideal if your cat likes to spend time with you while you're studying, for example. You can also leave drinks on your desktop and use the surface for crafts without fear. If it ever gets dirty, you can easily wash it with a damp cloth.
We all know student life can be hectic. You shouldn't have to worry about your new desk on top of everything. If you need a desk that will accompany you for years to come, a small desk is the perfect solution. Browse through our selection of practical and stylish small desks to find the one that suits you best.
Categories
Home
,
Small Spaces