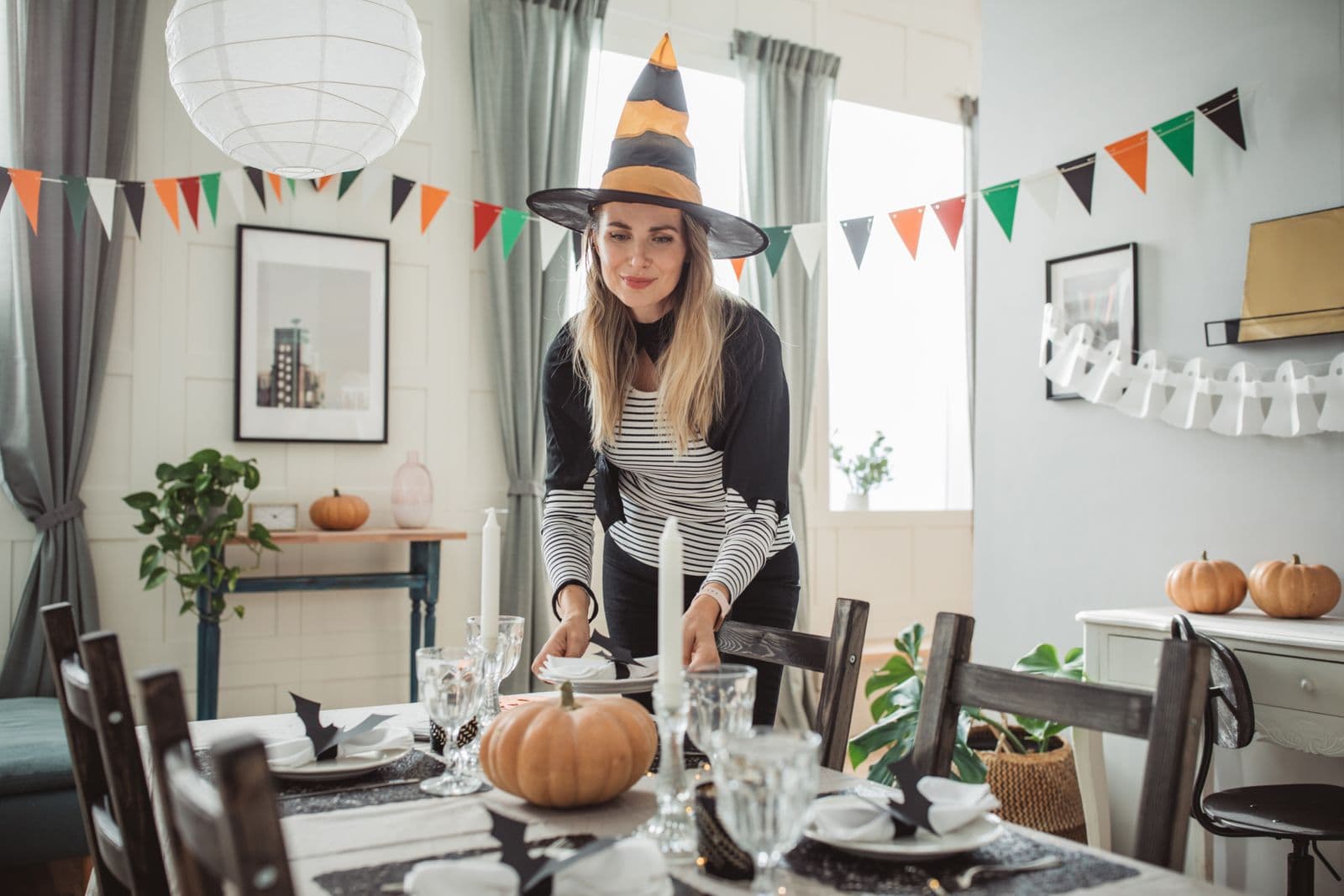 Candy, costumes, pumpkins—oh my! Halloween is almost here and many are wondering if Halloween will take place this year due to the COVID-19 pandemic. Regardless if you are heading out to trick-or-treat or not, you can still decorate your home for Halloween. With Halloween just around the corner, now is the time to start adding decorations around the house!
But what if you're not quite sure where you'll be placing your Halloween decorations? You might be asking yourself: Is my space too small to add Halloween decorations? What kind of Halloween décor would work with my space? No worries! We've got a line-up of Halloween home decorating ideas for you. Ready to find out how to add a bit of Halloween magic to your space? Keep scrolling!
Use Nooks, Crannies, and Openings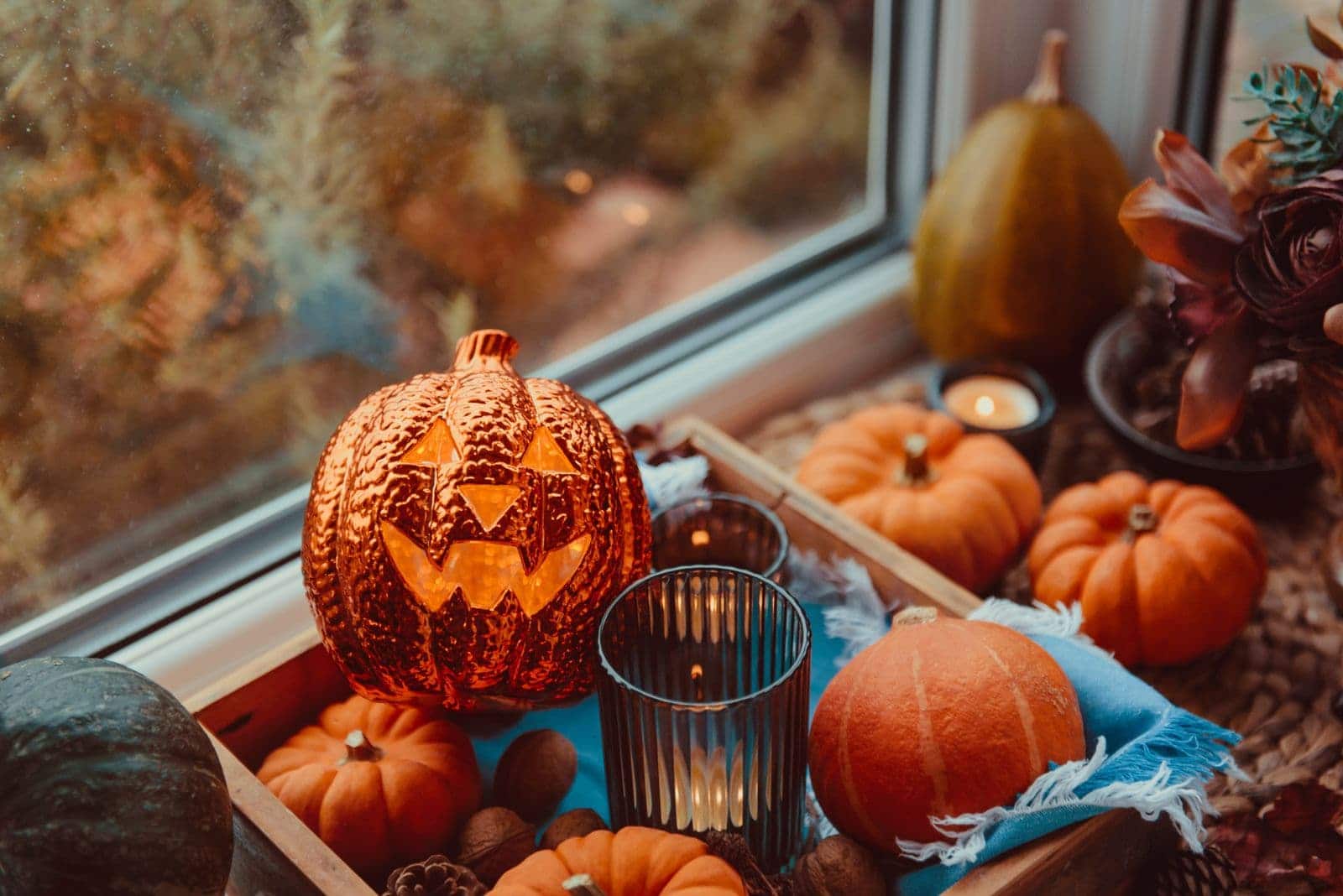 When looking at your space, you might not realize the potential at first glance. You might think that you just don't have the space to add Halloween decorations this year. Well, think again! You can find unique ways to add Halloween decorations in small, unlikely spaces.
For instance, do you have a staircase in your home? If you do, then you can add different Halloween decorations here. You could drape fake cobwebs and plastic spiders along the railing or add a simple "Happy Halloween" banner. You can opt for a store-bought banner, or you can make one yourself. 
If you don't have a staircase at home, no worries! There are tons of Halloween decorations out there for all types of spaces. For example, if you have a storage cabinet in a corner, you could easily use this space to create a Halloween-themed corner. Add pumpkin-scented candles, a glass pumpkin or even a crystal ball on the unit to create a completely Halloween-themed corner!
Alternatively, you could display small Halloween decorations, such as small pumpkins (real or decorative), on windowsills around the house. Even the unlikeliest spaces in your home can be decorated for Halloween this year!
Focus on Lighting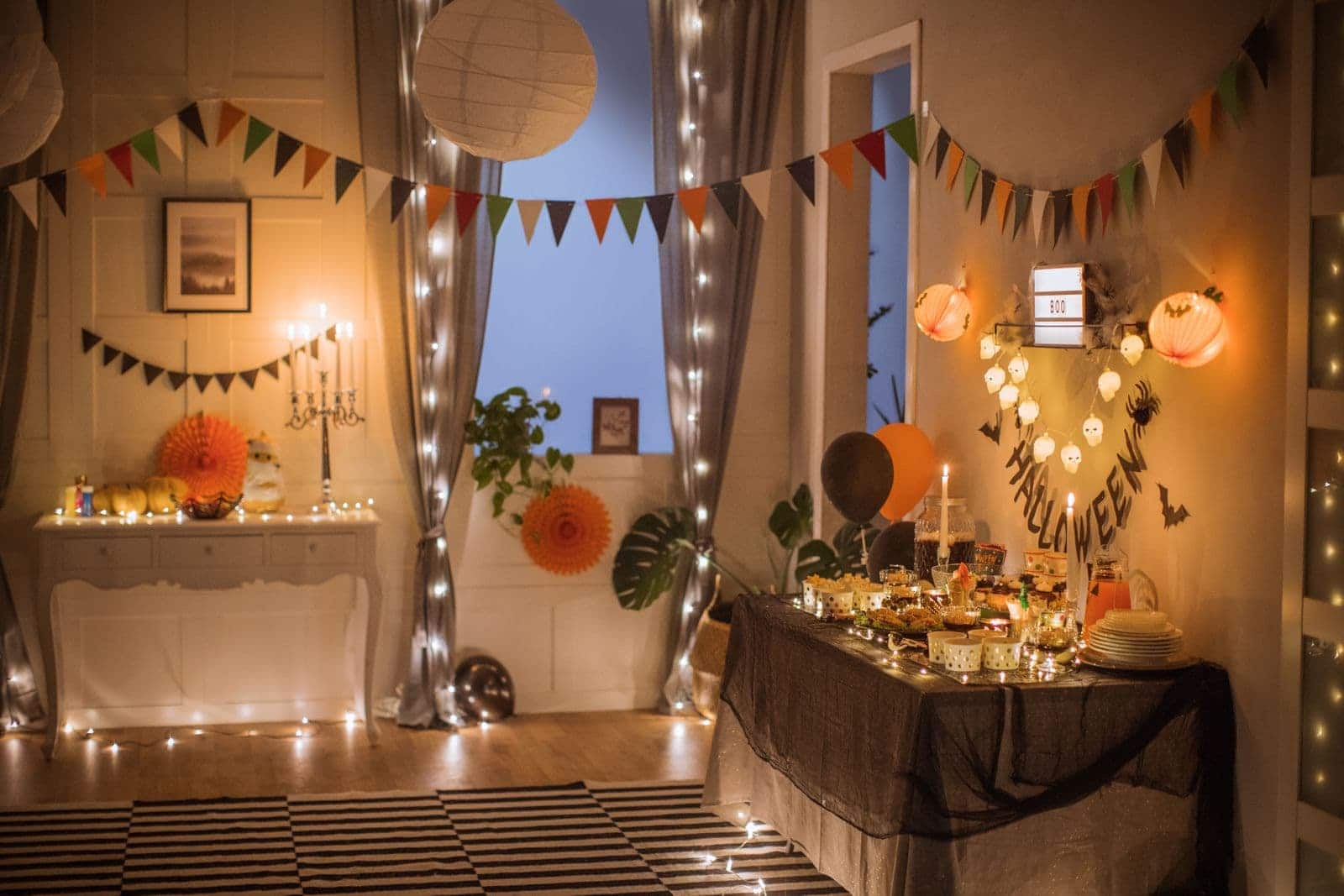 Whether you're looking to create a spooky atmosphere or a cozy vibe, adding the right lighting will certainly set the mood for your Halloween night.
For instance, candles are great options for decorating your home—and for making it smell amazing, too! You can add a few taper candles or tea lights on the coffee table to give your space a whimsical Halloween feel.
Or, if you prefer flameless options, you can opt for paper lanterns or string lights to lace along banisters, tables, or windows. You could even choose a color palette for your Halloween decorations and match your lighting to your choice. It's totally up to you! Put lights along the walls, around windows, and even on the floor to create the perfect Halloween vibe.
Last but not least, the piece de résistance: jack-o'-lanterns! Halloween wouldn't be complete with a carved pumpkin. Once you've carved your pumpkin, you can add a tea light or flameless candle in the middle. You can find different pumpkin carving ideas to make your jack-o'-lanterns stand out as your prized Halloween décor this year!
 Take Advantage of Shelf Space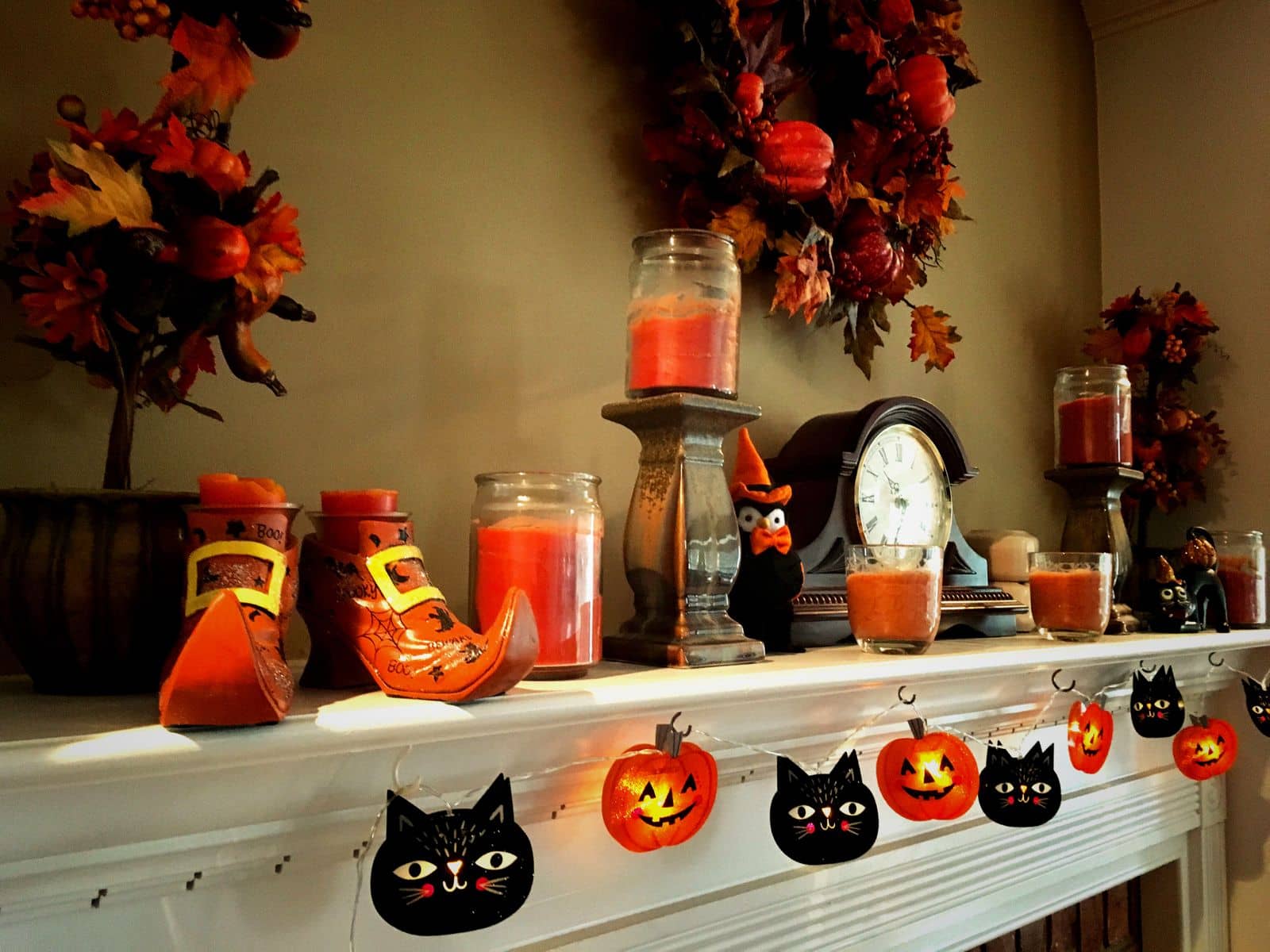 One of the best things about Halloween decorations is that they can fill up shelf space easily. Flat surfaces such as shelves and bookcases are ideal for displaying Halloween décor. The sky is truly the limit when choosing Halloween decorations for your shelves!
If you have a fireplace in your home, this is the first place you can start adding Halloween decorations. Your fireplace mantel is most likely sturdy enough to display Halloween décor that's breakable or heavy, which might not be suitable for other furniture pieces. It's also a great place to create a Halloween display. Try adding a plastic skull, colored candles, artificial cobwebs, and painted pumpkins on your mantel to create a frightful scene. It's time to let your creativity fly!
You could also add Halloween décor to shelving units and bookcases easily thanks to the ample shelf space. Pick out your most frightful Halloween decorations and add them to the shelves. Your space will be Halloween-ready in no time!
Dress Up Your Desk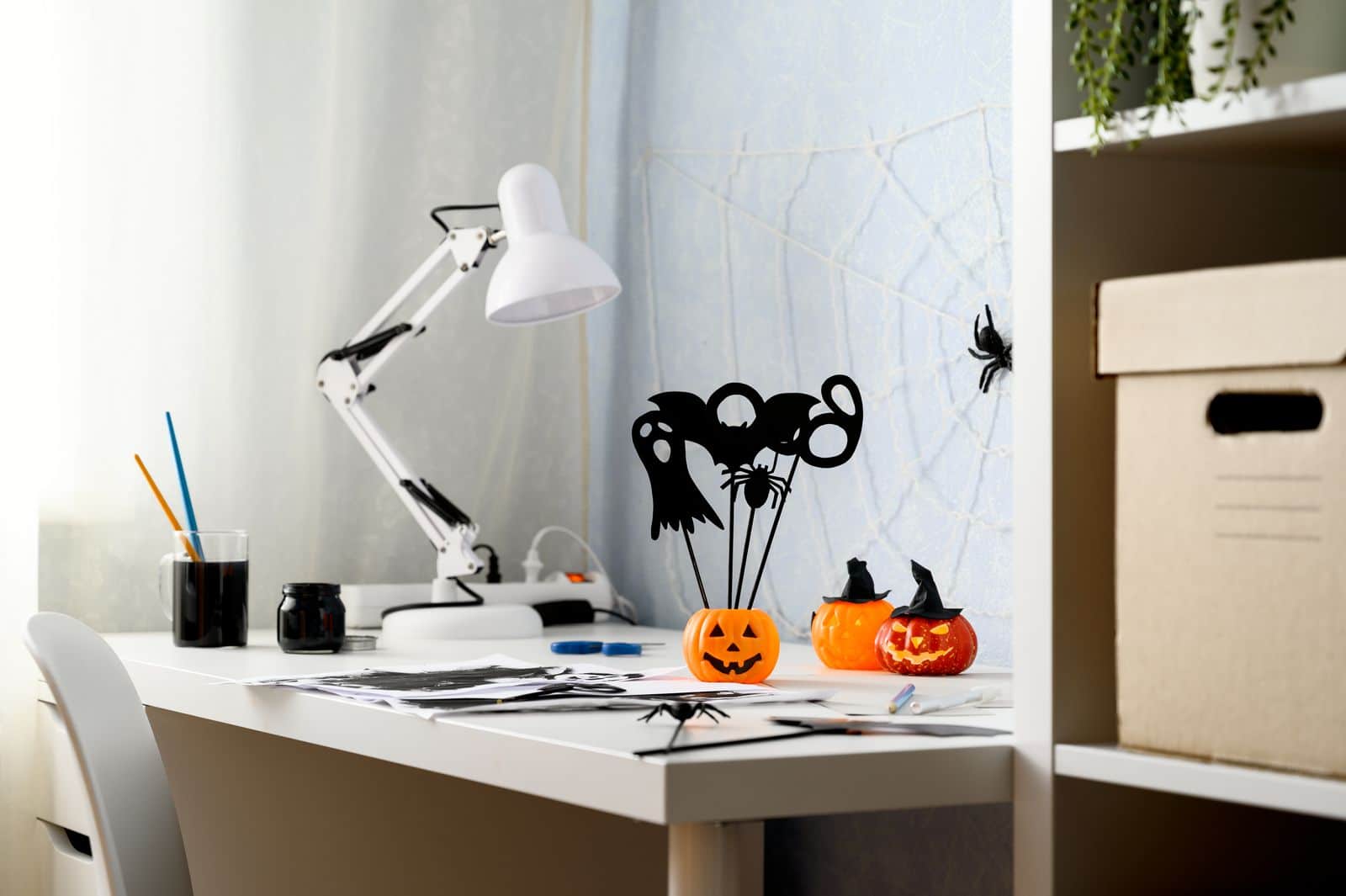 Whether you're still working from home or you're back at the office, you can add a bit of Halloween to your workspace. Although you might not have ample space to add Halloween décor, small decorative items will do the trick.
For instance, you can focus on dressing up your desk for Halloween. Look for small items to add to your desk's shelf space or work surface, depending on the type of desk you have. You can add supplies such as Halloween-themed notepads or storage boxes that hold your documents and files. What about opting for a Halloween mug to drink your morning coffee? Decorating for Halloween has never been so practical!
And if you have a hutch attached to your desk, try sticking Halloween decals of bats or pumpkins to the hutch. This will give your space additional Halloween style, without taking up space on your desk. You could even search the web for an enchanting Halloween photo for your computer's screensaver.
Do It Yourself!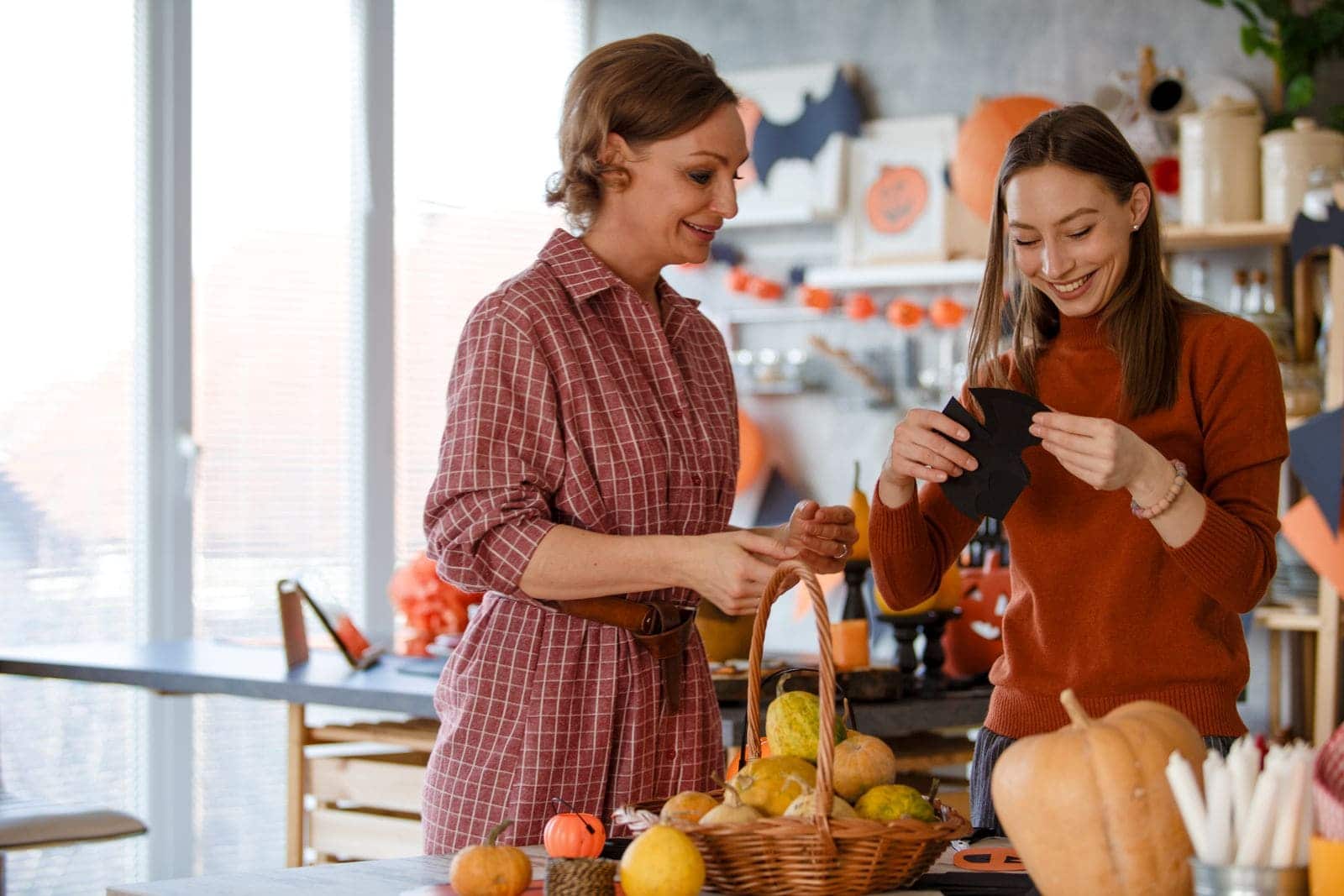 If you enjoy doing arts and crafts, you could consider making Halloween decorations this year. Whether you want to create simple or eccentric Halloween decorations, there are oodles of DIY projects out there. Search the web to get inspired and to find fun and easy DIY Halloween decorations to make. You could even consider making your DIY projects into an activity for the whole family. This could include holding a pumpkin decorating contest to see whose pumpkin looks the scariest! 
After you've made your Halloween decorations, find places around your home to display them (take a look at the list of places we mentioned earlier). You can be as creative as you want—without breaking the bank!
Creating a festive space this Halloween is easier than you thought. Every inch of your home can be used to display your Halloween decorations this year—even in the smallest spaces. COVID-19 might still be present in our lives, but that doesn't mean you can't get into the Halloween spirit. You can still enjoy this spooky season with clever, witch-approved Halloween decorations. Happy decorating!
Categories
Home