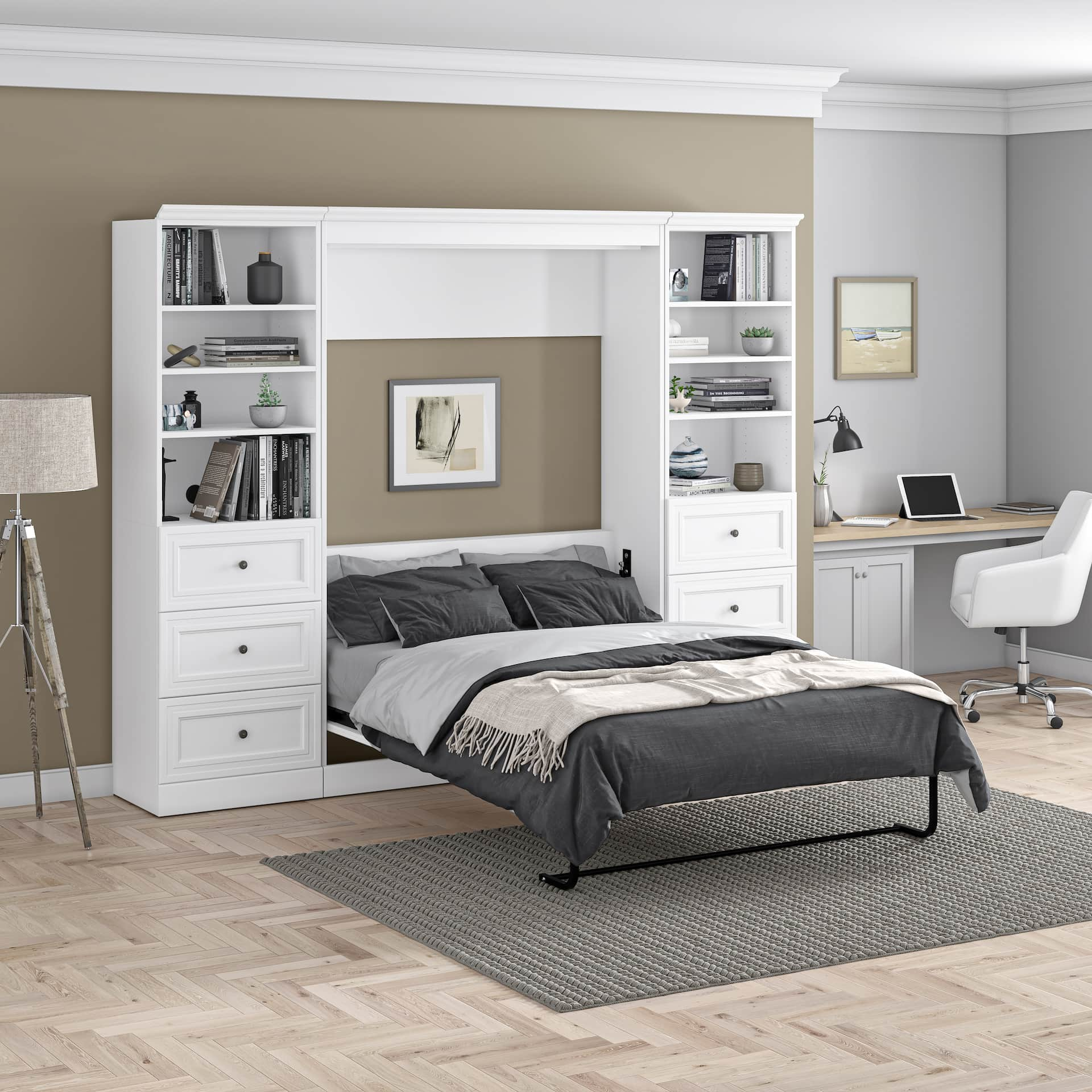 Organizing a bedroom space can be tricky, especially if you have a small bedroom. Busy schedules make it even more difficult to keep your bedroom in top shape. What's more, if you don't have an organizational system in place, it's even harder to maximize space and keep your bedroom looking its very best. Thankfully, there are plenty of smart, practical ways to save space in any size bedroom!
Although it might seem like a tall order, it's entirely possible to get the most out of your bedroom with the right space-saving bedroom ideas. Whether you're in an apartment, a condo, a house or a studio, you can create a comfortable bedroom space in no time. Keep reading to learn more about how to save space in a bedroom!
Opt for a Versatile Bed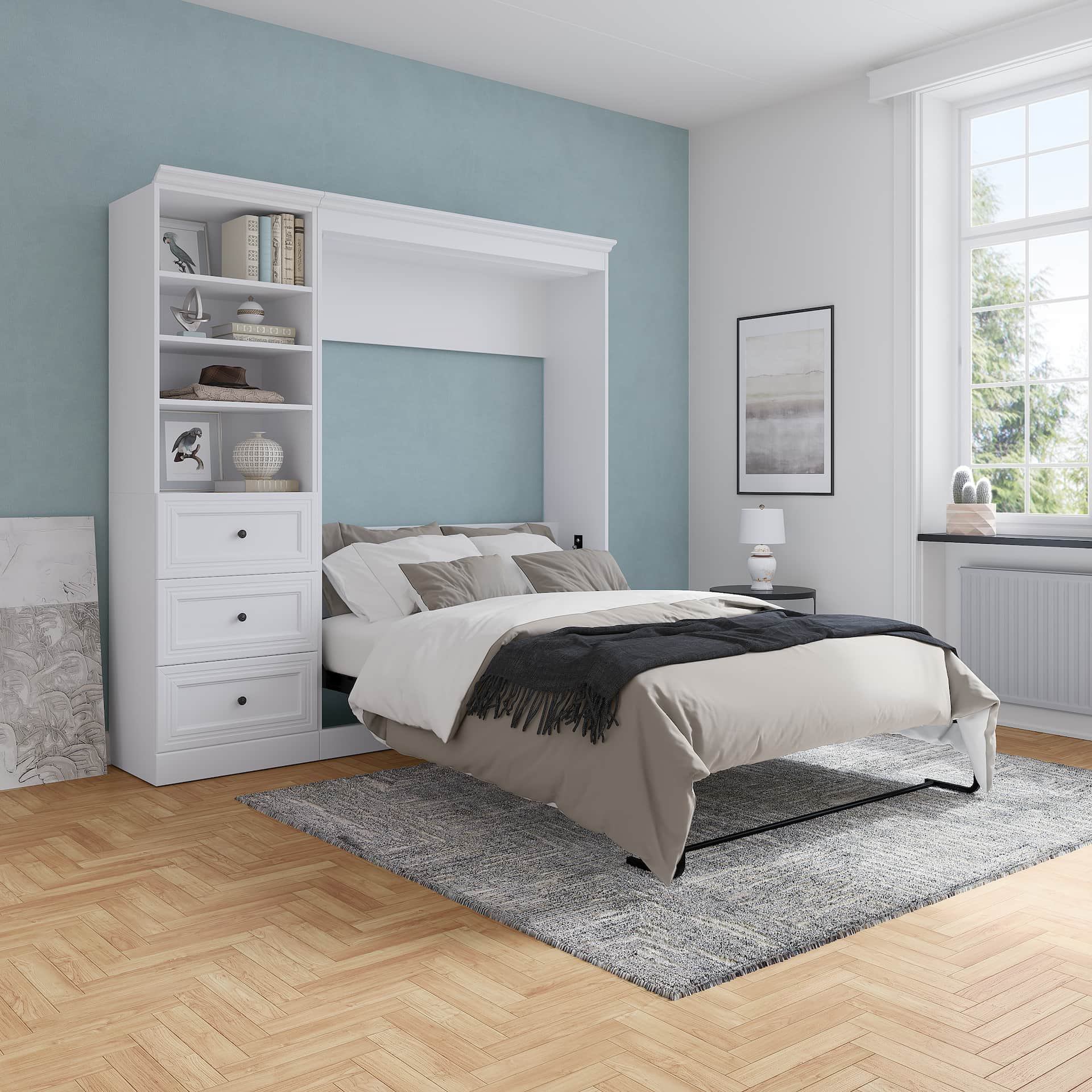 A bed can take up so much floor space, especially in a small bedroom. In some cases, the type of bed you choose can make your space feel smaller than it actually is. What about a versatile solution that offers both adaptability and comfort? At Bestar, you can choose space-saving bedroom furniture that checks off all the boxes on your list!
Murphy beds are always in style
Murphy beds are ideal for saving space in any room because the bed can be folded into the cabinet. Each unit has a dual piston system, making it easy to fold the bed up and down smoothly. When you're ready for some shut eye, simply pull the bed down and get comfy. To close the bed, lift the bed frame and push it into the cabinet. It's never been easier to free up floor space! What's more, you can keep the bedding on the mattress, even when it's folded away. Isn't that great? All depending on your space, you can opt for a model that comes with shelving units to store clothing, bedding, and more.
If you're looking for even more practicality, why not go with a sofa Murphy bed? This is a great option for a studio apartment, basement, small bedroom, or guest room. Not sure how a sofa Murphy bed works? It's actually quite easy! When you want to use the bed, remove the back sofa cushions and pull the bed down; it will rest on the base of the sofa. When you're ready to use the sofa, lift the bed and push it into the cabinet, then put the cushions back on the sofa. Voilà! If you're not quite sure which size unit would be right for your space, you can opt for a model with or without storage options. By day, you can enjoy the comfort of the sofa. By night, you'll have a lovely, comfy bed to sleep in. No matter what size your bedroom is, you can make full use of your space with a Murphy bed.
More folding bed options to choose from!
Another space-saving furniture option to consider is a cabinet bed. Similar to a Murphy bed, Bestar cabinet beds are easy to use and offer comfort and versatility. If you have a small bedroom layout, a cabinet bed can be moved around the room, so you can adapt your space to your specific needs. To use the bed, all you need to do is pull it out of the cabinet and fold the legs down. When the bed isn't being used, it serves as a stylish, decorative unit. On top of the cabinet, you can put a TV, decorative items, media or more. If you want additional storage to your space, you can opt for a cabinet bed that comes with a hutch or storage cabinets. When you're sleeping, you can even charge your devices thanks to the USB/power outlet inside the unit. Oh, and the best part: You don't even need to buy a mattress! Each Bestar cabinet bed comes with a foam mattress that's 100% hypoallergenic. How great is that?
Get Rid of Clutter and Stay Organized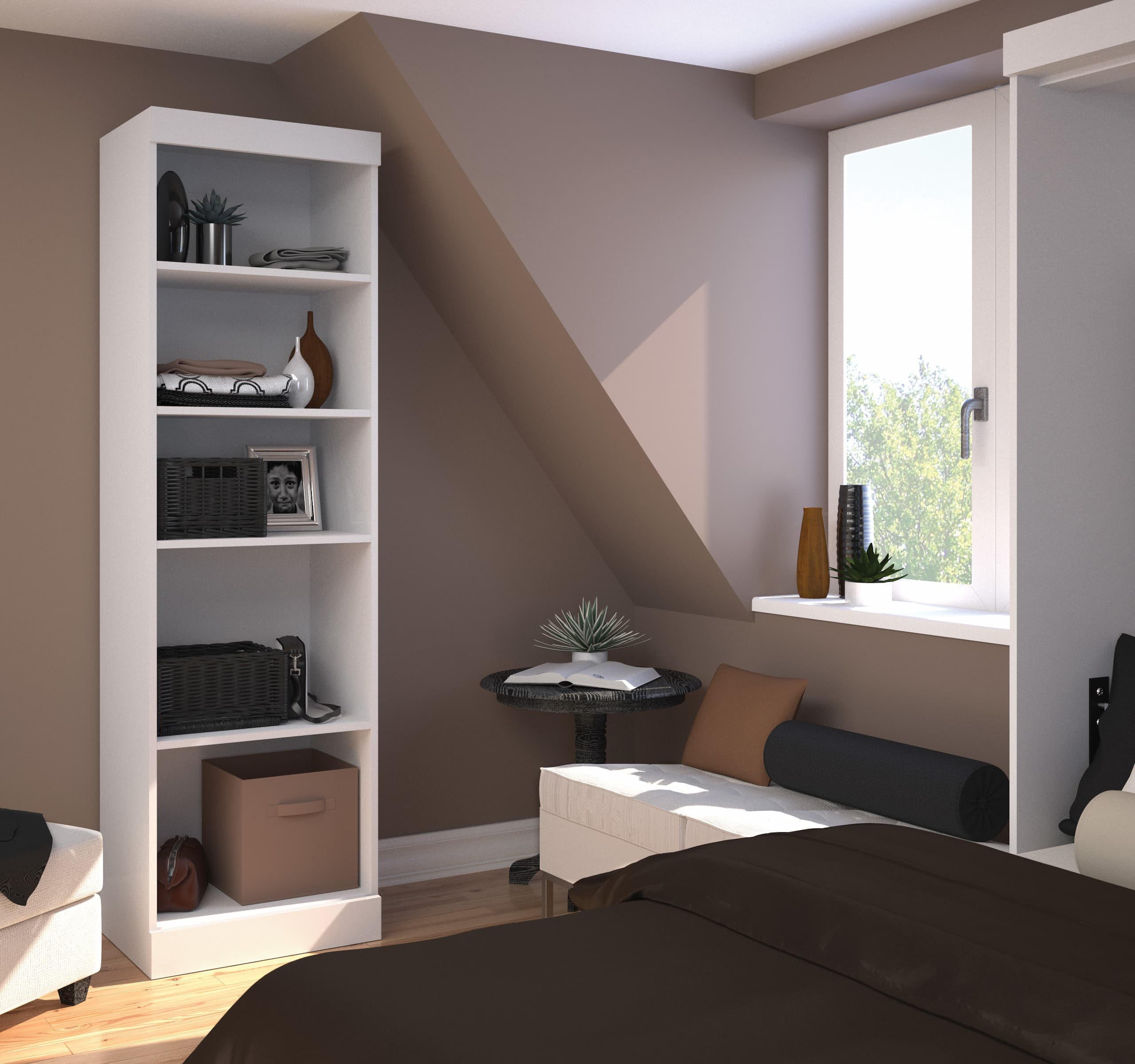 No matter what size bedroom you have, it's important to avoid clutter and keep your space neat and tidy. But when you have loads of items, it can feel overwhelming to try and find a place for everything. However, the first step is to get rid of what you don't use or need. Afterwards, you'll be able to focus on organizing.
Go through all your belongings
Do you have clothes at the back of your closet that you haven't worn in a long time? What about the countless handbags or shoes that haven't been used in months? It's the perfect time to go through your belongings and get rid of what you don't need! To avoid being overwhelmed, you can start with your clothing, then move onto accessories. Once you've decided on what you're keeping, you can sell your other belongings at a yard sale or online, or you can even donate them to a local charity. Reducing clutter can also be eco-friendly!
Consider small bedroom storage ideas
To organize the rest of your belongings, why not opt for small storage options for your bedroom? A narrow shelving unit would be great to keep your items organized and within reach. For example, if you need space to house your extensive CD or DVD collection, a shelving unit is an ideal option. If you love to read and have tons of books that need to be organized, you might also consider opting for a bookcase as well. Bestar also has bookcases in a variety of sizes, so you can find the right size unit for your bedroom.
Choose a Closet Storage System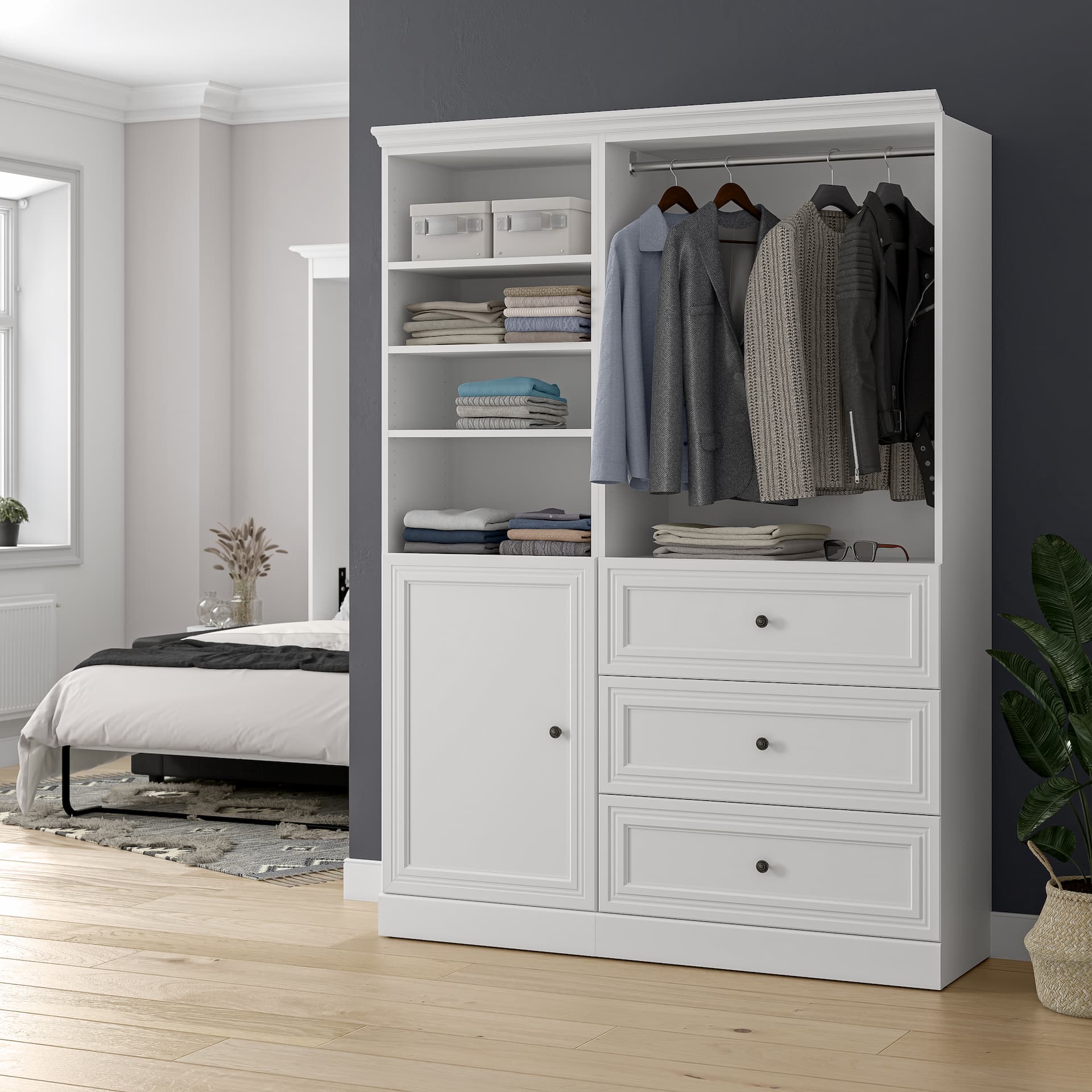 Of course, one of the most important things to have in a bedroom is an organizational system for your clothes and belongings. You need to find a way to keep all your items stored away, while maximizing space. The best way to get organized in your home is to have a practical closet storage system in place!
When you get up in the morning, there's so much to do before your day starts. You need to get your kids ready for school, prepare for the budget meeting, feed the dog, and so on. The last thing you need is to think about where you put your lucky tie or your favourite skirt. Luckily, a closet organizer can keep all your belongings neat and organized. The open concept allows you to easily find what you're looking for (perfect for saving time and space!) In addition, most organizers come with a hanging rod for your dresses, shirts, pants, and more. Some models also have drawers and shelving, which are perfect for storing items such as ties, jewellery, socks, and hats. What's more, you can choose a unit that fits in your bedroom and matches your decor. Opt for a walk-in closet model or a simple organizer, all depending on the space you have.
Bestar also has wardrobes that can keep all your clothing hidden but neatly stored away. Easily store all your shoes, clothing, ties, bags, accessories, and more inside the wardrobe. No matter which closet storage option you choose, you'll enjoy an organized and stylish bedroom!
Use Every Inch of Your Space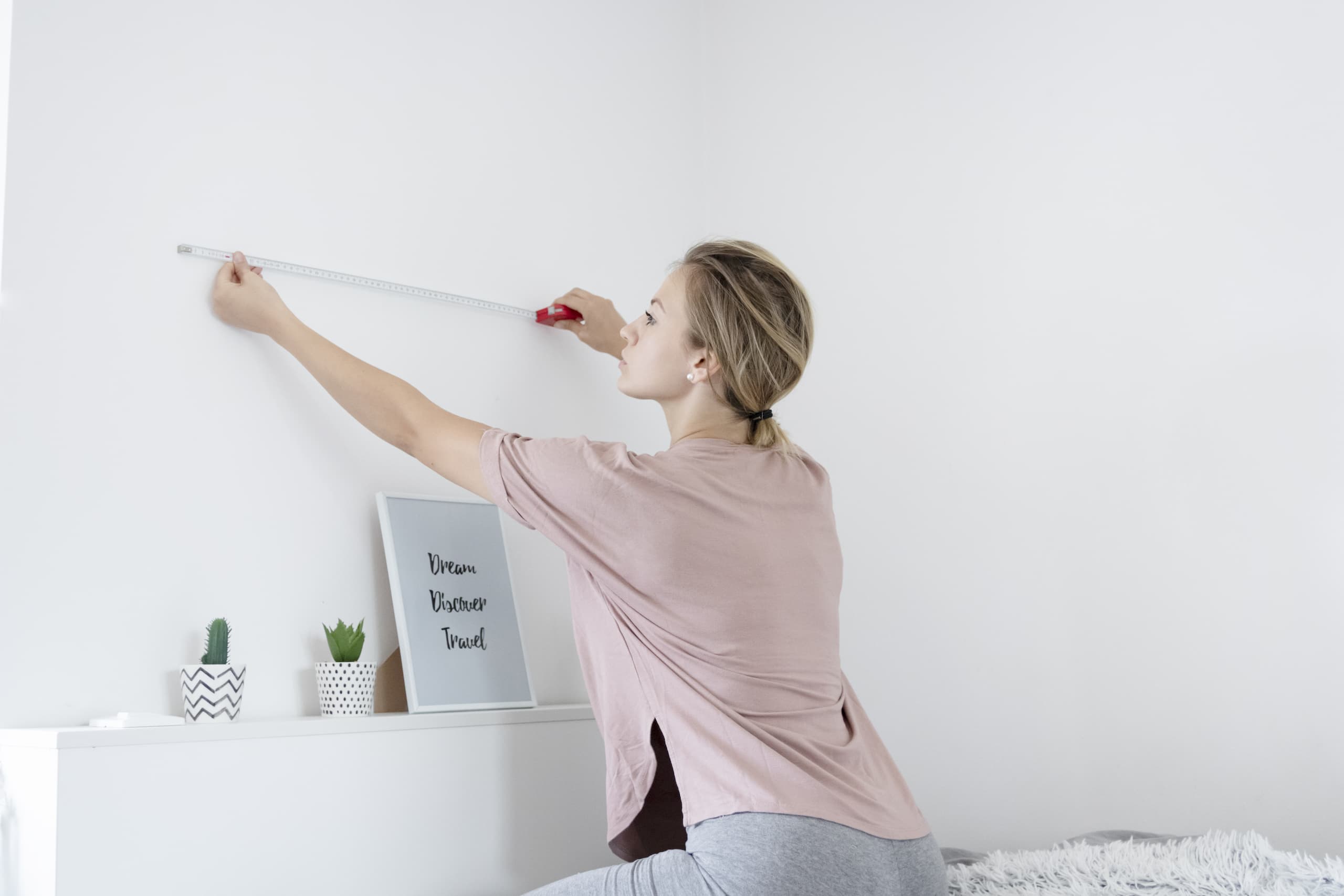 Finally, there are plenty of clever ways to keep your space organized. Arranging the perfect bedroom is possible when you take advantage of all the available space!
Using the walls in your bedroom is a smart way to maximize space. For instance, you might consider adding floating shelves or cubbies in your bedroom. These are great options because they take advantage of the wall space that would otherwise be unused. You can store pictures, books, plants, awards, artwork, and much more on these shelves. The choice is entirely up to you!
If you're looking for even more bedroom organization ideas, you can consider opting for an over-the-door hanging rack. This option will give you even more space to store your smaller items, such as jewellery, shoes, accessories, makeup, and more. Not only will you save space, but you'll also use every inch of space in your room!
Finding ways to save space in a bedroom can be a challenge, especially if you have a small bedroom layout. You need to think about where to place your bed, what storage options will fit in your space and so on. No matter if you have a small or large bedroom, it's important to find space-saving bedroom ideas that work with your specific space!
If you've tackled your bedroom already and have enough space-saving bedroom ideas for now, then maybe you're ready to find ways to save space in the different rooms in your home. Check out our blog about organization essentials for every space in your home for more ideas.
Categories
Home
,
Organization
,
Small Spaces