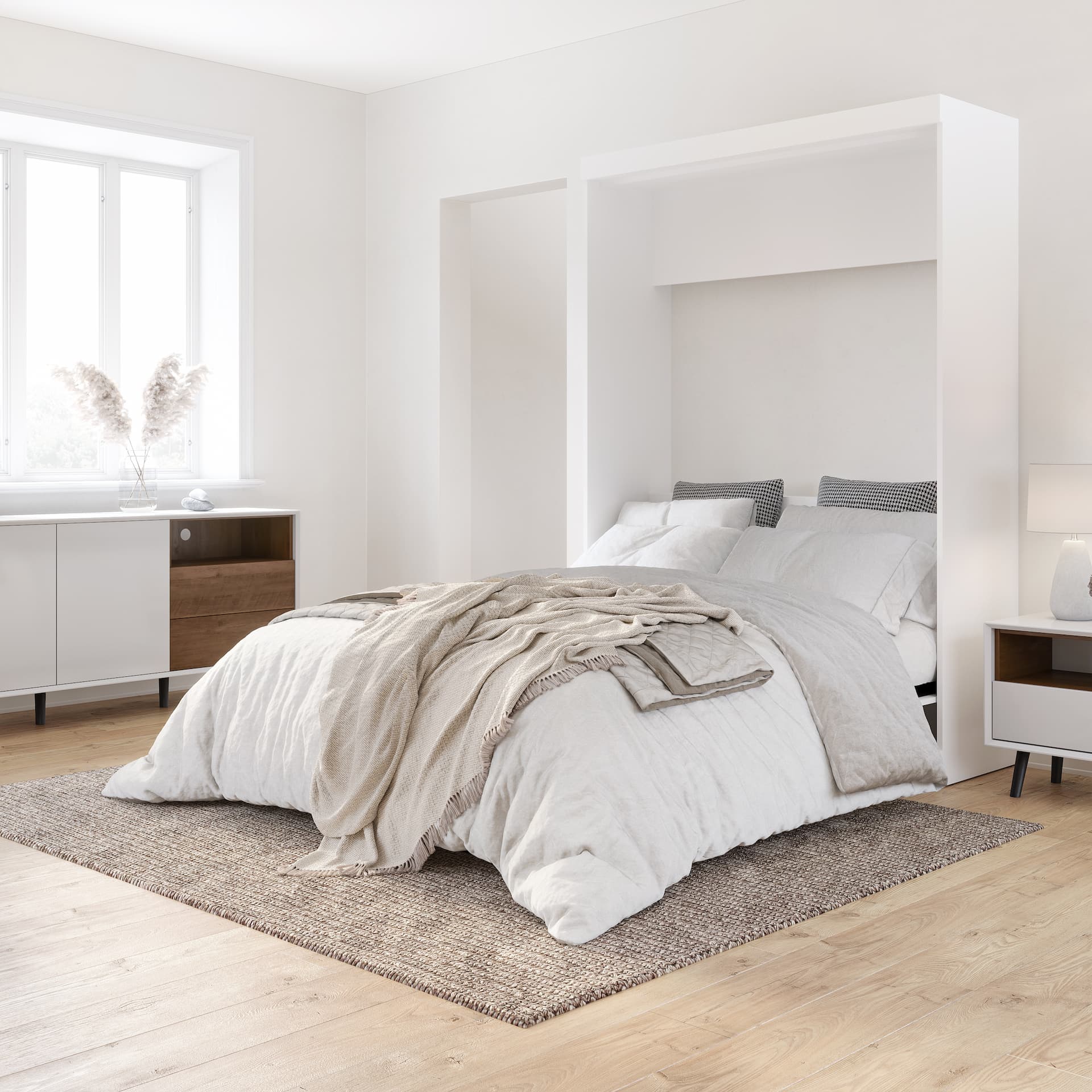 Due to the COVID-19 pandemic, we are spending more time at home than ever before. That means we need more space to do our everyday activities, including work and even online learning. However, finding furniture that helps you get the most out of your space can be a challenge, especially if you have little space to work with. However, there are different transforming furniture solutions, such as a Murphy bed, that can maximize space—without taking up space.
With the variety of transforming furniture solutions available, you'll surely find something to fit your needs. Ready to find out more about transforming furniture and how it can help you maximize space and stay organized? Take a look at some transforming furniture suggestions below!
Murphy Bed With a Desk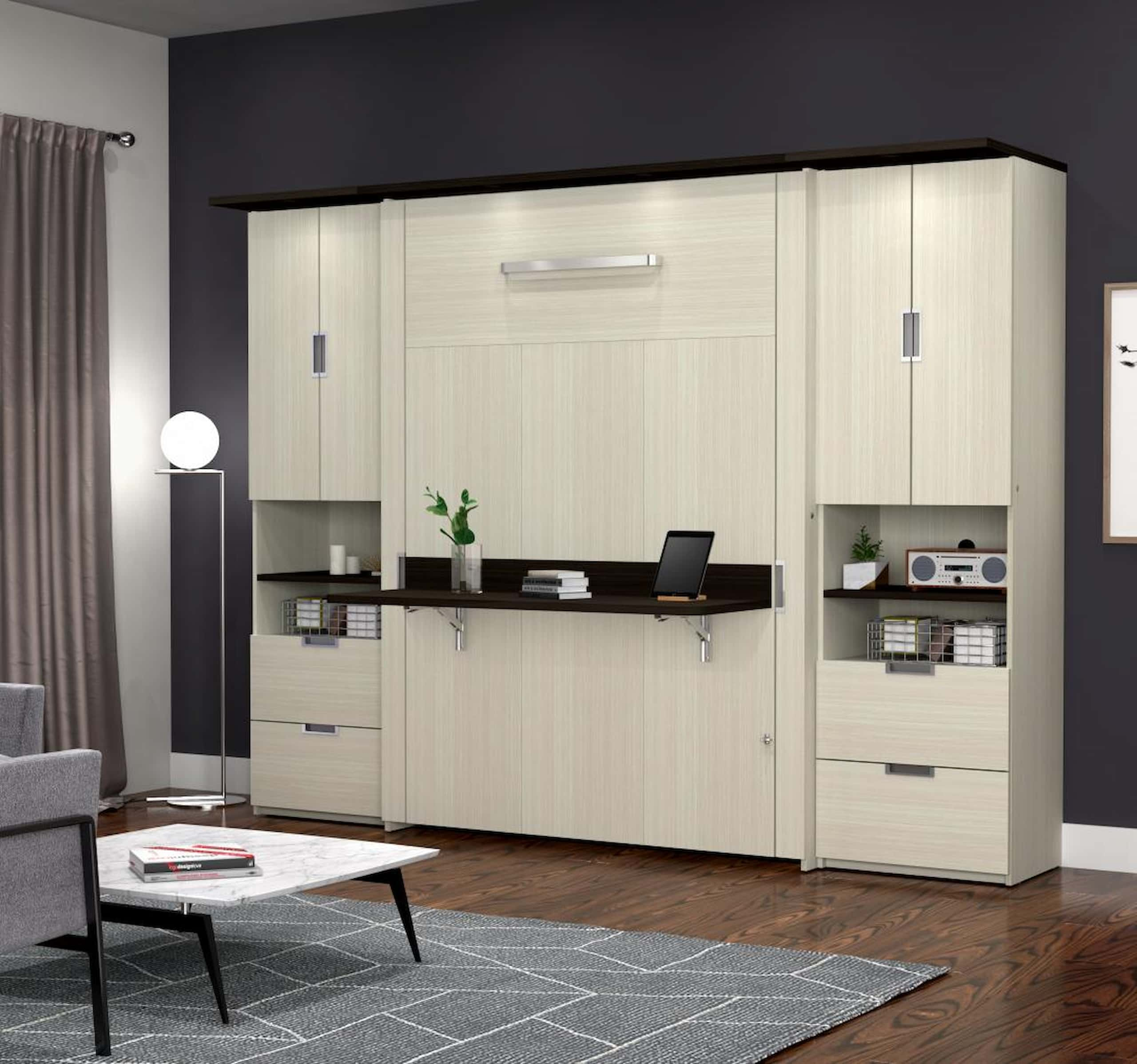 Are you still working from home? Or maybe your child is learning online this year? If so, then you might consider opting for a Murphy bed with a desk for your home. Simply fold the desk when you're done with it and pull the bed down from the cabinet. That's it!
A Murphy bed with a desk is the perfect transforming furniture option if you need a place to work, but don't have space to add a large desk. This transforming furniture piece fits nicely in practically any space, including a living room, basement, or guest room. Instead of creating an entire office/study space, you'll be able to create a multipurpose room. Some models come with storage options to help keep your space organized. You can have a quaint space to get work done during the day and a bed at night for guests—or even for a family sleepover!
Moreover, a Murphy bed with a desk is extremely practical and easy to use. The dual-piston system makes folding the bed up and down safe and easy for users. Another convenient aspect of this transforming furniture solution is that you can leave the linen on the bed when folding it away in the cabinet. This way, you won't have to make the bed each time you want to use it. All you need to do is pull the bed down and enjoy a restful night's sleep.
Sofa Murphy Bed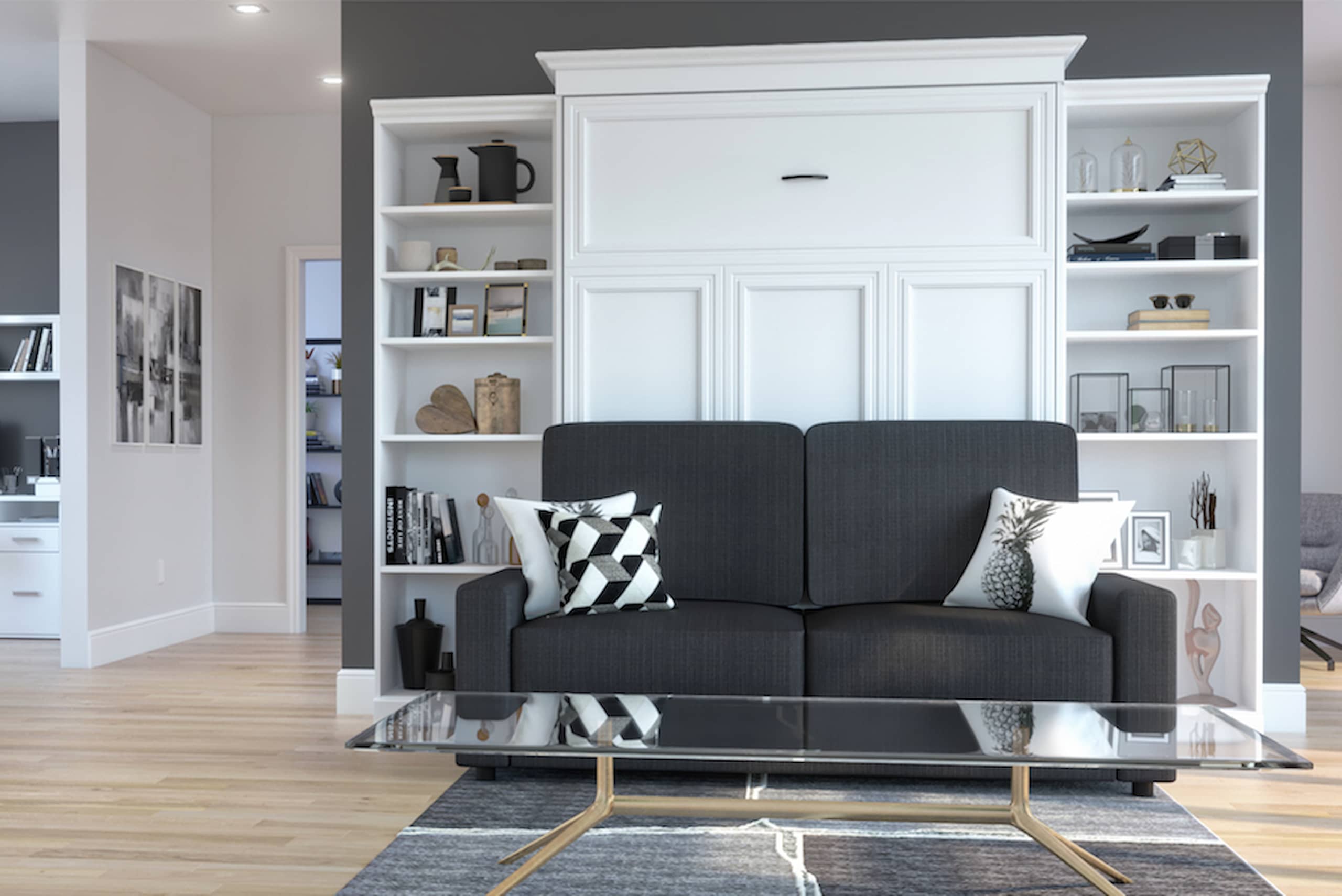 A truly unique piece of transforming furniture for your home is a sofa Murphy bed. Another variation of the Murphy bed, the sofa Murphy bed provides a place to sit and sleep. It's the perfect space-saving solution for those looking for practicality and comfort.
Not quite sure how a sofa Murphy bed works? No worries! When you want to use the bed, remove the cushions from the couch and pull down the bed. The sleeping surface will fit perfectly between the armrests and will rest on the base of the sofa. You'll have a comfy place to sit and rest during the day, and you'll have a beautiful bed to sleep in at night. It's so convenient!
Another unique feature of this transforming furniture solution is that the sofa can be added on to any Bestar Murphy bed. This means you'll be able to choose a model that works with your décor and space. Murphy beds also come in different styles and designs to suit your needs, so you'll find something that fits in perfectly. You can even opt for a sofa Murphy bed with storage units to keep all your belongings stored away and even have your most precious items on display.
Cabinet Bed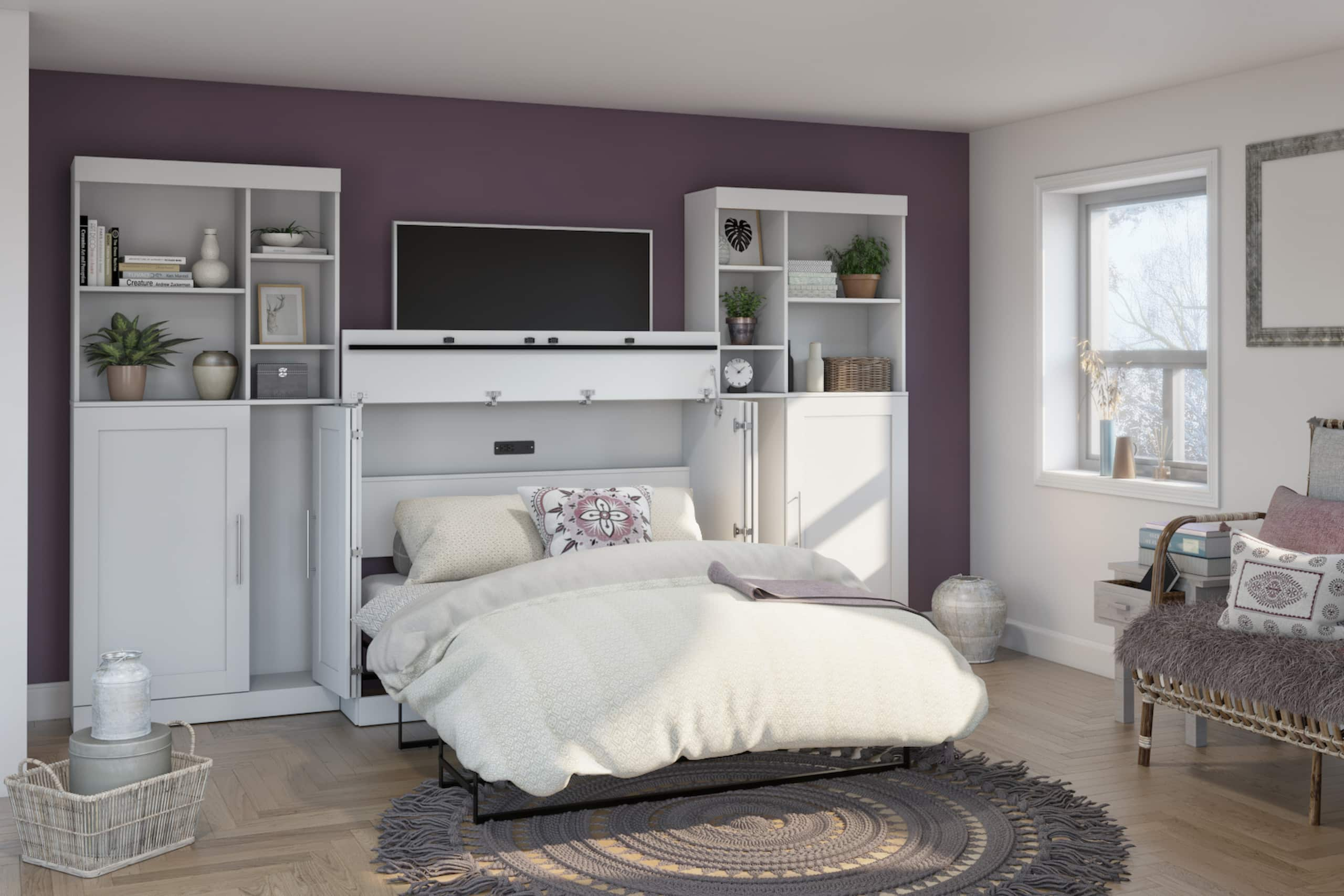 The cabinet bed is a transforming furniture variation of the Murphy bed. Cabinet beds are extremely practical for small spaces such as condos, apartments and basements. They are also free-standing, which means you can move them anywhere in your home. Cabinet beds are particularly ideal for guest rooms because they provide ultimate comfort and convenience for overnight guests. When the bed is folded away, the cabinet stands as a beautiful sideboard—saving you space in your home!
Some cabinet beds come with storage units, which keep your space organized and tidy. You can choose between a 3-piece, 5-piece and 6-piece set, depending on your storage needs. The ample storage room in these units can store media, books, electronics and so on. Even if you opt for a cabinet bed without storage options, the top of the cabinet is perfect for displaying books and even a flat-screen TV. Also, inside each Bestar cabinet bed is a narrow shelf that's great for holding your glasses or cellphone while you're sleeping. You'll have space to store your belongings, no matter which model you choose.
Another perk to having a cabinet bed is that you won't have to find a mattress because each bed comes with a D25 foam mattress that's 100% hypoallergenic. You can rest easy knowing your guests will sleep comfortably in their bed. It's a win-win for everyone!
Shelving Unit With a Fold-Out Desk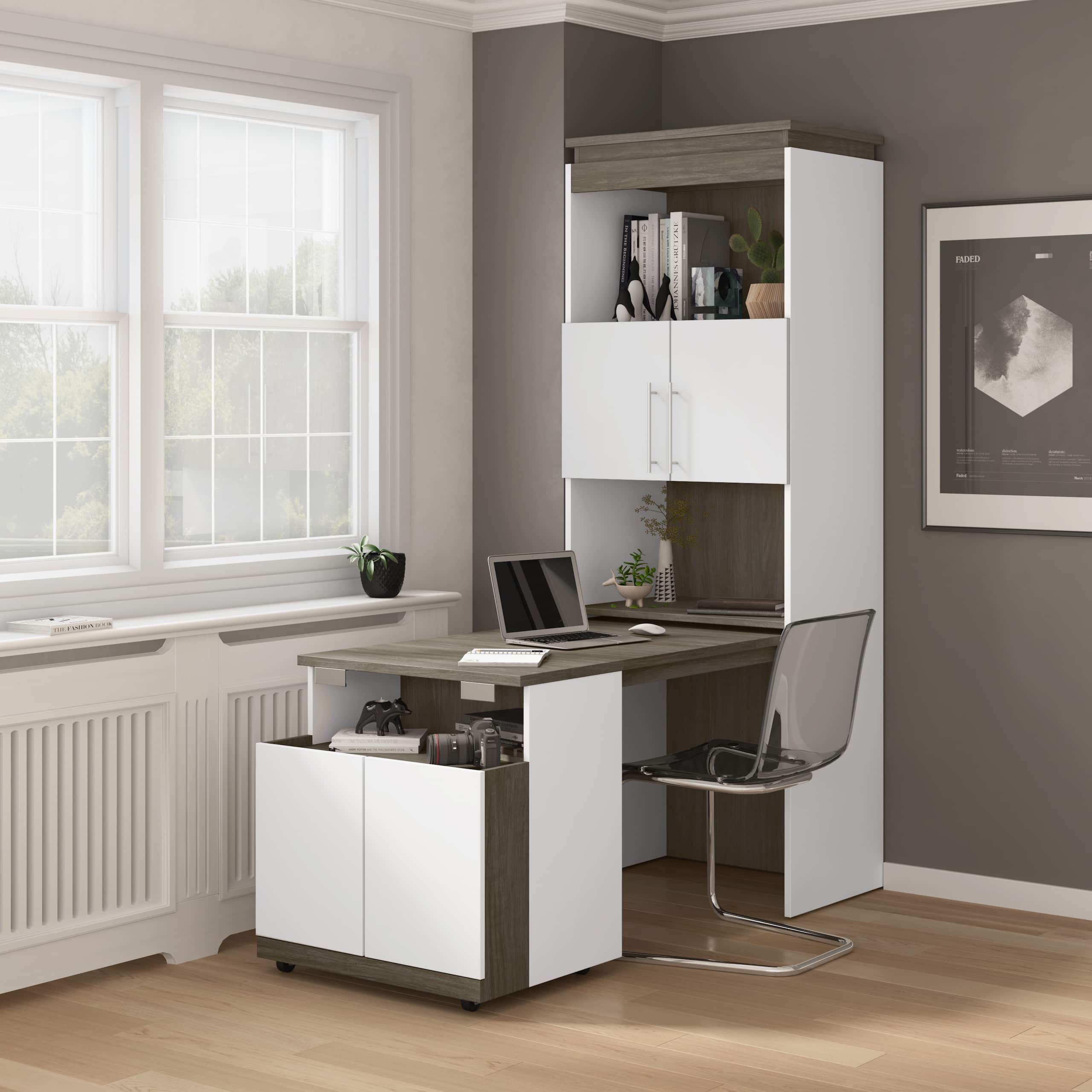 If you're looking for transforming furniture solutions for your home, then you have to consider a shelving unit with a fold-out desk. This one-of-a-kind option is the ultimate multipurpose piece because it transforms from a simple shelving unit into a desk. A convenient and clever furniture solution for your multipurpose space!
The shelving unit stands on its own or can be attached to a coordinating Murphy bed cabinet, providing ample storage space for all your belongings. To use the desk, pull out the bottom section on wheels and the desktop will fold out to form a desk. When you're done using the desk, clear the desktop and push the bottom section back towards the unit to fold the desktop away.
But, where will I be able to keep all my supplies when the desk is folded away? The shelving unit comes with shelves suitable for storing papers, a laptop, and other office supplies. They'll be within reach when you're sitting at the desk, leaving the desktop clutter-free. If you want to keep all your pens, notepads, and paper clips neat and organized, browse home office organization tips online for inspiration.
Lift-Top Coffee Table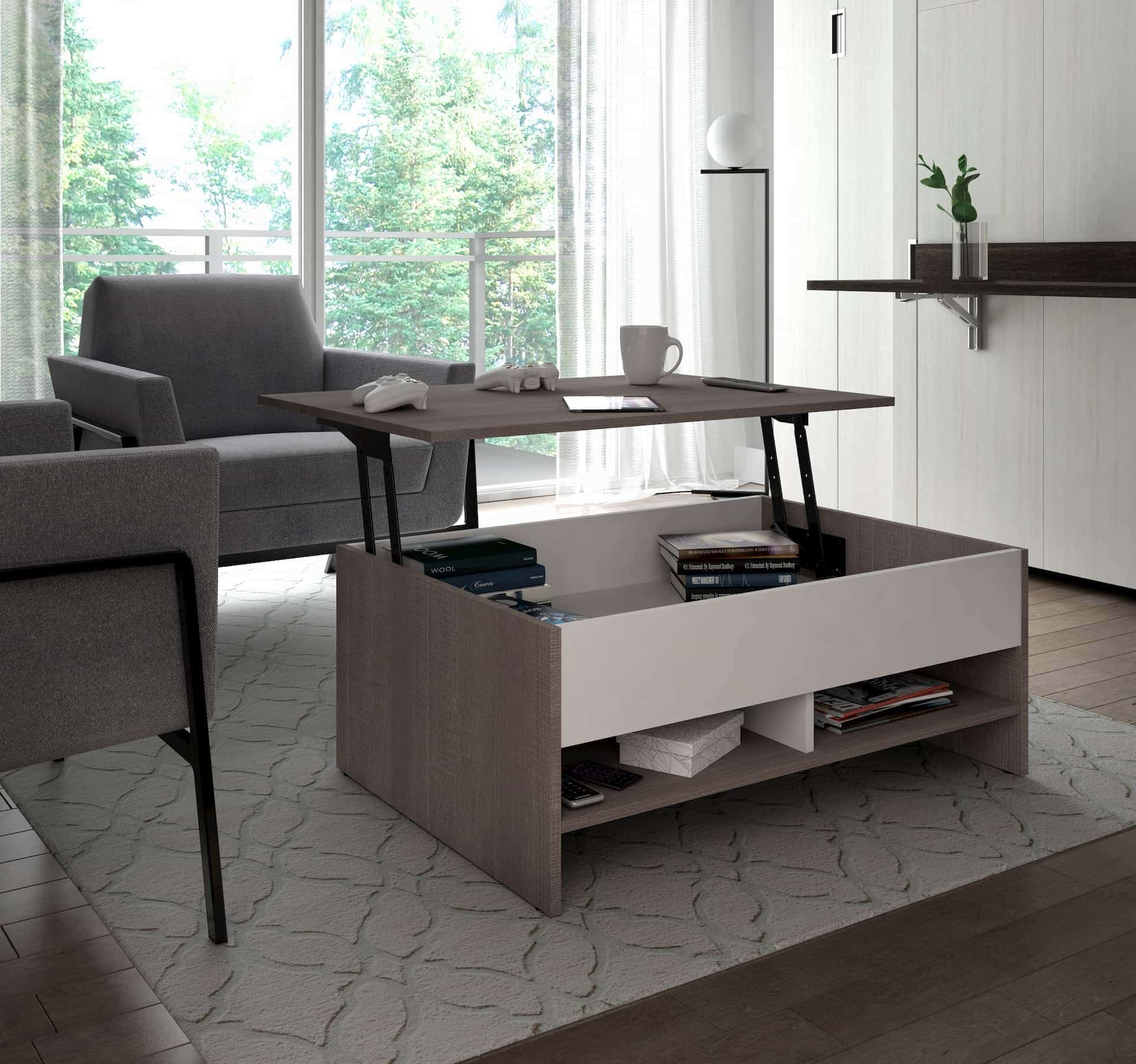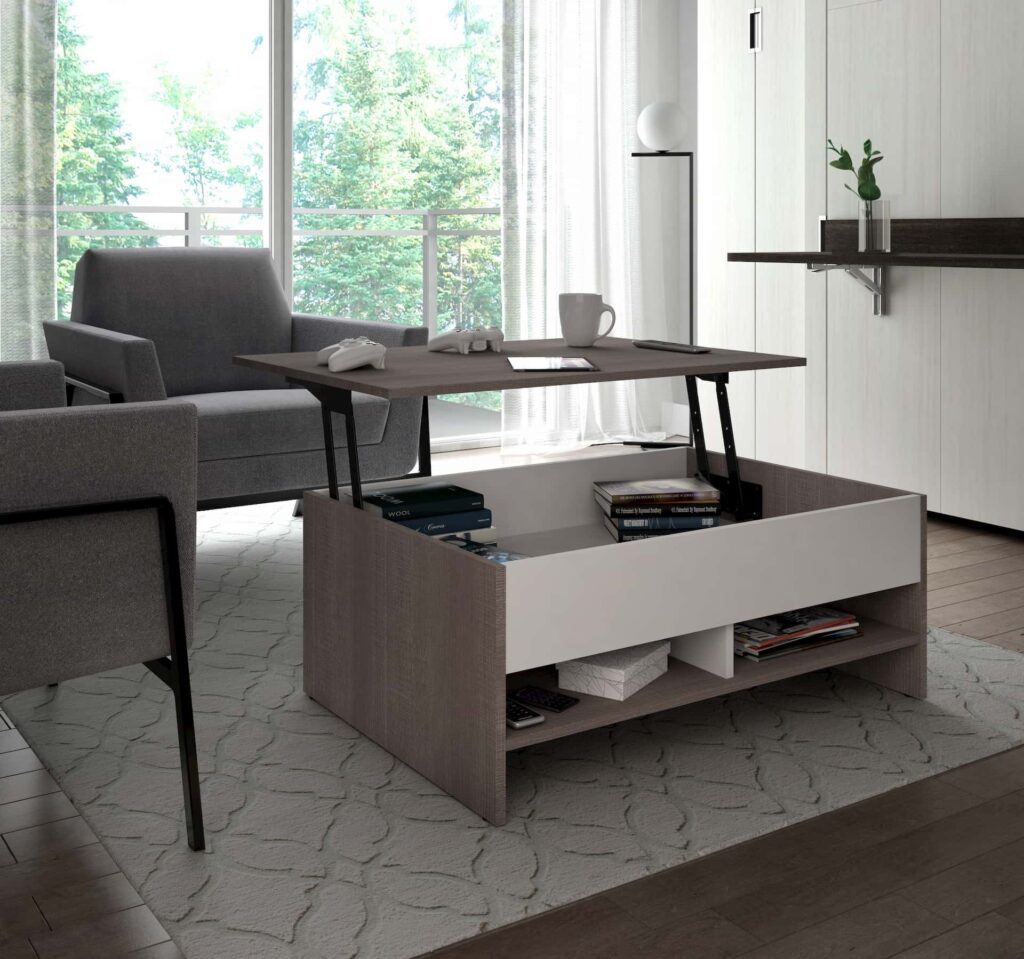 Transforming furniture can help you save space and stay organized—anywhere in your home. For instance, a lift-top coffee table is great for keeping your living room space tidy. You can use the coffee table as a simple storage unit and the lift-top surface as a desk. It's a must-have for entertainment spaces!
In terms of organization, the inside storage compartment has plenty of room to house items such as books, DVDs, board games, etc. Our lift-top coffee tables also offer two open storage compartments at the bottom for smaller items such as remote controls, tablets, and magazines. Your belongings will be stored away and ready to use at any time.
However, the truly unique feature of this Bestar coffee table is the lift-top function that you can quickly raise from regular height (17 inches) to an elevated position (25 inches). This function is perfect if you want to do a puzzle, write in your journal, or even dine in front of the TV. When the lift-top surface is closed, you can use the table just as you would any other coffee table. You'll also have peace of mind knowing the surface is resistant to scratches, stains and wear—goodbye coffee stains! Moreover, the Bestar lift-top coffee table comes in different colours and styles, so you're sure to find a model that works with your current furniture and living room space.
As we spend more time in our houses, it's becoming crucial to maximize space in our homes. One way to get the most out of your space is to opt for transforming furniture. These clever solutions serve different purposes, particularly to save space and stay organized. Whether you opt for a sofa Murphy bed or a lift-top coffee table, your home will certainly benefit from transforming furniture this year. Maximizing space in your home has never been easier!
Categories
Home