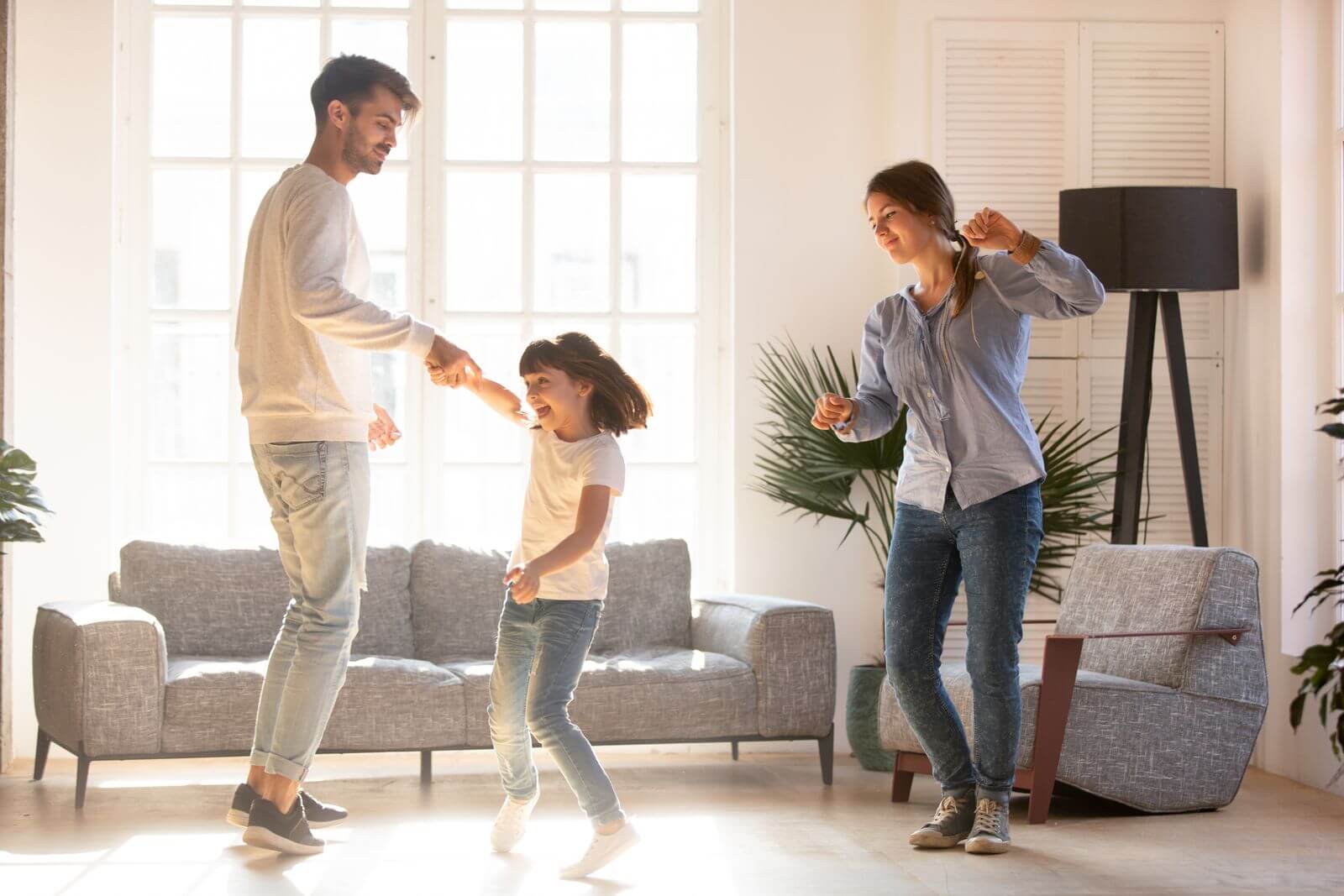 We know that it can be frustrating to stay inside for long periods of time. However, it is crucial that we all do our best to flatten the COVID-19 curve. One way to make your house or apartment feel less small and cramped is to invest in space-saving furniture that opens up the rooms in your home.
When you have to stay inside, you want to avoid feeling trapped and confined. Space-saving furniture can give you the impression that your space has opened up and your home has become larger. Open, airy spaces allow you to move around freely and do more activities.
The following list includes some of our favorite space-saving pieces. We hope that they can bring you some much-needed relief during these trying times!
Murphy Bed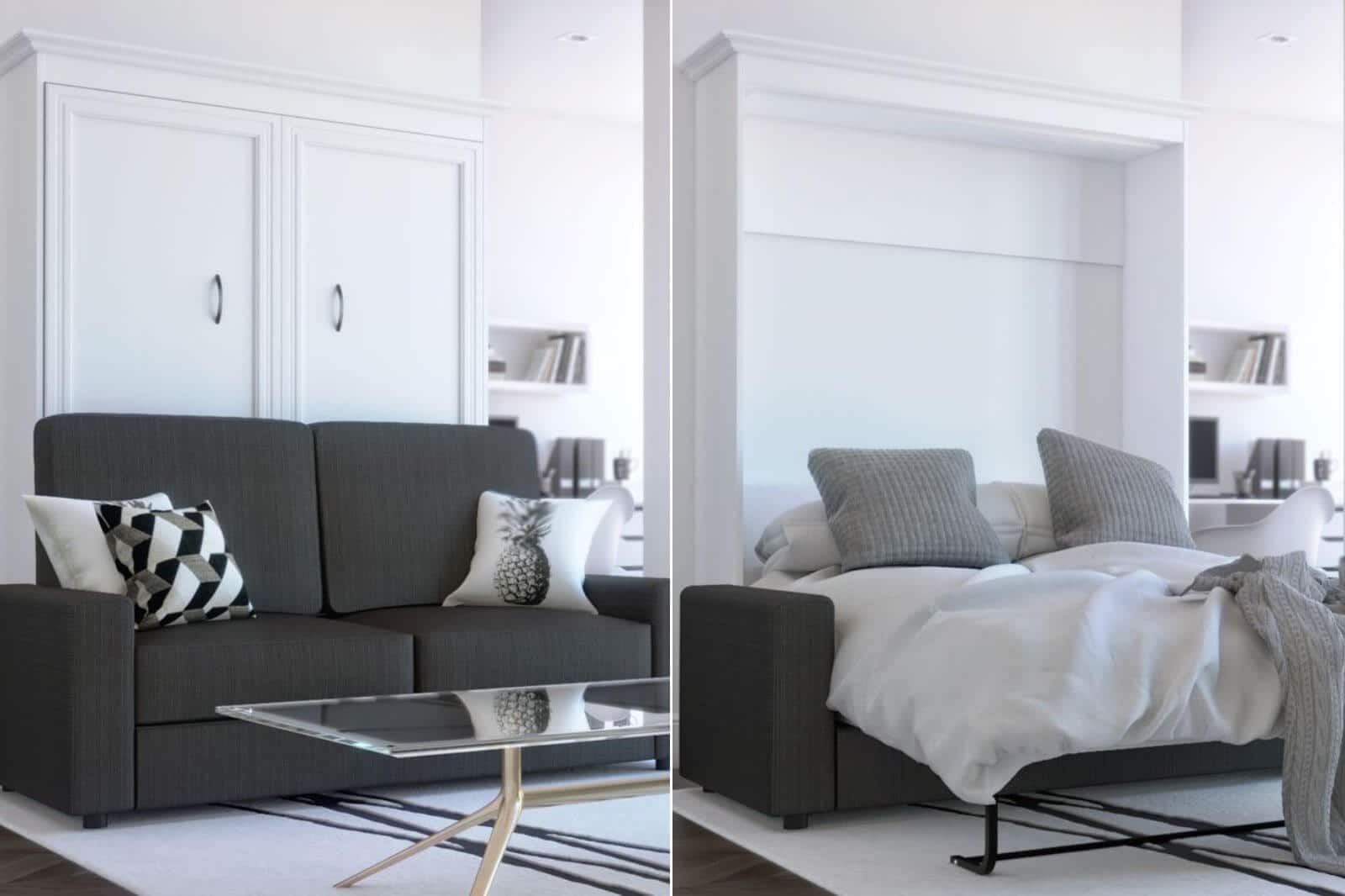 Used most often for space-saving purposes, Murphy beds are popular where floor space is limited, such as in small houses, apartments, hotels, mobile homes, and even college dorms. Instead of trying to work a sleeping area into an already cramped layout, you can opt for a Murphy bed which is stored vertically, inside an attractive cabinet, against the wall. This frees up considerable space that can be used to its maximum capacity.
Many people have created multifunctional rooms thanks to the addition of a Murphy bed. Imagine how much more space you could have for a home gym, a playroom, an arts and crafts room, or a home office if your bed wasn't in the way. After all, one of the biggest consumers of square footage in any home is the bed.
Do yourself a favor and free up your floor space so you can spend more time doing things you love, and less time feeling confined inside your home. Some Murphy bed models come with sofas or storage units to provide you with even more flexibility. Murphy beds are definitely on the top of our list of clever space-saving furniture!
Cabinet Bed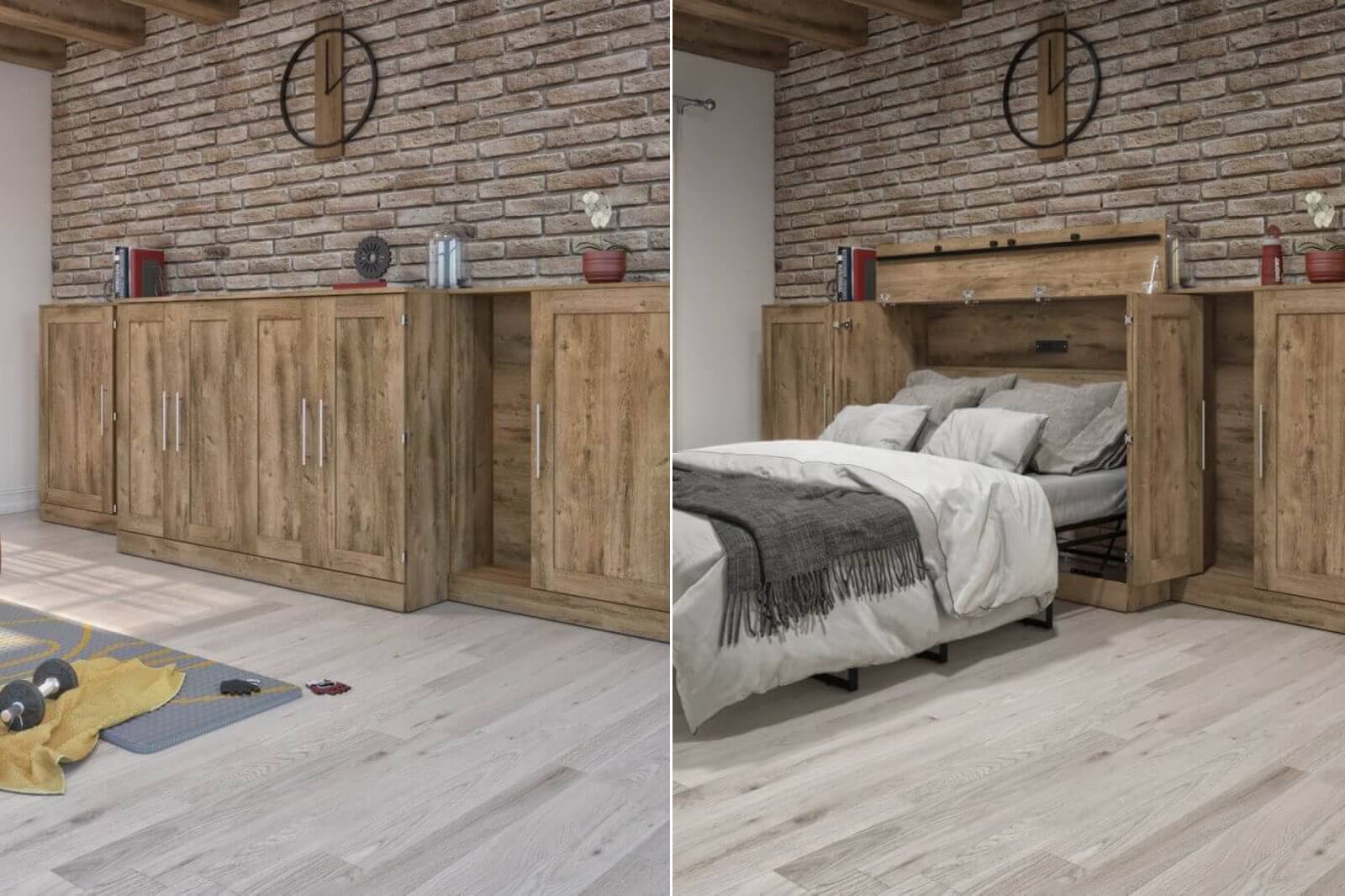 Similar to a Murphy bed, a cabinet bed is a bed that can be folded away and stored inside a cabinet. The main difference between the two: cabinet beds are free-standing and do not need to be anchored to a wall. This means that you can move your cabinet bed anytime and anywhere you want!
Cabinet beds are also smaller, meaning they take up even less space than a Murphy bed. When the bed is folded away, you are left with a beautiful sideboard that you are free to customize to your liking. Perhaps you plan on placing a television on top, or maybe you want to hang a beautiful painting above it; the choice is yours!
Cabinet beds, like Murphy beds, are designed to free up your floor space and give you the room you need for your activities. You can subtly transform any room into a sleeping area within seconds thanks to this space-saving piece of furniture!
Lift-Top Coffee Table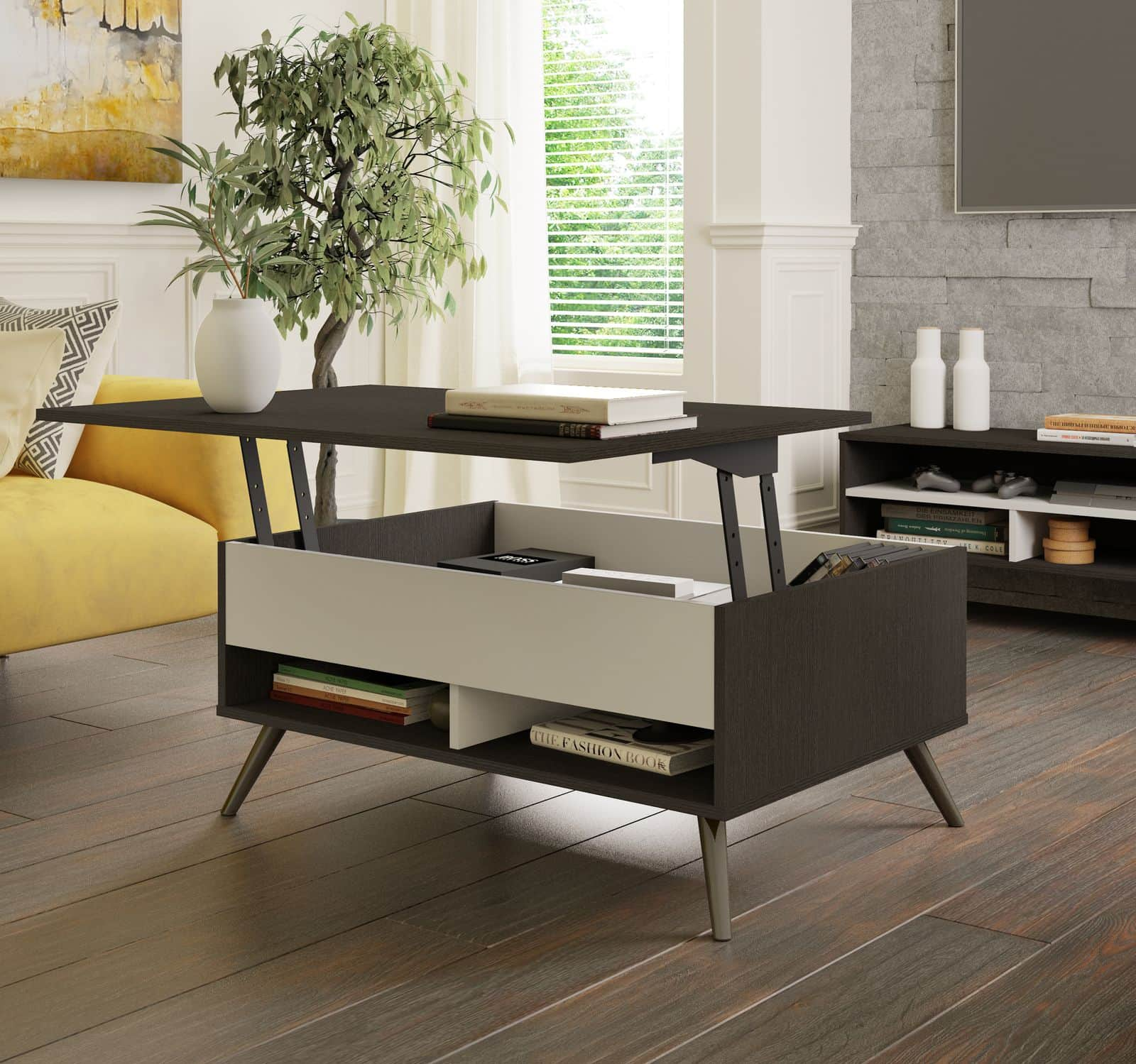 Lift-top coffee tables are cleverly designed units that can help you maximize space in your living room! As their name suggests, these units feature table tops that can be lifted, often revealing a secret storage space inside.
Not only do these tables offer you extra storage space, but they are also multifunctional, meaning they can replace more than one piece of furniture. If you and your family tend to eat your meals in the living room or if you like to work from your couch, then you probably have mini folding tables or lap desks to accommodate your needs. With a lift-top coffee table, those items become obsolete because a lift-top table can do it all!
When the top is lifted, it is at the perfect height for you to place your laptop and work or for your family to eat supper at. Forget about trying to find a place for those folding tables and lap desks when they're not in use and make the most of your space with this unique piece of furniture! A lift-top coffee table is both a practical and stylish space-saving solution!
Fold Out Desk, Floating Desk, Secretary Desk, Pull Out Desk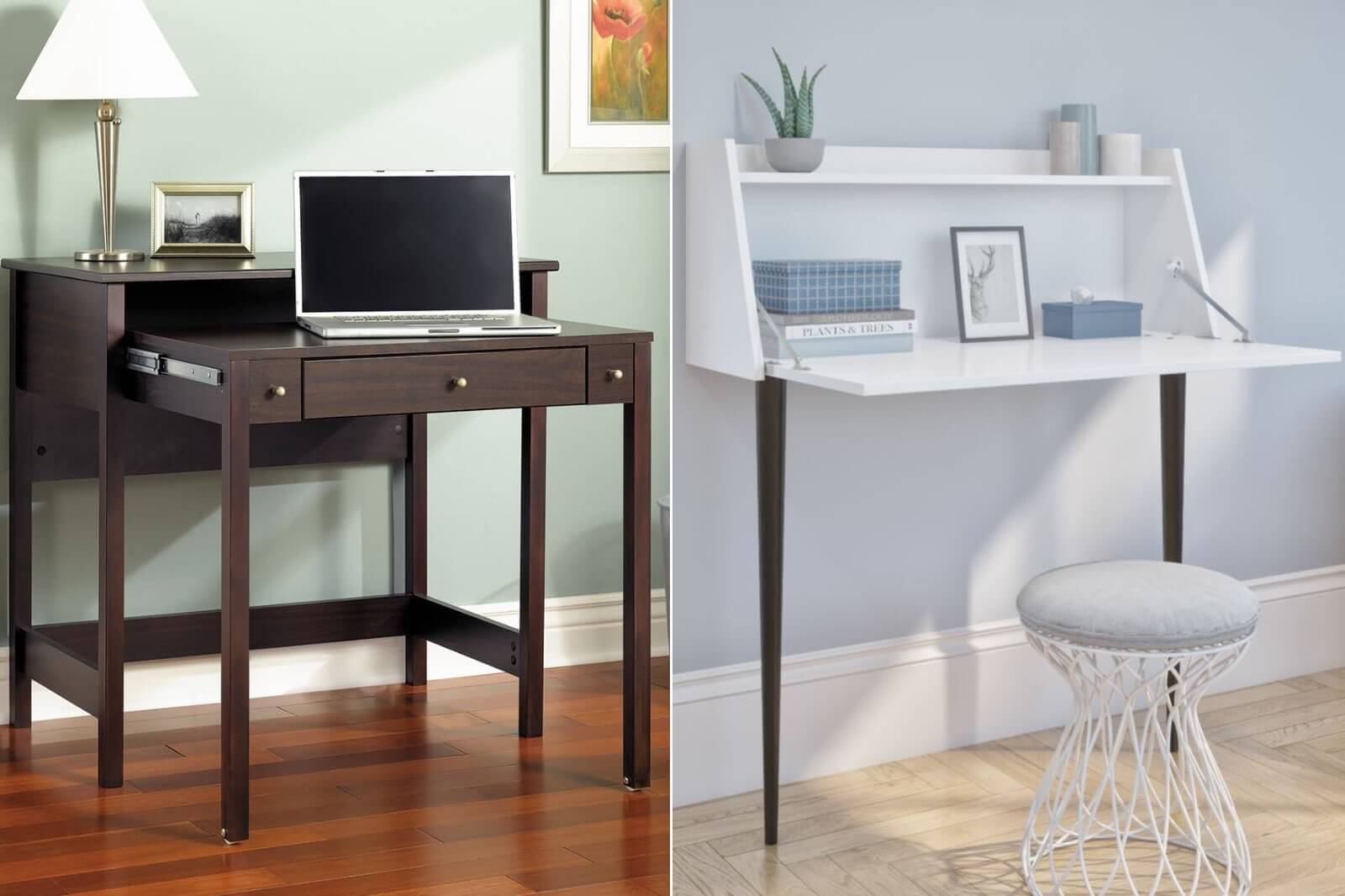 Many people find themselves working from home right now, but not everyone has the space for a large home office desk. If that's the case for you, and you want to invest in a smart space-saving solution, then why not try a fold out desk, a floating desk, a secretary desk, or a pull out desk?
A fold out desk functions similarly to a Murphy bed; it is a desk that can be folded up and that becomes a small cabinet-like structure on your wall. Much like Murphy beds and cabinet beds, these desks are all about saving floor space. When you're done with your work day, you can simply fold the desk away and open up your space for other purposes.
A floating desk is a desk that does not have any legs and that is mounted to a wall. Once again, opening up floor space is a key feature behind this kind of desk. Without legs in the way, you can easily maneuver around this desk anytime. Many models also feature extra shelving so you can add pictures and ornaments to decorate your space.
A secretary desk is a narrow desk with a flip-down panel that serves as the work surface. These desks may have legs, but the majority of secretary desks are subtle and unobtrusive. A secretary desk is a practical option for anyone who needs a small work surface and who wants to save the majority of their space for other activities.
A pull out desk is similar to a secretary desk in the sense that it is narrow and inconspicuous as well. However, this unique desk features a hidden sliding desktop that can be pulled out to work on. Thus, when you are done with your workday, you can push the retractable desktop back in and open up your space.
Closet Organizer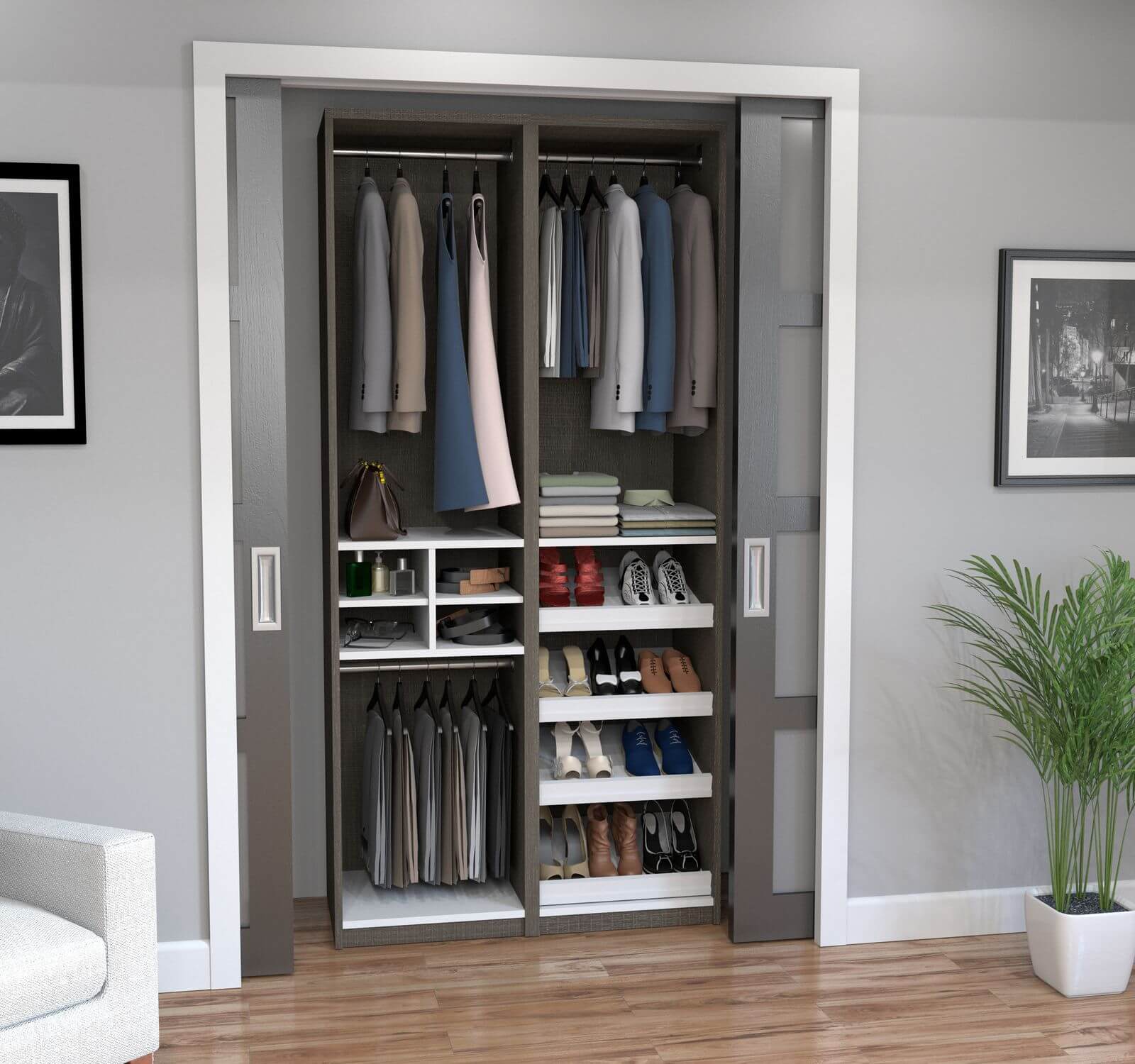 The problem with a regular closet is that only half of it really gets used. Think about it, you hang your clothes up, but the bottom section of the closet remains open and unused. A good closet organizer can help you utilize every square inch of your closet!
Instead of trying to find a place for the remainder of your clothes or instead of piling them up on that one chair in your bedroom that never gets sat on, invest in a closet organizer that can hold all of your clothes! Avoid spending your money on extra dressers and wardrobes when you can solve your problem with one long-term, space-saving closet organizer.
Moreover, many models come with an assortment of shelves, clothing rods, drawers, and storage cubbies to hold your clothes, shoes, and accessories. These multifunctional units can also be used in a laundry room or a mudroom depending on your needs. As far as space-saving furniture goes, a closet organizer is a great option!
Extendable Dining Table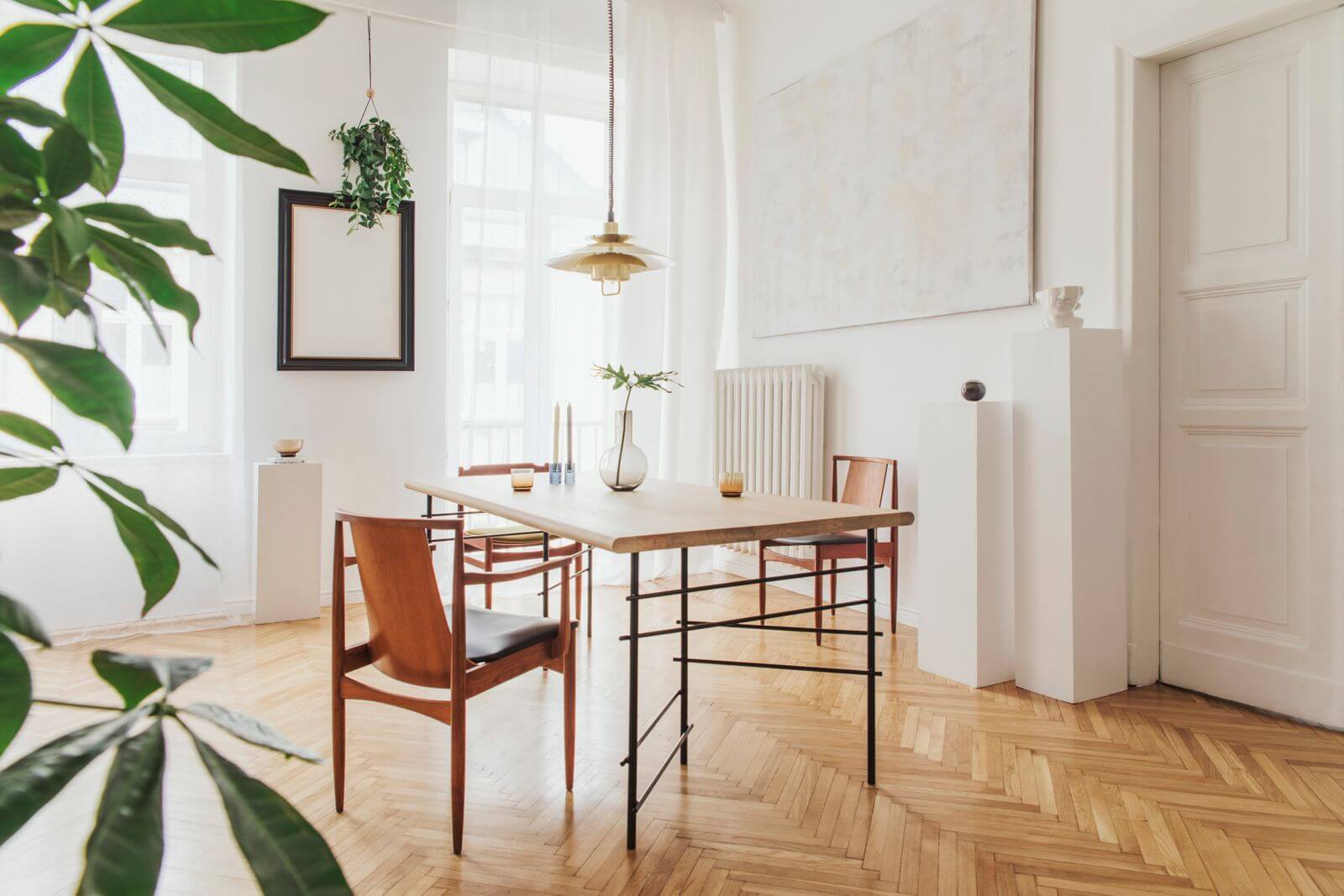 If you are lucky enough to have a dining room, then you probably want to make the most of it. One way to do so is with an extendable dining table.
The great thing about these tables is that you can remove the leaf (middle section of the table) to shorten the table when you need more space! Some models even come with a butterfly leaf which allows you to fold the leaf into a section beneath a sliding tabletop.
These tables are ideal for hosting — or perhaps under the current circumstances, for doing arts and crafts with your family — because you can adjust the length of the table by removing the leaf or storing it away. Enjoy a long, grand table when you need one and open up your space with a shorter, more convenient table when you're done. Thanks to this space-saving piece of furniture, it will feel like you have two tables in one!
We hope that having at least one or perhaps a combination of these space-saving furniture pieces will help you feel more comfortable and free in your home! These pieces are designed to help you open up the rooms in your home and to provide you with some much-needed space for practicing fun and engaging activities with your family.
Categories
Small Spaces