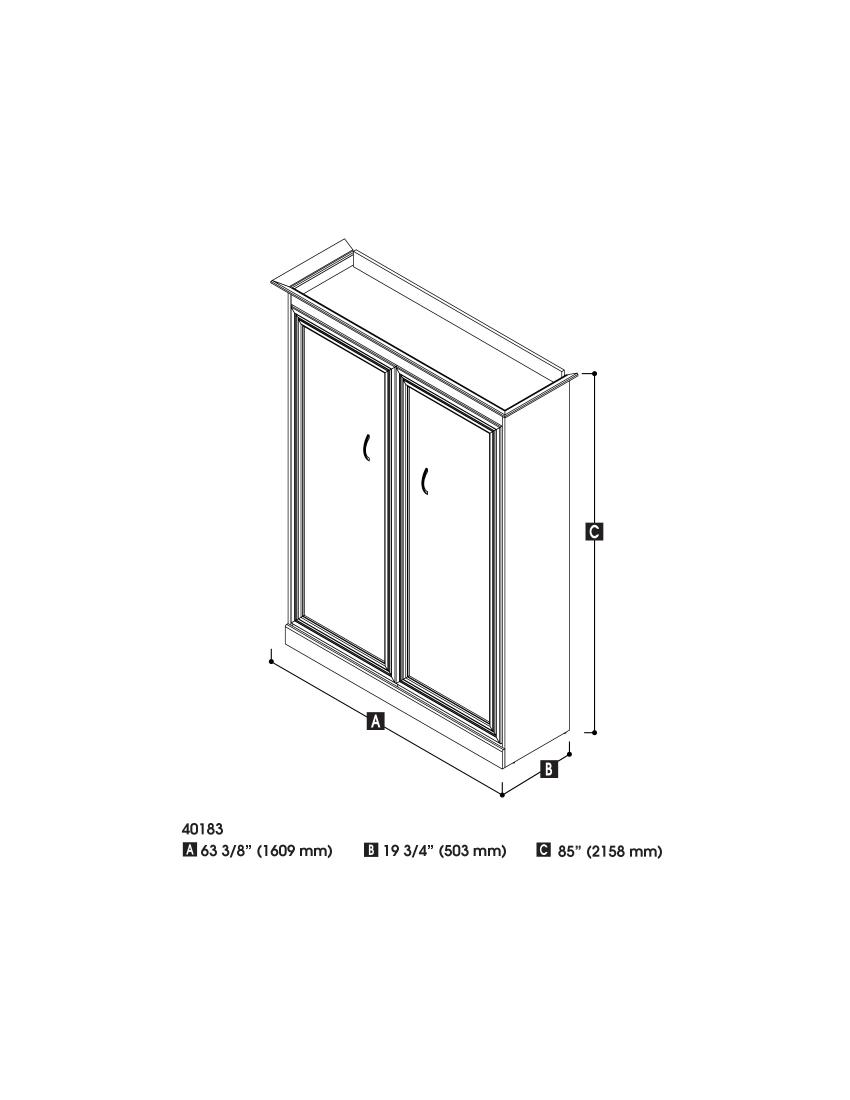 Dimensions
Width
Height
Depth
Weight
1610.4 mm
2159 mm
508 mm
153.8 kg
Width
Height
Depth
Weight
63.4 in
85 in
20 in
339 lbs
Key features
Quality laminated particle board compliant with TSCA Title VI for a long-lasting finish
Dual piston system allows you to fold the bed up and down safely and quickly
Finished with an attractive crown molding to complement your decor; without side moldings, bed is 59W
EuroSlat mattress support system increases the sleeper's comfort; box spring not required
For installation and to avoid risk of injury, use only a professional or qualified person with knowledge of the wall structure, studs, and components. Bed may be attached to wood studs, metal studs, or masonry wall structures; masonry requires use of concrete screws (not provided).
Bed accommodates most standard Full mattresses (8-10 inches thick, 60-90 lb, 54 x 75 inches, no futons) to let you choose the most comfortable option (mattress not included)
Open bed extends 85.4 inches from the wall; minimum ceiling height of anchoring wall is 85.8 inches without crown molding and 88 inches with crown molding
Maximum weight supported is 1000 lb (including mattress)
Assembly required (3 people recommended)
Backed by the Bestar 10 Year Manufacturer's Warranty
North American made with local and imported parts
Description
This comfortable Full Murphy Bed can be slept on every night and is perfect for a multipurpose room. The bed folds up and down safely thanks to the dual piston system. The Euroslat mattress support system increases the sleeper's comfort for a good night's sleep. The wall bed accommodates most standard Full mattresses and supports up to 1000 pounds (including mattress). The open bed extends 85.4 inches from the wall. Assign a clearance of 30 to 36 inches around the open bed. If you wish to include the moldings, the cabinet must be anchored to a wall with a minimum ceiling height of 88 inches. Without the moldings, the minimum ceiling height is 85.8 inches. This Full Murphy Bed is backed by the Bestar 10 Year Manufacturer's Warranty. North American made with local and imported parts.
RODOLFO C.
Verified Buyer
01-06-2021
Very satisfied with the product
16-03-2021
Very satisfied with the product
Gorgeous quality unit to complement the room
16-03-2021
Functional piece of décor that serves a purpose of comfortably sleeping two people. Great quality, well build and excellent customer support.
Nice bed space saver
03-08-2020
Nice bed, nice finish. I had to redo some holes on the back of the door panel. one bracket was at wrong location.
A little intimidating but straightforward
01-08-2020
a little intimidating due to size, weight, and sheer number of parts but a decent manual and very helpful video guides. sort the hardware into steps (seriously) and proceed slowly on this one. Be prepared to have to redo a step or two. The connection process for the pistons was seemingly impossible but the 1-800 number works, doesn't take all that long and 45 seconds of advice from a nice person who knew exactly what we were doing wrong solved the problem instantly. This takes TWO people working together to do it, Individually, forget it. Pay attention to the weight of your mattress choice or you will be adding a weight to the slats. Another one would be simple to build now. The end result is completely satisfactory. We'd recommend this to friends.
Patty DuFresne
Verified Buyer
14-07-2020
Murphy Bed - full size
14-07-2020
Quality of this full size Murphy Bed is exceptional. It took 1/2 a day and 2 men to assemble-all part included. I really live the look of it.
Great wall bed!
30-06-2020
I am really happy with my wall bed purchase and I will not hesitate to buy another should I need one. Make sure you spend the time to properly level it before attaching it to the wall (otherwise the bed may not close properly). I purchased the double/full size and for some reason my mattress is shorter than the Besta bed frame (normal mattress purchased from Costco) which means the foot support does not hold the mattress in place as it is lifted - the mattress falls towards the wall slightly and bangs into the wall as it is closed up.
Very straight forward instructions and all pieces fit. I was impressed how easy it was to put together. I spread all pieces in my living room and took them as needed to bedroom. I took screws and laid them out on cardboard in bedroom with part number written under them. I also took my time and did it over several days, 2 hours one day, 4 hours another and then 1 hour the last day so total 7 hours. I did all myself except one part I needed my wife to help. The piece looks great and works as expected.
Very happy with this product
25-06-2020
We ordered our wall bed through our Costco membership. Delivery was prompt and efficient and the shipment was in good order. We are very happy with the product. The assembly was much easier than I thought it would be and I found the instructions very good. The doors are quite heavy and may need a little adjustment to get everything straight before they are fastened down, but it's not a problem I was anticipating some difficulty with installing the pistons, but found it very easy. The final product is great.
Absolutely Beautiful!
25-06-2020
This bed is absolutely beautiful piece of furniture. It was a bit of a pain to put together but I knew that going in. Some of the instruction were lacking clarification and we only had to take apart a couple of things and redo them. Don't question the steps even if you think it's not right and pay attention to the pictures closely. A tip: in order to attach the shocks/pistons the bed has to be almost fully closed. Make sure you use strong lag bolts to connect it to the wall, it is very heavy. You will love the finished piece and it looks so nice even when being used as the bed.
Great affordable wall bed
29-02-2020
We purchased this frame from Costco and it was one of the more affordable ones around. We have been very happy with it. It took about an afternoon to put it together and it is quite stylish and fairly solid for the price we paid. I would definitely recommend this for a guest bed.
Happy with purchase
23-02-2020
It was difficult to set up. We watched videos of people who had previously done it. Some steps on the instructions appear to be out of order. The only other thing that would make it better is to have something to cover the hinges since they are right by your head.
Boxes
Box 1
Width
Height
Length
Weight
749 mm
122 mm
2002 mm
47.63 kg
Width
Height
Length
Weight
29.50 in
4.80 in
78.80 in
105.00 lbs
Box 2
Width
Height
Length
Weight
480 mm
112 mm
2210 mm
52.62 kg
Width
Height
Length
Weight
18.90 in
4.40 in
87.00 in
116.00 lbs
Box 3
Width
Height
Length
Weight
757 mm
84 mm
2062 mm
53.52 kg
Width
Height
Length
Weight
29.80 in
3.30 in
81.20 in
118.00 lbs
Warranty
10-year warranty
Our furniture is warranted to the original owner against defects in materials or workmanship. These defects include all the imperfections that can affect the use of the product. As is most often the case, our warranty covers the normal use of the product. To this effect, note that except for the Outdoor collection, our furniture is not intended to be used outdoors.
Our warranty is expressly limited to the replacement of components and furniture for the period specified on the product sheet, and it does not include labor or assembly costs.
For more information, read the complete Warranty policy.
Shipping and Returns
Free Shipping on all orders
Enjoy free shipping on orders to most places in Canada or the contiguous United States, except remote areas.
Once your order has been shipped, you will receive a tracking number by email. We suggest you track the delivery so that you can plan for the arrival of your furniture. The merchandise will be delivered in front of your house or office. If the boxes are large (you can get the dimensions of the boxes online), we suggest you get assistance to move the boxes inside your premises.
Should you decide to return your furniture, you will have 30 days from the day the merchandise was shipped to do so. You must send us the furniture back unassembled and in its original packaging.
The first step in the return process is to complete a return form. Then a member of the Bestar Customer Service Team will contact you to process your request. If your request is approved, you will be refunded for the value of the merchandise minus 20% (plus taxes) to cover shipping costs.
For more information, read the complete Shipping Policy or Refund and Return Policy.
Opt for a Two-in-One Solution
Easily turn your space from a home office to a guest bedroom. You can have a productive workspace by day and a cozy room by night. When your guests arrive, simply pull down the bed and you're done!
A Comfortable and Efficient Must-Have
Our Murphy beds are designed for everyday use and offer slatted bed bases to ensure your comfort. Moreover, our beds accept most standard mattresses, allowing you to choose the most comfortable option for you.
A Perfect Bed for Any Decor
Our Murphy beds' stylish designs will suit any space! The various designs give you options to choose from and allow you to pick the one you like best. They also look great folded up or down! What is there not to like?