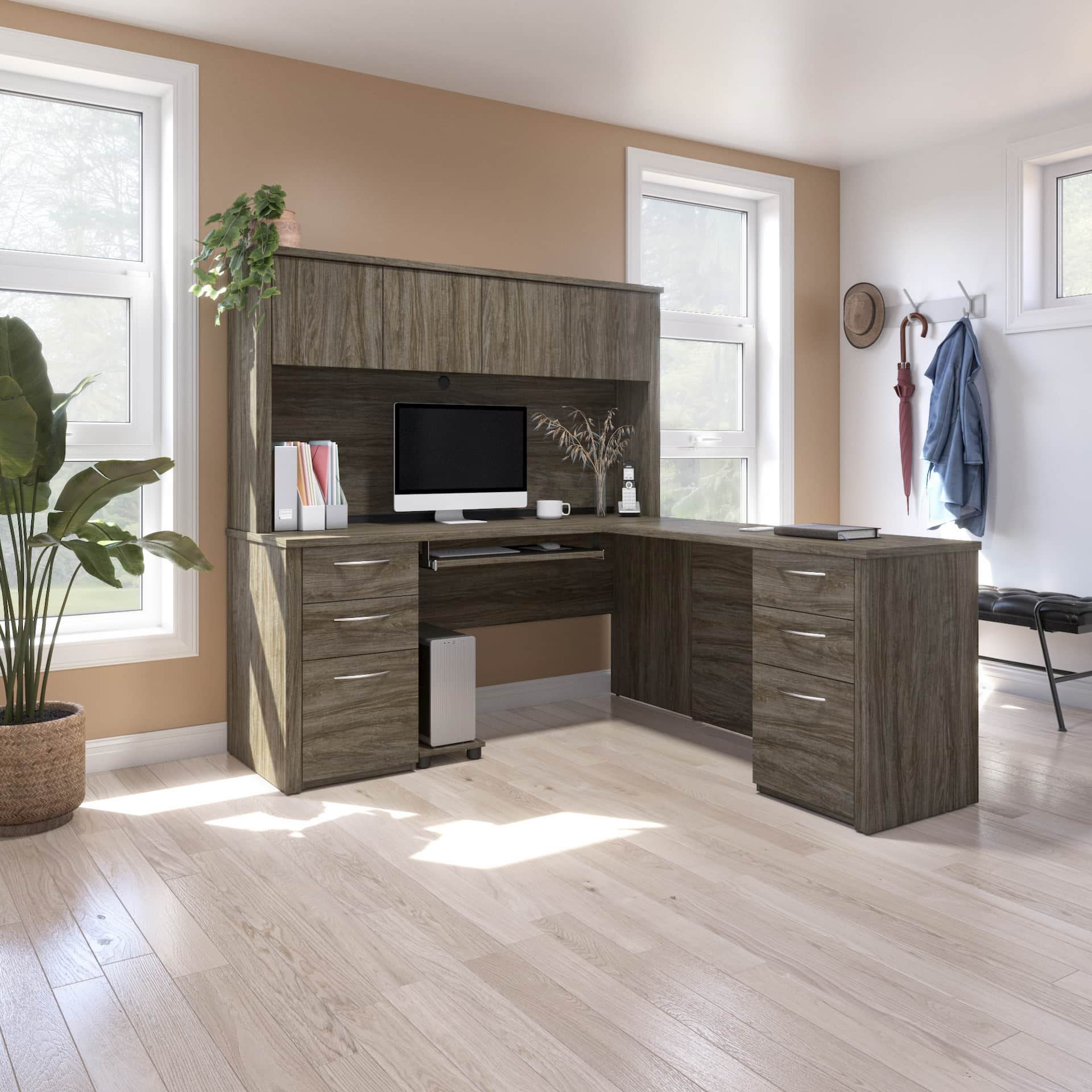 No matter if you are working from home or at the office, having a good desk is essential. It is the key to a comfortable and productive work environment. When shopping for office furniture, there is a lot of criteria to take into consideration. Color, size, and design are definitely important things to look for. Buying locally is also a priority for many. Knowing where your furniture comes from and where it was made and designed is always relevant.
If you would like to buy office furniture made by a Canadian company, Bestar has what you need. Our company was founded in 1948 by residents of the province of Québec. Since then, it has achieved many business milestones and has been involved in communities and initiatives across the country. In addition to being Canadian-founded and owned, we offer a large variety of furniture that is entirely designed and manufactured in Canada.
If you are looking for office desks in Canada, you should definitely turn to Bestar. We have a multitude of models and designs that will enhance any office space. No matter what you need, we've got it. For reference, here are three different types of desks you can find on our website:
Standing Desks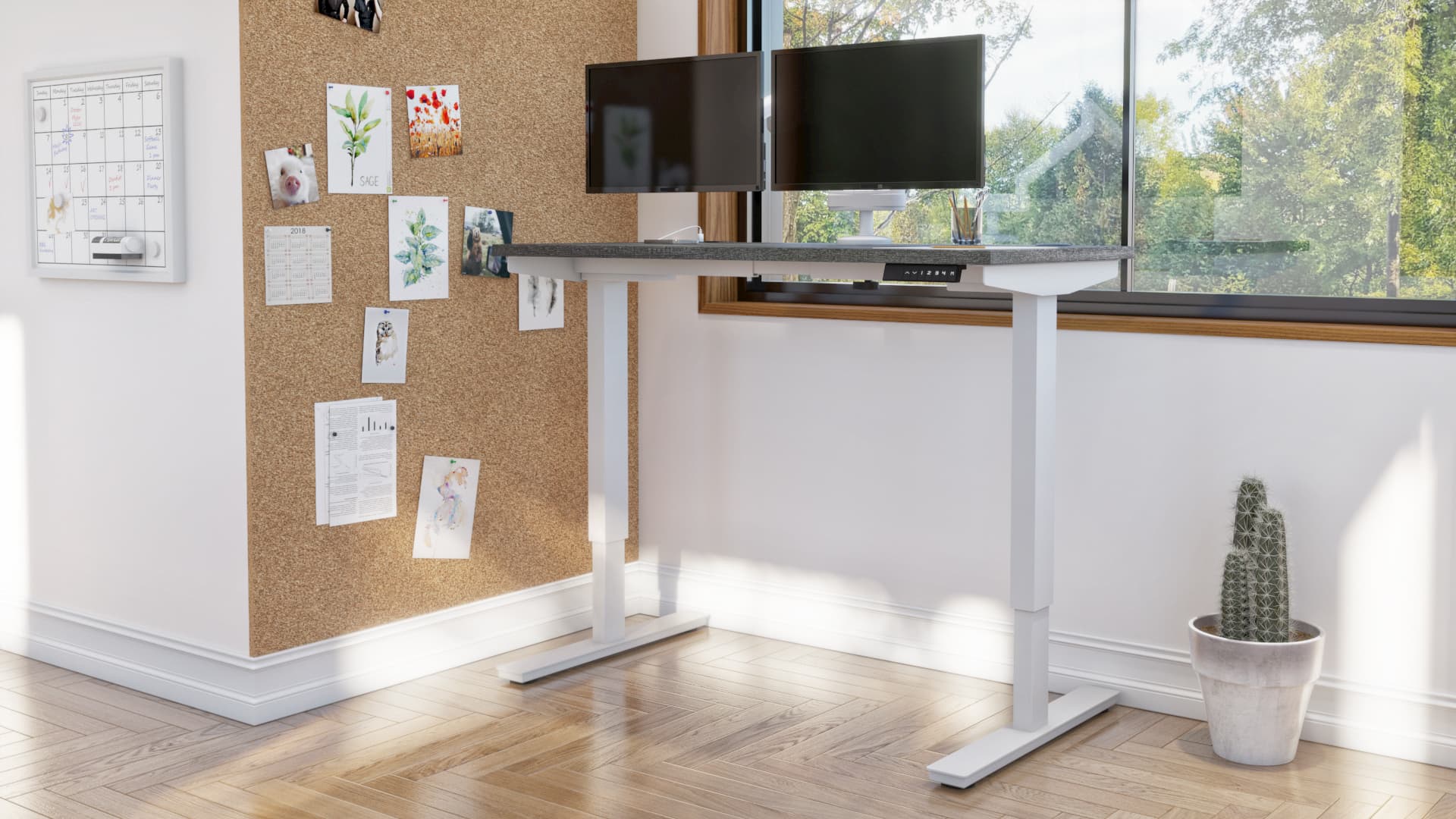 Studies have shown that sitting for prolonged periods of time leads to a number of physical and mental health concerns. Of course, most workers are obligated to be at their desk all day for multiple days a week. That is where standing desks, also known as stand-up desks or height-adjustable desks, come into play. We are proud to offer a variety of affordable standing office desks in Canada.
Our standing desks are made of high-quality materials and have modern finishes that will fit in any workspace. They are ideal to reduce inactivity in your work environment. They allow you to lift your work surface so you can stand while you work. All you have to do to adjust the desk's height is push a button. It is simple and makes it easy for you to alternate between standing and sitting throughout the day. Being active has never been this effortless!
Height-adjustable workstations have plenty of benefits. For starters, this type of desk can prevent weight gain and obesity. Reducing the amount of time spent in a sitting position can also minimize the risks of developing health issues. These include cancer, diabetes, heart disease, and high blood sugar levels. In addition to the general health benefits, standing desks can also help improve your posture, reduce back and neck pain, and decrease swelling in the legs.
Moreover, standing desks have a positive impact on a person's mood. Sitting for too long increases the risks of psychological distress caused by depression and anxiety. With a sit-stand desk, you can get the mental health benefits of physical exercise. It makes you happier, more energized, and less stressed during your workday.
One thing is sure, you don't want to miss out on our standing desks. Their multiple benefits will help you be as productive and happy as ever.
Small Desks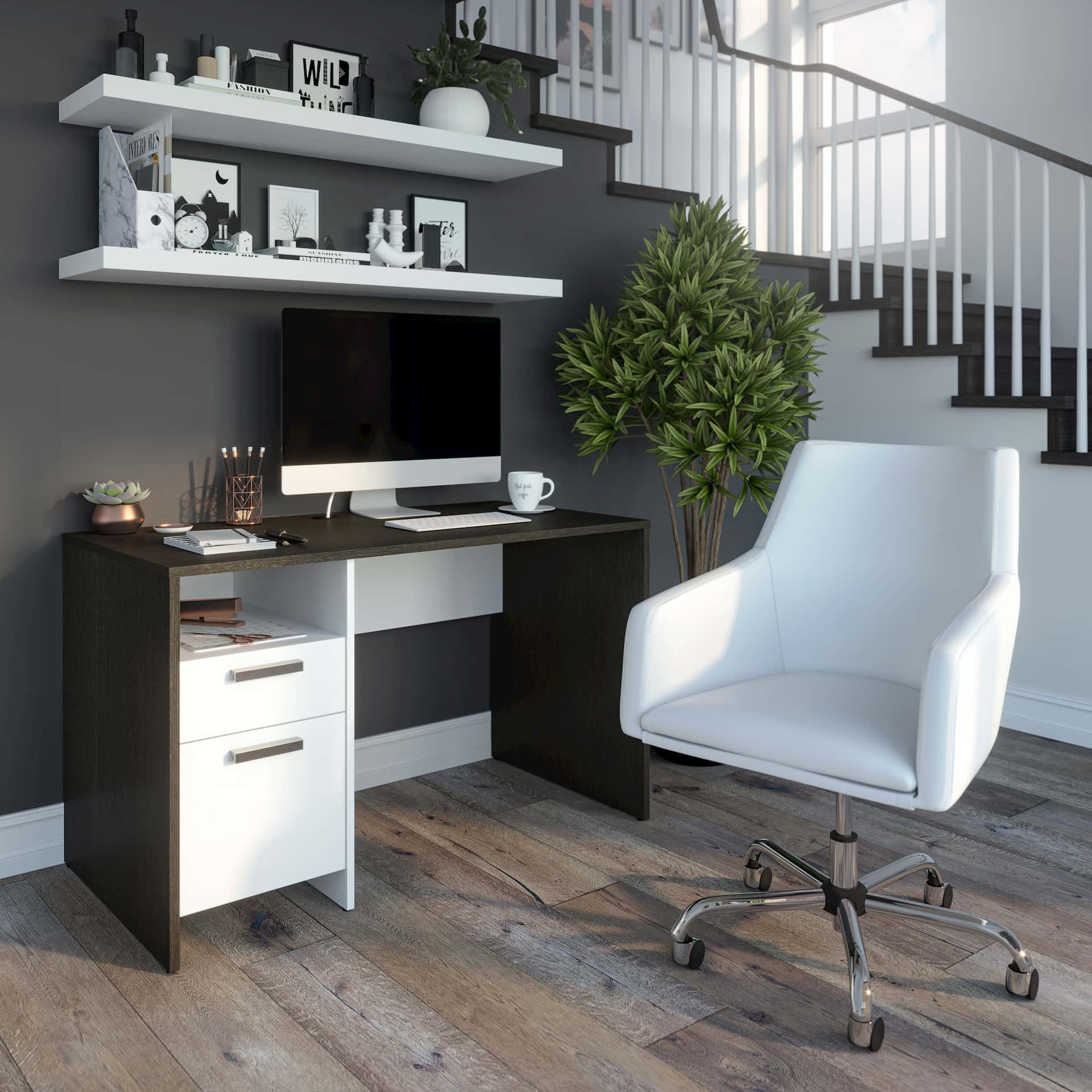 Our small desks are the perfect solution for more restricted workspaces. As you know, offices and homes are getting smaller, and large pieces of furniture like work desks can easily clutter up a compact space. Sometimes they don't even fit in the room you want to put them in! When faced with this problem, people often think they have to make sacrifices. They tend to ditch the proper office desk and go for a less ergonomic workstation. However, it is always essential to have a workspace that allows you to be productive and comfortable.
The best way around a lack of space in a work environment is to get a small desk. Not only do they allow you to save space, but they also offer many benefits that are normally associated with larger desks. Our small desks are stylish and ergonomic and offer great quality. Regardless of their small size, they still offer plenty of leg room and significantly reduce the risks of back and neck pain. Add that to their ingenious space-saving design and you get the best of both worlds.
Small desks are surely great for small office spaces. In 2021, you might also want to look for office desks in Canada to support local businesses during the pandemic. The good news is, our small desks are made in Canada and are ideal to create a home office. Moreover, they are easy to move around and you can place them anywhere in your office. Even for those who have larger offices, small desks are a great way to free up some floor space.
With a smaller work surface, you might need some advice to keep it in order. To learn more about how experts suggest organizing your desk, check out this article.
L-Shaped Desks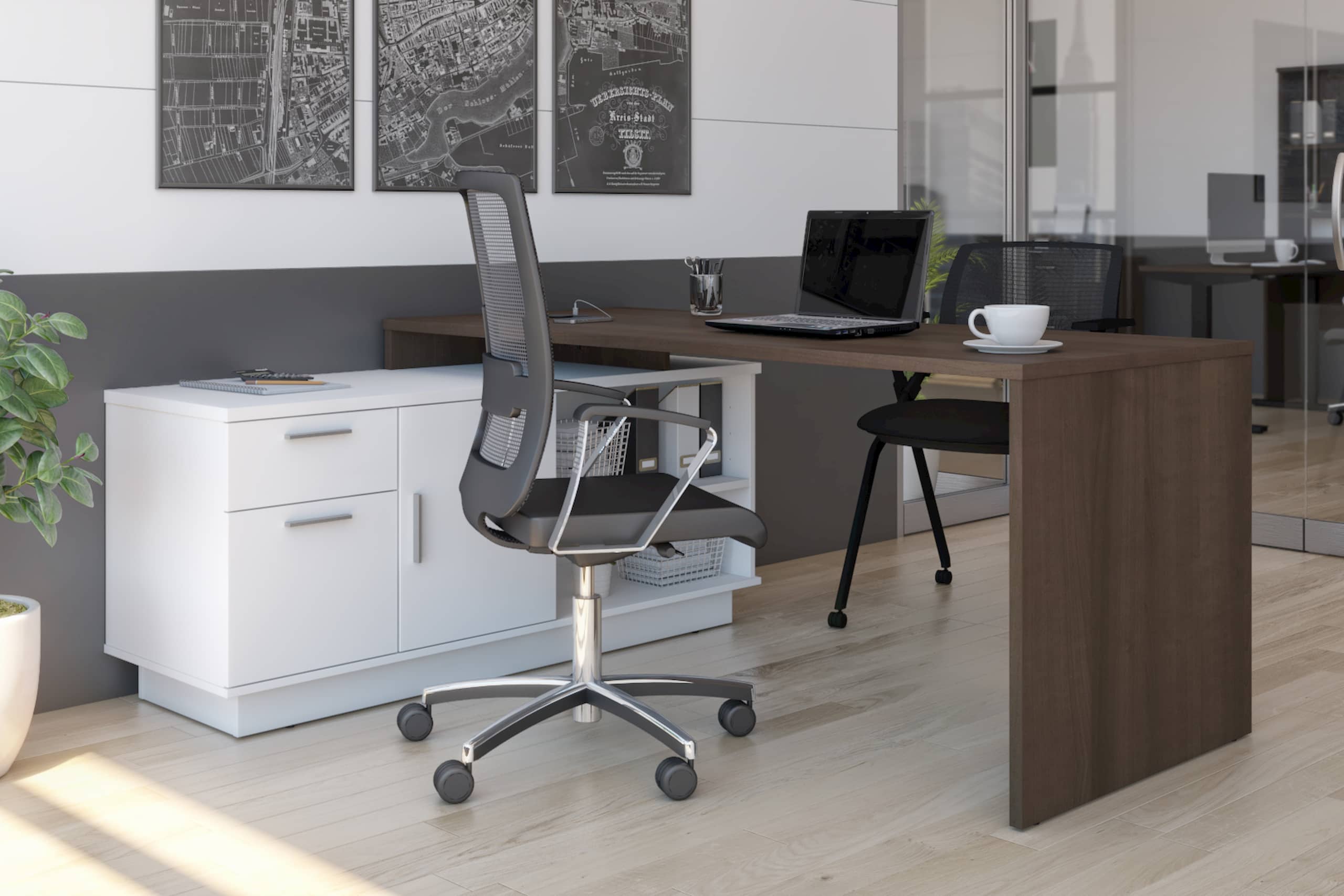 L-shaped desks come in two pieces that are perpendicular to each other and form the shape of the letter L. They might seem unusual at first, but they always end up helping you make the most of your office space.
To begin with, L-shaped desks provide maximum comfort for long workdays. When working at a regular office desk, it can be difficult to reach every part of the desk surface. But with the unique L shape of this type of desk, every part of the surface is easily reachable. You can then maximize that space by placing objects all over it. L-shaped desks also offer a larger work surface than traditional office desks but occupy less office space if placed carefully. You can put them in the corner of your office and free up the rest of the room.
Keeping all your work supplies organized is not a problem with our L-shaped desks. They provide plenty of different storage solutions such as drawers, pedestals, and hutches. You can even get them in sets with shelving units, file cabinets, bookcases, and more. In addition, L-shaped desks are perfect for multitaskers because they have two distinct work surfaces. Each surface can have a different use. You can use one part of the desk to work on your computer and the other to write on. You can also use one part for working and the other for gaming if you want. Finally, if you own an office desk in Canada, surely you are polite enough to share your work surface if you need to. It works out perfectly because the two separate surfaces of an L-Shaped desk are ideal for sharing with your spouse, child, or roommate!
It is safe to say that our L-shaped desks were designed to suit your needs for convenience and style. They were also built with high-quality materials to make sure they last a long time. In conclusion, Bestar presents a large variety of office desks in Canada. Standing desks, small desks and L-shaped desks are some types of desks offered, but there are many more. No matter what your needs may be, you will definitely find office furniture that fulfills all of them with Bestar. Why not start with our desks? Don't hesitate to check them out. You even get free shipping all over Canada!
Categories
Home Office