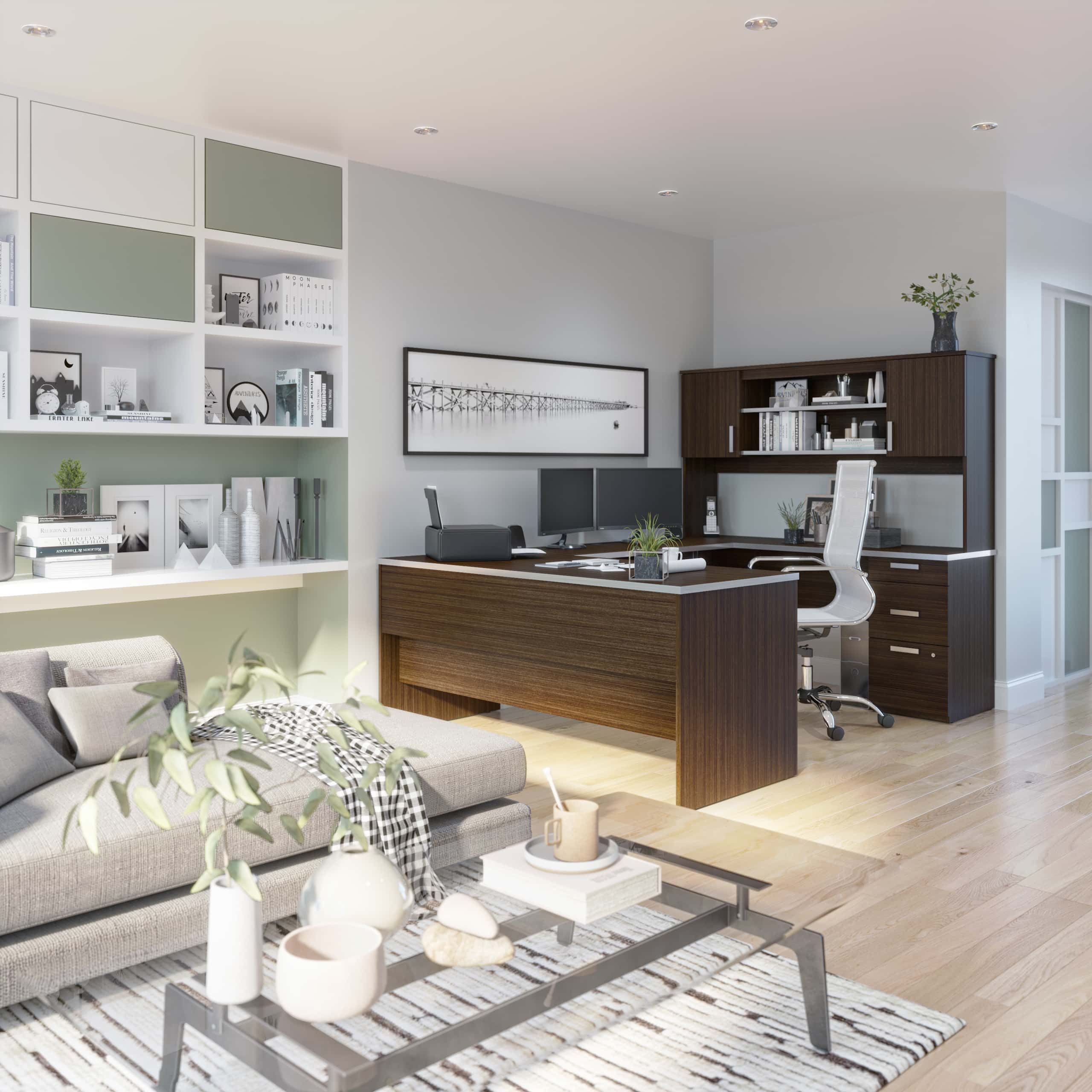 While working from home can be a dream come true, it can also be extremely difficult to stay productive and motivated with the many distractions. However, the key is to find clever and practical ways to eliminate distractions, without compromising productivity or efficiency.
There are tons of distractions at any workplace, no matter if you're working from home or at the office. However, it can be even harder to stay productive and focused throughout the day when you're working at home. But when you equip yourself with the right tools and mindset, you can kick distractions to the curb and get back to your workday. Ready to learn more about how to avoid distractions while working from home? Keep reading!
Set Up an Ergonomic Workspace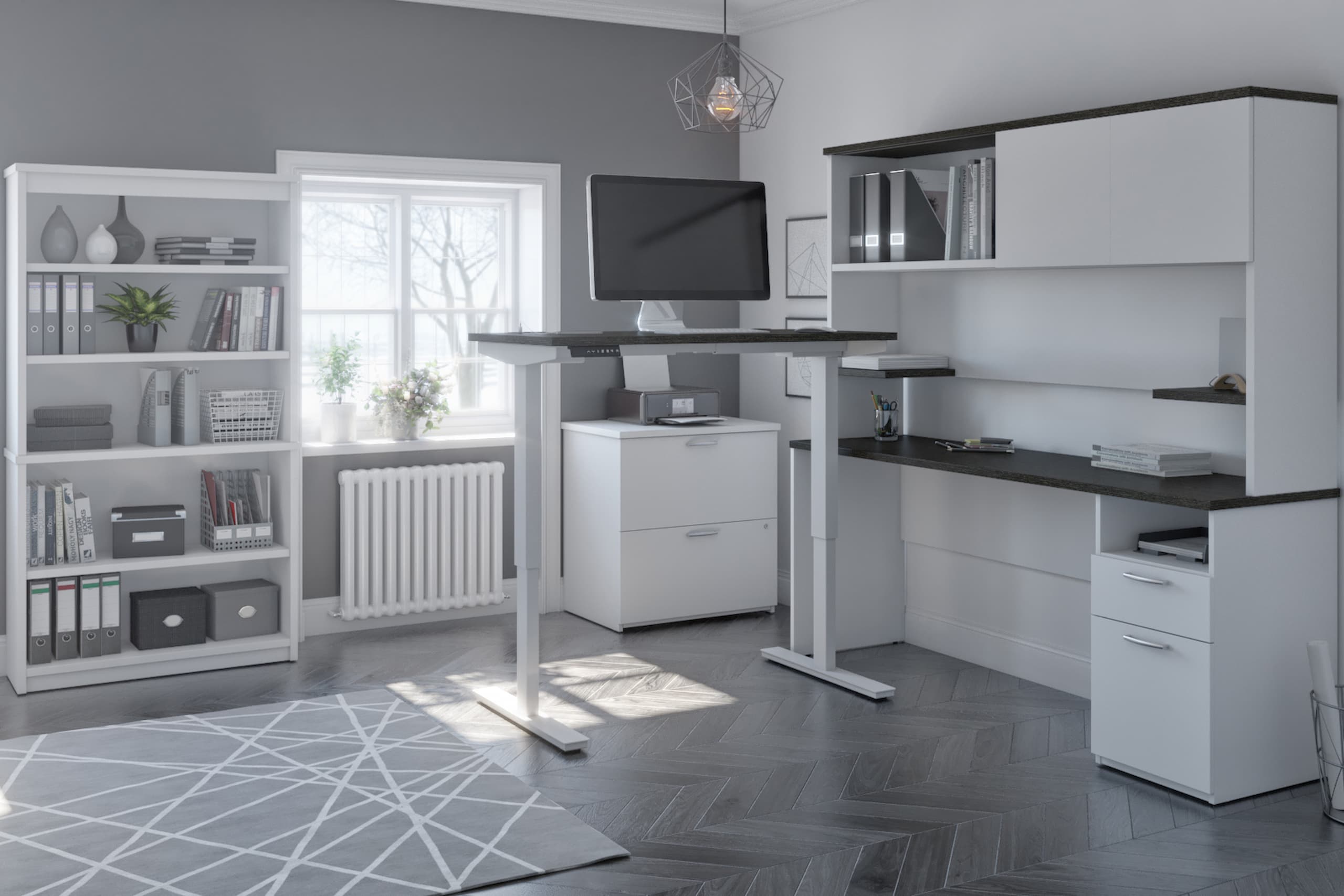 Distractions can truly be disruptive to your workflow—not to mention your motivation! However, the first step in avoiding distractions is to arrange a dedicated, ergonomic home office. By creating an ideal workspace setup that works for your needs, you'll be able to stay focus and work efficiently!
Declutter and reorganize
It's a good idea to start by decluttering your office to get your space looking its very best. For instance, get rid of superfluous items in your space that might be creating clutter or distractions while working from home. If you're in a shared living space, you can focus on the specific area where your desk is. Remove loose papers, unnecessary books, and so on. The goal is to keep only what's essential!
Next, it's time to reorganize! If you have papers piling up on your desk or a mountain of books that need to be sorted, why not opt for storage furniture? Bestar has file cabinets, bookcases and a variety of storage cabinets that will work perfectly with your existing space. By opting for space-saving furniture, you'll significantly reduce time looking for supplies and keep your space in top shape. If you want inspiration on how to arrange your work space, check out Bestar blog posts for some great tips!
Opt for a new home office desk
Looking for a new desk to work from home? Bestar also has plenty of ergonomic desks that will keep your productivity high and your space organized. For example, an L shaped desk is a great option to add to any size space. Since each L shaped desk design has practically two desks in one, you'll have ample space on the desktop to keep all your work supplies within reach. No need to search for hours on end for that client invoice or purchase order. It's all stored away neatly in its place! What's more, you can easily place an L shaped desk in a corner, creating a dedicated office area with minimal distractions. The space-saving design will help keep your space clutter-free and your office secluded from the rest of the space.
Does your back ache from sitting at your desk all day? Why not opt for a Bestar standing desk! Sitting all day can be extremely exhausting and can cause pain, which can significantly impact your productivity and your ability to focus. With a standing desk, you can go from sitting to standing in no time. These height adjustable tables will allow you to adjust your position at your desk and keep you as comfortable as possible. What's more, you can choose a standing desk model with storage options, such as a credenza or a mobile pedestal to keep your space neat and tidy.
Invest in Work-from-Home Accessories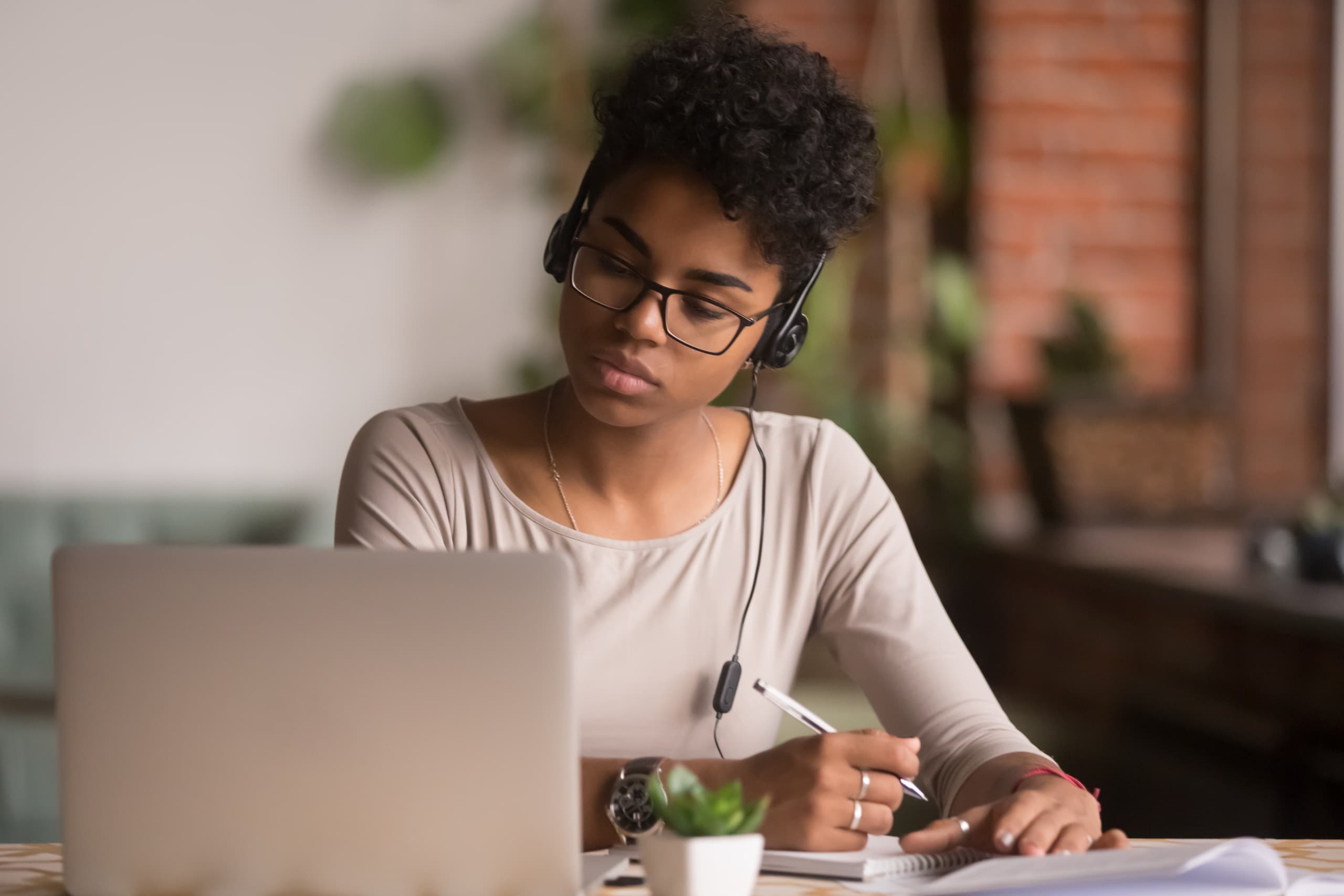 Once your workspace is organized, you can focus on managing distractions at home. With the many work-from-home accessories out there, you're sure to find the right fit for your needs!
Efficient accessories for your home office
One of the biggest distractions when you're working from home is noise outside and inside your home. The dog is barking, the kids are watching TV, the neighbour is mowing the lawn and so on. That's why it's a great idea to get a pair of noise-cancelling headphones. Getting the right headphones can keep background noise silenced and your productivity on the right track. There are tons of options out there that will work with your specific needs and your budget. Choose a pair that has a long-lasting battery life, so you can work at your desk all day without having to charge the headphones. What's more, most noise-cancelling headphones are wireless, making it easier to work comfortably, without any wires hanging over the keyboard. Over-ear, on-ear, earbuds—there are plenty of options that will help keep distractions at a minimum while you're working.  
Do you spend a great deal of time going to the kitchen to warm up your coffee or tea? On the way to the kitchen, do you end up cleaning or find yourself doing laundry since you're out of the office? If you do, then a mug warmer is a smart, time-saving accessory that you should definitely consider for your space! You can keep your coffee warm all day and stay focused on your work (not to mention enjoy delicious hot coffee without a trip to the kitchen!)
Lastly, why not go back to the basics and opt for door signs for your home office. Hang a "Do not disturb" sign on the door to let your family know that you're busy. Once your workday is done, remove the sign from your door. It's a simple way to manage interruptions and distractions at work!
Get Productivity on Your Side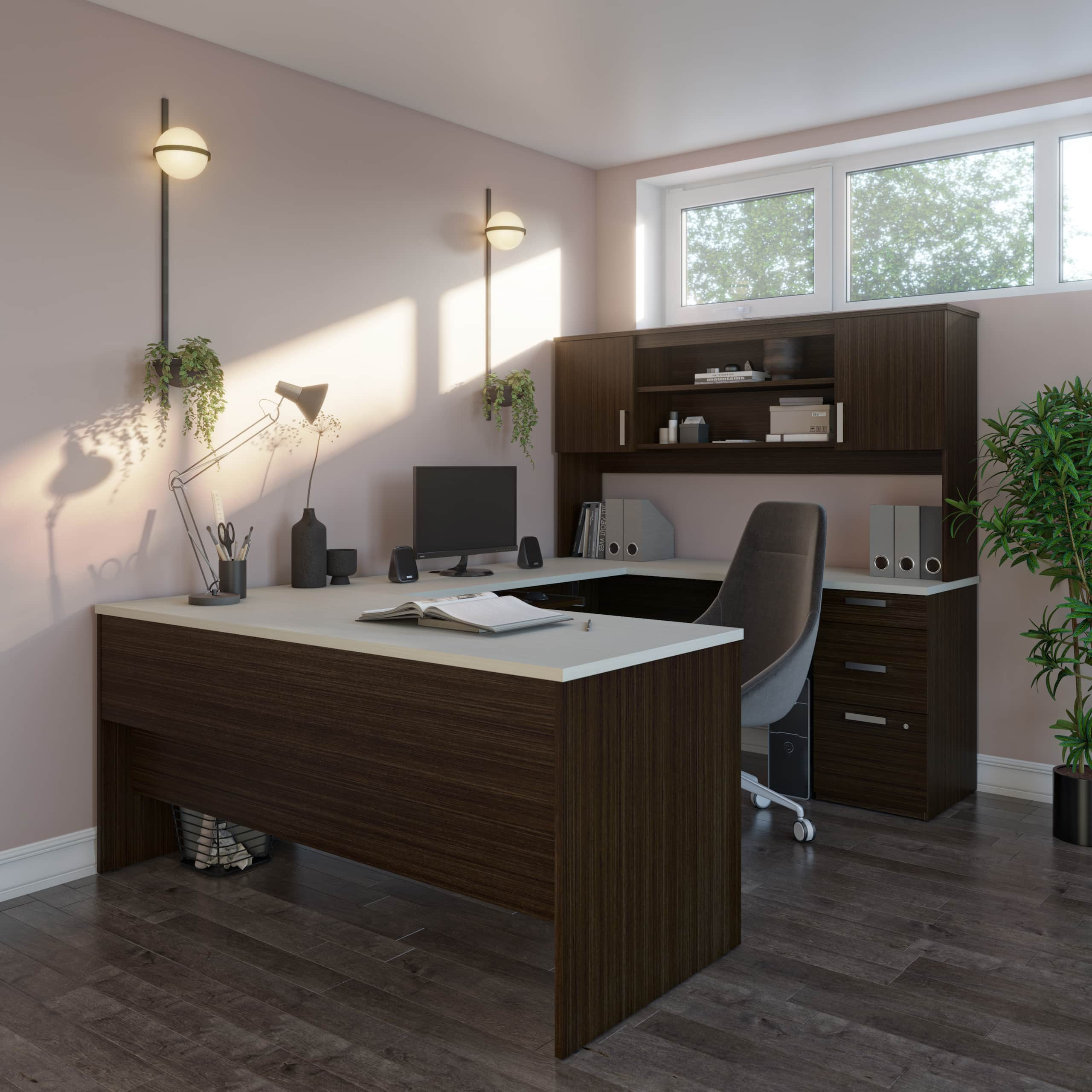 When you're working from home, it's crucial to stay as productive and comfortable as possible. However, it can be difficult to do so when distractions are constantly getting in the way of your progress. That's why it's important to find practical solutions to keep your productivity and motivation high!
One tried-and-true way to focus on what needs to be done and minimize distractions while working from home is to make a checklist. Before you start your day, jot down all your to-do tasks on a notepad, tablet or even a sticky note. When you have all tasks listed, prioritize what to do first with numbers (from 1 to 10, for example) and add a small check box next to each one. When you complete a task, simply check it off. You'll not only stay focused on your work, but you'll also feel accomplished with every box you check!
Pain and discomfort from sitting all day can be extremely distracting, and even detrimental to your productivity. For that reason, opting for an ergonomic home office chair is a great idea. You'll be able to focus on your work, while enjoying ample support throughout the day. Choose an office chair with a high back, armrests or foam cushioning to help you stay comfy. You can work efficiently, without pain distracting you from getting your work done. The more relaxed you are, the more productive you'll be!
Technology at Your Service
Do you find yourself constantly checking your social media accounts or scrolling on your phone? For many, having a cellphone can be a huge distraction when working from home. However, you can minimize distractions by adjusting the settings on your phone. For example, you can silence or turn off notifications for specific apps, such as Facebook, or even all notifications. You can still make phone calls and send emails, but you won't be bothered by chat messages or the ever-distracting "ding" of messages.
If you want to go a step further, you can opt for lock apps for your phone. With lock apps, you'll be able to lock specific applications of your choosing. That way, you can get back to work and use your applications at a specific time. Since each application has its own functions and settings, it's a good idea to browse online to find which lock application is right for your needs.
Make Time for You!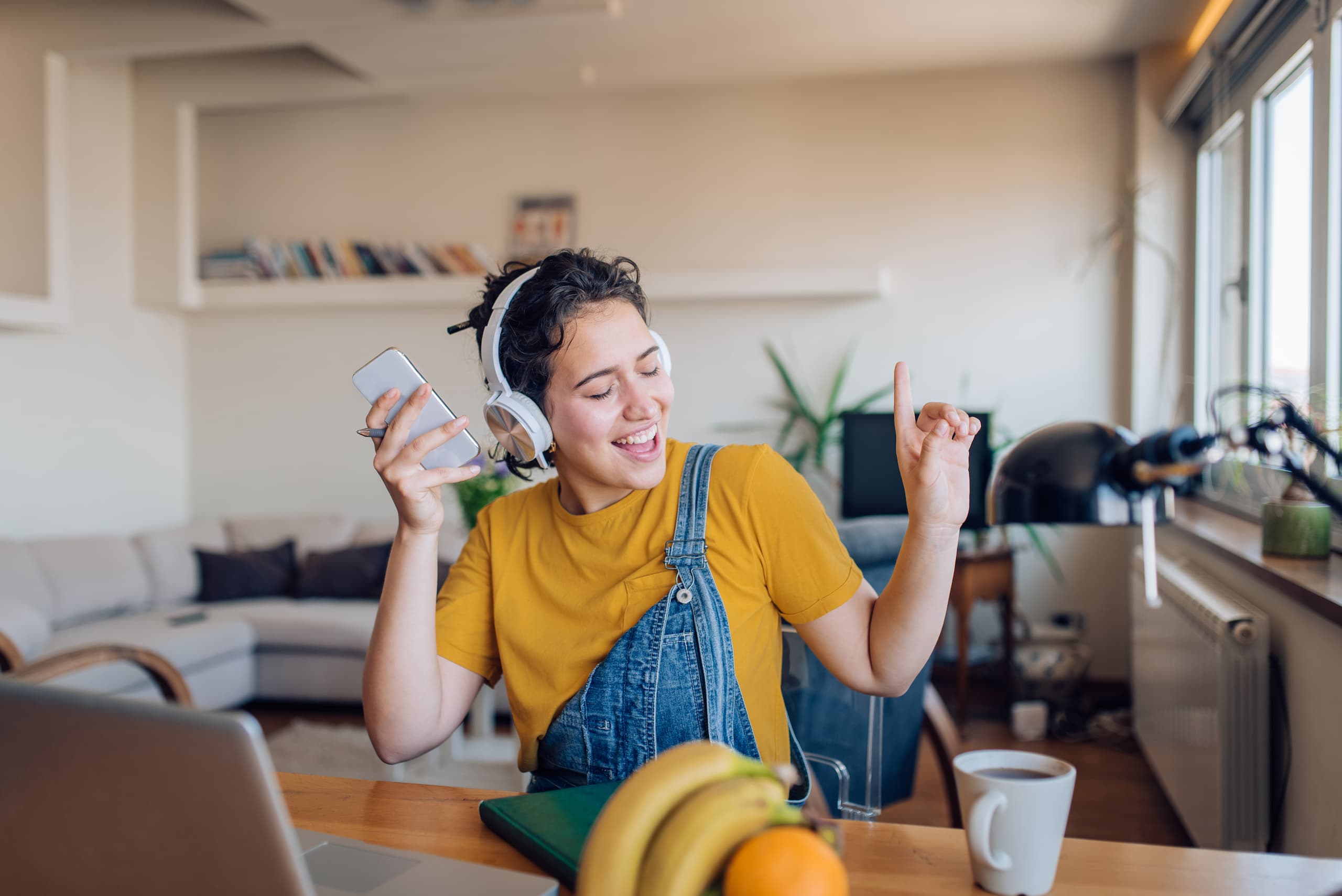 It's hard to step away from your desk when there's so much to be done in a day. Deadlines are inching closer, new requests are flooding in, time is ticking away—the list goes on! However, it's vital to set aside time for you during the day, especially when you're working from home.
A great way to avoid distractions while working from home is to establish specific times during the day for breaks. Use this time to grab a snack, stretch your legs, browse social media or go for a quick walk. That time away from your desk will do you a world of good!
The same goes for lunch breaks! If you can, try to eat somewhere other than your office. You'll be able to disconnect from your work for a bit and enjoy your meal. When you head back to your desk, you'll have a fresh mind and new perspective on the task at hand. Staying productive also means making time for you!
If you have a hard time focusing while working from home, there are plenty of practical ways to get rid of distractions and work productively. Whether it's arranging an ergonomic office setup, using noise-cancelling headphones or taking breaks throughout the day, you're sure to find the right solution for your needs.
Categories
Home Office