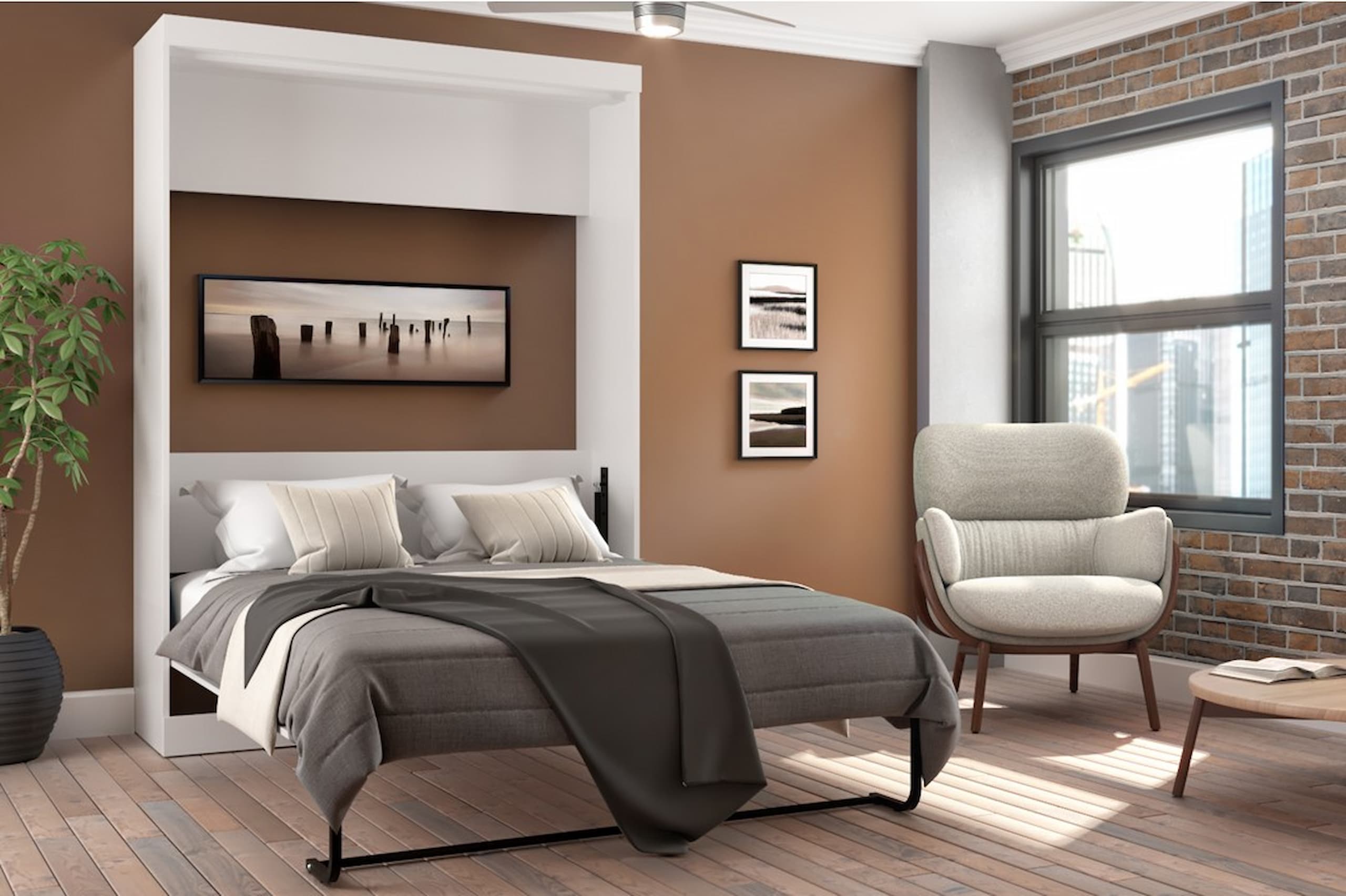 If you're looking for a space-saving solution to furnish your apartment, cottage, guest room, or any other space in your home, then we would like to present you with the Murphy bed. These fantastic beds offer style, comfort, and convenience. You can sleep on a Bestar wall bed every night without worry. When you wake up in the morning, simply fold the wall bed up into the cabinet to free up your space. You can even add storage solutions as needed. Murphy beds are truly perfect for tight spaces or multifunctional rooms.
What if this practical piece of furniture could also help you create the decor of your dreams? Wall beds are available in many styles to complement any decor. No matter what style you like, you're sure to find a bed that suits your tastes. Choosing the right Murphy bed will help you create the perfect decor. Get ready to discover five Bestar wall bed collections and the styles that work best with them, plus some tips for successful decorating.
Versatile: A Traditional, Elegant Look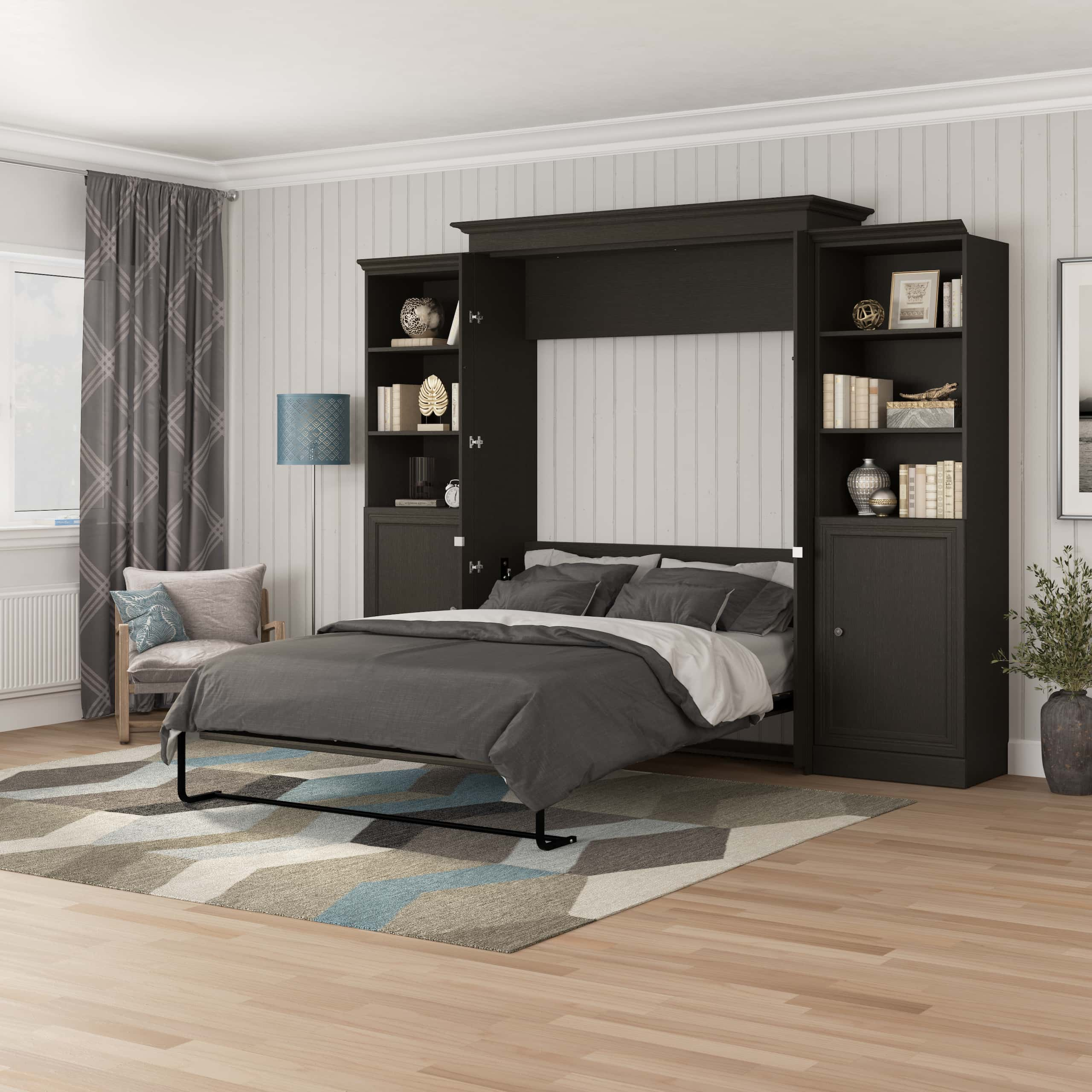 If you are looking to create a warm and elegant atmosphere, you will love the traditional style. This design style works well in large spaces and country homes. In smaller spaces, be sure to choose your elements carefully. Light-colored walls can help create a sense of spaciousness as well. Traditional and classic styles provide a soothing and welcoming atmosphere ideal for a bedroom.
With its beautiful moldings, symmetrical lines, and decorative details, the Versatile Collection offers an elegant and refined look that perfectly matches the traditional style. In this collection, you will find many wall beds to suit all your needs. You can choose from white or wood-colored finishes. Some models even come with a sofa.
Classic design style is also characterized by clean, orderly spaces. With the many storage solutions available in the Versatile Collection, you can organize your space with taste. You can even organize your walk-in closet with clever closet systems. Slanted shelves for your shoes, drawers for your accessories, and clothing rods for your wardrobe… everything will have its place!
To complement your traditional decor, you can visit antique shops to acquire unique pieces. For example, you could place a beautiful velvet armchair in the corner of the room. Choose decorative items such as paintings and various works of art to enhance the decor. Don't forget to install beautiful curtains around the windows! Add a beautiful lamp or a nice bouquet of flowers as a finishing touch.
Orion: A Functional Transitional Style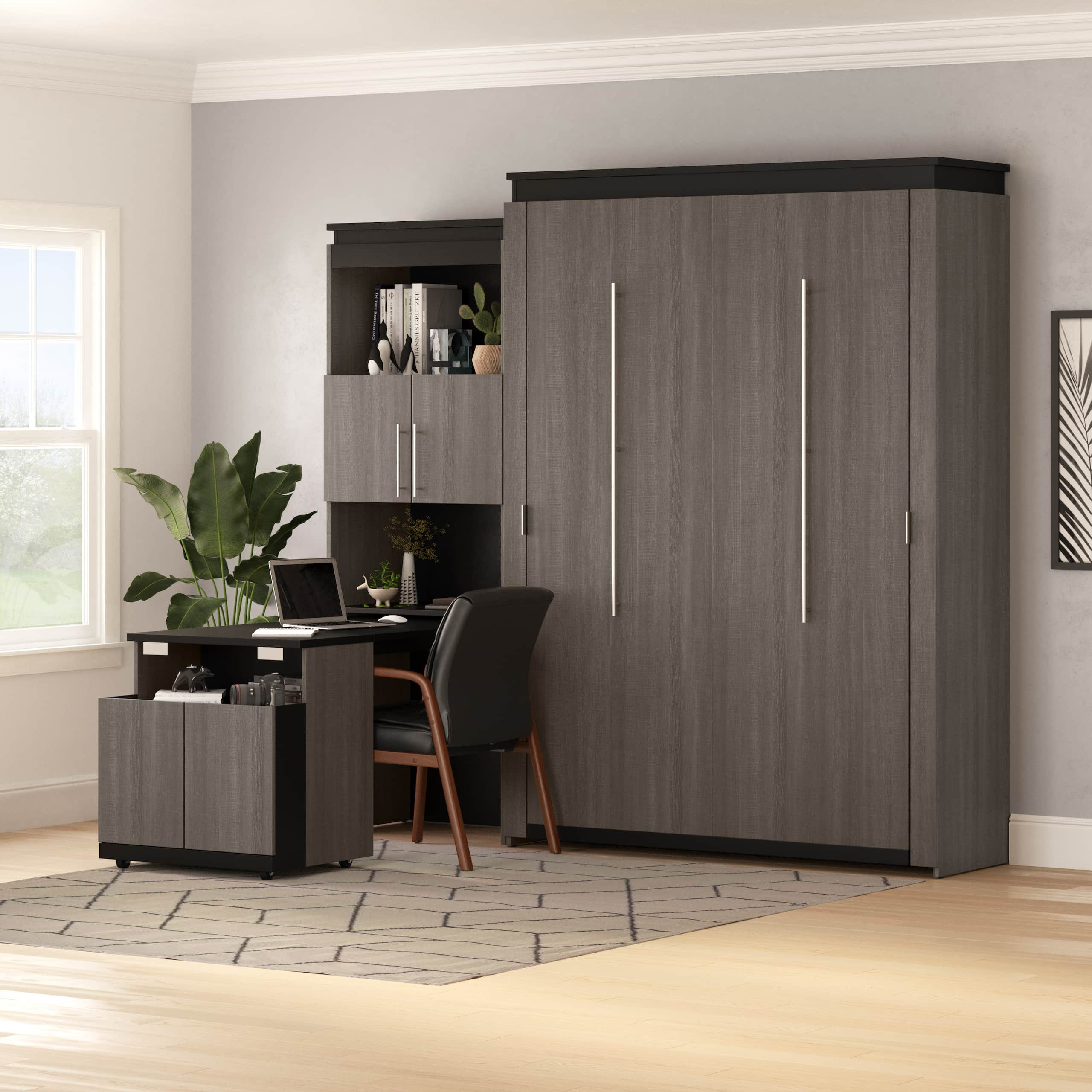 Do you like the refined look of traditional style, but are looking for a more modern feel? Discover the transitional style, a perfect marriage between traditional and contemporary styles. The fusion of elements from both styles gives you the best of both worlds. Create a warm and refreshing decor that will stand the test of time.
The Orion Collection embodies this timeless spirit with its clean lines and neutral colors. Orion wall beds bring a touch of originality and functional solutions to the modern lifestyle. Choose a Murphy bed with a shelving unit and fold-out desk to use your space efficiently. This option gives you a comfortable place to sleep, a creative workspace, and convenient storage all at once.
Transitional style relies on natural hues. Colors such as taupe, cream, gray and black are perfect for creating a transitional atmosphere. Choose a comfortable leather chair to accompany your fold-out desk. It will match your new Bestar furniture perfectly and give the room a sophisticated look.
Lumina: An Attractive Modern Look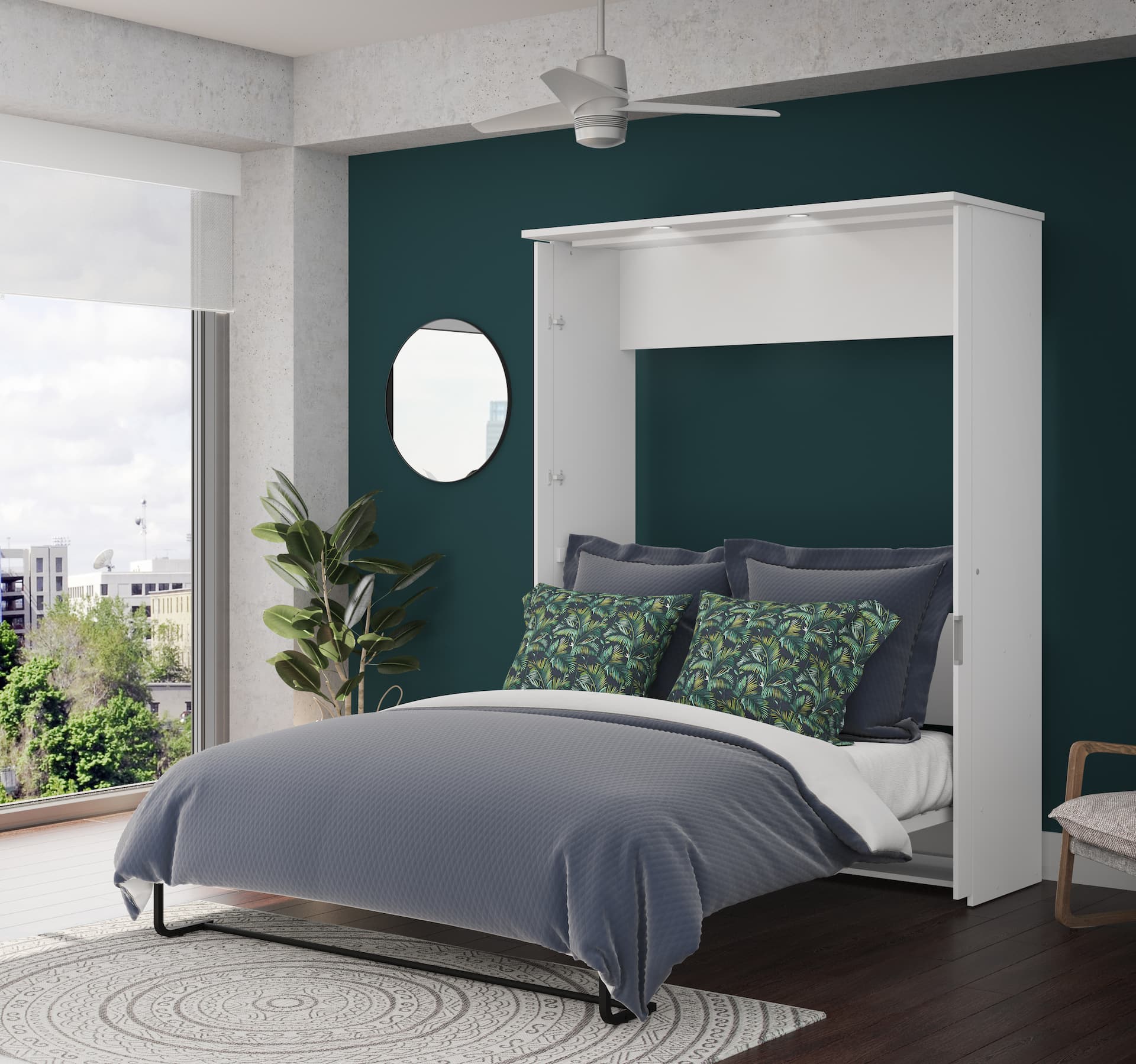 Not to be confused with the contemporary style, the modern style comes directly from the 20th century. Simple and uncluttered, and enhanced with colorful accents, this style is still very popular today. Modern design is airy and sticks to the essentials. That's why multifunctional furniture is favored in modern environments. So are bright rooms. You can brighten up your interior with white walls and different lighting solutions like hanging lamps and original floor lamps.
The Murphy bed is a perfect match for the principles of modern style. It is a functional and durable piece of furniture that frees up space when it is not in use. Lumina wall beds will fit perfectly into your modern decor. The crisp white finish and built-in light fixtures will simply brighten up your space. Some models even include storage or a built-in desk for added convenience.
Although modern design relies primarily on light, neutral colors like white and gray, it is possible to add color to your space. You can create contrast by adding a splash of bright color, especially with your decor elements. Red, lime green, or turquoise are good colors to incorporate into modern decor. You can also use beautiful artwork as a focal point. Since simplicity is at the heart of the modern style, avoid adding too many accessories. Opt for decorative objects that are both beautiful and practical.
Cielo: A Contemporary and Trendy Feel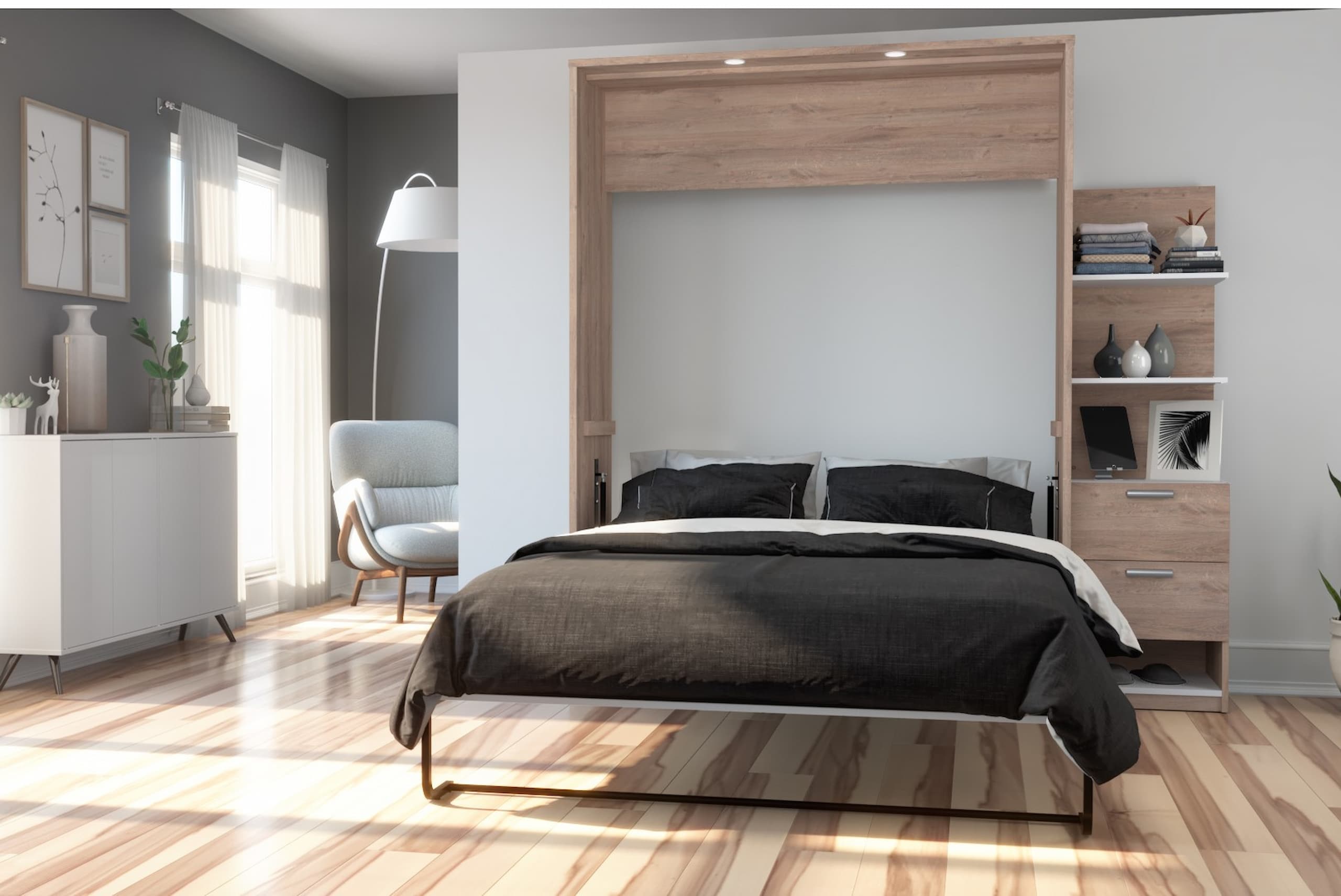 Similar to the modern style, but more fluid, the contemporary style is in constant evolution. This style is perfect for anyone with an eye for the latest trends. The basic principles remain simplicity, comfort, and aesthetics. Neutral and sober colors such as black, gray, and white are favored. However, you can create beautiful contrasts with colors or materials to add a touch of life to your space.
As with the modern style, bright and open rooms are favored. With a wall bed, you can clear the room and maximize even the smallest space to the fullest. Cielo wall beds also include built-in light fixtures for a warm ambiance. The Cielo Collection offers a variety of functional furniture pieces with clean lines. Finishes such as rustic brown and white or bark gray and white create the perfect contrast for a contemporary setting.
To complete your contemporary decor, add decorative elements and lighting to suit your taste. Steel accessories, for example, offer a contemporary look. As for the bedding, opt for solid colors. If you're installing your Murphy bed in a large room and it feels bland, then wallpaper on an accent wall could brighten up your space.
Pur: A Timeless Farmhouse Style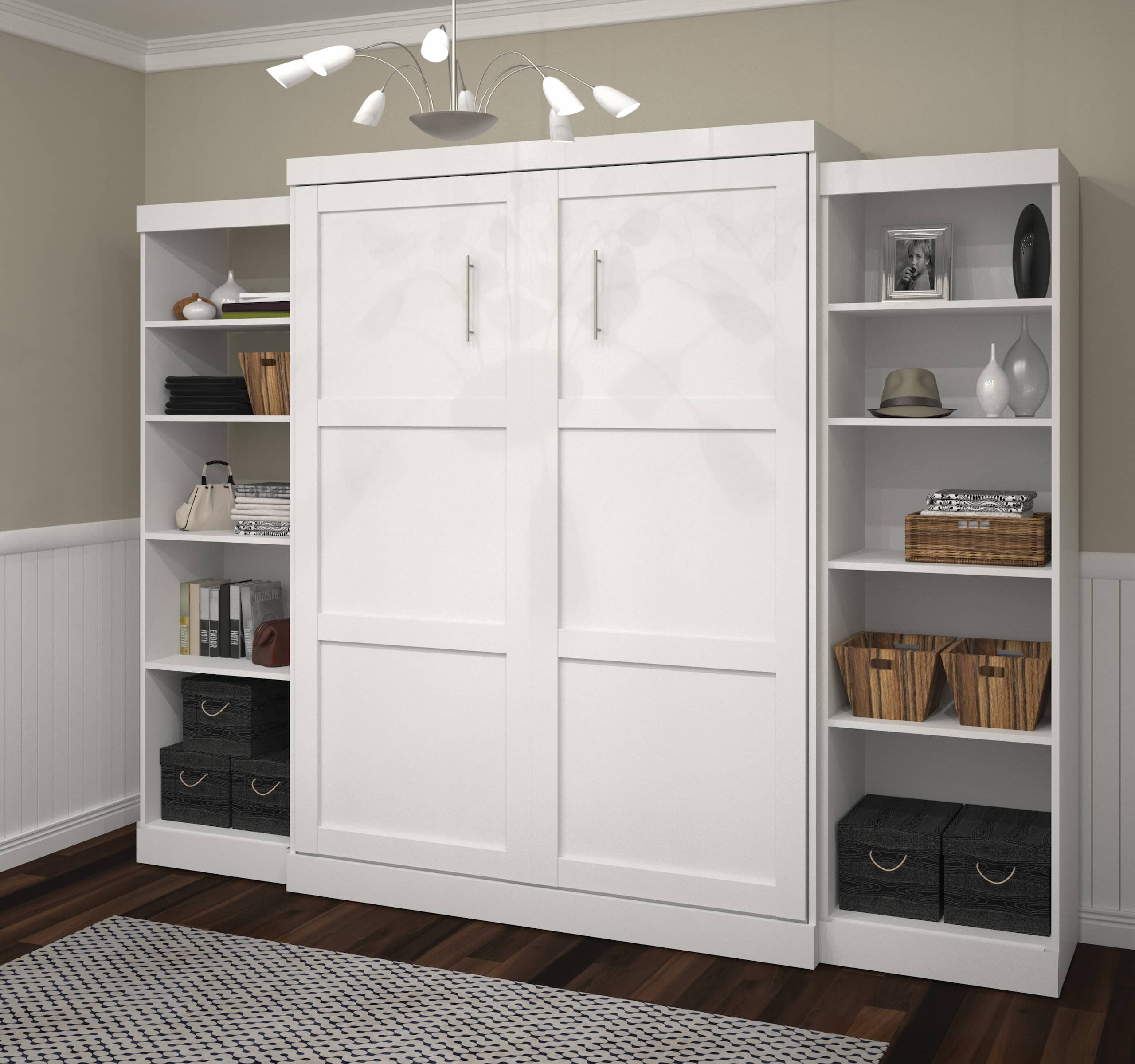 Another style that is very popular today is the farmhouse style. Like the traditional style, farmhouse design offers a warm and welcoming atmosphere. This revisited country style is particularly suited to rural homes. But you can try it without living on the farm, of course! By choosing the farmhouse style, you are opting for a fashionable look that will stand the test of time. The key to creating a farmhouse look is to use light colors and natural materials. Create contrast with dark wood or black accents for a modern farmhouse look.
With its Shaker-inspired design, the Pur Collection is perfect for a farmhouse setting. Choose a Pur wall bed in a sleek white finish and set the tone for the room from the start. You can even get matching storage solutions for your closet or other rooms in your home. Then, simply spruce up your space with some decorative accents. Place pretty wicker baskets on your shelves for practical storage. Add decorative elements like plants, Mason jars, or wooden frames to the shelves as well.
You can also go to the antique store to find furniture or accessories to go with your wall bed. Have fun restoring them while maintaining a rustic look for a successful farmhouse vibe.
Categories
Home
,
Design
,
Design
,
Home