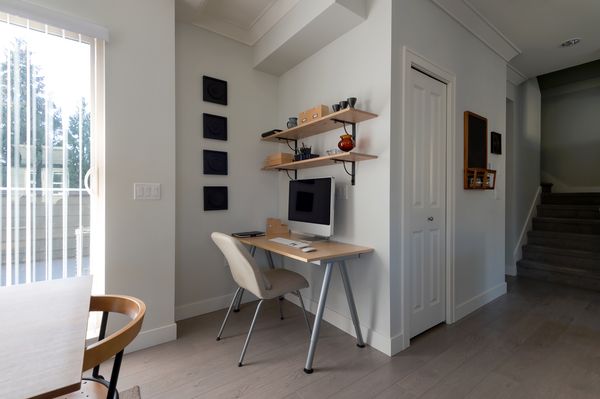 Yes, yes, yes! Your home may seem too small for an office space, but with a little ingenuity—and elbow grease!—you'll be surprised where the perfect office might be hiding.
The modern lifestyle affords us many conveniences, one of which is being able to work anywhere, including from our home. This makes it important to have a dedicated space, functional and attractive, in which to more easily be productive.
But where to put it? Almost every home has a space that is perpetually underutilized. This likely holds true even if you live in a smaller home, condo, or apartment. Whether it's an awkward corner or nook or an unfortunately placed closet, chances are there's someplace in your home to optimize more fully. A space just waiting to be transformed into a small but functional office workspace.
Closet Conversion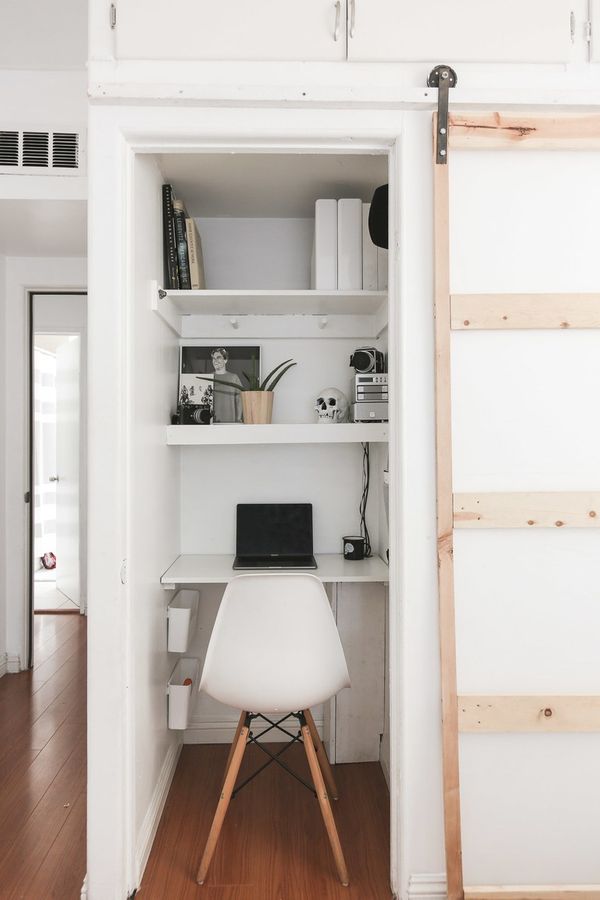 Some of the most convenient and easily converted space can often be found in a closet, either in part or whole, depending on the size.
Choose a narrow, low-profile desk. Add shelves above and below to hold books, file holders, and electronic accessories such as a printer. Place a metal magnet or cork board for paper essentials. A framed section of wall painted with chalkboard paint can provide a funky and stylish alternative to a whiteboard for inspirational quotes and those important to-dos.
Don't forget to paint! Choose your favorite color to give the little space some personalized, invigorating punch.
Done for the day? Easily manage your vital work-life balance by closing the doors, keeping office work out of sight.
Narrow Standing (or Sitting) Workstation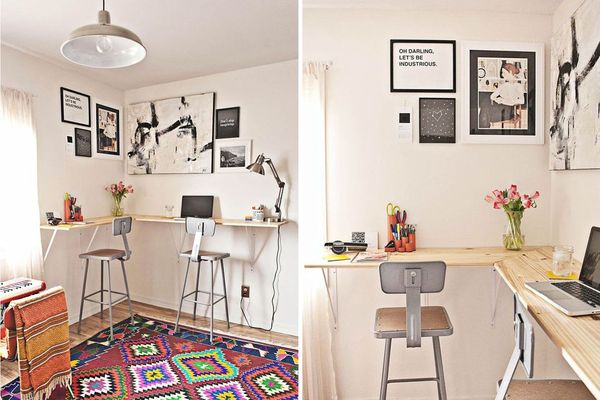 (Source: A Beautiful Mess)
A narrow, bar height, seemingly shelf-like workspace can easily be set up along an underused stretch of wall, in a corner, or even a hallway.
Depending on your budget, you can use either inexpensive MDF or higher quality wood and shelf brackets to create a streamlined, clean profile bar height desk. Use a length of wall or wrap around the corner of a room.
It's the perfect stand-up desk workstation or, when you prefer to sit, simply pull up a comfortable bar stool or chair.
Under the Stairs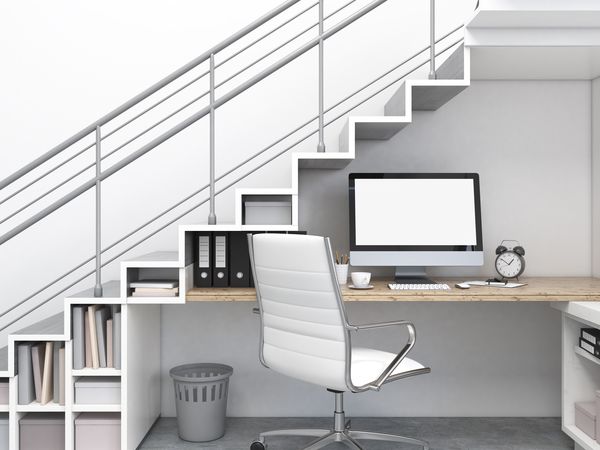 The space beneath the stairs can often be overlooked as a productive space in favor of storage or just straight shelving.
Upon reflection, however, it can make for the ideal office workspace as it's conveniently tucked out of the way of day-to-day activity and traffic.
A low profile desk combined with shelves and filing units can address all office requirements in a tidy and efficient package. This is a great opportunity to take advantage of the structural support inherent in the stair construction to incorporate built-ins for additional functionality.
Create an Office Zone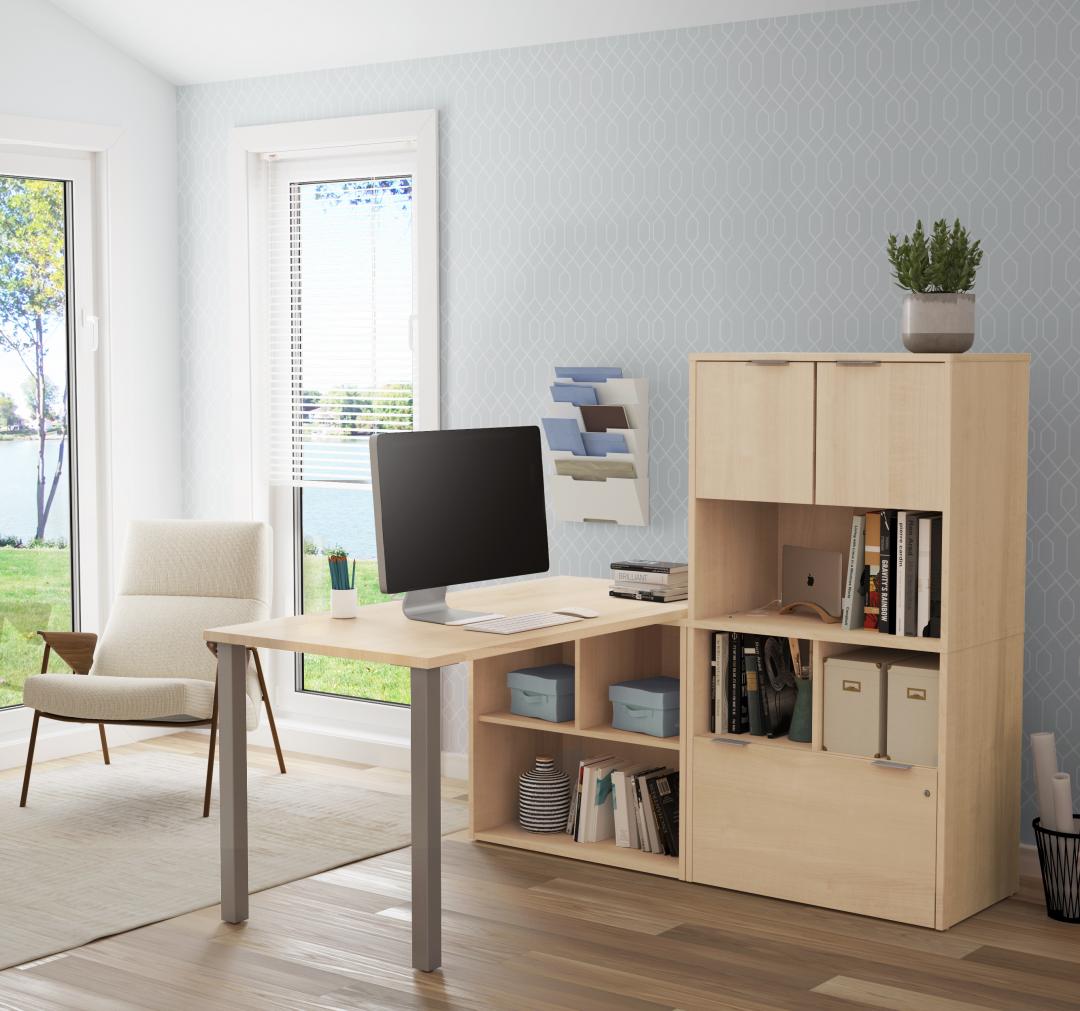 If you're short on extra space, or if you've efficiently made use of every square inch of your home, consider allocating an office zone in your living room or dining room (we'd suggest the bedroom, too, but it's best to keep work and rest separate, if you can).
Desks are available in every style and size, so finding an unobtrusive unit that integrates into your existing room decor shouldn't be too challenging.
Use attractive and functional storage units to help divide the space. Perhaps opt for an L-shaped desk unit with modular cabinets and shelving, including the desk, to keep the workstation low profile and streamlined.
Incorporate the decorative along with the utilitarian with attractive storage boxes to store office supplies. Balance the function with style, being sure to include a few of your favorite trinkets or keepsakes on the shelves, too.
Transform an Awkward Nook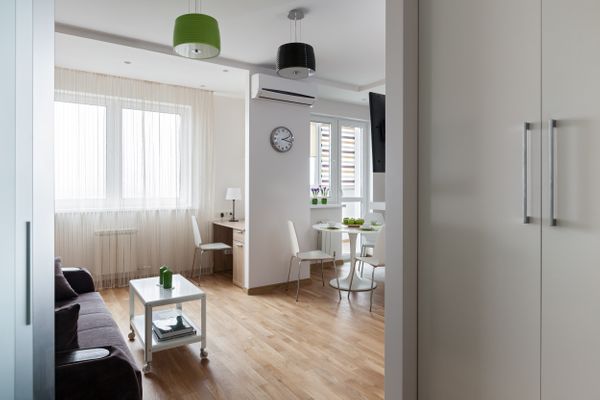 If your home has a cramped or awkward nook that's proved a challenge to put to good use, this is a perfect place to incorporate a tiny, but efficient workstation.
Choose a small desk unit, or for a cleaner profile, simply float your desktop, as well as your shelving, the span of the nook, as high and as low as you see fit.
You may also like:
Ideas to Inspire the Perfect Dream Office in Your Kitchen!
Categories
Home Office
,
Small Spaces