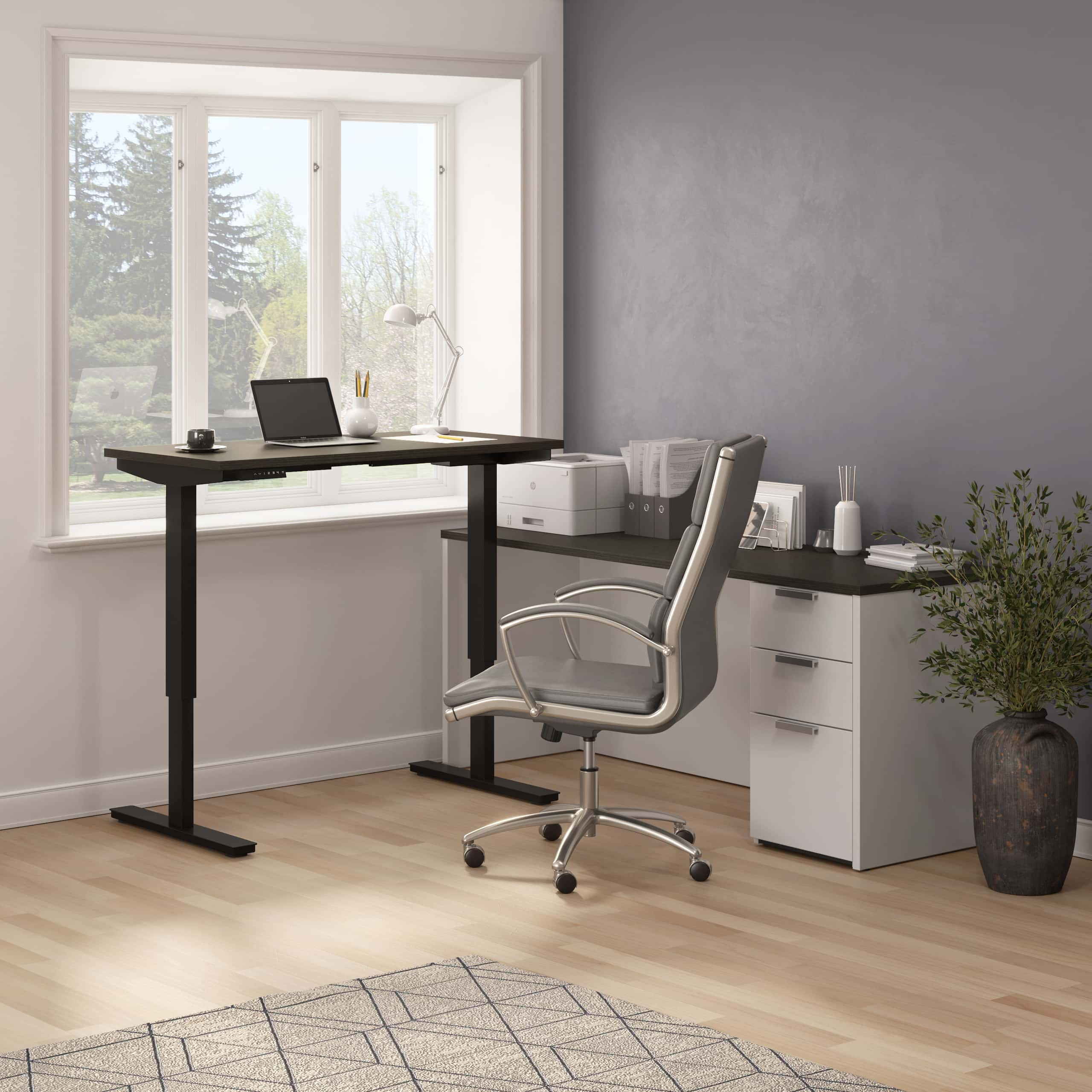 If you're working from home or thinking about creating a home office, there are a number of things to consider before getting started. You need to think about the space, the lighting, the storage options and, most importantly, the right desk. It's important to find an ergonomic desk that works for your needs, all the while providing optimum efficiency and productivity. If you're looking for a desk that checks all these boxes, why not opt for an electric standing desk?
Bestar adjustable standing desks offer complete versatility and comfort. You can adjust the height of the desk within seconds, making it easier to get comfortable during your workday. There are a number of unique features and perks to owning an electric standing desk. If you're searching for the right desk for your space, we highly suggest a Bestar adjustable standing desk. You'll benefit from a comfortable, ergonomic desk that works with your specific needs.
Finding the right desk for your office space can seem like a challenge, but when you know what you're looking for, it's easy. No matter if you're working from home or at the office, an electric standing desk has an array of benefits that truly make a difference in your work life. Keep reading to discover seven key things to consider when buying an electric standing desk.
Unique, Easy-to-Use Features
When choosing an ergonomic desk for your space, it's important to know what you're looking for and what features you need. Moreover, you also need a desk that's easy to use and adjusts seamlessly. You might be wondering: Will the desk height work for me? Will I be comfortable? Will these features make a difference in my work? Bestar adjustable standing desks are easy to use and customizable to your specific needs and height. The array of features will truly work to your advantage and make working at your desk a breeze!
Electronic Height Adjustability
Everyone is different, including each person's height. Some desks can't accommodate each person's specific height, which makes it difficult to find the right desk. However, with a sit stand desk, you don't need to worry about working comfortably at your desk. Each Bestar electric standing desk comes with a button to adjust the desk height. The desktop can be raised or lowered according to your specific height, so you can work comfortably no matter what. Most models allow you to adjust the height of the desk from 28 inches to 45 inches to find the right position. Even when you're sitting, you can raise or lower the desk to your preferred height. Ideally, you want your elbows to be at a 90-degree angle to promote better posture while sitting.  You can adjust your sit stand desk to find what's more comfortable for you. Once you've found the right position, you're off to the races!
Programmable Positions
Some adjustable standing desk models even have a digital display that allows you to program up to four different height options. You can customize the height of the desk and save these positions, making it easy to switch to your desired height with the click of a button. You'll be able to focus on working productively and efficiently, without fiddling with the controls to get back to that perfect height. It's entirely possible to continue working and get comfortable at the same time.
Improved Productivity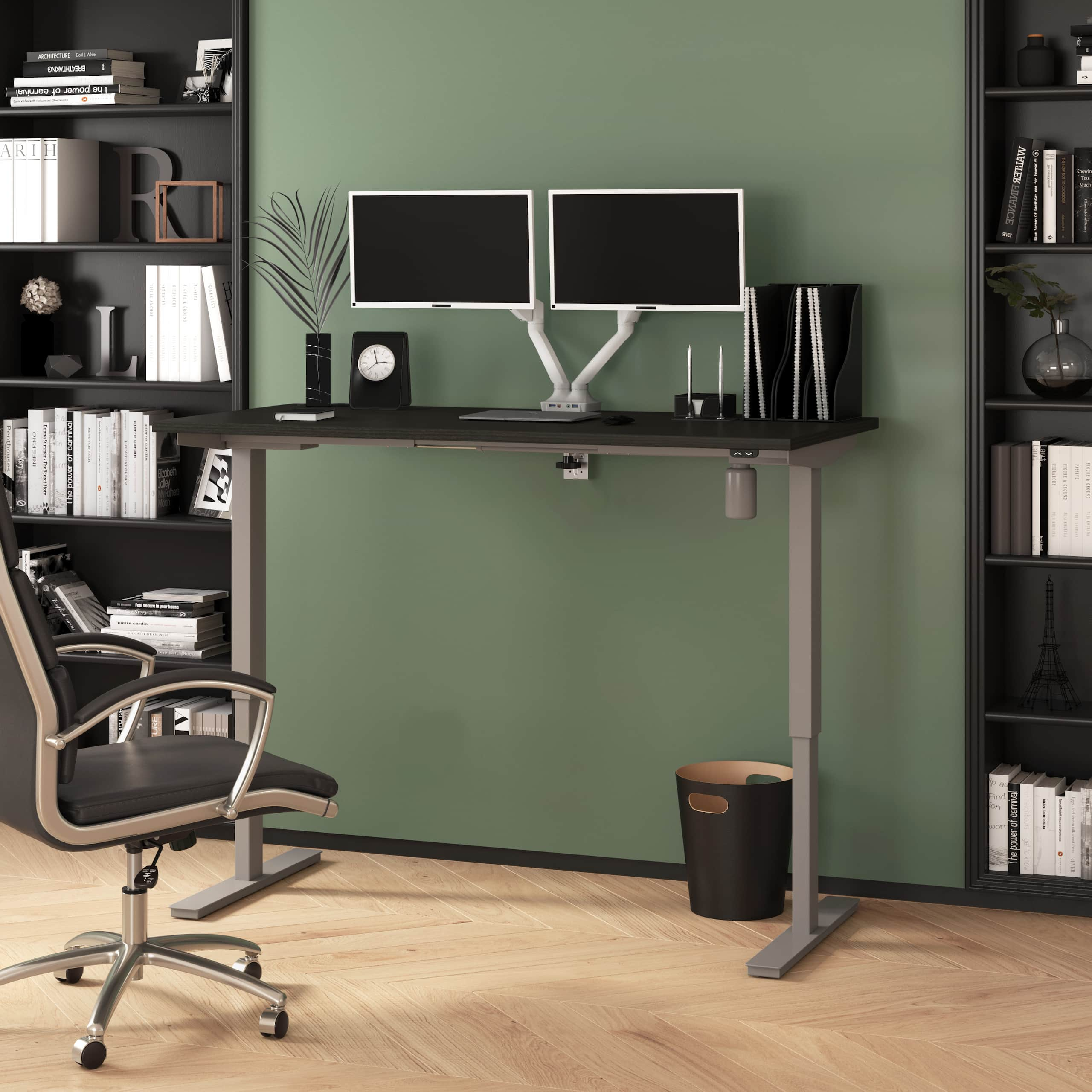 When you're looking for an ergonomic desk for your office, one of the key things to consider is productivity. You need a desk that works with your space, and helps you work your very best. You might be wondering: Will this desk work for me? Will it promote productivity and efficiency? How can this desk make a difference in my work? These are all important questions to ask yourself before settling on a desk. Thankfully, Bestar electric standing desks are made with you in mind. They provide flexibility and adaptability, so you can truly conquer the workday!
Features that Work for You
If you work on two monitors, it's important to choose a desk that has ample space on the desktop. Some adjustable standing desk models have a dual monitor arm that can accommodate monitors between 17 and 32 inches wide. The monitor arm has flexible rotation capability so you can tilt the screen and adjust the position to your liking. This will also help reduce pain in your neck and upper back since the screens will be at the right eye level. The dual monitor arm also saves space, so you have ample room for your keyboard, speakers and mouse (even your coffee!). It's easy to work on two monitors at once with Bestar!
Even if your electric standing desk doesn't come with a dual monitor arm, there's still plenty of room on the desktop for your computer and keyboard. Bestar electric standing desks come in different sizes, so you're sure to find the right fit for your needs. You can opt for a larger desktop if you need additional space.
Another smart feature in some Bestar electric standing desk models is the USB/power outlet. You can charge your electronics, such as your laptop, phone or tablet, easily with the USB port on the desktop. You'll also be able to keep computer wires neat, tidy and untangled thanks to the grommet found on most Bestar adjustable standing desks. No matter which model you choose, you can work efficiently and productively with a stand up desk.
Flexibility is Always at Your Service
An electric standing desk is a great option for someone looking to combine comfort and practicality. Since you can change positions from sitting to standing immediately, you're able to keep working, without disrupting your tasks. Do you need a few minutes to stretch your legs, but you also have a fast-approaching deadline? Don't worry, you can do both at once. Simply raise the desk and give your legs a much-needed stretch as you continue your project. You can even do simple exercises while at your desk to promote circulation and help you focus. Changing positions will improve energy and concentration, making it easier for you to complete the task at hand successfully.
Setting yourself up with a desk that offers high performance and flexibility is the key to success. The more comfortable and well equipped you are at work, the more likely you'll be productive. Having all these unique, versatile features will truly boost your productivity and efficiency at work.
Budget
Creating the ideal office space can be costly and sometimes stressful, especially if you're on a budget. The cost can add up quickly when factoring in the desk, storage options, accessories and so on. However, if you keep your eye on the prize, you can stay within your budget and still create an ergonomic workspace.
Simplicity is an Option
One way to stay within budget is to opt for a simple electric standing desk. For instance, you choose a stand up desk from the Universel Collection. This collection offers an array of electric standing desks in different sizes and styles to suit your needs. Each stand up desk is made with quality materials, a durable desktop and a steel base, so you can carry out all your tasks with peace of mind.
Once you've decided on a sit stand desk, you can take a look at smaller storage options. The key is to narrow down your choices and focus on what you need. Do you have important, confidential files to organize? Do you have office supplies? Do you need a place for your printer? If you answered "Yes" to any of these questions, you might consider a file cabinet to go with your sit stand desk. You can easily place the cabinet underneath the desk or beside it in your office. If storage options aren't in the budget right now, don't worry! You can stick with a simple electric standing desk, then opt for storage furniture later. The goal is to find what works for you!
Sale Pages are a Must
Are you looking for a larger electric standing desk, but your budget doesn't allow it? Do you need a desk that allows you to carry out in-person meetings and work activities? At Bestar, we have amazing sales year-round, making it even easier to create your dream office. Let's say you need an L shaped electric standing desk or a corner standing desk for your office, but these options just aren't in your budget. If you check the sales' page regularly, you're sure to find something that works for you. You can even sign up to the Bestar newsletter to stay up to date with the latest deals and discounts. Tip: take a look at the sales' page near the holidays for even more savings.
Desk Sets and Storage Options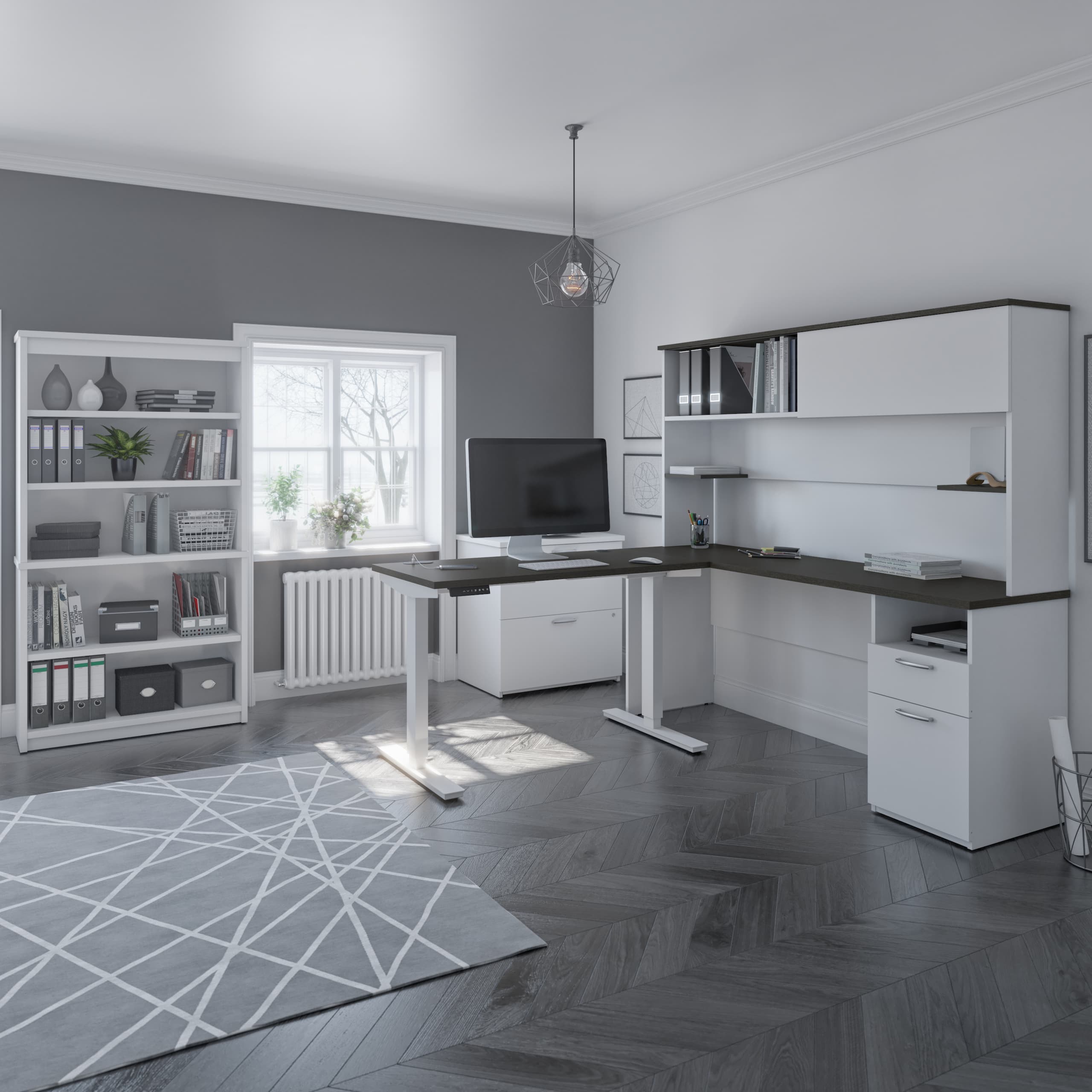 Of course, office storage is a key element to consider when creating a home office. There are many options out there that you might be thinking about for your space. Bookcases, credenzas, filing cabinets—the list goes on. However, it's important to opt for furniture that boosts productivity and works with your available space. All depending on the space you have, you can opt for an electric standing desk that comes with a storage piece. There are different configurations and styles to choose from at Bestar, so you can definitely find an ergonomic stand up desk that fits your needs.
The Perfect Setup Based on Your Needs
You can make it even simpler to find a setup that works for you when you opt for an electric standing desk. For instance, you can go with a corner standing desk that offers ample workspace and storage options, all the while ensuring complete versatility. You can choose between an array of storage options to go perfectly with your stand up desk. Do you need a credenza for your office supplies? What about a file cabinet that locks? Open or closed storage compartments? Once you've narrowed down your choices, you can choose the right setup for your space and needs. You might even opt for a bundle with an adjustable standing desk and complementary storage. This way, all of your office furniture is purchased in one simple step.
If you're looking for a space-saving, modern solution, Bestar also has L shaped electric standing desks from the Pro-Vega Collection. These stand up desks are two-toned, offering a contemporary feel for your office. Most models come with different storage options, such as a credenza or hutch, which is perfect for your needs. Store all your work supplies in a single unit, without creating additional clutter on your desktop.
You can also place L shaped standing desks strategically in the room to boost productivity, without cluttering the area around you. If your office is in a shared living space, you can set up your electric standing desk in the corner or in the back of the room. You'll be able to save space and create a unique, ergonomic office that's entirely yours. Moreover, you'll have plenty of room for your printer, monitors and work supplies with this L shaped standing desk set.
Quality, Stylish Materials
Another important aspect to consider when looking for a work-from-home electric standing desk is durability and professionalism. You need a sit stand desk that offers a stylish design, all the while withstanding the wear and tear of everyday use. In truth, you'll be working at your desk every day, so it needs to last!
Do you cringe at the sight of coffee rings on your desk? No worries! Bestar electric standing desks are made with quality materials to ensure durability and performance. Most of our desks have 1-inch-thick desktops made with a melamine finish that's resistant to scratches, stains and wear. In addition, each work surface is made with commercial-grade particle board that offers great durability. You can rest easy knowing your desktop can accommodate all your work needs, without warping from everyday use.
Moreover, it's equally important to have a desk that's both professional and durable. Bestar electric standing desks offer a stylish, modern design, and come in a variety of styles to meet your needs. Most sit stand desk models have a steel base that adds a modern touch to your space. You can also choose from a variety of colors that work with your style and space. No matter what finish you opt for, the durability will always stay the same.
There are plenty of amazing electric standing desks that will work in your office. No matter what style you choose, you're sure to have a professional, ergonomic space. If you need inspiration, you can browse the web for unique ways to customize your work-from-home space. You don't need to compromise on functionality or style with Bestar!
Practicality and Versatility for Small Spaces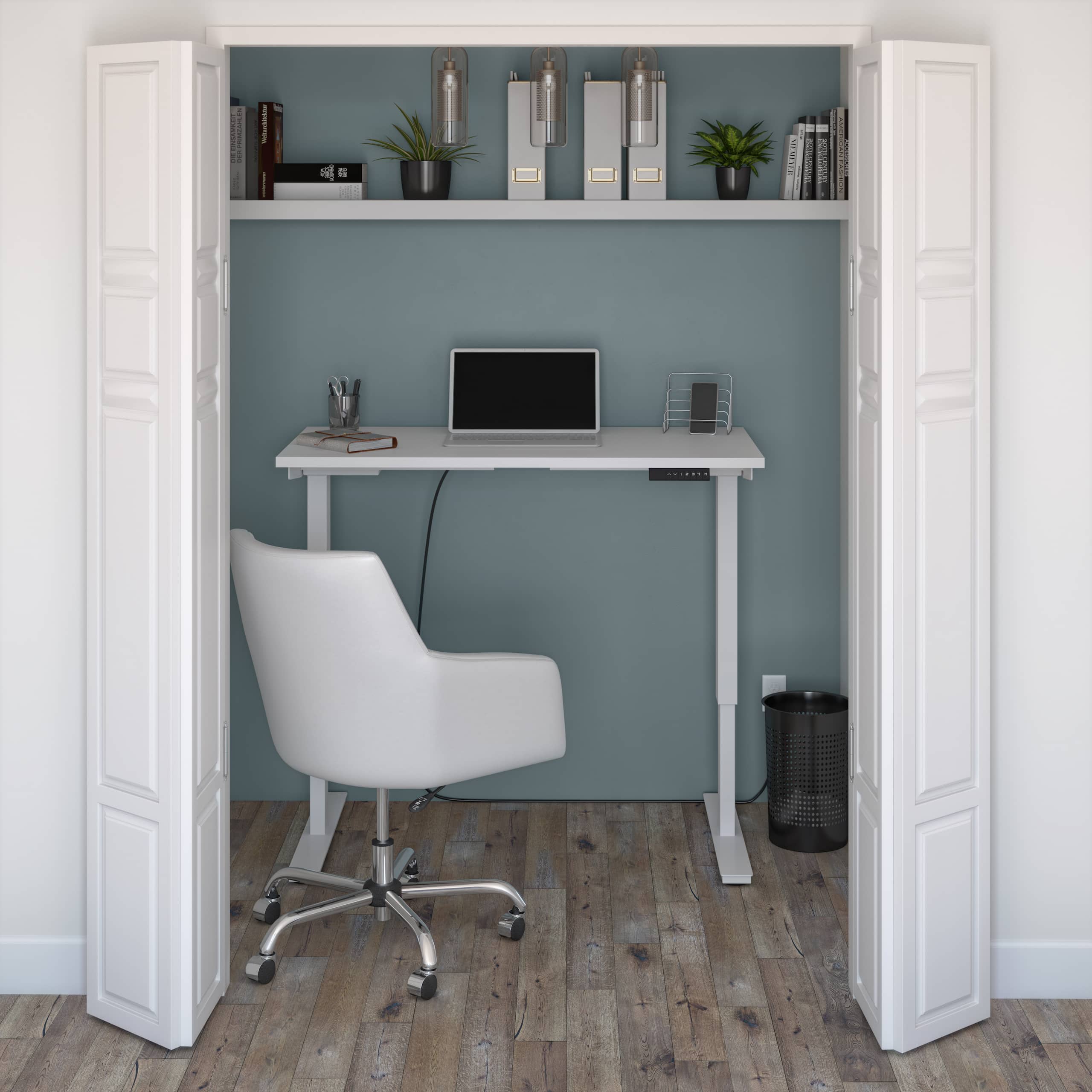 If you're working from home and you need to create an office in a shared living space, it might seem impossible to find a desk that works. Sometimes, adding a desk can feel cumbersome in an already small space. With an electric standing desk, you can benefit from a practical and versatile workstation that works with your space.
Since you can choose from a variety of standing desk styles and sizes, you're sure to find the right fit for your needs. Even if you choose the smallest size available, you can enjoy the same great height-adjustable features as other models. Some sit stand desks even have swivel casters, making it easy to move your desk around the room. Keep your desk in the corner when you're not using it and slide it over when you're ready to work.
If you need a stationary stand up desk, you can still opt for a smaller model to save space. You can choose a 48-inch-long desk, which will fit in nicely in smaller spaces. What's more, if you opt for a small stand up desk, you can place it practically anywhere—even inside the closet! It's a good idea to measure your preferred space before deciding on the right size stand up desk for you. Once you've measured the space, you can see which model you need. That way, you'll be able to make your electric standing desk work to your advantage, without rearranging your space or overcrowding the room. Saving space and practicality go hand in hand!
The space-saving design truly makes Bestar's electric standing desks even more attractive—not to mention practical. You'll be able to find the best ergonomic desk for you, no matter what size space you have. No need to compromise on functionality or productivity.
Comfort Throughout the Workday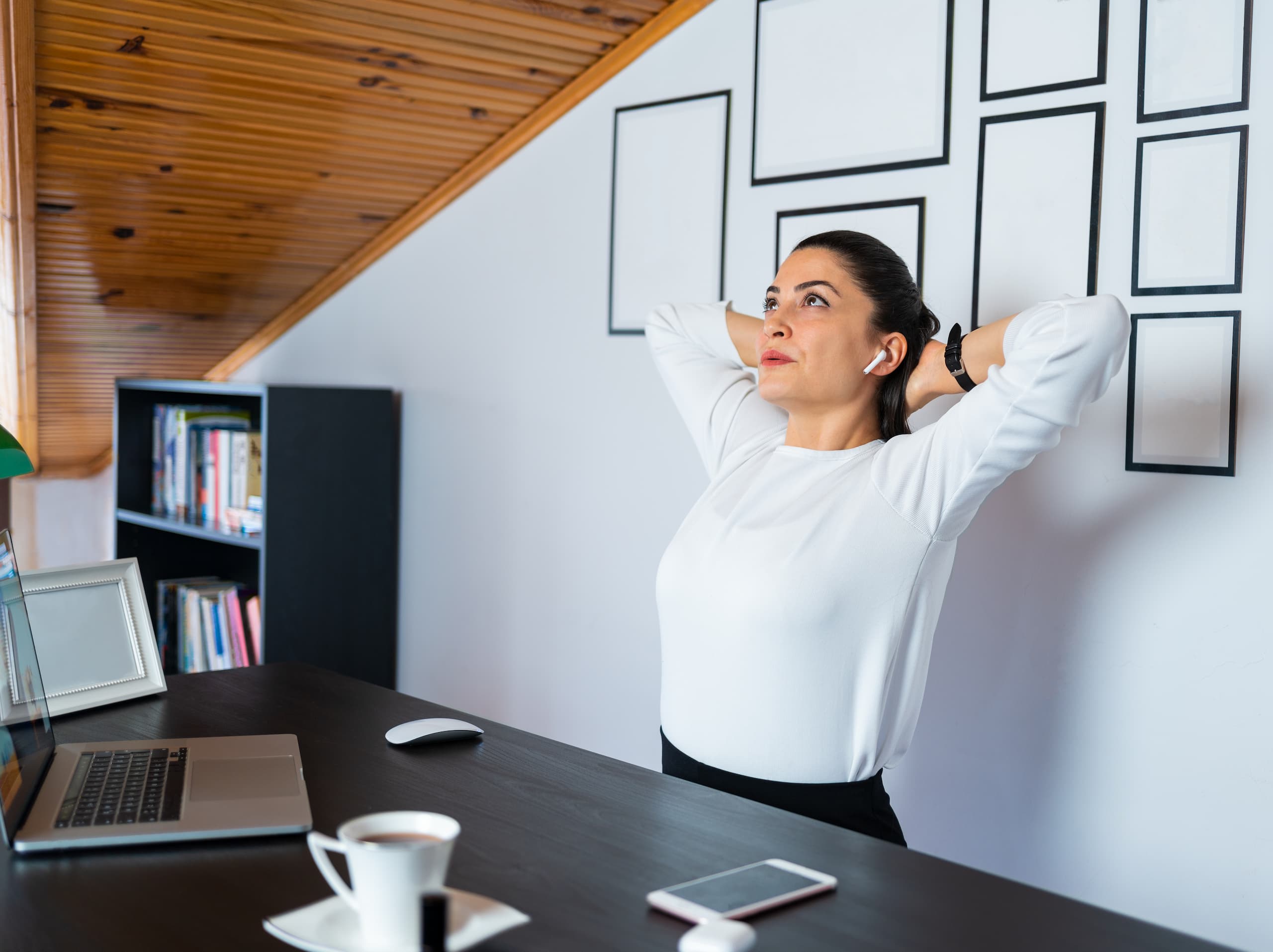 Sitting at your desk for more than eight hours a day can be extremely exhausting, not to mention painful. After your workday, your back might feel very tense from sitting in the same position for hours on end. Moreover, being in pain can be extremely detrimental to your productivity and overall mood at work. All that to say, comfort is a must when you're at work. You need to be sure your workstation can adapt to your needs and provide comfort. With a sit stand desk, you can significantly reduce pain and increase comfort by working in different positions, all the while promoting productivity.
With an electric standing desk, you can switch simultaneously between sitting and standing to ensure optimum comfort. By changing positions throughout the day, you will be able to reduce pain and improve concentration. You can change positions every few hours to minimize muscle pain and clear your mind. In turn, you'll feel more relaxed and in a better mood for the rest of the day. All you need to do is raise the desktop with a simple click of the button, and you're ready to go.
You might also consider getting an ergonomic office chair to go with your electric standing desk. It's a good idea to opt for a chair that has a high back to provide maximum support when you're sitting at your desk. Also, adjustable armrests are great for promoting movement and reducing pain in the arms or upper back. You can choose a chair with swivel casters, so you easily move the chair to the side when you're in a standing position. The more comfortable you are throughout the day, the more focused you'll be!
Comfort Makes for a Healthy Lifestyle
Opting for a sit stand desk also promotes a healthy lifestyle. When you're sitting all day, you aren't moving as much. Sitting for hours in the same position can also significantly impact your posture. Thankfully, sit stand desks are adaptable, allowing you to feel your very best at work. Adjusting the height of your desk is one way to reduce pain and improve concentration. You can focus on maintaining a healthier lifestyle by integrating movement into your workday—right at your desk.
When you change positions, you can significantly increase your energy and reduce pain in problem areas, such as your back and neck. It's easy to switch between sitting and standing with Bestar's ergonomic sit stand desks. Choose your favourite positions and stick with them as you continue on with your workday. You can even set a timer to switch positions several times in the day. Taking a break after a stressful deadline to stretch can do a world of difference for both your productivity and overall health. There are tons of benefits to having an electric standing desk!
Creating an ergonomic workspace can be a tall order, especially when you're not sure where to start. It can be even more challenging to find the right desk for your needs and space. However, when you opt for a versatile sit stand desk, you'll have everything you need to take on the workday.
Electric standing desks can make a world of difference for your productivity and comfort. Sit stand desks provide optimal comfort and adaptability, so you can work efficiently and effectively. If you need a break from sitting during the day, all you need to do is click a button and you're in a standing position. It's easy, flexible and truly beneficial!
Categories
Home Office