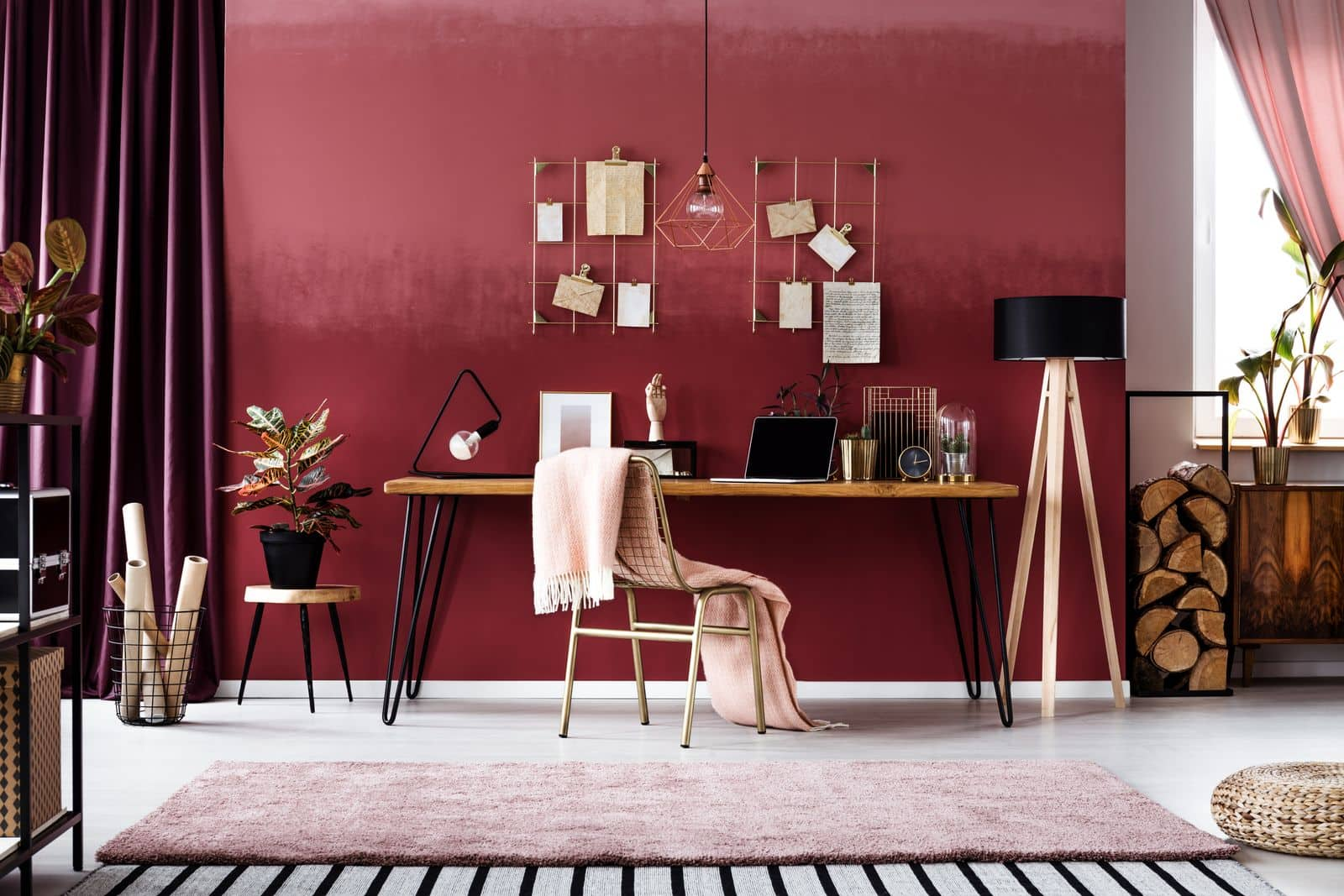 When you work from home, you want to feel comfortable and motivated in your home office. One way to boost your productivity when working from home is to add color to your workspace. A colorful home office can improve your morale and increase your comfort.
Before you begin adding splashes of color throughout your home office, you ideally want to set up a defined workspace. Make sure that you have a space dedicated to your work and a functional desk. It's best to start with a neutral desk and to incorporate color around it. After all, you want the color in your workspace to be subtle and tasteful!
Start with Color Psychology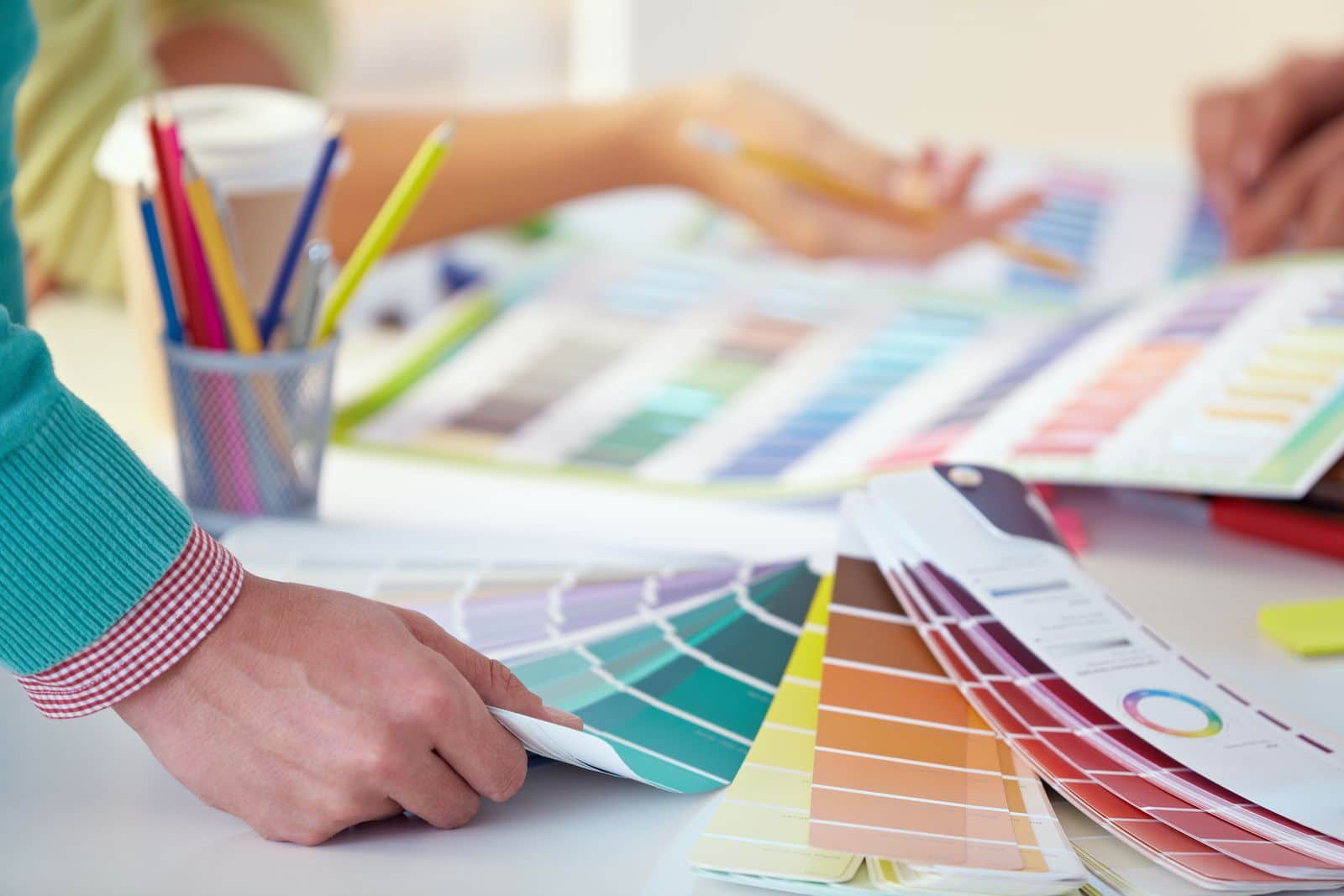 It might be tempting to just start painting everything in your favorite color, but before you do that, you should familiarize yourself with color psychology. Colors have the power to influence one's mood and affect the subconscious. Overdoing it with one color, even if it's your favorite, might not give you the results you want.
Take the time to think about which emotions and thoughts you want to nurture in your home office and consider the power of each color:
Blue: can inspire calmness and tranquility. It is also a color that is known for boosting productivity. Then again, blue can also be associated with sadness (think of the expression "having the blues").
Brown: can be connected to nature and earth. Brown evokes steadfastness and durability, but it can also be seen as lonely. Certain shades of brown, however, evoke warmth and comfort.
Green: also often associated with nature and the environment, this color can evoke feelings of well-being, good luck, and calm. In some cases, however, green is used to represent envy or jealousy.
Orange: is considered an energizing and happy color. Its brightness is attention-grabbing, and is often associated with citrus, which is seen as fresh.
Pink: is a color that can inspire love and romance. Pink is also often correlated with nurturing and gentleness.
Purple: is traditionally associated with power and wealth because purple dye was historically hard to come by and could only be afforded by the rich and powerful. Purple can be connected with a variety of elements such as wisdom, mystery, and royalty.
Red: is a powerful color that evokes strong emotions such as passion, love, and power; however, it can equally create feelings of anger or rage.
Yellow: much like orange, is a warm and happy color that is eye-catching. It is considered an energetic color, but in certain cases can lead to frustration.
Many colors have a variety of impacts, but it's important to remember that no one interprets color in exactly the same way. That is why you should consider your personal reaction to a color before deciding to incorporate it into your workspace. Once you have carefully thought it through, you will be ready to create your colorful home office.
Add an Accent Wall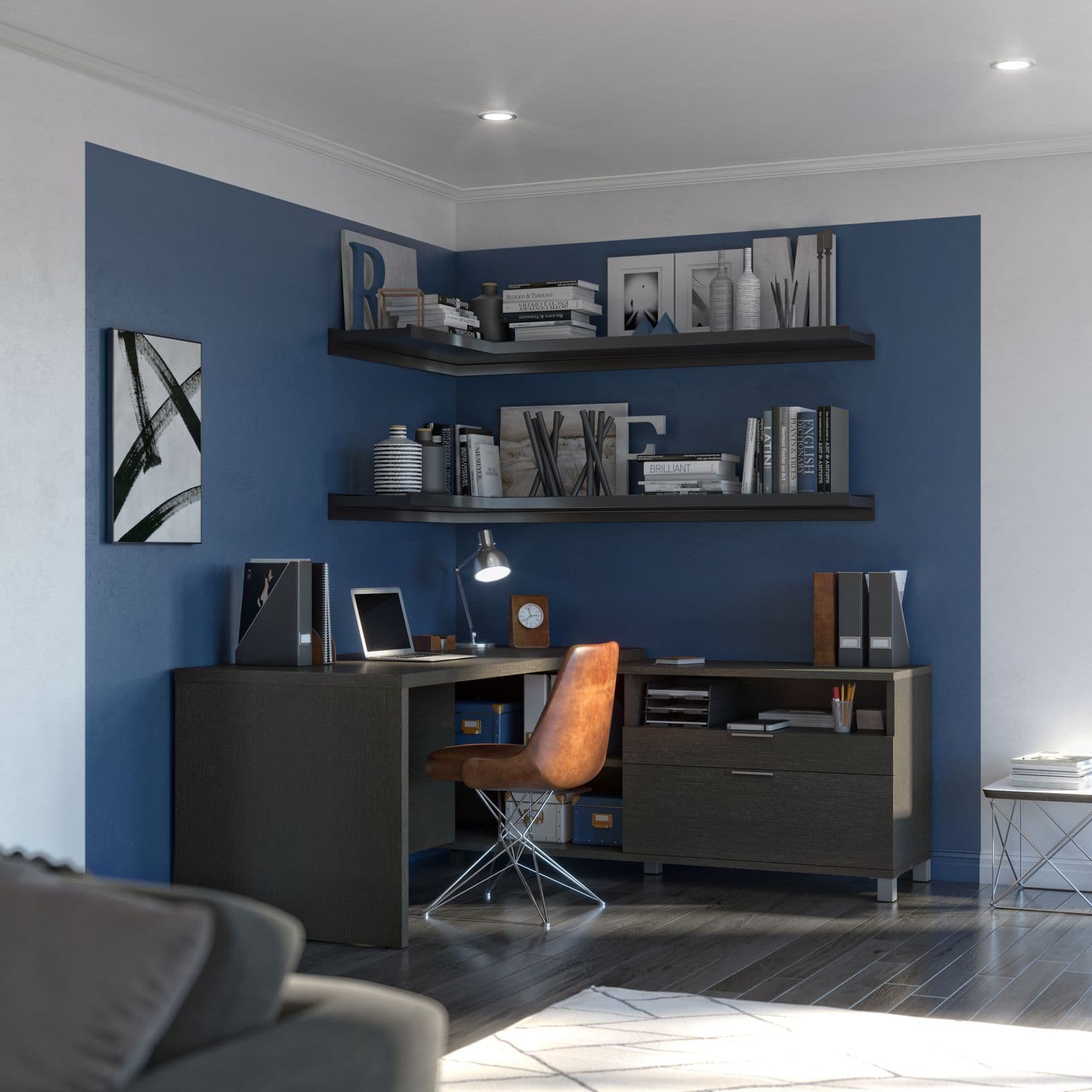 A fun and fairly inexpensive way to add color to your home office is by adding an accent wall. Simply choose a wall or part of a wall in your home office where you want to place emphasis. Once you have chosen your wall, paint it in a color that appeals to you and that meets your workspace needs.
Accent walls add a pop of color because they are different from the other walls in the room. If you want to go for a more vibrant accent wall, try painting a pattern or simply opt for some wallpaper. Simple yet fun, accent walls are the perfect way to create a colorful home office.
Revamp Your Chair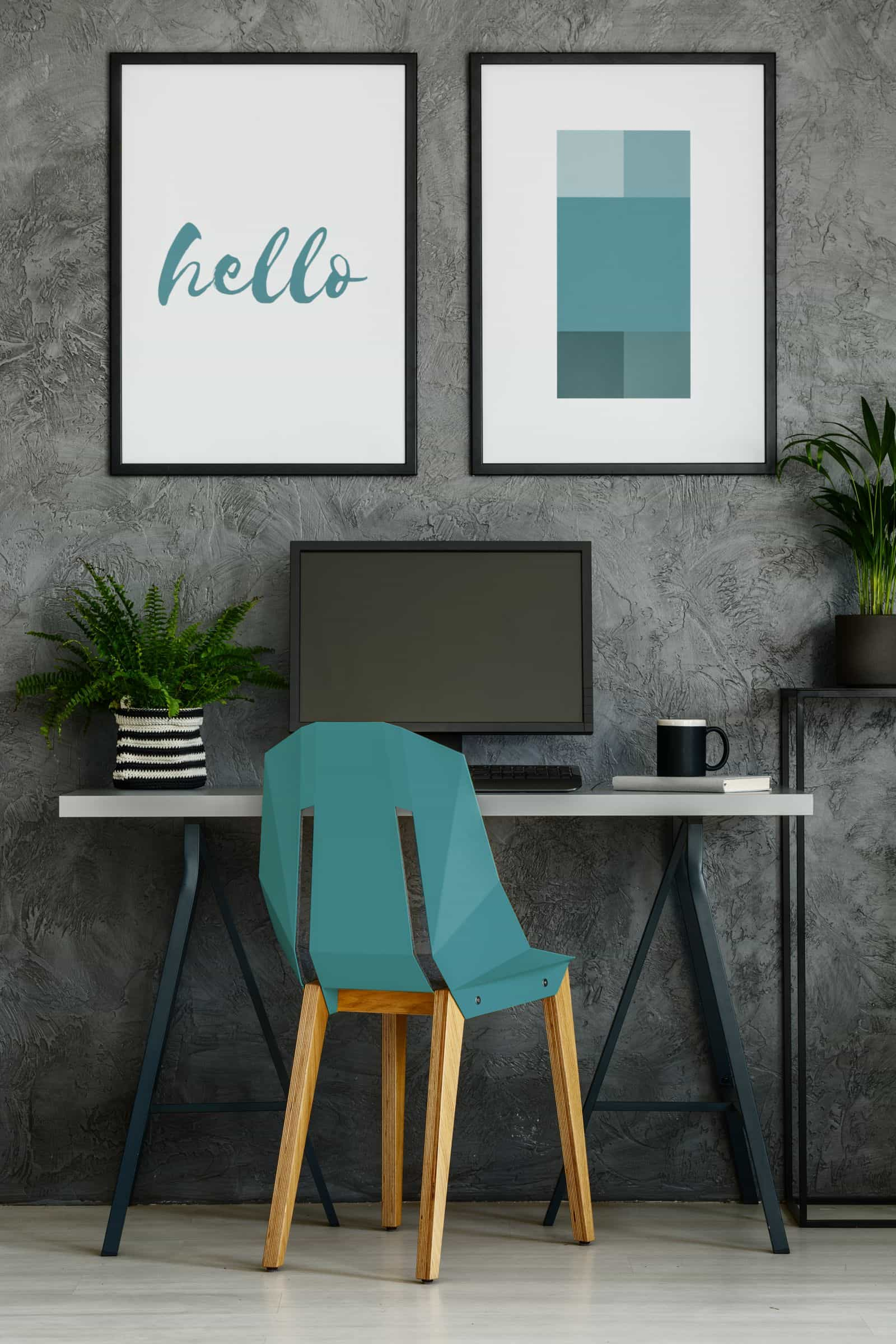 If you have an old chair in your home office and don't want to spend tons of money on a new one, then you can easily revamp your current one with some paint and/or fabric. Depending on the kind of chair you have, you can refurbish it in different ways.
This handy guide provides all the necessary steps to safely strip and repaint a wooden chair. The fun thing about repainting your chair is that you can choose to use just one color or a variety of colors. For a two-tone chair, try painting the seat and backrest in one color and the legs in a complementary color or a neutral tone.
If you have a chair with a cushion but don't like the fabric, you can change that too! Simply follow these steps to reupholster your chair. With so many unique and fashionable fabrics available, it should be fun and easy to find a fabric that will both delight you and bring color to your office.
Consider a Rug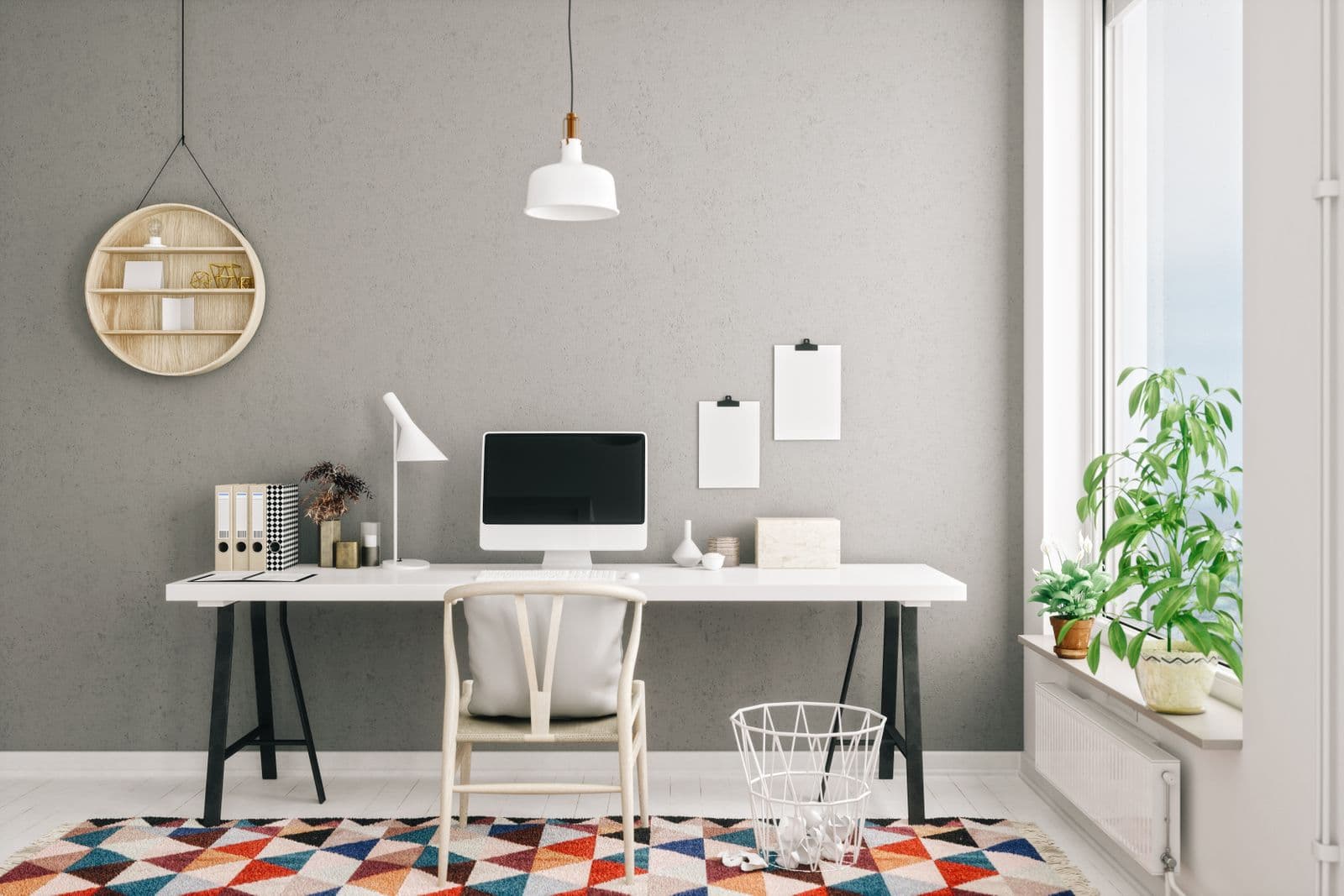 A cool and trendy way to include color in your home office is with an area rug. Carpets and rugs come in all sorts of shapes and sizes, and, of course, patterns and colors — you are bound to find something that speaks to you.
The first step to choosing a rug is to decide which size best suits your workspace. You don't want your rug to be overwhelming, so avoid choosing something that will cover your entire floor space. Generally speaking, the right rug will cover a portion of your floor area and should partially fit beneath your main piece of furniture, most likely your desk.
With endless patterns and colors, rugs are a fun and innovative way to create a colorful home office. Moreover, they are soft and cozy, and they are more comfortable to rest your feet on than a hard floor!
Hang Some Wall Art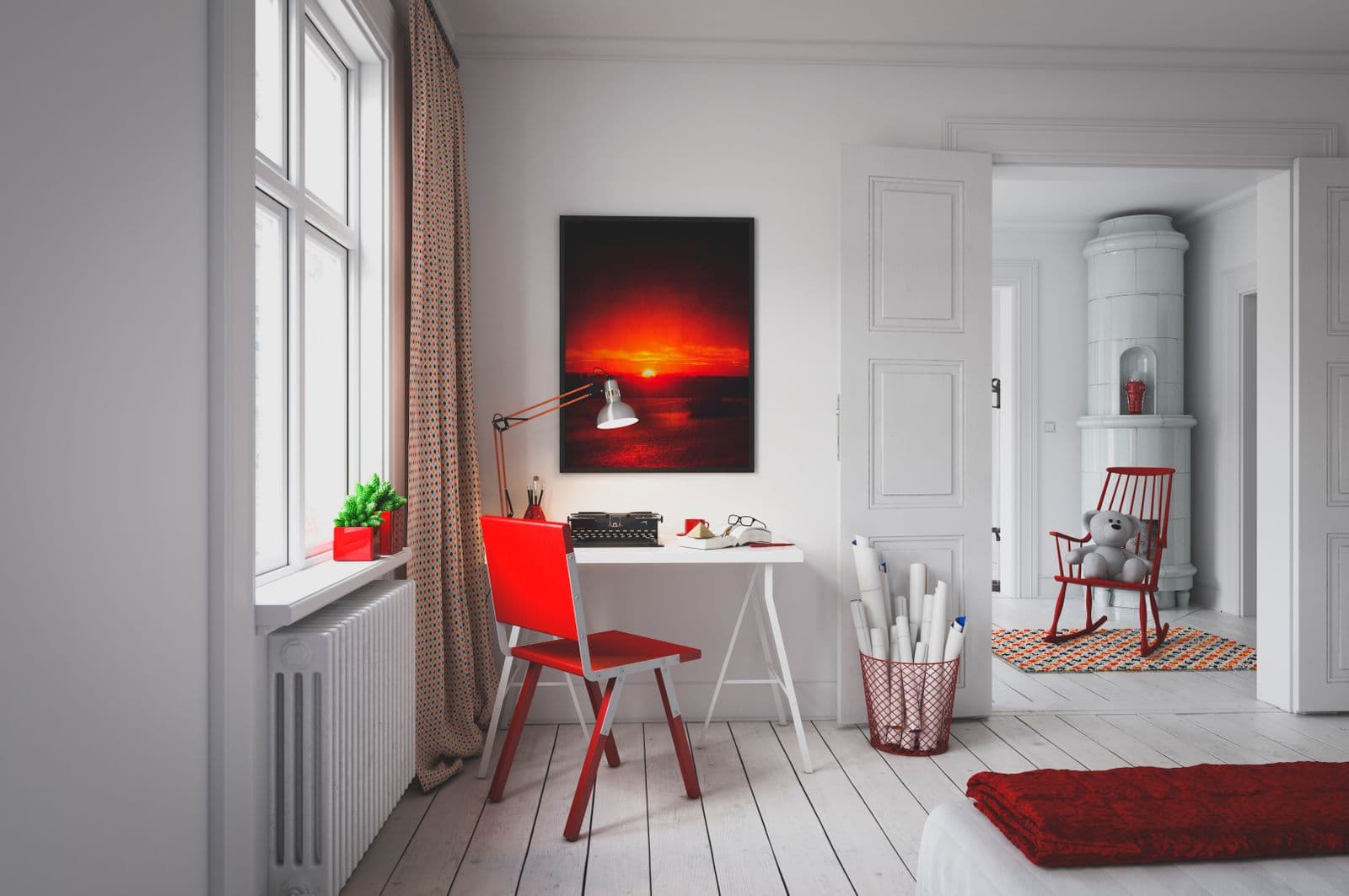 The art world may have trends and movements, but hanging beautiful art on your walls never goes out of style! Some artwork can be expensive, but it is entirely possible to find pieces that move you and please you at an affordable price.
There are plenty of sites, such as etsy, where many independent artists choose to sell their work for reasonable prices. You could also try scouting for local artists who will greatly appreciate your business and might even be open to doing custom work.
That being said, it is important to remember that you can hang more than just paintings on your walls! You can arrange a creative display of family photos, purchase a macramé wall hanging, or even opt for a unique mirror with a colorful frame. Your walls are open spaces where you can let your creativity roam!
Color-Coordinate Your Books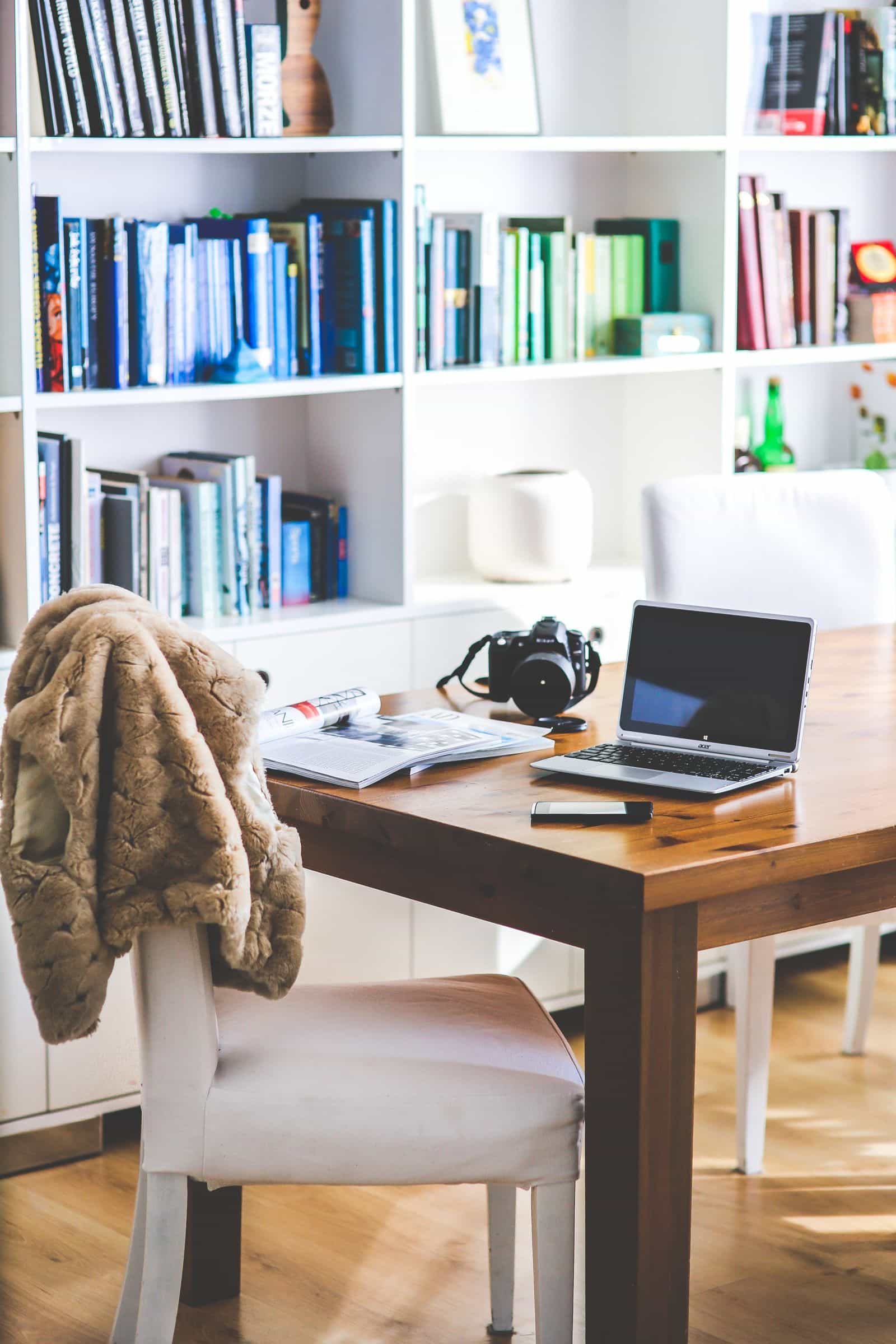 If you love reading and own a lot of books, then adding color to your home office should be easy peasy. Books come in a variety of colors, and by placing them in your office, you can both show off your good taste and add color to your workspace.
Before you move all your books into your office, however, make sure you have a place to put them. A good bookcase can add a lot of style to a home office. Like with your desk, you probably want to opt for a neutral bookcase — this way your books will be the main focus and will speak for themselves.
A really fun way to place your books is to organize them by color. Rainbow bookshelves are a huge trend amongst booklovers right now, and it's easy to see why — color-coordinated books bring vibrancy and dynamism to any space! So, feel free to play with your beloved books to help build your colorful home office.
Buy Some Plants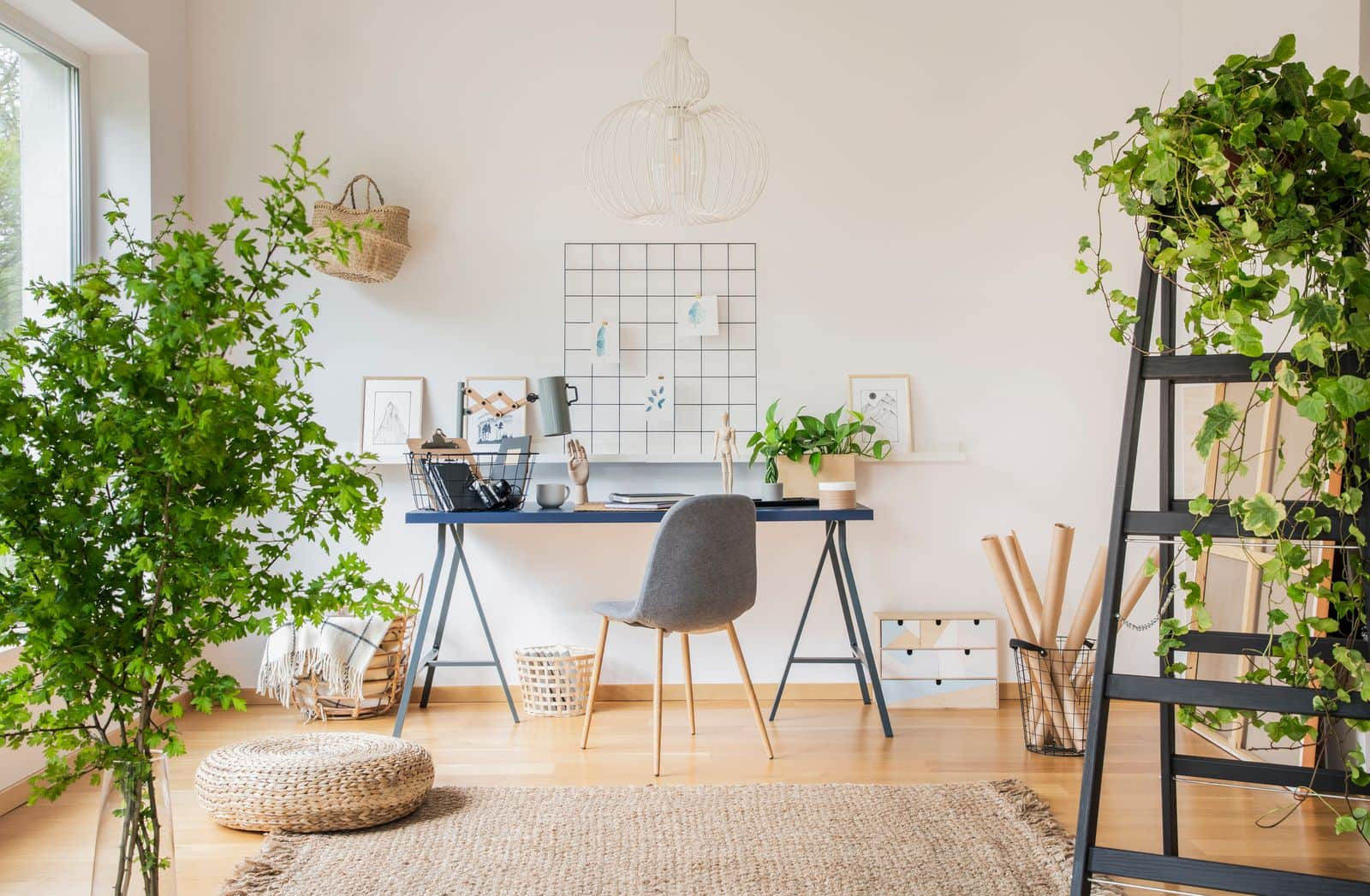 The most natural way to add color to your home office is with plants! Not only do they bring life to the room, but they also help purify your air. While most plants are green, they come in a variety of shades, and many of them have beautiful flowers of various colors.
Plants feature a host of benefits that can significantly improve your level of comfort. This means that plants will not only give you a colorful home office but a healthy space too. It can also feel rewarding to care for a plant and watch it grow.
If you don't have a green thumb and are worried about caring for real plants, just opt for fake ones. They'll still bring color to your office, and some look so real that no one will know the difference!
We hope that we've provided you with enough ideas to inspire you to start decorating and creating your very own colorful home office!
Categories
Home Office