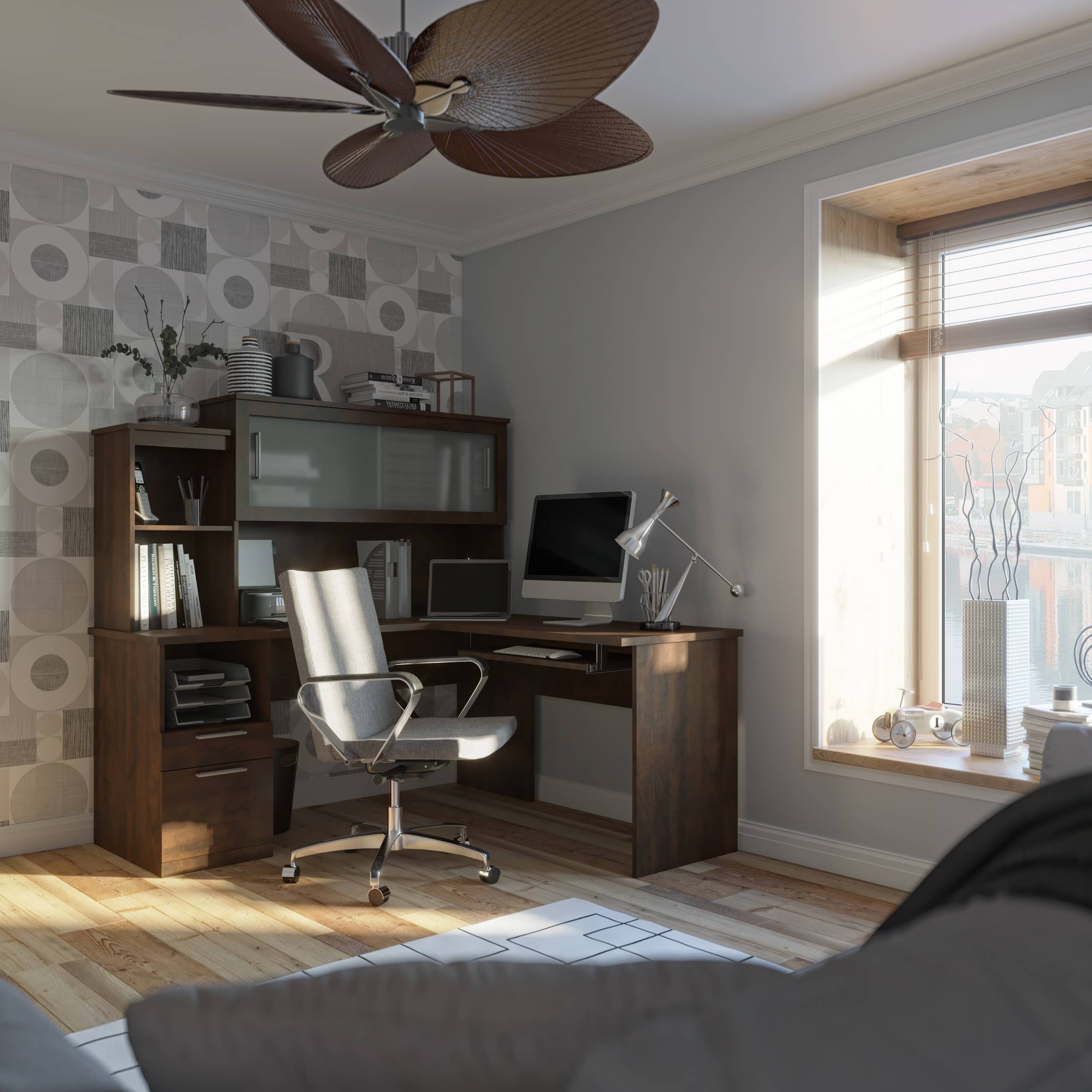 When you work in a creative field, your workspace needs to facilitate brainstorming, reflection, innovation, and provide ample space for creative thinking. The best way to get all this is with a L shaped desk.
Pre-pandemic, creatives in an office environment thrived in large, open-concept workspaces designed to foster a sense of collaboration and teamwork. Areas where ideas were encouraged to flow as freely as the movement of you and your colleagues.
Post-pandemic work life, on the other hand, is all about remote work, which is usually solitary and mostly at home. After nearly two years, many of us have settled happily into a teleworking model where we have grown to prefer the safety and warmth of the cocoon that has become our office space. We want a space that nurtures as it inspires.
Whether you've set up an office space in the corner of your living space or have a dedicated room, it's important for creatives that their workstation is as functional and productive as it is inviting, comfortable, and practical. Innovation and creativity go hand-in-hand. From an L shaped desk to the colors you choose, consider these five ways to create a beautiful, space-saving, imaginative, and highly creative space in which to do your very best work.
1. Anchor your Creativity with an L Shaped Desk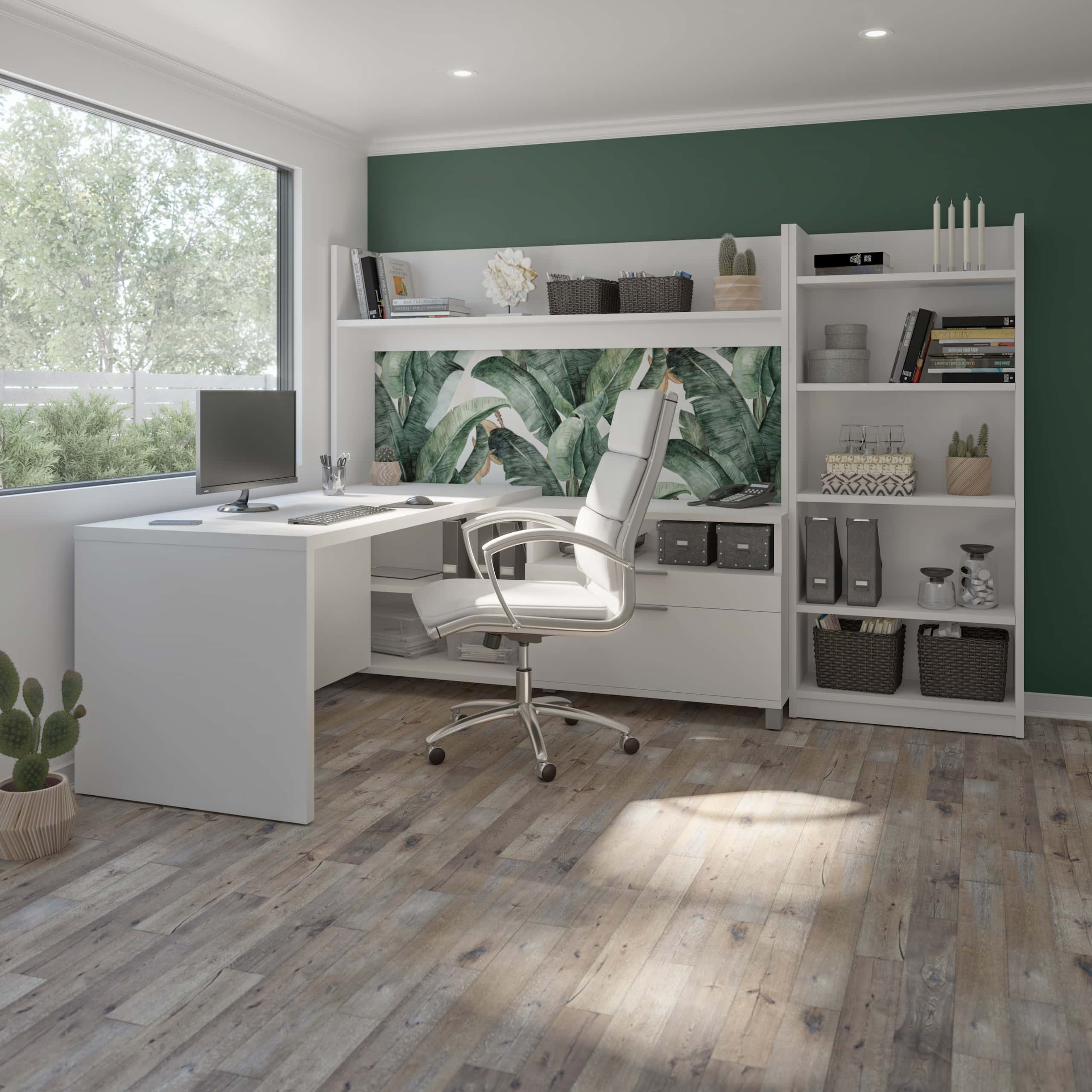 Sure, some of you are at our most inspired and creative when working on the sofa or even in bed. But for most of us, the key to a productive and optimally creative workspace is a great desk. For writers, designers, architects – creatives of all stripes – one of the best home office desk styles is the L-shaped desk. Versatile, endlessly practical, and ergonomically designed, it helps you manage all of your daily tasks with more ease and a lot more surface work area.
Moreover, an L shaped desk is a great option for anyone who needs a large work surface. Your work may demand multiple screens and the extra surface area offers the space you need without compromising the room you still need for sketch pads, notebooks, documents, and paperwork. Need room for an office mate, to meet with a colleague, or to help the kids with homework? The two large segments of an L shaped desk offer enough room to do it all.
An L shaped desk also offers a range of options for significant storage. A convenient and space-saving hutch is a great accessory to add ample storage space without eating up valuable square footage.
Additionally, you can place your L shaped desk in the corner of any room in your home to save space. In that case, the L shape provides a natural division of space, conveniently separating work from your living space.
Why have a big desk if you can't reach everything easily without strain? The L shape is inherently ergonomic in its design. The configuration allows you to roll easily between daily tasks with everything within easy reach. Choose a standing L shaped desk and enjoy even greater ergonomic benefits.
2. Quality, Stylish Lighting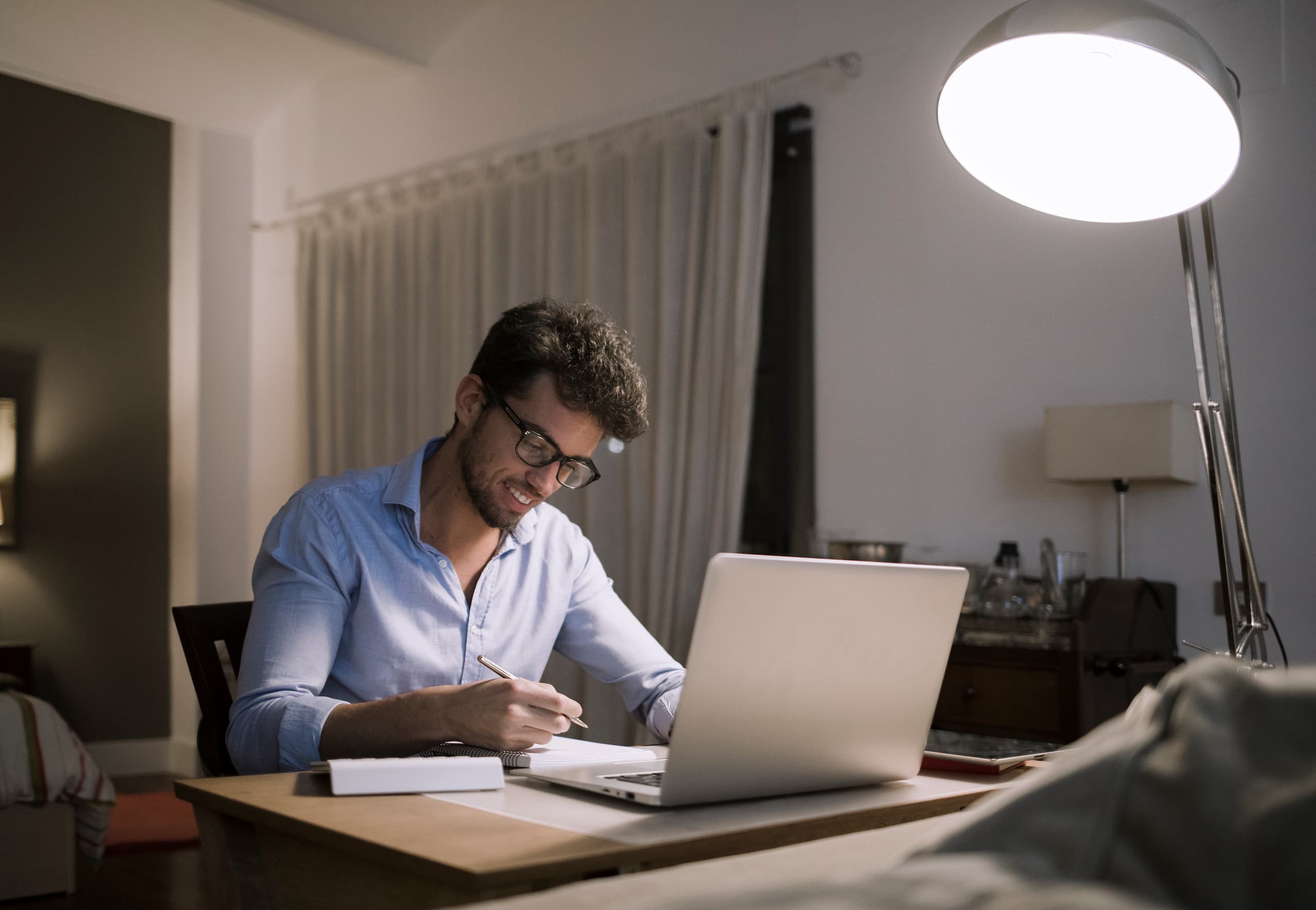 Your home office should be a place where you enjoy spending your time. It should be an uplifting space that is highly functional and, ideally, as free of distractions as possible.
A cluttered office immediately distracts from your work, and floor lamps and other types of lighting can take up space and make your office feel cramped, adding to the sense of clutter. Low lighting, too, can make your office feel dull and isolated.
Ideally, you will have natural light from a nearby window. But, if you choose quality lighting, it makes your office feel brighter and more spacious almost instantly. Include wall-mounted or ceiling-mounted fixtures to keep your floor and work surface clear whenever possible. Be sure to include direct task lighting on your desk and near seating. Position your lamp or other light sources directly above your work area and in a way that doesn't cast shadows or reflections, which can cause eye strain and discomfort. Choose lighting that adds to the style of your office. It should be as attractive as it is functional.
3. Furnishings that Are Space-Saving yet Cozy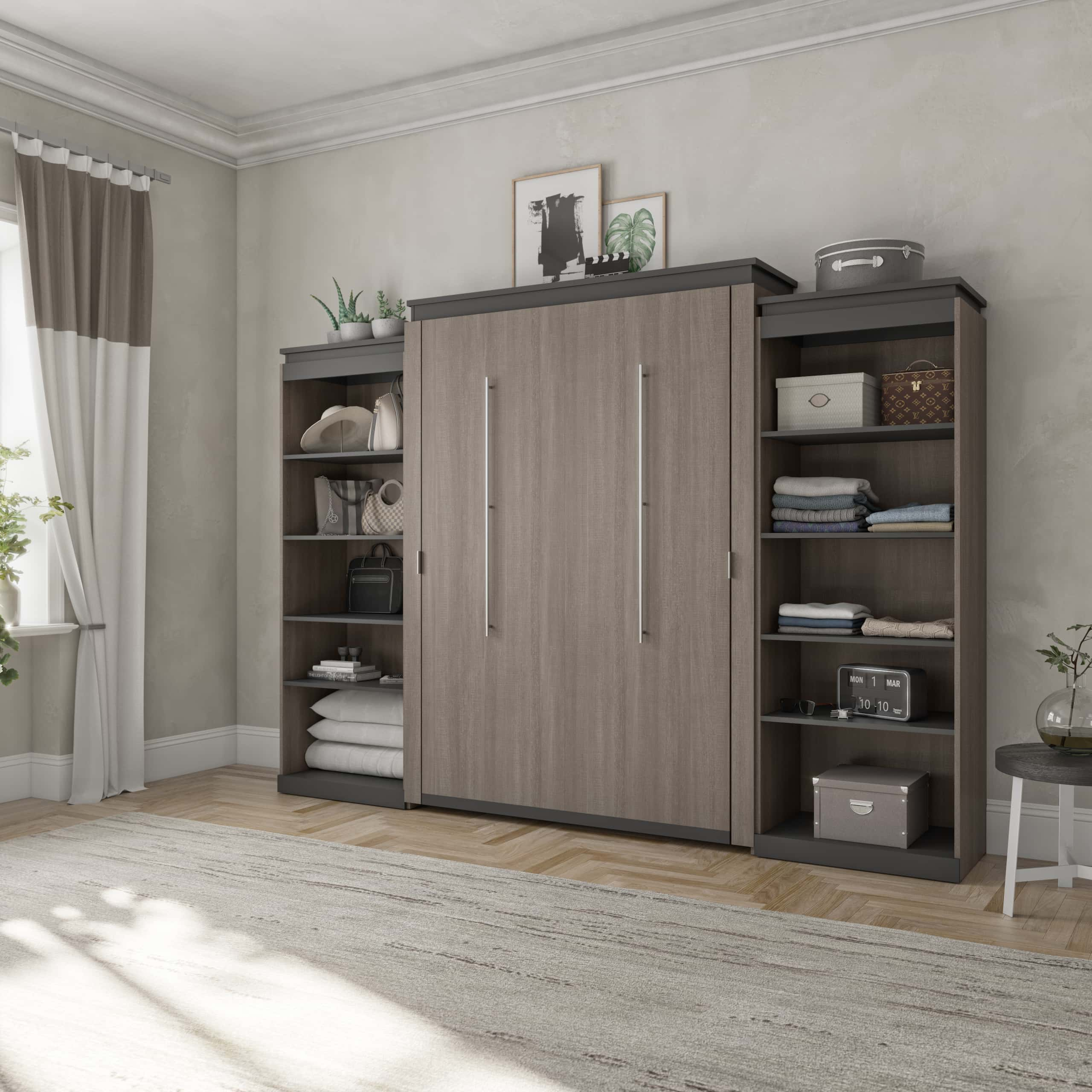 Chances are, your home office has to perform double duty – the popular office-guest room combo, for instance. When we think about innovation in our furnishings, a Murphy bed or wall bed is probably one of the first that comes to mind. Perfect for any multipurpose space, including a home office, a Murphy bed provides a versatile, stylish, and efficient space-saving solution.
Convert your office into a guest room quickly and with ease. Depending on the style you choose, you can also enjoy added storage such as shelves and cabinets to help with your office organization. Lastly, choose comfortable seating appropriately sized and styled for your space. Perfect for those times you'd prefer to work on your laptop or take calls curled up in a comfy armchair.
4. Biophilia – Bring Nature Indoors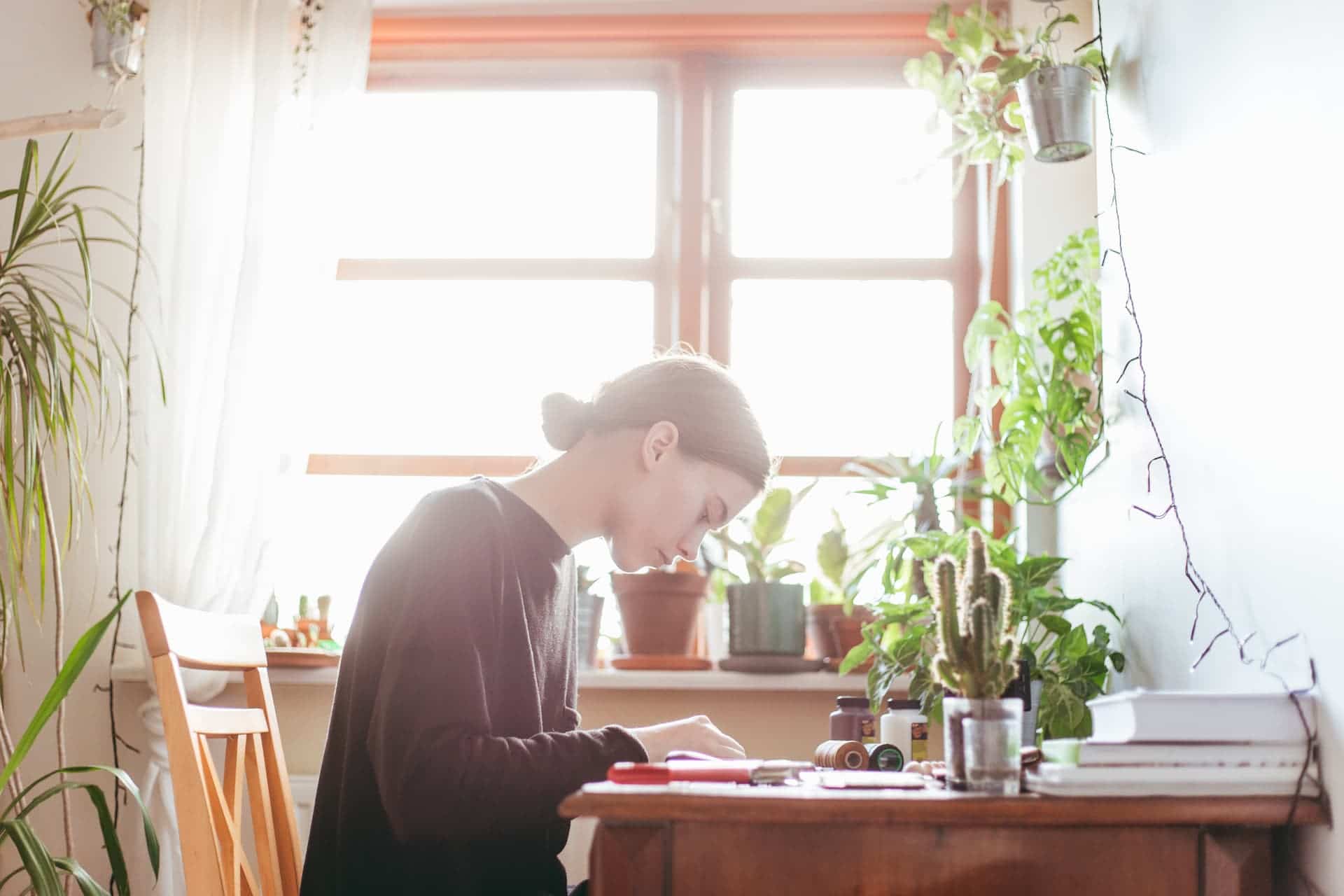 Our need for nature should be part of your home office design. Set up your desk in front of a window for an uplifting view or bring in stone and wood decor elements. Plants, even small, low-maintenance succulents, should be a staple of any home office decor.
When we include natural elements in our decor to help support our innate connection to nature, it profoundly impacts our state of mind. At work, that means we are more at ease, more comfortable, and in a better state of mental health to think creatively, be more imaginative, and enjoy greater productivity.
5. Colors that Foster Inviting Warmth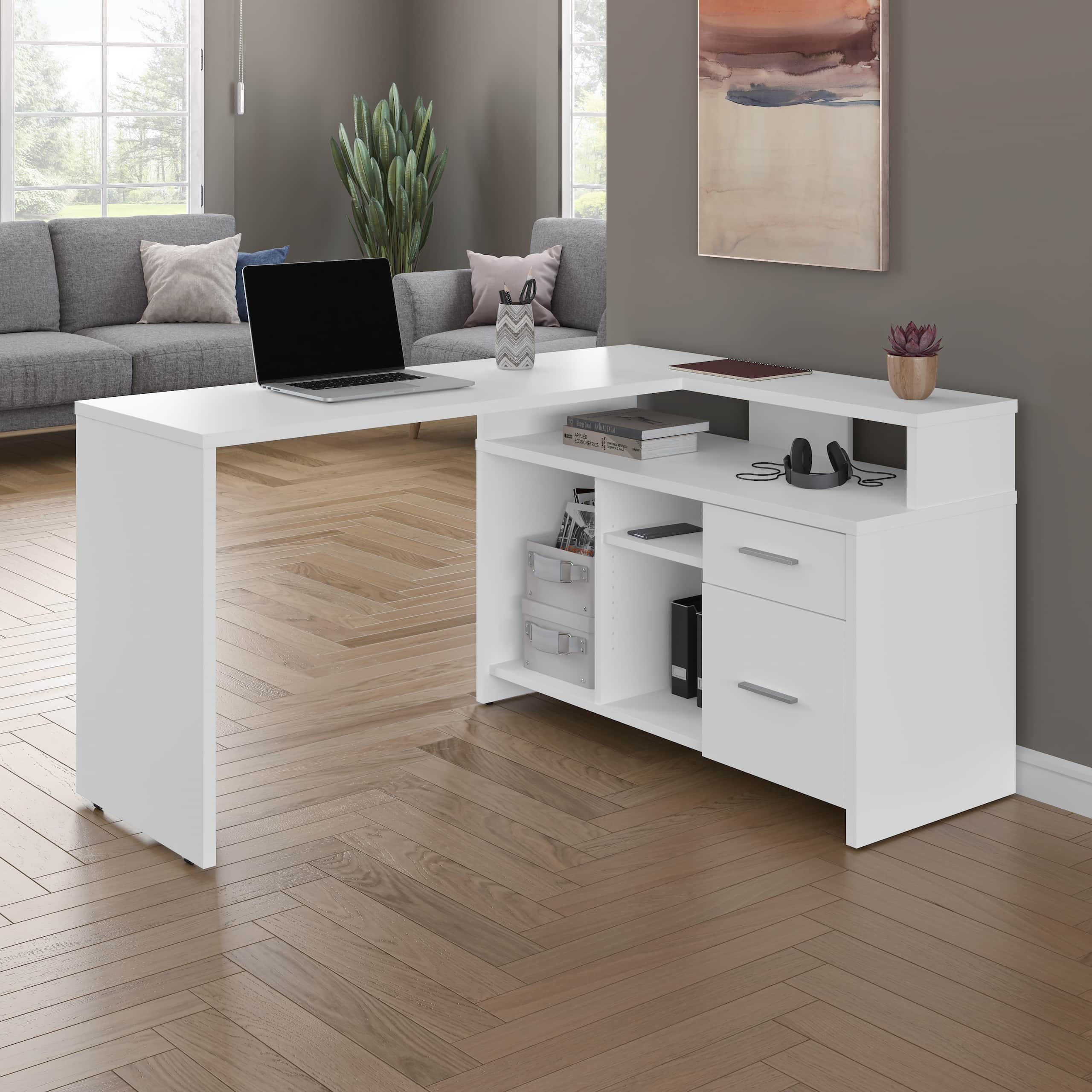 Home office color styles in 2022 evoke comfort, relaxation, and tranquility. Not surprisingly, we want to feel a sense of calm and stability, and warm, earthy tones help us achieve that.
The paint trends for the coming year – neutral gray, soft blue, light taupe, or sandy shades – provide us with a feeling of renewal but with a sense of cozy and familiar nostalgia. Given the amount of time we spend on screens, we crave nature more than ever. So, inspired by nature, this palette helps create a calm environment that will nourish the soul, no matter the demands of your workday.
For those with a preference for bolder colors, the palette for 2022 lets us embrace a future that is bright and optimistic too. It's still tinged with nostalgia, however. Lively yet slightly retro pops of color such as us terracotta, mint, and Pantone's Enamel Blue are all colors that are sophisticated yet calming and creative. They're also great for helping to lift spirits at work.
BONUS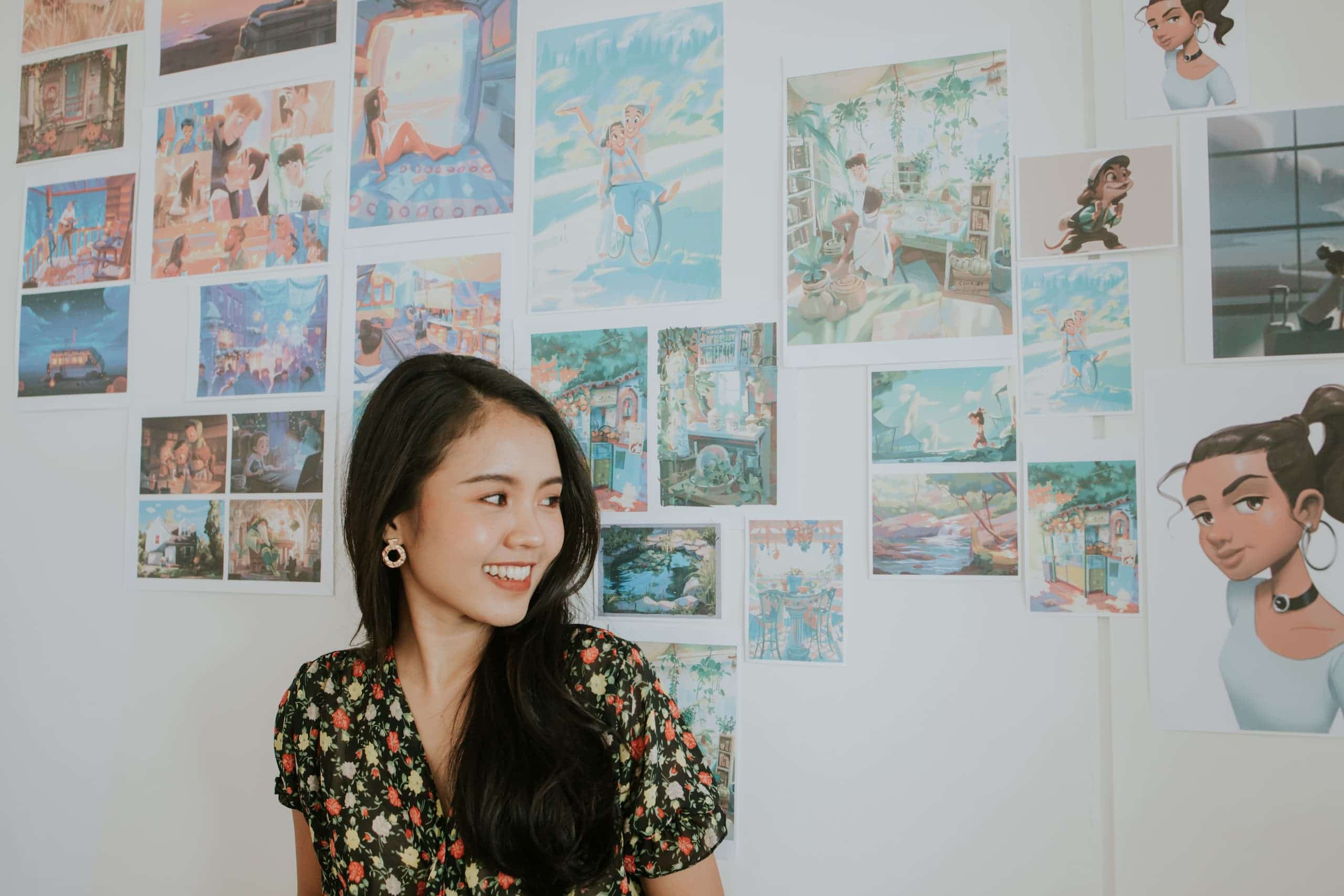 Pay particular attention to those details that will be sure to make your home office a place that invigorates and inspires you. Include your favorite art pieces, family photographs, beloved keepsakes, fresh flowers, or a favorite blanket. Include those special items that will make your space truly yours and bring comfort, ease, and joy to every workday.
Categories
Home Office