Step #10
Previous step
Next step
Thank you for choosing a BESTAR product.
Your total satisfaction is our #1 priority.
Should you have a problem or need more information about the warranty, do not call to the place of purchase.
Please call our customer service department for immediate assistance using the following toll free number :
1 888 823-7827
Or contact us by email through our form.
Please have your assembly instruction manual on hand when you call. BESTAR products are warranted to the original purchaser against defects in material or workmanship in the furniture. Defects as mentioned in this warranty refer to any imperfections which may impair the use of the product. Our warranty is expressly limited to the replacement of furniture parts and components for ten years following the date of purchase, with the exception of the Euro Slat mattress support and suspension mechanism that are guaranteed for two years. BESTAR will replace any part that is defective. This warranty applies under conditions of normal use. Our furniture products are not intended for outdoor use. The warranty does not cover defects caused by improper assembly or disassembly, defects occurring after purchase due to product modifications, intentional damage, accident, misuse, exposure to the elements and labor or assembly costs. Bestar reserves the right to request proof of purchase to document a warranty claim. In no event shall BESTAR be liable for incidental or consequent damages resulting from the misuse of the product. This warranty is not transferable and is valid only in Canada and the United States excluding Alaska, Hawaii and Puerto Rico.
Ask a question to the Bestar customer service
Frequently Asked Questions
What is a qualified person or professional installer and how do I find one in my area?
A qualified person is someone with the skills and tools necessary to locate wall studs, identify the type of wall structure (wood, metal, masonry), and install screws correctly to the wall structure. Skills and tools include an electronic stud finder, drill motor and bits, screwdriver, and the ability to correctly use these tools.
For all other wall types, a construction professional must install the bed to the wall. A certified construction professional will be in compliance with applicable regulations in the province, state, or country where the furniture is installed.
Your local better business bureau or building inspector can give you a list of local contractors with knowledge of wall construction and cabinetry installation. An internet search for "Home Handy Service" or "Home Furniture Installation Services" may list qualified, professional installers in your local area.
Can promotional codes be used on sale items or can I use two or more discount codes on my purchase?
No, promotional codes can be applied to regular price items only. Offers cannot be combined with any other coupon codes or discounts.
How to install the new improved already extended pistons?
What materials are used to make your furniture?
We use high-quality laminated particle boards, coated with a paper finish to give it its wood color and texture. The majority of our collections combine the properties of commercial melamine and papers that are highly resistant to scratches, stains and wear.
Did you know that Bestar was the first North American manufacturer of ready-to-assemble furniture to use a melamine finish? In fact, the majority of our products are covered with this material, which is recognized by the industry for its durability and resistance to scratches, stains and burns.
How do I clean my new Bestar Furniture?
To dust, we recommend using a soft, dry cloth. To remove stains, use a cloth soaked in a water and mild detergent mixture. To clean your furniture, avoid placing any wet objects directly on the furniture or using commercial cleaning products.
Where can I buy Bestar products?
Our furniture is sold by many retailers. However, the Bestar product selection may vary from one retailer to another. Click here to find the retailer located near you, or contact our customer service:
1 888 8BESTAR             contact us
Do you have any assembly tips?
Here are four steps to facilitate the assembly of your Bestar furniture:
Before starting, read the assembly instructions carefully and be willing to follow each step.
Layout all the parts on the floor, including the hardware, and count them to make sure nothing is missing.
When the instructions recommend doing so, enlist the help of another person to avoid injuring yourself or damaging the furniture.
To avoid loosening the assembled components or damaging the wood, do not push, pull or drag the furniture over the floor or carpet. We recommend assembling the furniture as close as possible to its resting place. If you must move it, enlist the help of another person, lift it completely, and transport it slowly.
For additional help during assembly, you can also check our online support page.
What if I have assembly problems or missing or damaged parts?
Do not bring back your furniture to the retailer, we can assist you directly.
You can contact our customer service at 1-888-8BESTAR. We will answer all your questions and quickly ship what you need to complete the assembly.
Our opening hours are:
Monday to Thursday, from 8:00 AM to 12:00 (noon) and from 1:00 PM to 5:00 PM (EST);
Friday, from 8:00 AM to 1:00 PM.
Thank you for keeping the assembly instructions on hand when calling.
How are the components held together?
The main assembly device consists of a washer and rod that hold the pieces of wood together, as shown in the illustration below. It is very important to follow the washer assembly instructions carefully.
1)Use a flat screwdriver to turn the washer.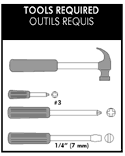 2) Turn the washer to 2 o'clock. However, to ensure the washer is tight, finish by applying a little pressure.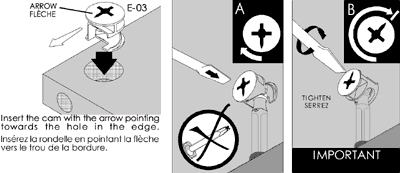 Can you help me adjust my drawers?
Yes, here are the four steps to follow:
1)    Make sure to use the correct screws for the metal slides;
2)    Make sure the screws are set very straight;
3)    Make sure to mount the drawer front in its proper position;
4)    Adjust the drawer fronts as shown in the illustration below.
What is covered by the warranty?
The Bestar warranty covers any defects due to faulty materials or workmanship that interfere with the proper use of the product.
This warranty is limited to the repair or replacement of defective parts free of charge, depending on availability. Any labor incurred and paid by the client is not covered by this warranty.
This warranty applies under conditions of normal use. It is not valid in the event of defects caused by the buyer due to negligence, misuse, improper exposure, excessive use or changes made to the furniture item.
Bestar reserves the right to require proof of purchase or other receipts for the purposes of this warranty.
The warranty is not transferable and applies only in Canada and the United States, excluding Alaska, Hawaii and Puerto Rico.
For more information, please contact our customer service:
1 888 8BESTAR        Contact us
What if I'm shopping for a tax-exempt organization?
If you are a tax-exempt organization, please contact our Web Sales Team at [email protected].